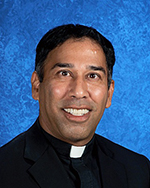 Dear Friends,
On May 20, St. Thomas High School celebrated its 117th Commencement ceremony with 172 graduates walking across our stage to receive their hard-earned (and much-anticipated) diplomas. After four years as students, they celebrated their new status as STH Alumni! As we continue to look back and reminisce at this past school year – of the many academic, athletic and community-focused successes of the entire student body – we also look ahead to the exciting work in store for the next school year.

Just four years ago, the $66 million 4500Forever Capital Campaign was launched to purchase and renovate the HISD campus next door. In January 2017, the 4500Forever Finish Strong committee was formed with current parents and alumni graciously volunteering their time and energy. Enthusiastically leading the effort are campaign chairs Amy and Bo Huggins, current parents and loyal supporters of STH. They have built an incredibly strong committee as follows:
Honorary Chairs
Dona & Al Clay '61
Jane & Bill Joplin '54
Committee Members
Jerry Dearing – Current Parent '19
Thad Fuller '76
Tami & Mike Hanks – Alumni and Current Parent '15, '18
Janna and Kyle Lippman – Current Parent '19
Ginnie & Tim McConn '94
Kay & Andy McStay '69
Jan & Oniel Mendenhall '96
Peggy & John Rathmell '75
Michelle and Tim Ruch – Current Parent '18
Barbara and Clark Smith – Current Parent '20
We are thrilled to announce the campaign just recently received a $1 million gift from The Lyons Foundation! The Lyons Foundation has been a long-time supporter and we are proud of this strong partnership.
We have begun pre-construction site work on the Joplin campus this summer as power lines will be removed. Stay-tuned for more updates regarding greenspace reconfiguration and building renovations in the coming months!
Fr. Kevin Storey, CSB
President