The Speech & Debate competition season has begun and the St. Thomas team has already branded itself as a contender. It started at the very first tournament of 2017-18 with an excellent 2nd place finish by junior Kristoph Sayavedra competing in the Varsity Lincoln Douglas Debate at the Elsik High School TFA IQT (Texas Forensic Association Individual Qualifying Tournament).
The following weekend, at the Cypress Woods Debate Tournament, his teammate, Junior Carson Rau, made it to finals in both Informative Speaking and Impromptu Speaking where he took 2nd place. Then the freshman duo of Joe Mandell and Zachary Bryant brought home the 3rd place trophy in Novice Public Forum Debate. Mandell also won the 3rd place Outstanding Speaker gavel. In addition, Junior Daniel Tran made it to finals in Extemporaneous Speaking, earning the 4th place trophy. For the second tournament in a row, Kristoph Sayavedra made it to the out-rounds in Lincoln Douglas Debate and moved closer to a TFA State Qualification by getting to octafinals in a very large and competitive field.
Sayavedra's early success came as no surprise to STH Speech & Debate Coach, Darrell Yarbrough.
"Kristoph made a splash as a freshman by advancing to the final rounds at the Harvard tournament in Boston and has continued to make a name for himself on the circuit."
Yarbrough has "lots of big goals" for the 2017-18 team.
"We are excited to have returning upperclassmen to bring power and experience to the team, including Juniors Sayavedra and Rau along with Seniors Ethan Hoasjoe and Mario Juguilon. But the team boasts a strong roster of new freshmen and sophomores who will add energy and excitement," Yarbrough said.
"I would love to see a freshman qualify for the Texas Forensic State Tournament in Austin this year. We would also like to see the St. Thomas team take home top honors at the TAAPS State Tournament in Waco in April."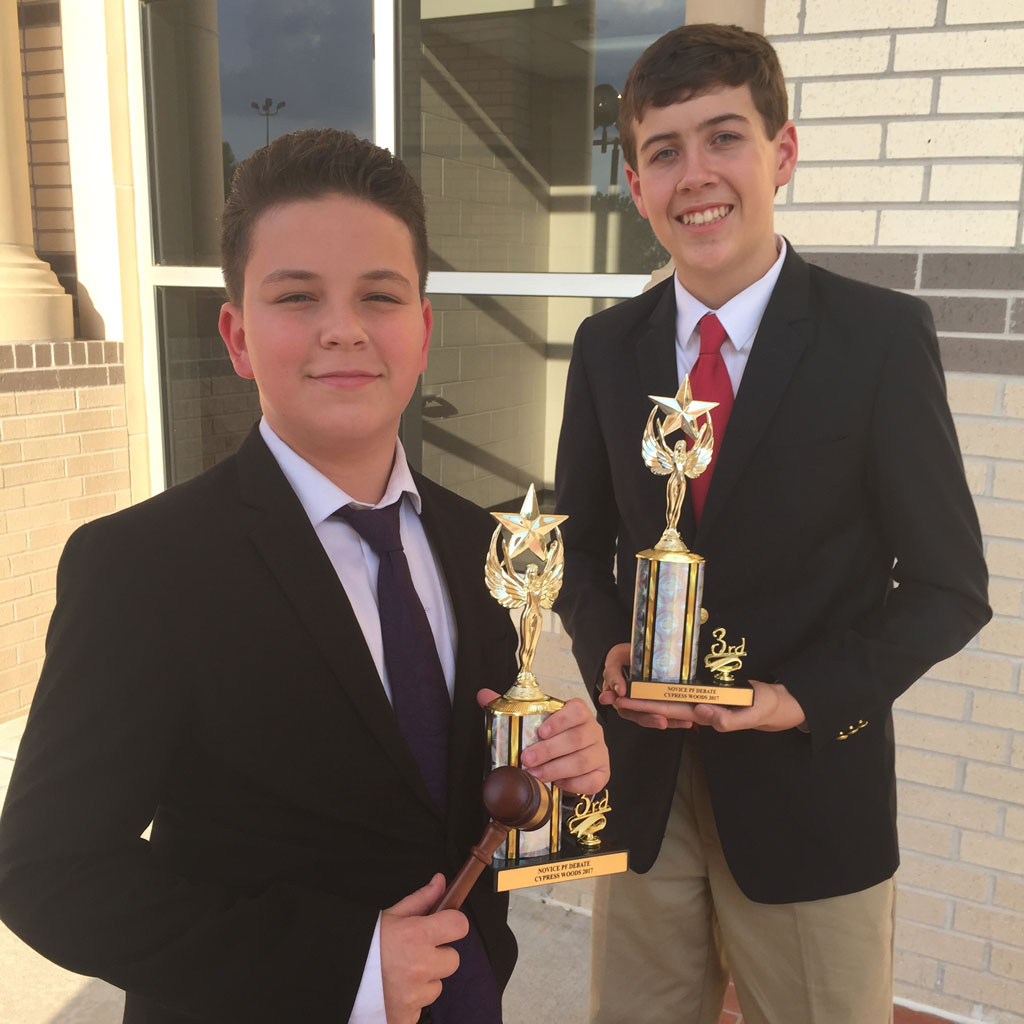 Yarbrough is building a successful program for the future. "The debate camp offered at St. Thomas this past summer added a new dimension to recruiting for the St. Thomas Debate Team. The camp hosted 60 students, half from high school and half from middle school. Many of those were incoming freshmen ready to debate!"
The Speech & Debate season spans a rigorous 25 tournaments from August to May, and into June for those who qualify for Nationals. Most tournaments are in the Houston area, but they will also travel to San Antonio, Austin, Colorado, Kentucky, and California. The STH Debate team will compete next at Bellaire High School on October 13 and 14.
Catholic. Basilian. Teaching Goodness, Discipline and Knowledge since 1900.