For nearly 120 years St. Thomas has embraced its goal, its passion, its obligation to provide a supportive, safe environment for Eagle students to thrive, empowering them to create positive change everywhere life takes them.
Prominent and central to that Basilian mission is furnishing need-based financial assistance and merit-based scholarships in order to ensure that St. Thomas can continue to recruit, retain and graduate a talented and diverse learning community.
At the 11th Annual Scholarship Breakfast, President Fr. Kevin Storey, CSB gazed about Cemo Auditorium and expressed how the gathering of 235 benefactors and students, faculty, administrators, and staff, epitomized St. Thomas as an institution, "the meeting of people from different backgrounds and perspectives who share and leave each other richer as a result."
Fr. Storey, Vice President of Finance Eve Grubb and Vice President for Advancement Mark deTranaltes '83 collaborate with a nine-member Foundation Board headed in 2018 by Ken Fisher that oversees a $16 million endowment with 77 named and endowed scholarships made possible by the benevolence of contributors since 1969, more than half established since 2000.
Long-time St. Thomas advocate John Rathmell '75 has continued serving on the school's Board of Directors following his tenure as president from 2014-17.
The president of Lockton Marine & Energy at Lockton Companies believes that "supporting all St. Thomas students is our priority, and within that effort is a deep determination to reach out and involve those in the Eagle experience who otherwise would not be able to participate. We can never lose sight of that responsibility."
Approximately 30% of the annual enrollment receives tuition assistance or merit scholarships, including Michael Garza and Melvin Larkins from the Class of 2018, who were chosen to provide their personal testimonies to the strength of giving and gratitude.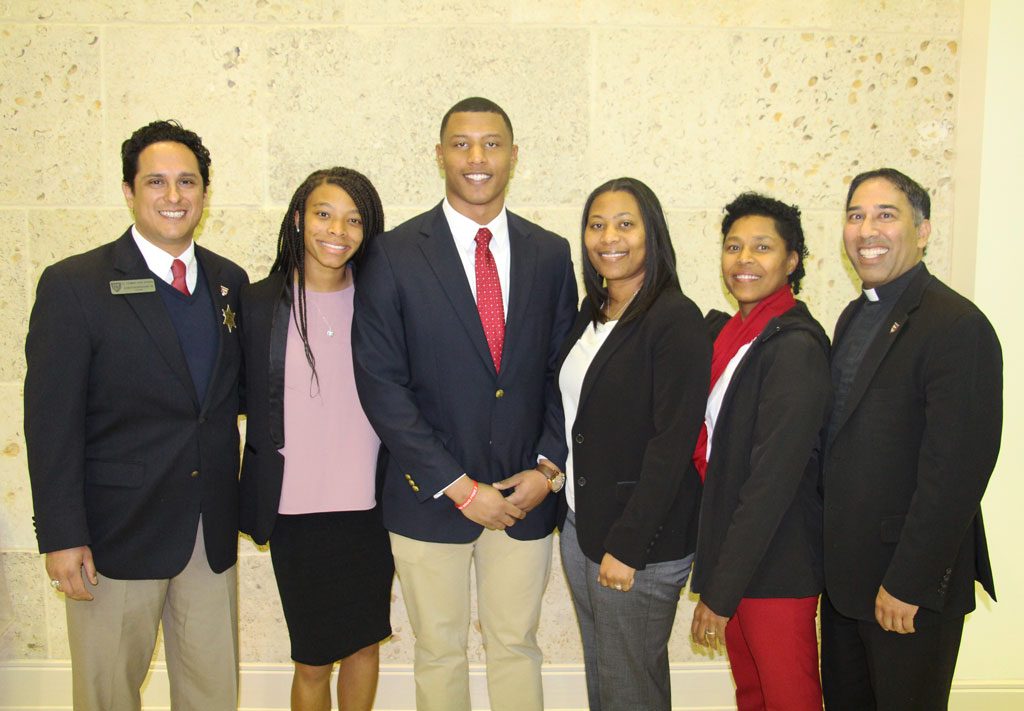 Larkins was a penetrating and commanding campus presence throughout his four years, an Eagle Ambassador and Senior Leader, a member of the Round-Up Board and two-sport contributor to Eagle Basketball and Eagle Football where he was a 2017 co-captain.
Larkins arrived from HISD's Pershing Middle School and readily admitted to "an immediate walk-up call" his freshman year.
"Reality hit me. Multiple assignments in a day, multiple tests in a week. But with the help of the faculty and the Learning Enrichment Center, I learned the true value of discipline and organization that was equally valuable on the field and on the court.
"I was involved in numerous service projects, including Camp GDK, where I gained a deep understanding of selflessness that will carry with me through my adult life."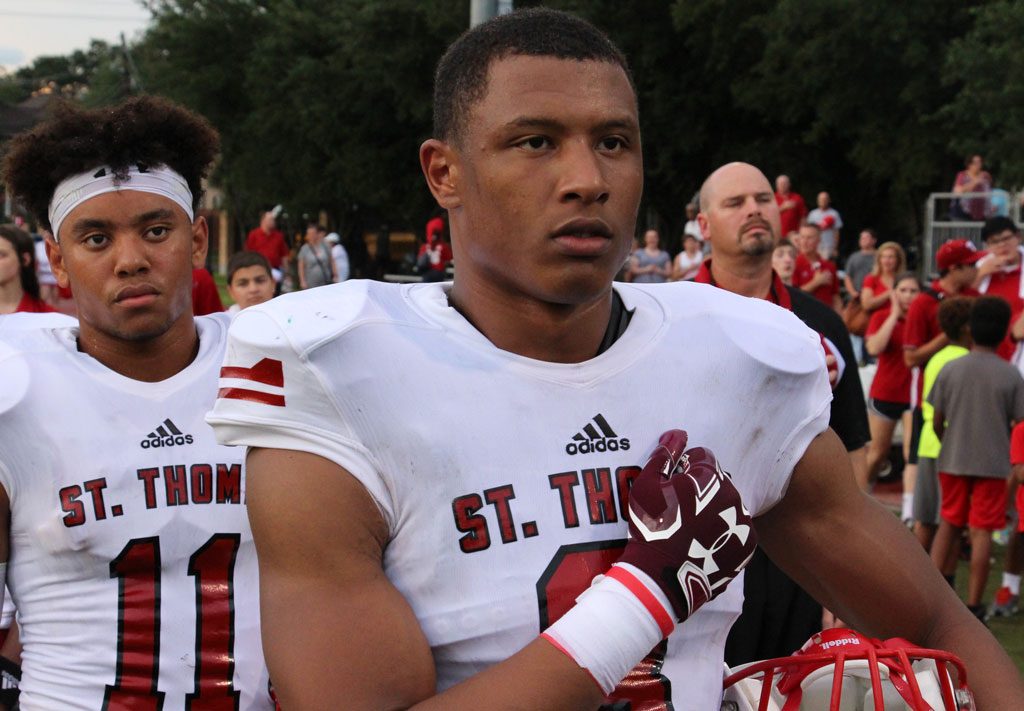 But Larkins' truest appreciation for his Eagle connection surfaced through adversity and the sudden impact of suffering a season-ending football injury in August that cost him the rest his high school career.
"Never did I nor my family ever feel as though we were alone," Larkins said. "The St. Thomas community, my coaches, my peers, reached out to us and have continued to do so to help me through that extremely tough time. Their faith in me was inspiring and I'm determined to overcome.
"I'll miss the brotherhood and will always relate to the goodness, discipline and knowledge that reminds me of St.Thomas."
Larkins plans to study sports management at the University of Houston where he will continue as a student-athlete with a preferred walk-on opportunity that will be confirmed February 7 on National Signing Day 2018.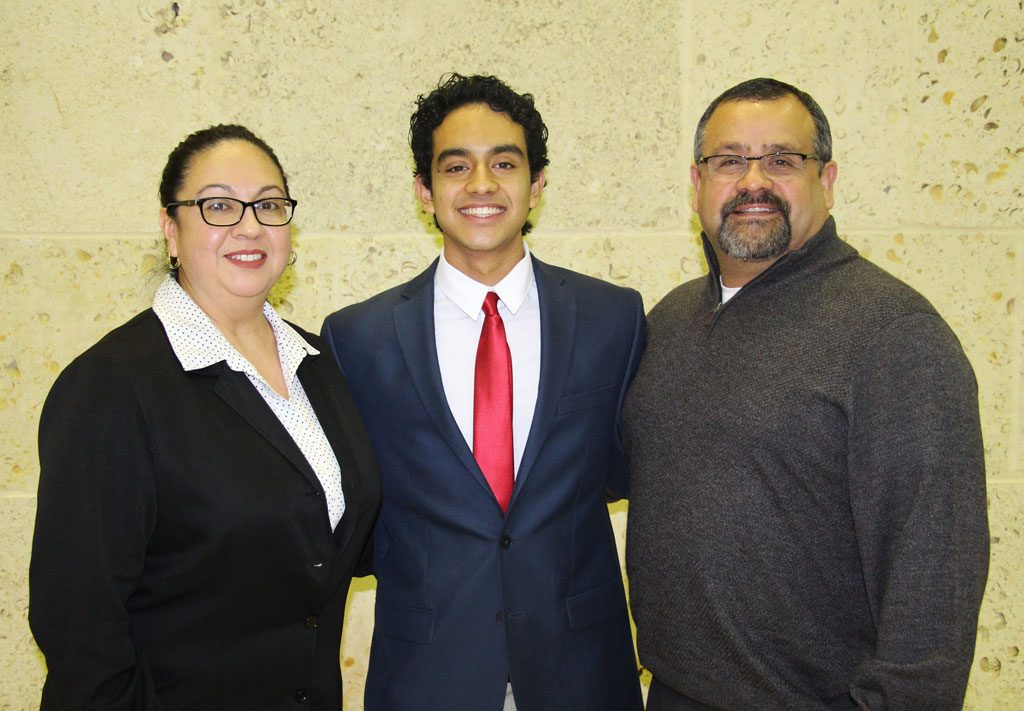 Garza is joining Larkins at UH to pursue biochemical engineering and business following his distinguished and multi-dimensional college preparatory experience, including active involvement in the Columbia Squires, Eagle Soccer and Eagle Track.
He arrived from the predominantly Hispanic St. Pius V Catholic grade school in Pasadena where, as an eighth-grader, he had "no idea where I wanted to attend high school."
Garza sifted through various private school options but after tours and interviews, he found many of the interactions resembling "a business … everyone was supposed to look and act the same way every day."
Except for St. Thomas. Garza discovered a refreshing fit where he felt the freedom to "explore and determine my strengths through the curriculum, clubs and sports."
But Garza knew his enrollment was contingent on tuition assistance, and not until late in his final St. Pius semester did he receive confirmation he was awarded the Basilian Fathers Scholarship offered to one eighth grade applicant per school based on academic achievements.
"One of the happiest moments of my life," Garza said. "And during my four years, I've learned photography, ceramics, the value of self-sacrifice and teamwork. And most importantly, how we are all called to serve one another. I've made lifelong friends, brothers who have always been there for me and I've always been there for them."
Garza then personally thanked "the donors who made my St. Thomas dream possible. Without your generosity, none of this, none of any of us here today, would have been possible."
And before leaving the Cemo podium, like any good Man of St. Thomas would, he seized the moment with a savvy request, knowing all in the room would relate.
"Would anyone like to purchase Round-Up tickets?"
Catholic. Basilian. Teaching Goodness, Discipline and Knowledge since 1900.