St. Thomas launched the 2018-19 academic year ensuring that the Basilian mission of Teach Me Goodness, Discipline and Knowledge measures beyond mere motto, but in fact is a staple of life.
The Class of 2019 began Senior Week volunteering at the Houston Food Bank accompanied by a sizable leadership group of faculty members, staff and counselors including Chief Academic Officer Aaron Dominguez '96 and former President Fr. Kevin Storey, CSB.
Whether on campus or off, formal and informal, St. Thomas seeks to support and challenge its scholars as they encounter differences, learn what they do not yet and put their faith into action to the benefit of others.
"St. Thomas had educated young men for generations supported by the pillars of community and brotherhood," Dominguez said. "As a Basilian institution, we have a responsibility to embrace and give back to our community. This was a total team endeavor."
Eagle groups worked in multiple assembly lines, sorting incoming donated goods, filling boxes with an assortment of food basics which are then categorized and placed on pallets to aid more than 500 different relief charities through southeast Texas.
The tasks varied, but the collaborative Eagle spirit was the same, working side-by-side and raising awareness through education and experience of food insecurity and homelessness.
The Senior Week service project is the latest commitment in a long-standing St. Thomas relationship with a member of the nation's largest non-governmental, domestic hunger relief organization.
The Houston Food Bank provides 83 million meals to food pantries, soup kitchens, senior centers and other agencies in 18 counties. As recently as May, in the wake of the epic Hurricane Harvey devastation, it was operating at triple its normal distribution, providing 750,000 pounds of supplies a day – the equivalent of 18 tractor-trailers.
Volunteer Service representative Melissa Ramon has been associated with the Houston Food Bank since 2005.
"To have such a large group from St. Thomas makes a huge impact. The number of manpower hours they provided on a weekday is invaluable. The support directly helps people who are in need get back on their feet."
Senior Week also included prep sessions to accelerate the college selection and application process including a college essay workshop … student visits to Texas A&M University, the University of Houston and fellow Basilian University of St. Thomas … and convening to conclude the inaugural Camp Aquinas for incoming freshmen at Camp Cho-Yeh in Livingston, Texas.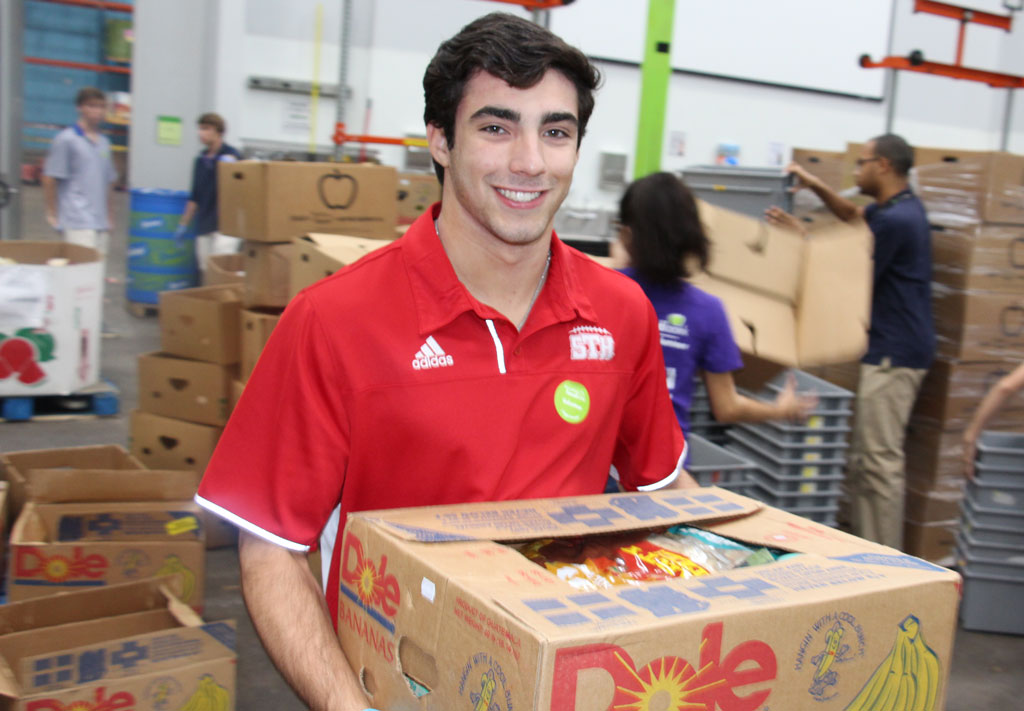 But most significant was maintaining the essential Eagle tradition of service whether it be direct engagement, contributions or volunteer hours, inspired by the Basilian realization that truth about God, the world and personal identity can only be authentically explored through relationships with others.
"In any organization of excellence you aim to create cultural anchors," Dominguez said. "Our commitment to the Houston Food Bank is one we'll revisit with our students throughout the upcoming months, have them remember the importance and how what they're doing currently relates. If the effect of this service doesn't resonate with our students past 48 hours then we haven't made the most of the opportunity."
Catholic. Basilian. Teaching Goodness, Discipline and Knowledge since 1900.