For 120 years St. Thomas has embraced its goal, its passion, its obligation to provide a supportive academic environment for Eagle scholars to thrive, empowering them to create positive change everywhere life takes them.
Prominent and central to that Basilian mission is furnishing need-based financial assistance and merit-based scholarships to ensure that St. Thomas can continue to recruit, retain, and graduate a talented and diverse learning community.
The 13th Annual Scholarship Breakfast honored both donors and current recipients, and the tradition of philanthropy that remains vital to the school's cherished Basilian heritage.
"What we celebrate today is a statement that the students here are needed at St. Thomas," President Fr. James Murphy, CSB said. "You are needed in such a way that we reach out to the wider community to provide the possibility of your attendance. You make us a better school and a more vibrant community. I'm a Basilian because of the generosity of people like many of those in this room, that was how I was able to attend a Basilian university (St. John Fisher College) in Rochester, New York. I benefited because of caring alumni and supporters."
Since its inception in 1900, St. Thomas has valued its role in providing affordable access to the full range of opportunities that make a St. Thomas college preparatory education unique. That motivation relies on scholarships to students based on academic achievement and financial assistance based on a family's ability to contribute.
The St. Thomas Foundation Board oversees a $17 million endowment made possible by the vision of contributors since 1969, with more than half established since 2000. The gifts ensure that financial accessibility and equitable opportunity continue to be a focus. The sponsored awards include the Basilian Fathers Inner City Schools Scholarships, the Basilian General Counsel Scholarships, the Tom & Nancy Marcrini Foundation Scholarship, the Strake Family Scholarship, and the Specs Educational Fund.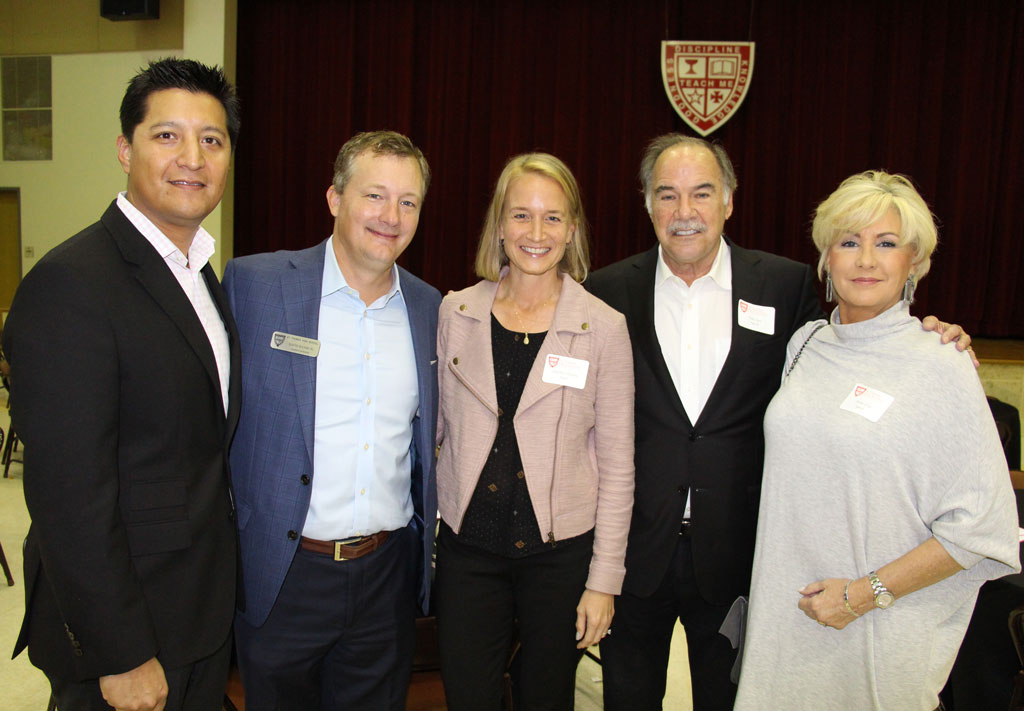 David Hanse '91 (second, left) is the president in his seventh year serving on the Foundation Board, the last of five brothers who followed the lead of their father who attended St. Thomas. The family's Eagle legacy includes his four nephews and projects to add his son Sam now attending Western Academy.
"We treasure making St. Thomas a more complete community," Hanse said. "My years as a student were certainly richer thanks to the those who otherwise would not have been here. The single most important factor in determining the quality of the St. Thomas experience are the individuals we all encounter along the way. Financial considerations broaden enrollment. The efforts that make that happen should be applauded."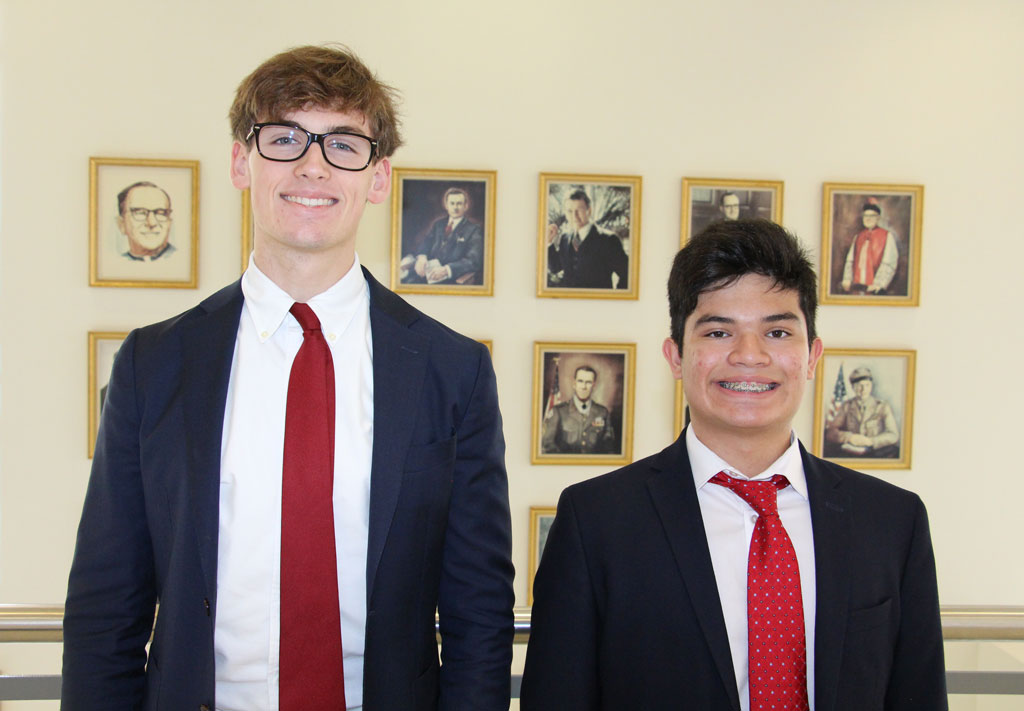 Michael Beavers '21 and Daniel Hernandez '23 shared compelling testimony to the gathering in Cemo Auditorium illustrating the impact St. Thomas has already made on their lives.
Hernandez is an active member of the Eagle Ambassador program and two-sport scholar athlete who was cast in the fall production of A Midsummer Night's Dream. He transitioned from St. Cecilia Catholic School with an obvious intent to join a brotherhood unlike any other.
I tried to convince my parents, particularly my mom, how badly I wanted to come to St. Thomas. She always had one question. Why? The truth was I didn't know. I didn't understand the pull myself every time I drove by the campus. After Camp Aquinas (the five-day immersion for freshmen rooted in the Basilian values and challenging team-building activities), I could finally explain to my mom the why. Love. The love you have for brothers, for your school.

With a mother from El Salvador and a father from Los Angeles, I'm living the first part of my dream, to be the first Hernandez to attend St. Thomas. I plan to play Division I lacrosse and major in medicine. St. Thomas will guide me to do the best I can on and off the field. I would like to thank all those who moving me one step closer to achieving my goals because if it wasn't for my scholarship, I would be in a completely different situation.
Michael Bevers '21 is also an enthusiastic Eagle Ambassador and scholar athlete with Eagle Track and Field. He transferred to St. Thomas at mid-semester of his freshman year after studying at a boarding school in Utah. Bevers arrived with a certain reluctance facing an unknown present and undefined future after overcoming some interpersonal challenges. But his apprehension soon dissolved and he's emerged as a campus champion with boundless ardor and a shatterproof commitment for all that is Red & White.
I was immediately surrounded by kindness and that Eagle brotherhood that we hear so much about. Through the help of (English faculty member) Darrell Yarbrough and participating in speech and debate, I've become more confident sharing my story. Through your donations, and my being a student at St. Thomas, more stories and backgrounds will be told and more awareness will be achieved. More individuals like myself will be able to join the brotherhood and support each other through obstacles. Someday I would like to be in your shoes, giving back to students at St. Thomas. I'm looking forward to the future as a strength and conditioning coach or personal training because physical fitness has become a strong part of my life and I hope to pass that along to others.
Principal Dr. Aaron Dominguez '96 understands the most meaningful and lasting measure of the St. Thomas experience is beyond elite academic achievement. Donors are often the most direct way to set in motion the exponential impact of an Eagle education fueling the rise of the next significant learners and leaders.
"The spirit of St. Thomas lives and breathes within this room," Dominguez said. "Making dollars available for prospective students has become a prevalent admissions strategy, and that's fine. But what makes St. Thomas special is we will always operate with the spirit of goodness in that initiative. That's who we are. It's an essential part of our calling."
Catholic. Basilian. Teaching Goodness, Discipline and Knowledge since 1900.