For 121 years, St. Thomas has embraced its goal, its passion, its obligation to provide a supportive academic environment for Eagle scholars to thrive, empowering them to create positive change everywhere life takes them.
Prominent and central to that Basilian mission is furnishing need-based financial assistance and merit-based scholarships to ensure that St. Thomas can continue to recruit, retain, and graduate a talented and diverse learning community.
The 14th Annual Scholarship Breakfast hosted by Vice President for Advancement Mark deTranaltes '83 honored both donors and current recipients, and the tradition of benevolence that remains vital to the school's cherished Basilian heritage. The St. Thomas Foundation Board oversees a $17 million endowment made possible by the vision of contributors since 1969, with more than half established since 2000. The gifts ensure that financial accessibility and equitable opportunity continue to be a focus. The sponsored awards include the Basilian Fathers Inner City Schools Scholarships, the Basilian General Counsel Scholarships, the Tom & Nancy Marcrini Foundation Scholarship, the Strake Family Scholarship, and the Specs Educational Fund.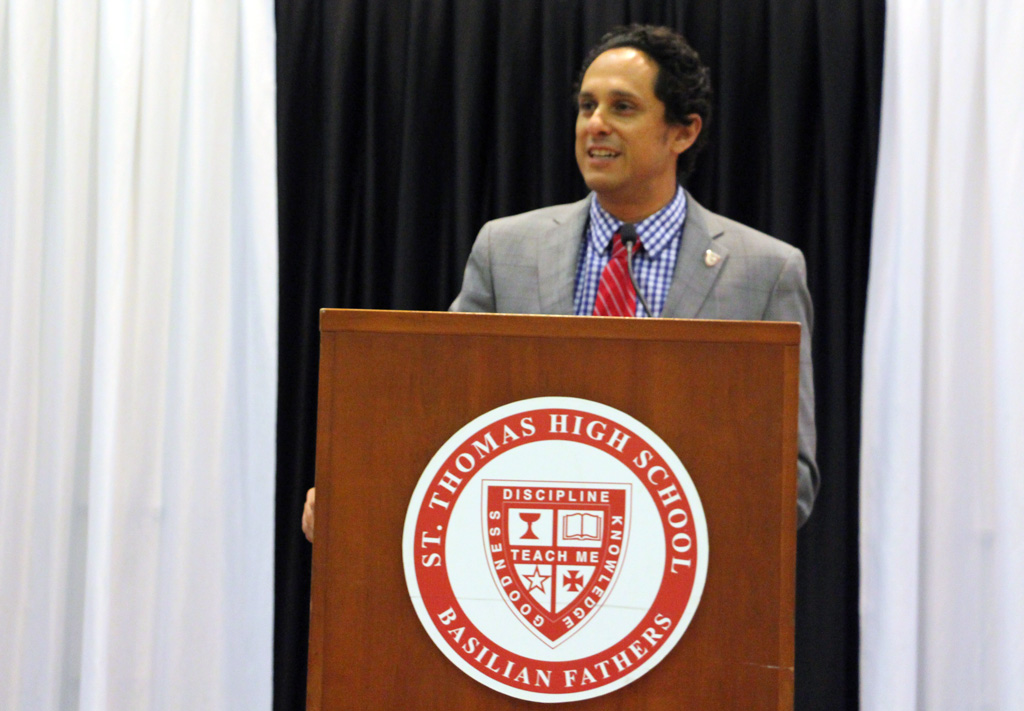 President Fr. James Murphy, CSB and Principal Dr. Aaron Dominguez '96 both understand the most meaningful and lasting measure of the St. Thomas experience is beyond elite academic achievement. Donors are often the most direct way to set in motion the exponential impact of an Eagle education fueling the rise of the next significant learners and leaders.
President Fr. Murphy spoke directly to the life-altering power of opportunity.
"I am only here today because of Piehler, Piehler, the Pontiac Dealer in Rochester, New York," Fr. Murphy says. "Michael Piehler established a scholarship at St. John Fisher College in the name of his father. I had attended public school my entire life and the Piehler Scholarship provided me the chance to attend a small Catholic college when I became a Basilian priest. I am eternally grateful for the generosity of Piehler, Piehler, the Pontiac Dealer. His passion for St. John Fisher paved my only path to attend that university.
"And what we all celebrate here today is the gift of opportunity. High school students may not yet fully value the concept. A St. Thomas education carries tremendous potential but only in relation to the energy the individual applies to that springboard. Our alumni echo that sentiment. If you are receiving a named scholarship, never forget that family who provided an entry into St. Thomas. Always give thanks. Remember the names of the people who propel you forward."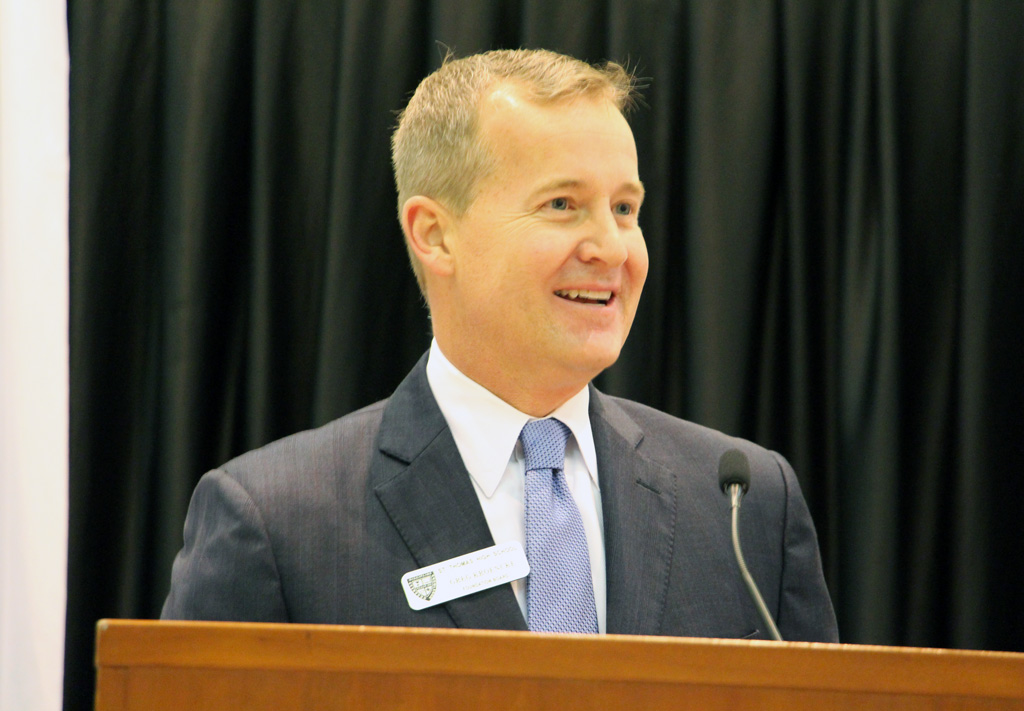 Greg Kroencke represented the Board at the April gathering in Cemo Auditorium knowing the full measure of the St. Thomas scholar experience. His son Zach '20 (below) is studying in the Mays Business Honors Program at Texas A&M with a double major in Business Administration and Finance and a minor in computer science. His stellar student-athlete career at St. Thomas included crushing the single-best individual raffle ticket sales total in Round Up history – $35,960 in 2020.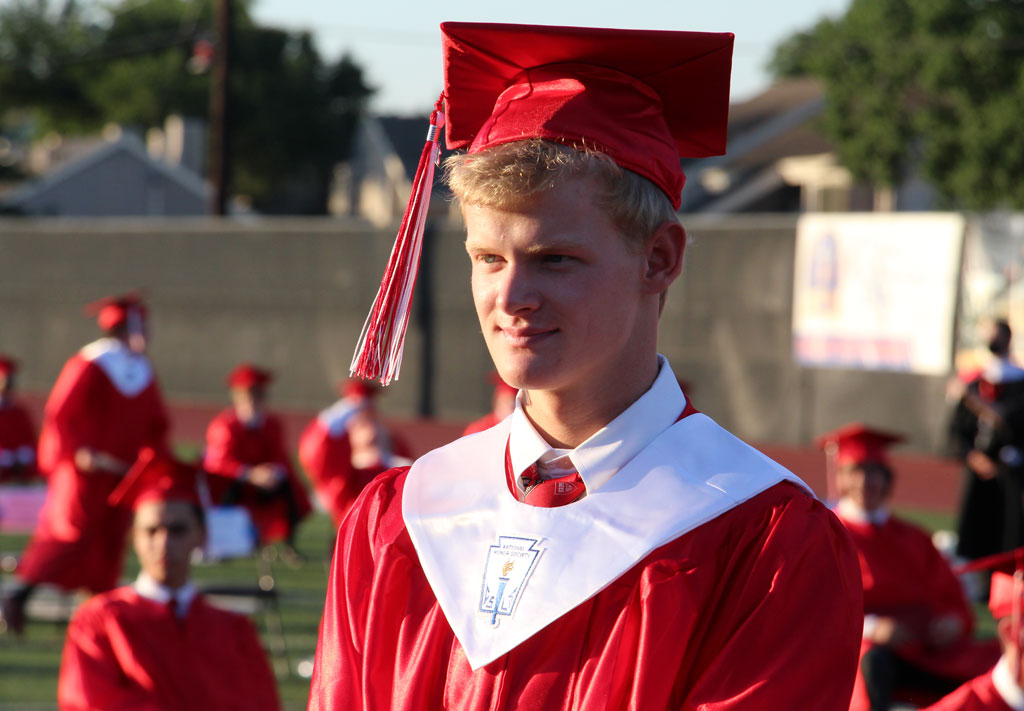 "These years at St. Thomas are the foundation that will propel you forward," Kroencke advised the student group. "And when you are further down that road of excellence, I strongly encourage you to remember to give back to this St. Thomas community and help your future Eagle brothers in many of the same ways you have been supported."
A significant percentage of the St. Thomas student body participates in financial assistance, honoring the tradition of philanthropy that remains vital to the school's cherished Basilian legacy. In many ways, Cameron Bonner '21 exemplifies the totality of the St. Thomas journey even though he enrolled as a transfer student after his sophomore year. Nonetheless, he achieved measurable success through diverse academic disciplines and as a dynamic two-sport all-state performer on the field and on the track.
On the same day he gave an emphatic testimony at the Scholarship Breakfast, Bonner led Eagle Track and Field to a commanding win in the TAPPS South Regional championships. He set a personal best in placing second in the 400 meters and was a key cog in two convincing gold medal relay wins. One of the many rewards for his wide array of rich involvement was signing his National Letter of Intent to continue his football career at Baylor University.
But when asked to reflect on what he most valued from his years at St. Thomas, Bonner seized on what otherwise might not have been within his reach.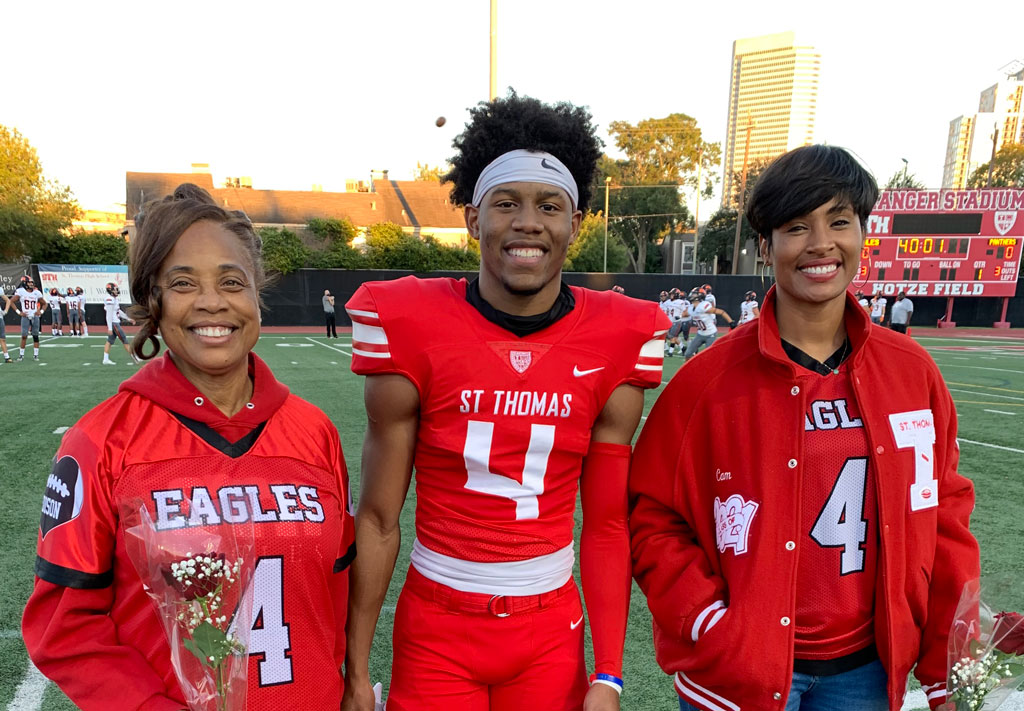 "My brother and I come from a single-parent home," Bonner says. "Maybe I knew two people when I arrived at St. Thomas. But so many of my teachers were such an influence in such a short period of time. And if not for (head football coach Rich McGuire) I would not be where I am today. St. Thomas has given me the courage to welcome my manhood as a confident and determined young man – to work hard for the things I love and to work even harder for the things I don't. I have gained brothers for life. All of that was only possible because of the many donors who believe in St. Thomas education. They have brought endless joy for me and my peers who are here today."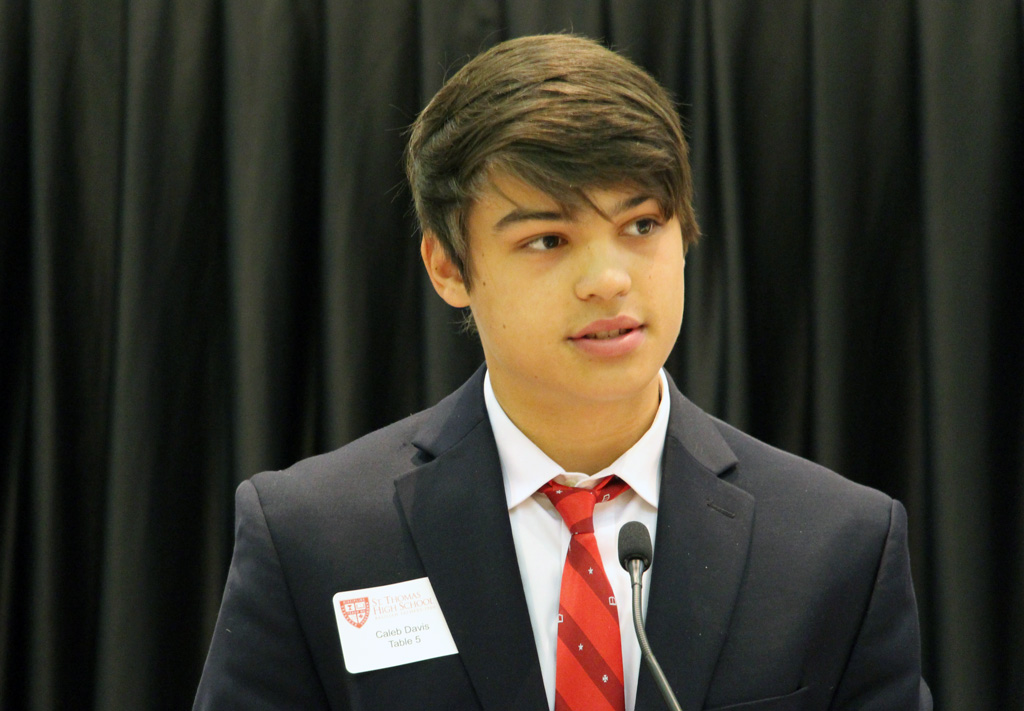 Caleb Davis '23 was also center stage providing an inspiring personal story. He entered St. Thomas as a freshman from St. Vincent de Paul Catholic School, thoroughly exposed to the faith's rich traditions "because my parents believe that it's essential to build a strong foundation of faith from an early age."
But the older brother of triplets also held a savvy understanding that his parents were concerned that "they would be able to afford college preparatory tuition for four sons (during a three-year period). By God's grace, I was offered an academic scholarship" to attend St. Thomas.
As Davis navigated the recent adjustments in response to the pandemic, the trials through zoom school and hybrid models to the return to campus instruction, he came to realize that "that while some students like myself were not giving their full effort (online), every teacher found it in themselves to give their full effort every single day … (and) the lessons I'm learning (from St. Thomas) will benefit me in college and beyond. I never would have gotten to experience the fun, rigors, and excitement of these past two years had it not been for (the) generous donations … which have allowed me and so many of these other hard-working students to attend St. Thomas."
Therein lies the commitment of St. Thomas to enroll students from different social, economic, and educational backgrounds, and to devote its resources to help make a Basilian education a profound reality.
Catholic. Basilian. Teaching Goodness, Discipline and Knowledge since 1900.