St. Thomas is proud to celebrate the latest champion scholars earning membership in its prestigious chapter of the National Honor Society.
Commemorating more than 100 years of saluting the nation's most acclaimed students, the NHS is recognized as the nation's premier organization rewarding high school students who demonstrate excellence in scholarship, service, leadership, and character – the four pillars of the NHS since its beginnings.
The St. Thomas inductees maintain a superior academic performance while engaging in rigorous college preparatory and Advanced Placement courses. Members are expected to maintain their acclaimed standing and mentor underclassmen while selflessly making a difference in the world, no matter where they are.
The St. Thomas NHS officers for the 2022-23 academic year are president Austin Burke '23, vice president Anthony Equale '23, secretary Trey Schaider '23, treasurer Michael Staron '23, and parliamentarian Bradley Wight '23.
The 52 newly inducted NHS members include:
Gunther Blencke '24, William Bone '24, Nicolas Borin '24, Samuel Brooks '24, Campbell Brown '24, and William Brown '24

Cade Church '24, Lyle Clanton '24, Aidan Clark '24, Noa Clifford '24, and Manuel Cohen '24

Benjamin Dalton '23, Jacob Davidson '24, Michael De Jesus '24, Lucas De Meritt '24, Frank DeJarnette '24, and Alessandro Diaz '24

Levi Finkelman '24

Philip Gallagher '23 and Walker Green '24

Owen Hartley '24, Thomas Higginbotham '24, Hayden Hoover '24, and William Hosman '24

Rafael Joseph '24

Peter Kaul '24

George Lane '24, Benjamin Lauzon '24, and Rhys Lloyd '24

Patrick McCarthy '24, Charles Molineaux '24, Sam Moore '24, Jayden Morfin '24, and Philip Morrison '24

David Neason '24, Daniel Neason '24, and Antoine Nguyen '24

Charles O'Leary '23 and Ernest Oppermann '24

Samuel Peters '24, Simon Pham '24, and Adrian Pruneda '24

John Rickert '24

Patrick Schloegel '24, Miguel Sequeira '24, and Deldon Sivakumar '24

Benjamin Thoede '24

Alex Tidwell '24

James Ulm '24

Stephen Visintine '24

Jake Wakil '24 and William Wittman '24
These acclaimed students joined 68 fellow Eagles from the Class of 2023 who had previously demonstrated the ability to excel, serve, lead, and succeed with a genuine quest for challenge and accomplishment.
Mateo Albrecht and Luke Anigbogu

Nicolas Barriga, Ben Brown, Ben Burch, and Burke

Isaac Cabello, Arjun Chahal, and Samuel Cornell

Caleb Davis, Evan De Anda, James Dickinson, Colin Dixon, Nathan Doiron, Sean Donovan, and Logan DuPlantis

Equale, Tommy Erb, and Alex Erickson

Matthew Fote

John Griffiths, Leo Grover, and Jack Guyre

Grayson Haight, Liam Hennen, John Heyburn, Nathan Hulvey, and Nathan Hunt

Jonathan Jackson and Matthew Jones

Max Kaase, Jack Keeler, Blake Keller, Garner Kelling, Cole Kelly, and Jackson Knower

Vincent Le, Seth Levy, Zeo Lin, Brian Lively, Luka Ljuboja, and Alex Lynn

Logan Mahoney, Luke Martin, Evan McCarthy, Caleb McClure, Ryan McGuire, Jorge Morfin, and Oni Mouton

Ted Naeher, Aidan Nanquil, Ryan Nguyen, and Graham Nieland

Thomas Pham and Jake Pike

Luka Salcedo, Braydan Salinas, Casey Salvatierra, Sam Saman, Schaider, Parker St. Raymond, Staron, and Caleb Sudkamp

Collin Tautfest

Jack Weaver, Wight, and Damian Wilson

Jad Zeidan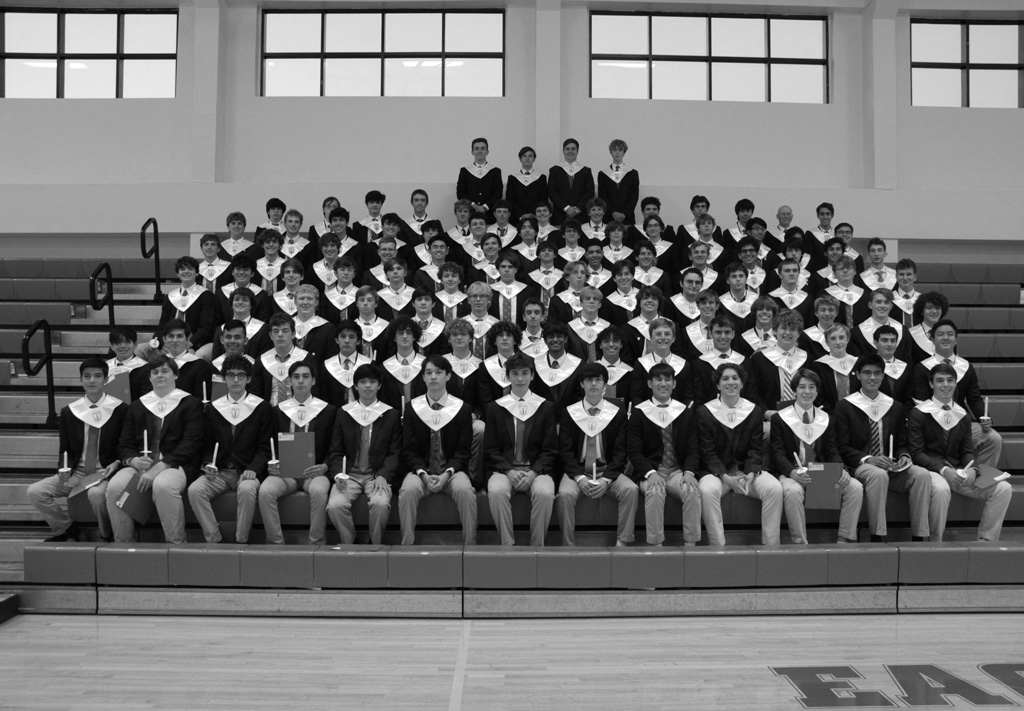 Involvement in the NHS is an exclusive responsibility, with students expected to continue to reflect society's high standards, as well as serve the school and their fellow students as academic leaders, ambassadors, and tutors.
Science faculty member Dr. Claire Conboy played a pivotal role in determining the deep St. Thomas NHS participation in her second year as chapter advisor.
"This is significant prestige that demonstrates the depth of the academic achievement thriving within St. Thomas," Dr. Conboy says. "We are about developing and nurturing our students to reach their potential not only through curriculum but as vibrant contributors to society. And this honor provides a guiding light for all our young men of what is attainable and what should be pursued."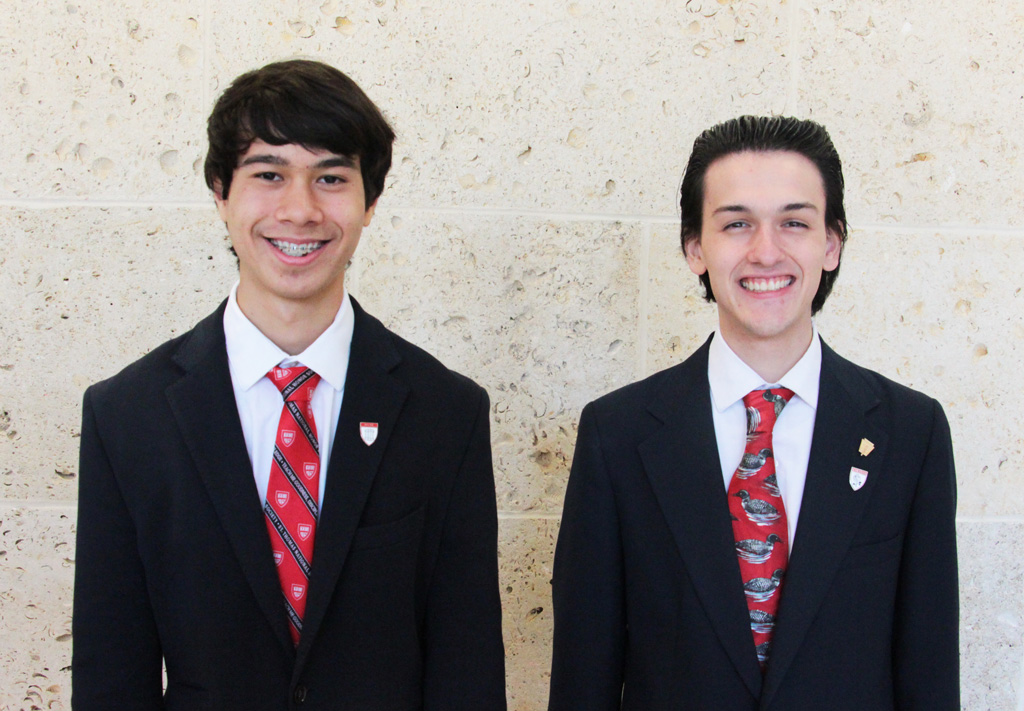 Previously, Burke and Wilson earned semifinal acclaim in the 68th annual National Merit Scholarship Program while Brown, Davis, De Anda, Cabello, Dickinson, Erb, Erickson, Hulvey, Kelling, Le, McCarthy, McClure, O'Leary, Pike, Sudkamp, and Wight were selected as National Merit Commended Students.
De Anda was also named to the College Board's National Hispanic Recognition Program along with
Albrecht, Cohen, Joseph, Perez, Pruneda, Salcedo, and Wittman.
Anigbogu was selected for the National African American Recognition Program and Finkelman for the National Indigenous Recognition Program.
Catholic. Basilian. Teaching Goodness, Discipline and Knowledge since 1900.