St. Thomas is a state finalist for the 2022-23 National Football Foundation National High School Academic Excellence Award. This distinction is in partnership with the first nationwide recognition honoring teams with a team 3.0 or above grade point average.
St. Thomas is among only five private schools in Texas to share the acclaim with 48 University Interscholastic League public schools. More than 1,500 schools in the state competed during the 2022 season.
The current cumulative St. Thomas team GPA as it applies is 3.48. The metric is calculated from a total of 71 student-athletes including 27 seniors, 33 juniors, nine sophomores, and two freshmen.
During Super Bowl week, the NFF will announce the National Champion High School Academic Excellence Award, along with the state champions and a national finalist for classifications in each state.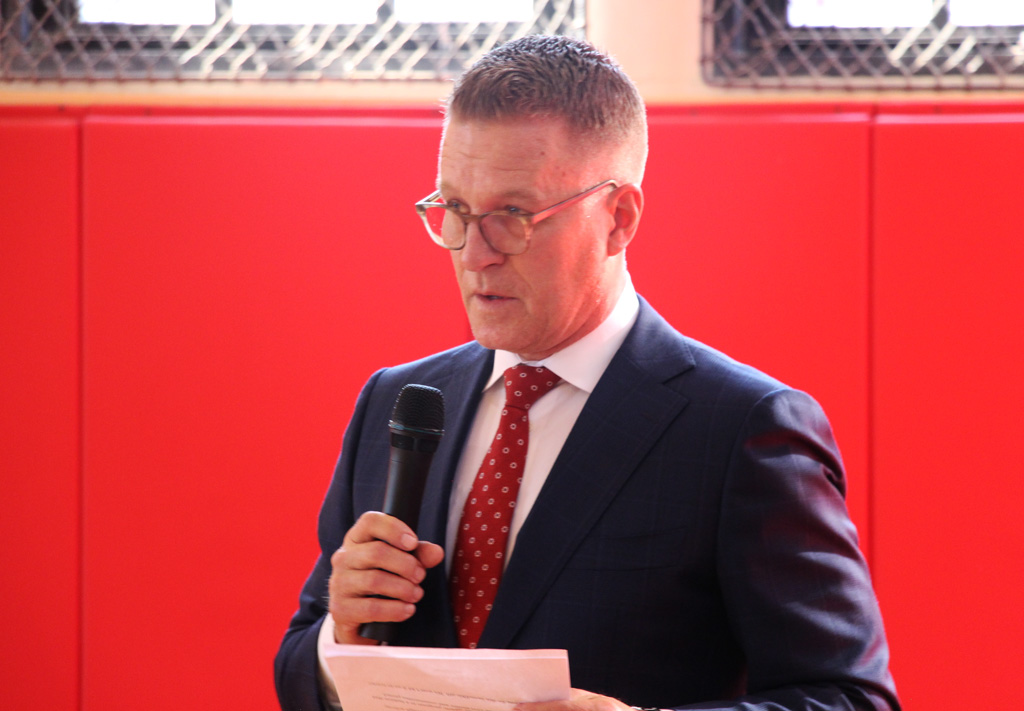 "These kinds of measurables speak to the mission of the St. Thomas experience," says athletic director Mike Netzel. "The focus and dedication that drive our student-athletes to excel on the field also serve them in embracing the demands of being a complete St. Thomas student. Their academic and athletic pursuits provide complementary learning opportunities."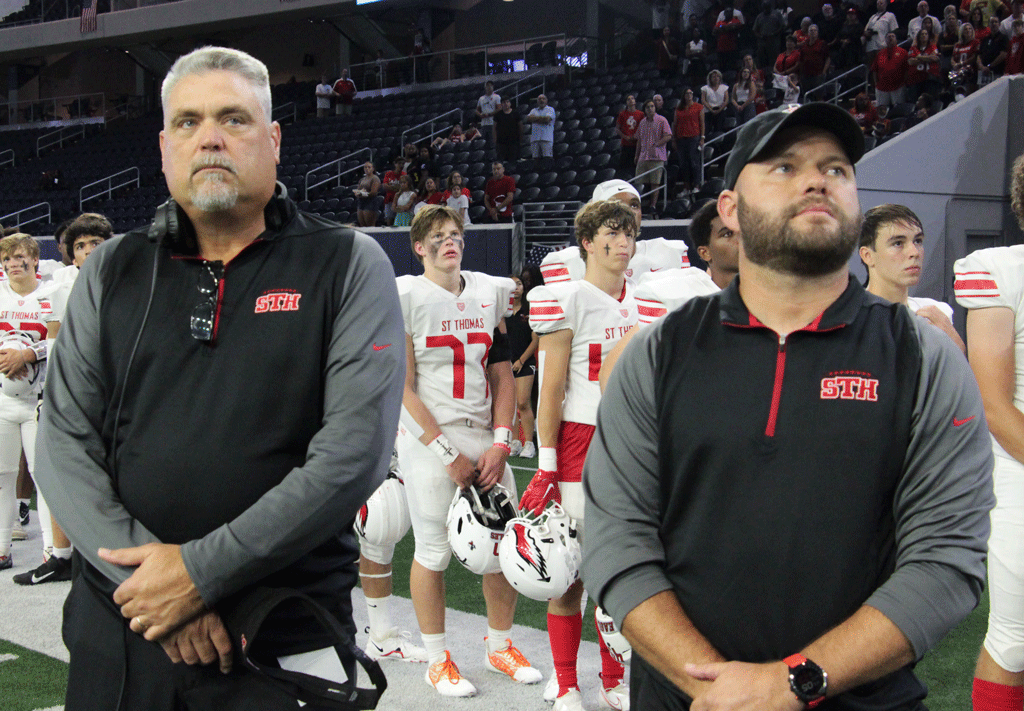 Netzel credits head coach Rich McGuire and defensive coordinator Ray Davis for a genuine desire to develop the total student-athlete. "They are partnering with exceptional leaders on the sidelines and behind the scenes who have a passion, a vision, and a charisma to inspire elite achievement in those around them."
A further breakdown of the high-arching success of Eagle Football includes:
Seven scholar-athletes earned recognition from National Merit Scholarship Program.

Sixteen earned membership in the St. Thomas Chapter of the National Honor Society, achieved through a selection process based upon exemplary scholarship, enthusiastic service, steadfast leadership, and Basilian character, qualities associated with NHS since its founding in 1921.

Thirty-eight are enrolled in Advanced Placement courses with 18 taking two or more.

Forty were named to the St. Thomas Honor Roll with 22 carrying a grade point average above 4.0 and 18 above 3.5.

Eight earned TAPPS Academic All-State.

Thirty-three earned the Eagle Scholar Award (equivalent to Academic All-District) for a 3.5 or higher GPA and exemplifying the St. Thomas credo of Teach Me Goodness, Discipline, and Knowledge.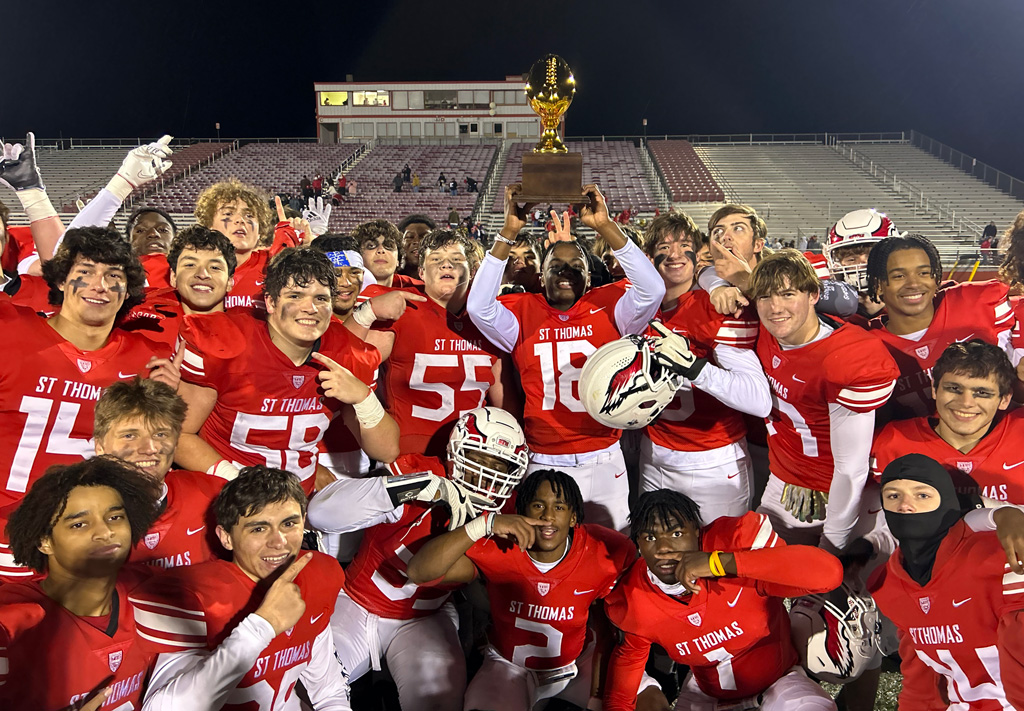 St. Thomas completed the 2022 season with a 10-2 record for its winningest season since 2015. In McGuire's sixth season as head coach, the Eagles advanced to their second TAPPS state semifinal in four seasons and fourth since 2014. Eagle Football entered the Division I postseason no. 2 in the Houston Chronicle private school rankings after seven consecutive weeks as the unanimous no. 1. St. Thomas closed no. 5 in the final Dave Campbell's Texas Football state poll. Eight Eagles were named to the Chronicle All-Greater Houston private team.
Eagle Athletics is designed for students to make the most of their St. Thomas journey, explore the multitude of resources across campus, take ownership over their academic and social decisions, and develop their identity on campus beyond the realm of athletics.
The lessons learned throughout generations pursuing 105 state titles – including seven crowns since 2014 with 15 other teams reaching at least the state semifinals – are consistently a blend of ageless savvy and aesthetics. Be honest. Communicate. Be trustworthy. Work hard. Set high expectations. The culture breeds confidence and cohesion, exuberance with grace.
#ChampionsForLife is much more than a hashtag making its way onto social media campaigns, coffee mugs, and T-shirts. It's an ethos more relationship-driven than results-driven. It's challenging Eagle scholar-athletes to develop and embrace the finest version of themselves and become the most loving fathers and husbands, the most compassionate citizens, the most selfless leaders, and the most devout spiritual models, all representing the best that St. Thomas may offer.
Circles of influence. Equipped with tools for life.
Champions for life.
Eagle Fight Never Dies!