February's traditional National Signing Day provided more than the usual Red & White salute for acclaimed St. Thomas student-athletes seizing the chance to continue their careers at the university level.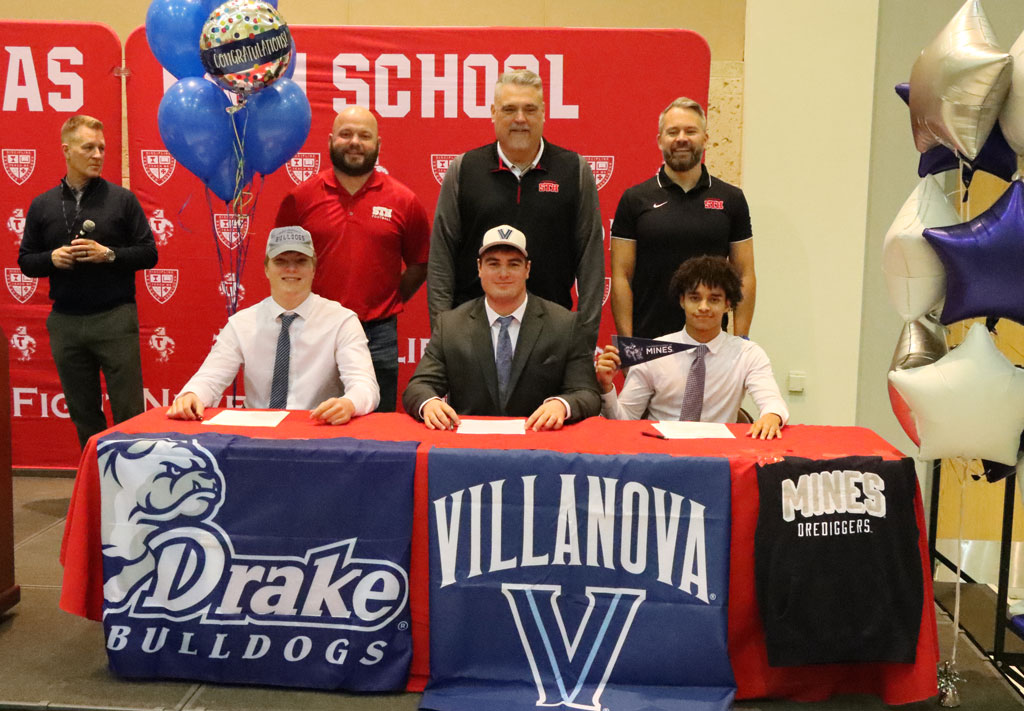 In the midst of the coast-to-coast carnival capping the wild world of frenzied football recruiting that long ago reached peak absurdity came the engrossing journeys of wide receiver Preston Bowman '23 to the Colorado School of Mines, lineman Tyler Langin '23 to Villanova University, and linebacker Jack Ward '23 to Drake University.
The fabulous threesome was flanked on the Cemo Auditorium stage by a multi-task trio from Eagle Baseball – Logan Duplantis '23 to the University of Dallas, Anthony Equale '23 to Washington University in St. Louis, and Brayden Hollie '23 to Galveston College.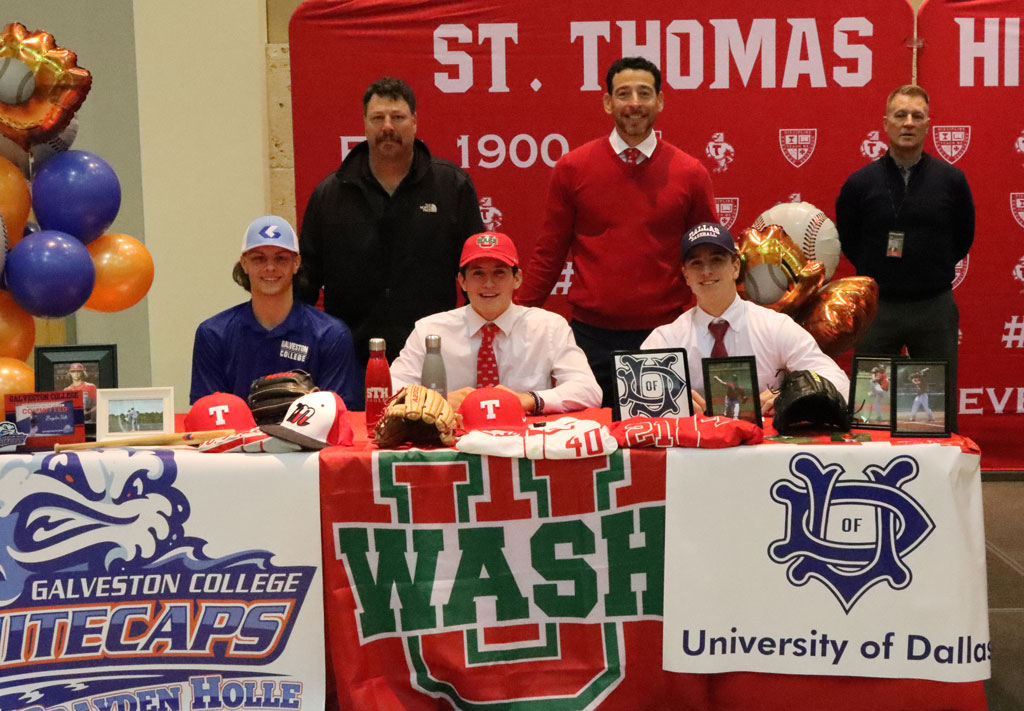 All six Eagles navigated less than certain paths, conquering odds and obstacles without allowing frustrations, ill-timed circumstances, and self-doubt to douse their determination or deter them from fateful destinations.
Head football coach Rich McGuire marveled at how his three pillars from a 10-2 season "each traveled different roads to arrive at their next destinations. Preston came to us as a sophomore, Tyler as a junior, and Jack was here as a freshman. But regardless of the passage, what is most important is to arrive at the right place. They did that to reach St. Thomas and are doing the same moving forward. Preston, Tyler, and Jack chose outstanding universities where they may excel as student-athletes. And all three performed in multiple sports at St. Thomas while achieving their dream to play college football."
Eagle Baseball head coach Adam Massiatte saluted the student-athletes knowing that "less than 10% of all high school players advance to the next level. It is a privilege to play college athletics. It's not an achievement you can expect but Logan, Anthony, and Brayden worked and possessed what I call 'follow through.' They are coachable and give all they have to the team. They will have a deep impact during our upcoming season."
The festivities saluted the continuing elite achievement and growth of Eagle Athletics since Mike Netzel assumed the leadership role in 2006. St. Thomas captured the 2021 TAPPS All-Sports Trophy, earning the prestigious distinction for the ninth time in the previous 11 years that the honor was awarded. Within the journey toward 19 state champions spread across seven sports, more than 150 relentless Eagles have now extended their careers to the university level.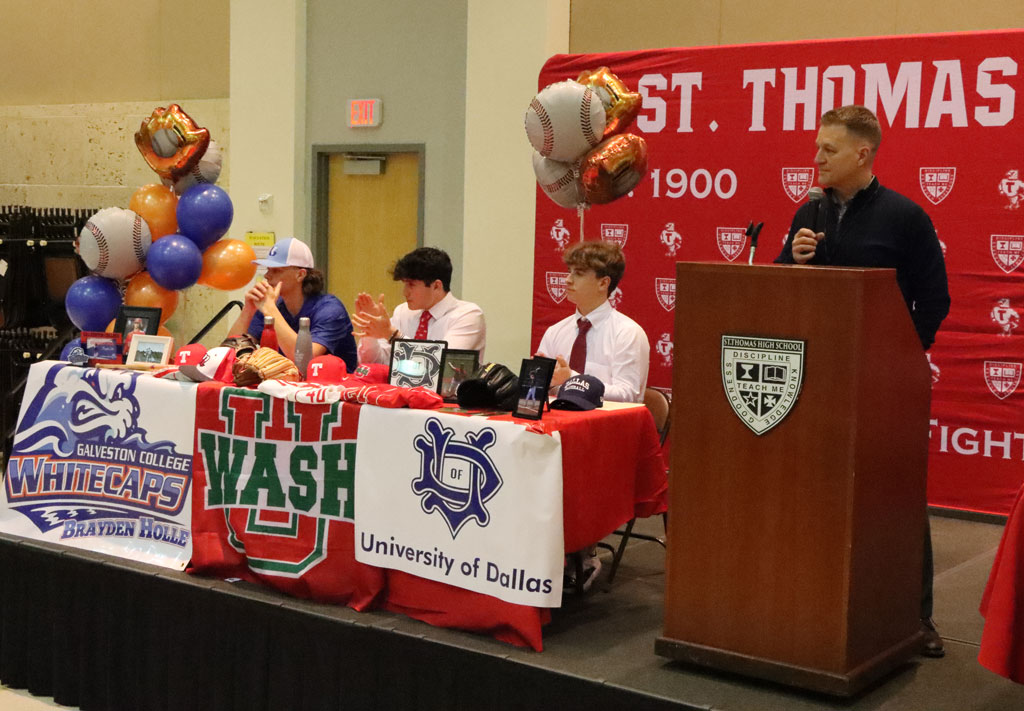 "Our entire focus across 12 varsity sports is development," Netzel says. "The key to being successful is seizing what is needed to get the most desirable outcome. What do you need to do to reach your goals academically, athletically, and personally? That's the focus for St. Thomas, that's what we do. This is about a 40-year decision for our families, not a four-year one."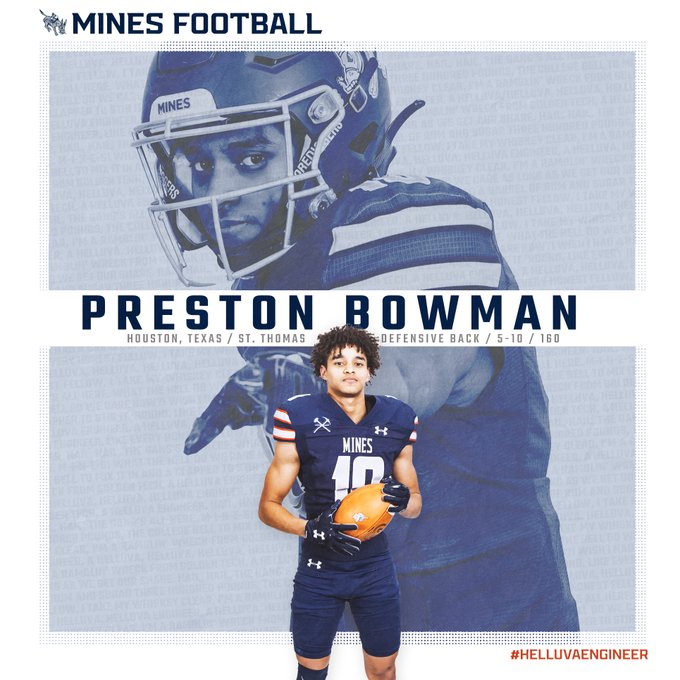 Bowman joins a program that reached the 2022 NCAA Division II national championship game in the first season with the national coach of the year Brandon Moore. The Orediggers won 13 consecutive games, the program's second consecutive NCAA Super Region IV title, and its fourth consecutive conference crown.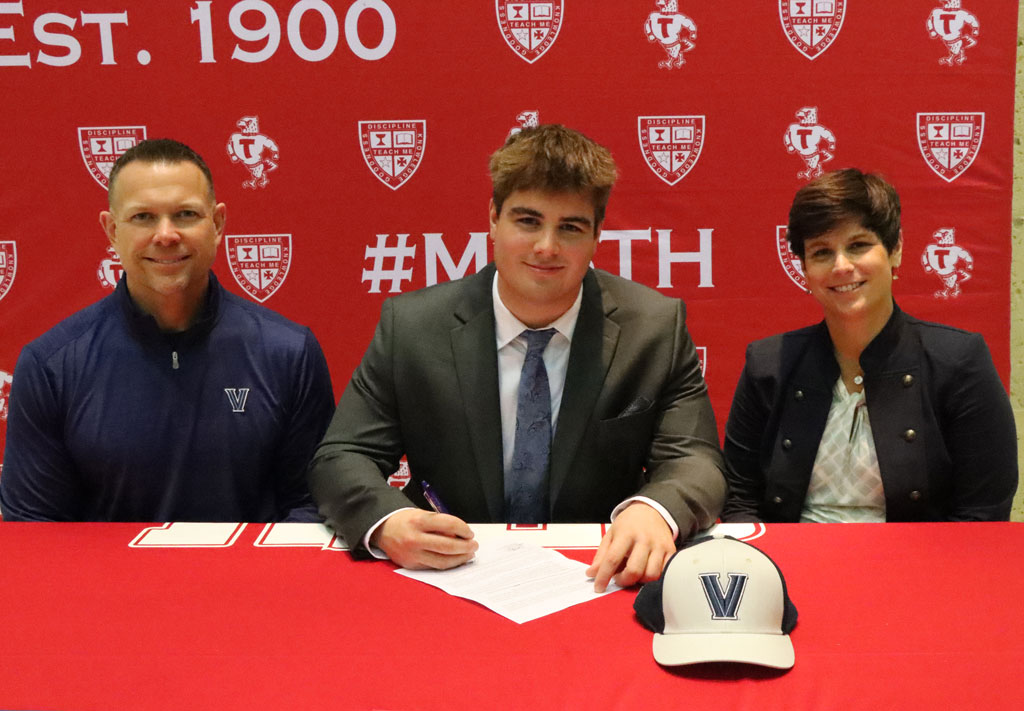 Langin selected Villanova after the Wildcats reached the quarterfinal round of the 2021 Football Championship Subdivision (FCS) playoffs to finish with a 10-3 overall record and its first Colonial Athletic Association title since 2012.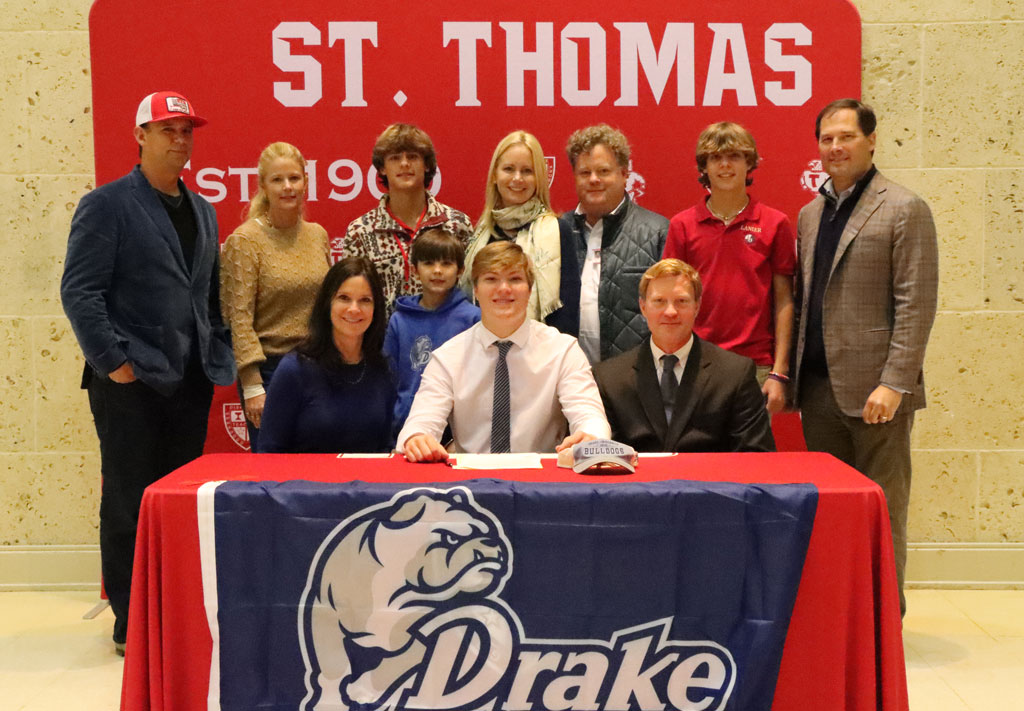 Ward, the Touchdown Club of Houston Defensive Player of the Year, sees an immediate opportunity with the FCS Pioneer League Bulldogs who closed last season with the momentum of three consecutive victories.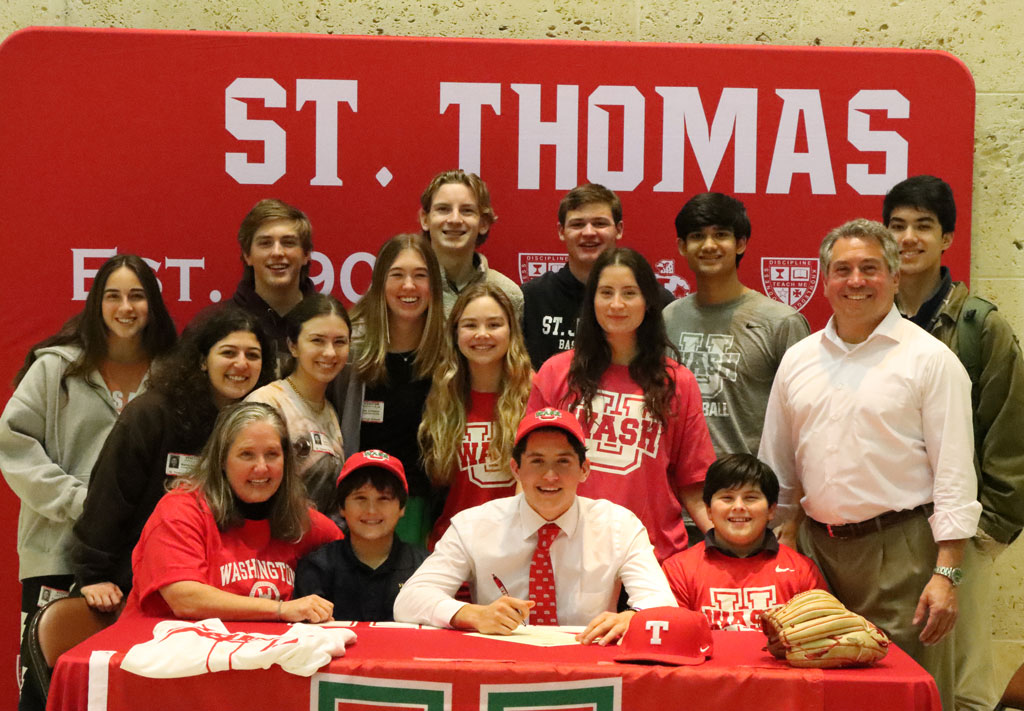 Equale is following the Division III path of Eagle state baseball champion Matthew Ashbaugh '16 who completed a solid career for the Bears, appearing in 29 games and finishing with an 11-2 record while earning his Bachelor of Science in Business Administration, Finance, and Marketing.
Duplantis and Hollie opted for prospects with programs that Massiatte astutely described as chances "to participate and win national championships. Not just a state championship."
Eagle Fight Never Dies!