They were positioned at polar extremes of an aggressive and arduous four-bid negotiation with HISD for a prime property that both parties identified with equal need and desire in a process that proved as unusual as it was tactical.
What ultimately emerged was the most improbable of pairings, the relentless Basilian school president and the savvy natural gas entrepreneur, eventually dissolving what appeared to be clear and divisive differences, discovering a common purpose that united them as one.
St. Thomas is blessed to accept a transformational gift from Houston philanthropists Glenda and Russell Gordy, a $2.5 million pledge that will match all new offerings dollar for dollar in the Double Your Donation Challenge, slated for February 21-May 20, to complete funding for the 4500Forever capital campaign.
"We hope our contribution directly impacts young lives, a boost to students who otherwise would not have the possibilities that St. Thomas provides," Russell says. "Many private schools carry exorbitant costs and appeal to an extremely low percentage of the population. That's not what Glenda and I are about, and she's the decision maker on our gift-giving. She told me this was worth pursuing and we should do it."
St. Thomas President Fr. Kevin Storey, CSB believes "Glenda's and Russell's amazing act of generosity gives St. Thomas the opportunity to truly take 4500Forever and finish strong.  We are blessed and grateful for their investment which will benefit our students for generations to come and enable us to continue building upon the foundation set forth by our Basilian founders 118 years ago."
The leadership gift places the Gordys among the most generous St. Thomas benefactors, those who through extraordinary philanthropy share the same vision, spirit and strength in laying the bedrock for a greater St. Thomas.  The commitment arrives during the final stages of the $66 million fundraising effort, initiated by the school in 2014, aimed at continuing the tradition of cultivating academic innovation, recruiting and retaining the finest faculty and scholar enrollment, and creating exceptional student opportunities.
"The majority of our charitable contributions are aimed to help young people," Russell says. "Texas Children's Hospital, DePelchin Children's Center, Halo House (provider of low-cost housing for out of town patients receiving blood cancer treatment at the Texas Medical Center). Glenda is a long time member of Mothers Against Cancer. That's where we started. And partnering with St. Thomas is compatible with that same intent."
Russell Gordy's booming professional success is rooted in oil and gas, rising from humble origins to roughneck rigs to land rights and oil drilling to one of the largest landowners in the United States.
Gordy's sundry exploits are a sweeping tale of defying the longest of odds through innate intelligence, shrewd financial investments and sheer will.
Yet through his substantial gains, Gordy never lost a compassionate perspective of his modest beginnings and the essential value of seizing and capitalizing on opportunity when presented.
Fr. Storey shared with the Gordys the historic and distinguished St. Thomas legacy of diverse enrollment fueled by tuition assistance and merit scholarships, enabling students to benefit from – and uniquely add to – the Eagle experience.
In a series of conversations, Fr. Storey imparted on the Gordys with absolute conviction "that the next Russell Gordy is going to come from St. Thomas. I want you to engage our campus community, speak with our geology students, and discover your fit with St. Thomas. Yes, we're a private college preparatory school. Yes, we're a Catholic school. But we can replicate your story better than any other school in Houston. Because reaching out to a wide-ranging mix of students has been our mission since 1900."
The testimony resonated with Glenda and Russell, along with Fr. Storey's personal upbringing earmarked by challenges ever similar to their own.
"Fr. Storey owns a great passion for what he's doing," Glenda says. "He speaks of St. Thomas from the heart. We're approached every day for sizable contributions, often by professional fundraisers. But when you come across someone who is directly involved and personally committed, there is a sincerity that you cannot overestimate."
Russell was struck by "Fr. Storey's spirit. He's tenacious. Determined in all the right ways. Neither one of us has allowed obstacles to prevent our reaching and achieving our goals in life."
But throughout 2013, their respective dogged determination for land acquisition was in stark conflict. Both Fr. Storey and Gordy seared a laser focus on acquiring the 11-acre HISD property adjacent to the St. Thomas campus. An unorthodox bidding sequence wasn't determined until November with a final-hour $60 million final bid in favor of St. Thomas.
Before the high stakes financial tug-a-war involving HISD, Russell Gordy possessed no working knowledge of the all-boys Catholic high school secured at the corner of Memorial and Shepherd Drive since 1940.
"Zero."
And in the aftermath of the bidding, Russell could not muster even a slice of intent to further any sort of relationship between the two neighbors.
"No. Never going to happen. It was time to move on," Russell says matter of factly. "I was actually asked to donate to St. Thomas and I said, 'Have you lost your mind?'"
In the distant wake of these events came a chance encounter at the Hall of Fame weekend for Astros icon Craig Biggio, unifying the unlikeliest of partners in the pursuit of Basilian ideals.
In July 2015, Fr. Storey travelled to Cooperstown, New York on the Astros private charter as a personal guest of Biggio to serve Sunday Mass at Biggio's hotel. Later, Fr. Storey accepted transportation to the afternoon celebratory festivities from former Astros player and manager Phil Garner.
"One small detail … Phil was riding with me," Russell says. "I was the chauffeur. Glenda and I walked down to the car and Phil chimed, 'Fr. Storey, I want you to meet Russell Gordy. You need to get to know Russell Gordy.' You should have seen the expression on Fr. Storey's face. I'm sure he thought at the time I was going to drop him on the side of the road."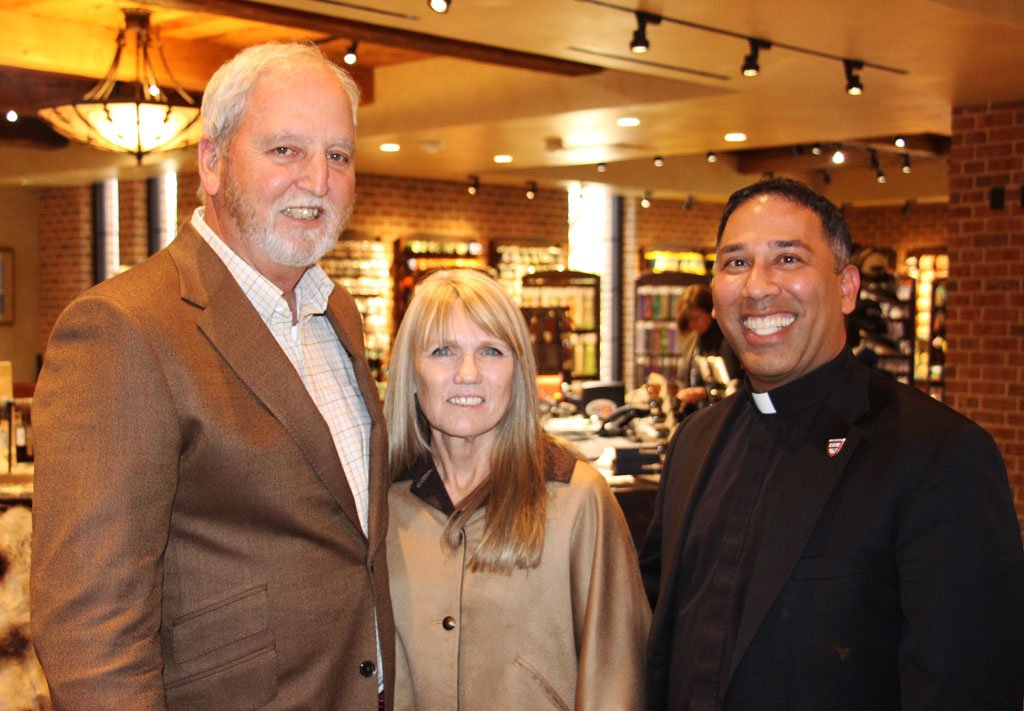 From that uber encounter, Fr. Storey and the Gordys began to thaw their differences through a series of interactions, paving the way to the Double Your Donation Challenge which was decided in January 2018.
"The world is full of surprises," Russell says. "I was obviously disappointed at the time because the HISD deal would have made a great addition to our portfolio. But it's just land. As it turned out, I acquired another property that I maybe wanted a little bit more. And I give Father Storey all the credit for moving us both forward. He provided a great insight into the true mission of St. Thomas and the Basilian Fathers. Without him, I wouldn't be involved like this."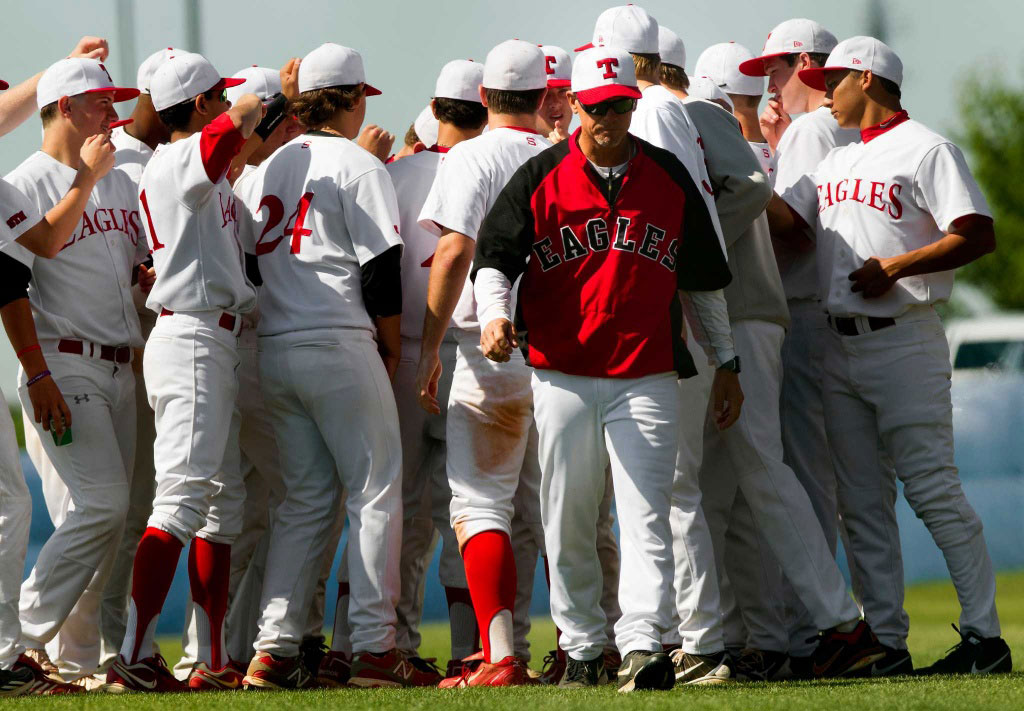 Another contributing factor essential in Russell gradually gathering "great confidence in St. Thomas was Craig. He's a good friend and a wonderful ambassador for the school, where he coached (two TAPPS state baseball champions in five years), where his sons (Conor '11 and Cavan '13) attended. That endorsement meant a great deal to me."
Becoming involved with St. Thomas is consistent with Glenda and Russell's ongoing commitment to several targeted scholarships spread over multiple departments at Sam Houston State University, including The Russell D. Gordy Scholarship established to provide financial assistance to students pursuing a degree from within the College of Business Administration.
"Russell and I firmly believe young people need a good beginning to life," Glenda says. "And it's our responsibility to do our part in making that happen for everyone. Not just for a select few. For everyone."
The Double Your Donation Challenge also represents a further testament to Glenda and Russell's expanding commitment to "a (Heights) neighborhood we care deeply about."
The couple has a long donor history with Stages Repertory Theatre, located just off Memorial Drive at Waugh, including a magnanimous gift contributing to an upcoming three-theatre campus expansion.
Also on Russell's current radar is a 4-acre, mixed-use development at the corner of Washington Avenue and South Heights Boulevard with a 96,000-square-foot H-E-B serving as the anchor tenant.
Gordy & Sons Outfitters is just north on Waugh Drive, a grand hunting and fly-fishing emporium designed for the avid sportsman, featuring one of the finest and most exclusive gun rooms in the world.
"Glenda and I are focused on this particular area of the Heights, from Studemont to Shepherd Drive," Russell says. "This is going to be our hub and we hope to enhance the community in a wide variety of meaningful ways."
In the most powerful of displays, Glenda and Russell Gordy are advancing young men and the future of St. Thomas while stamping a lasting statement about the value of investing in the Catholic Basilian education experience.
"In the end," Russell says, "it's all about 'the cause' and making a difference in someone's life."
Catholic. Basilian. Teaching Goodness, Discipline and Knowledge since 1900.