The most ambitious capital campaign in St. Thomas history reaches a multi-million dollar threshold but hardly a crescendo.
The 4500Forever fundraising arm to purchase the adjacent property from HISD and secure a vibrant St. Thomas future at the current 4500 Memorial Dr. address has crossed the $30 million mark, an unprecedented amount in the school's 114-year history, yet still only halfway to the ultimate $60 million goal.
President Fr. Kevin Storey, CSB applauds this rousing achievement thanks to the contributions of more than 700 donors but sees the moment as more of a catalyst than a milestone.  He draws on an NBA analogy from the recent playoff season involving Indiana Pacers head coach Frank Vogel.
"Vogel said that the Pacers weren't ready to beat the Miami Heat because they first had to believe they could win, and then their actions would follow that belief," Fr. Storey said.  "I thought that was inspirational and applies to certain members of our community.  There are people who believed in 4500Forever when we had zero dollars, when we had $5 million, when we had $10 million, regardless of the amount.  But now I see that net of believers expanding as the donations begin to add and stack on top of each other, and more and more and more contributors are getting involved."
When St. Thomas won the bid to purchase the High School for Law Enforcement in November 2013, $60 million may have appeared to be a Mount Everest-type financial challenge.  But 4500Forever has gained incremental momentum as Inner Loop property values have continued to soar.
"When you look briefly in the rear view mirror, it's unbelievable what's been done in such a short period of time," Danny Grant `78 said.  He and his wife, Suzanne, are serving as co-chairs for 4500Forever and see this North Campus expansion as the next defining moment in the St. Thomas legacy … a once in a lifetime opportunity which brings a once in a lifetime kind of commitment from alumni, family and friends.
"We're only at the base camp right now … still a big climb in front of us.  This next $30 million will largely come from the Eagle community.  We need those who have never participated in the Annual Fund or our other capital campaigns.  We need people to look at this an 100-year gift.  A gift for the future, a gift which will endure. "
Even with a record-breaking enrollment for 2014-15 academic year, St. Thomas still cannot keep pace with the ever-increasing demand for Catholic education in Houston's exploding Inner Loop.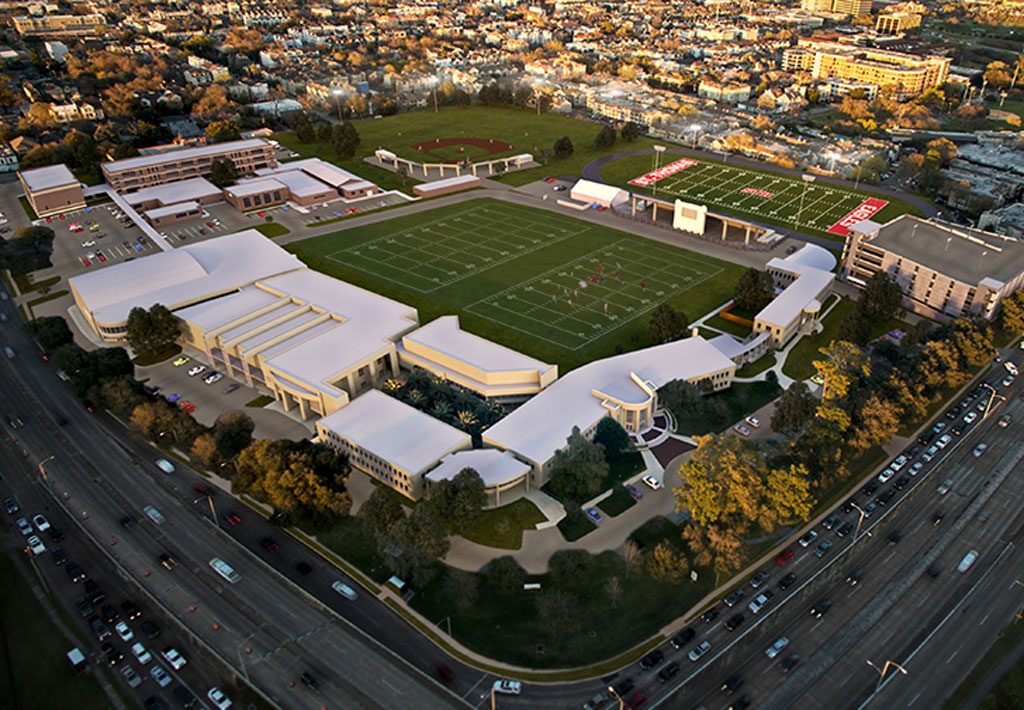 Extending the footprint enables St. Thomas to equip better all those involved in the sciences, gifted in the visual and communication arts, participating in our full-production plays and music programs and provides the valuable land space needed for additional practice facilities and more efficient workout routines for athletics programs.  
"That St. Thomas needs this property in order to thrive … and survive … is the story that resonates," vice president for advancement Mark deTranaltes '83 said.  "We can't continue to be competitive in the market and not meet the future needs of our constituents.  Our community has said, 'Yes, we're behind you.  Yes, this is what we want.  Yes, this is the future of St. Thomas High School.'  And they're willing to put their money where their mouth is."
Faculty member Rod Takacs is in his fourth year at St. Thomas after teaching 13 years at Mount Carmel High School.
"For me, what's most important about all this is the fact that St. Thomas will be able to serve a larger spectrum of students in the future," Takacs said.  "More space, more facilities and generating more income through our enrollments, all means greater opportunity to reach out to students who right now are unable to be a part of this community.  I'm thrilled about that.
"We have to realize the level of competition among private and vanguard schools.  And competition makes everyone better.  This allows us to enhance and expand programs that we have, make our educational product even better, and in turn raise the educational in the city.  I'm thrilled about getting closer and closer to that reality."
Joseph Buckle `15 is the Student Council President and a second generation Eagle (Edward `80).  He senses an anticipation for the acquisition even though he and the majority of the current students will not be on campus to participate and benefit from the expansion.
"There's definitely an excitement about the direction of the school because we'll always will be a part of this as alumni," Buckle said.  "If I'm able to send my son to St. Thomas, he'll have considerably different experience than the one I'm having, hopefully enriched by this campaign.  If you're not moving forward, you're moving backwards.  But the Basilian traditions and the Basilian values, those characteristics will never change."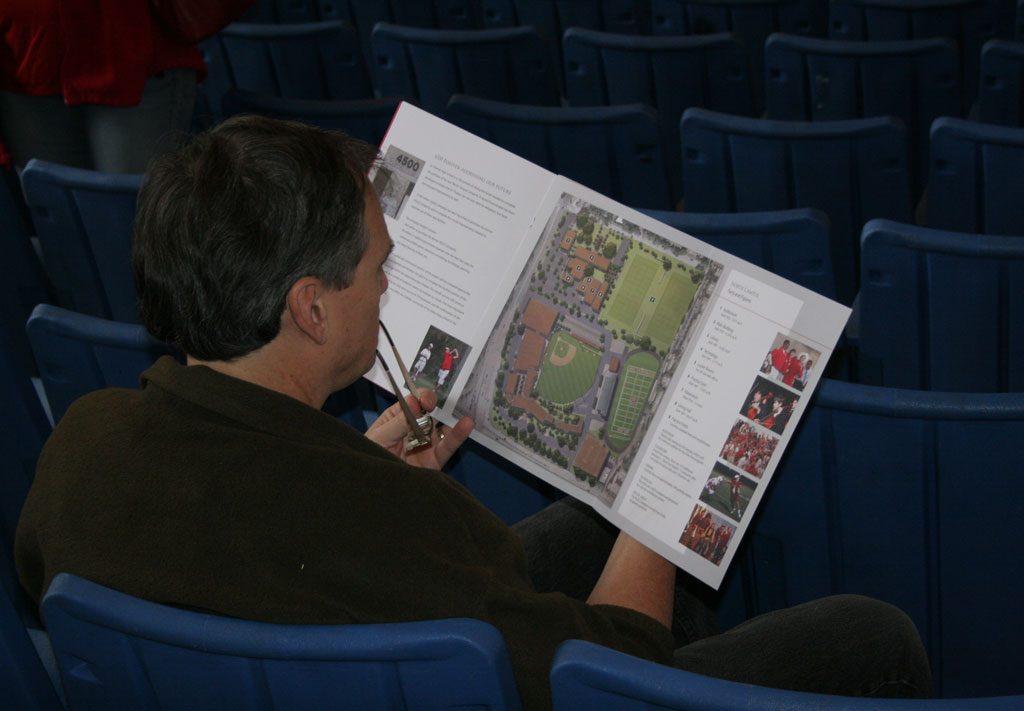 While Fr. Storey admits to being humbled and, at times overwhelmed, by the response of the Eagle alumni and parents, friends and Houston foundations, this unparalleled generosity is not near enough  with the clock ticking on the closing deadline.  STH must have at least $40 million in hand to complete the bid on October 15.
"We've had 700 donors, which in the grand scheme of the St. Thomas community is a vast minority," Fr. Storey said.  "Getting to $30 million now expands that circle tremendously and I expect those who have some real capacity to contribute will jump in a more significant way, just as those  have who always believed from the beginning."
So whether monthly checks from a household budget, retirement-plan annuities or final bequests from estates, deTranaltes anticipates a potential pool of generous contributors embracing a historic change that will impact lives for future generations.
"We knew we had a challenge in front of us unlike any other time in the history of the school," deTranaltes said.  "Halfway to our goal means we can now extend our communication pieces and reach out to so many of those who have supported us in the past and are wanting to support us in the future.  There are so many who value this education and know the graduates of this institution give back to the community "
Catholic.  Basilian.  Teaching Goodness, Discipline and Knowledge since 1900.