President Fr. Kevin Storey, CSB knew immediately the dynamic presence of his featured guest to the latest 4500Forever Community Event would spark enthusiasm.
But what Houston Texans head coach Bill O'Brien delivered measured beyond celebrity endorsement and struck to the cord of the 4500Forever capital campaign.
"The unanimous reaction is he's so authentic," Fr. Storey said.  "Bill O'Brien gets who we are from the personal sense of who he is.  His sense of the importance of being a Catholic … of Catholic education … of athletic excellence paired with academic excellence … of facilities  He legitimately believes in what he said and that's what is so empowering for our community to hear"
4500Forever is the initiative to raise $60 million to secure the adjacent 11-acre HISD High School for Law Enforcement and Criminal Justice (HSLECJ).
The North Campus expansion would deliver obvious and immediate tangible dividends – additional classroom space, expanded facilities for science and drama departments, much needed and expansive athletic practice fields.
The Basilian Fathers believe research confirms Houston's ever-growing population and ever-thriving economy brings a capital campaign of this scope within reach, that extending the 4500 Memorial campus maintains the school's century old urban identity.
In the time from O'Brien committed to speak to his night on the St. Thomas campus, 4500Forever raised more than $2.2 million to increase the overall total to more than $23 million.
"I really believe in Catholic education," O'Brien said. "Anytime you can come to a high school like St. Thomas and help for a good cause, I think it's great. I think this is a great night for St. Thomas."
Before being named the third head coach in Texans history, before succeeding college coaching icon Joe Paterno at Penn St., before coaching in two Super Bowls with the New England Patriots, before successful coaching stints at Georgia Tech and Maryland and Duke University, Bill O'Brien graduated from St. John's Prep in Danvers, MA in 1988.  
"One of the turning points in my life" is how he described his experience at St. John's.
"It changed my life because (St. John's) taught me so much about structure and discipline and hard work and competition.  And one of the things that made St. John's such a great school – we had phenomenal facilities.  I went back a couple of years ago and they've put in FieldTurf, a new library, new classrooms."  
O'Brien detailed for the audience a number of qualities essential to his "How To Build A Winning Team."
Most critical is crafting "the vision and communicating that vision to the group.  And then it's important for the group to have great belief, to take the leap of faith that the vision is going to work.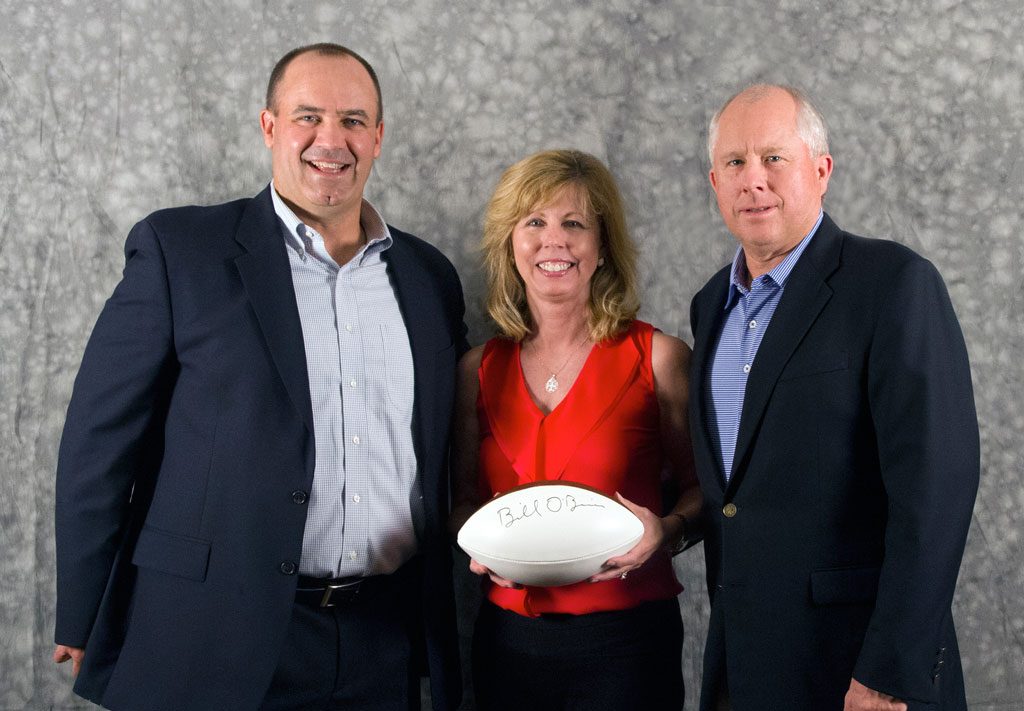 "For St. Thomas … to take the school from where it is now to where it can be … a great school now but how much greater can it be … it's really how far do you want to go to be the best you can be.  Fundraising is obviously a huge part of that."
Wendell and Cynthia Champion were part of the more than 300 in attendance in Reckling Gymnasium.  He attended Christian Brothers Academy in Albany, NY, and his son, Wendell III `15, recently helped lead the Eagle Baseball to its third TAPPS 5A state title in five years.
Champion believes many of the same qualities O'Brien identified are readily applicable to the 4500Forever effort.
"We have a vision and we have to be able to deliver that outside of this Memorial corner," Champion said.  "Communicating and sharing that vision … our St. Thomas community needs to accept individual roles in that way.  If we do that, then the $60 million is attainable.
"Bringing people together from different areas of life … whether the background is racial, economic, social … is so important … is so much of what St. Thomas has been about and should continue to be about.  Without an institution that's dedicated to that kind of development of young men, then our communities will be hard pressed to find future success."
Vice President for Advancement Mark deTranaltes `83 senses O'Brien's commanding message will have a galvanizing effect as 4500Forever moves to completion.
"For a man walking on campus for the first time, you would have thought it was a homecoming," deTranaltes said.  "Bill O'Brien understands the importance of Catholic education and the formation of young men in the traditions of the Basilian Fathers mission. Goodness, Discipline and Knowledge are a part of our lives and a part of his. It was a honor to have him speak at St. Thomas and on behalf of the 4500Forever capital campaign."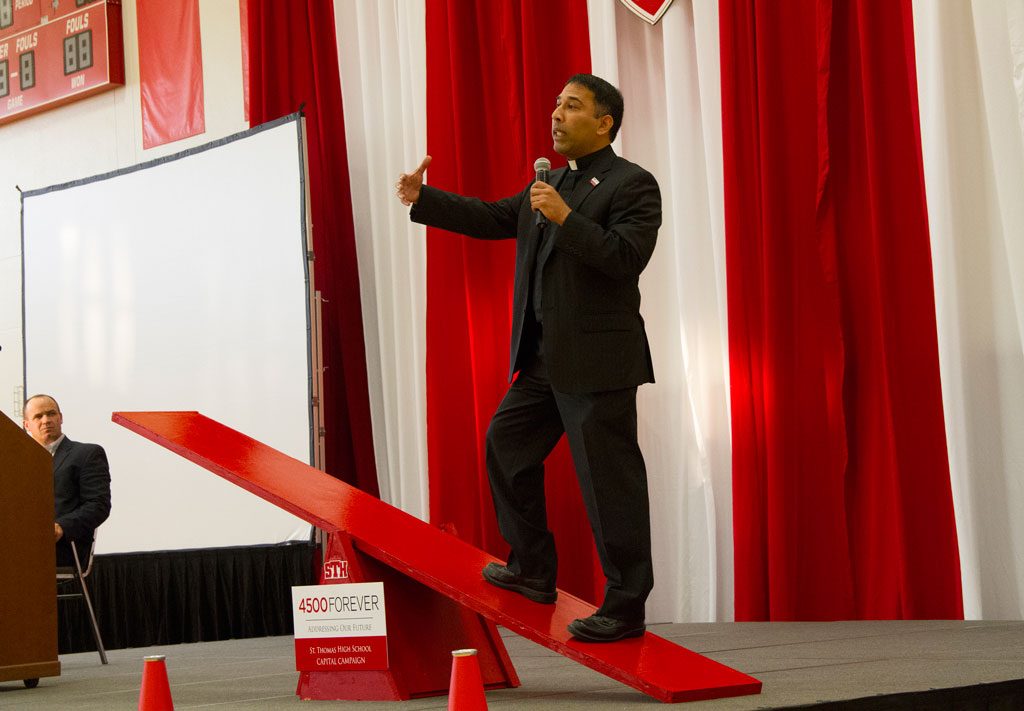 Fr. Storey followed O'Brien on stage and demonstrated the "tipping point" theory to capital campaign success means 4500Forever is actually closer to success than it might appear.
Since St. Thomas' winning bid for HSLECJ was accepted in November 2013, the Basilian Fathers have emphasized that the North Campus acquisition is not driven in the vain pursuit to become elite, that broadening the STH physical footprint will never alter or diminish the essence of the Basilian mission which has remained non-negotiable at the school since 1900.
"Our core values of bringing people together from different backgrounds and different zip codes, who offer different talents and abilities, will never ever change, regardless of how big St. Thomas expands in terms of land size or student enrollment," Fr. Storey said.  
Catholic.  Basilian.  Teaching Goodness, Discipline and Knowledge since 1900.