The St. Thomas 4500Forever capital campaign is gaining significant momentum in raising the necessary funds needed to close the bid on the adjacent HISD property.
In the same day the Trini & O.C. Mendenhall Foundation committed $1 million to the project, sizable contributions from W.T. and Paula Cutts and Jay Rea `55 pushed the current financial total to more than $22 million.
"These recent developments absolutely reinforce my confidence that we will meet our goal," President Fr. Kevin Storey, CSB said.  "The urgency obviously remains.  The Basilian Fathers don't want this purchase to be funded through tuition.  We're determined to keep tuition affordable so we are relying on our strong alumni base and those in the Eagle community and beyond to embrace paying forward for future St. Thomas generations."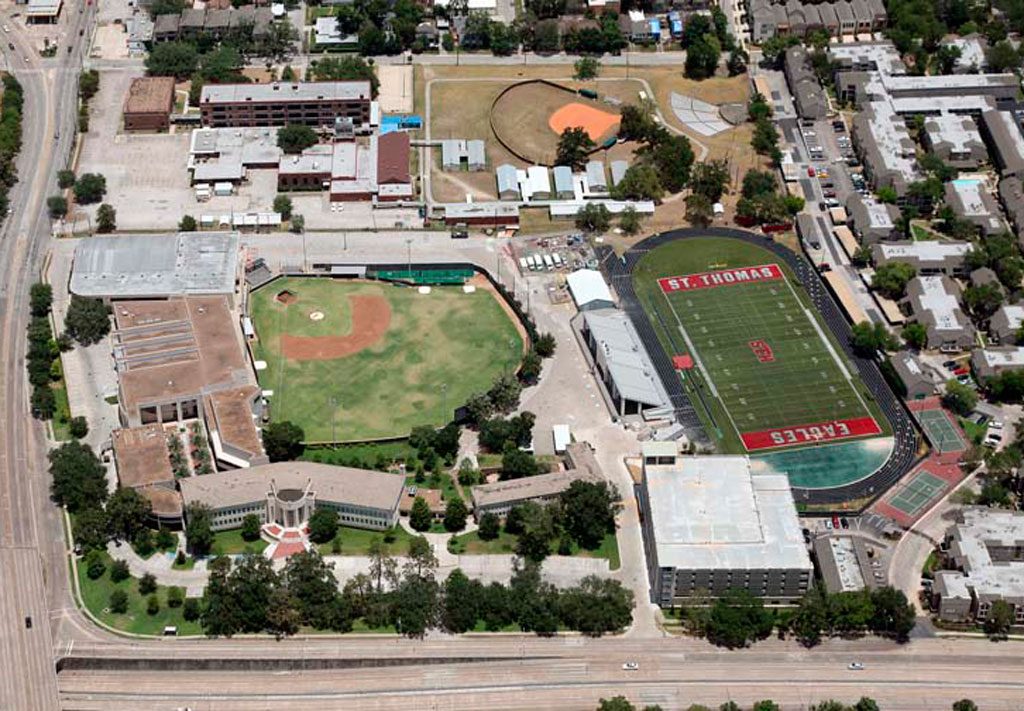 The best and final offer from St. Thomas for the 11-acre HISD High School for Law Enforcement and Criminal Justice (HSLECJ) was accepted on November 14, 2013. The $60 million purchase price brings an additional $6 million demanded for capital renovations and updates.  The North Campus expansion delivers much needed facilities and land space essential to advancing the 114-year mission of the Basilian Fathers to educate and serve students and their families.
The Mendenhall Foundation million dollar gift secured the naming rights to the swimming facility at the HSLECJ.
The Cutts added a $250,000 donation.  The family's connection to St. Thomas didn't begin until Powell `17 enrolled in the fall of 2013.
Rea pledged $25,000 with the hope that his effort with spur similar incentive to members of the Class of 1955.
"In one day the breadth and scope of the St. Thomas commitment was exemplified," Vice President of Advancement Mark deTranaltes said.  "On that day we saw gifts ranging from $1,000,000 to $25,000, each party doing what they can do to see that the mission of the Basilian Fathers continues. And although we might have had this special moment last week, we have seen it time and again over the past six months. Every gift is important. Everyone's passion for the school is fueled and ready, let's not worry about what type of impact my gift has, but think of the impact not giving will have on the future. We are counting on our community. We are blessed by alumni, parents and friends of St. Thomas that have seen first-hand how this school has impacted the lives of loved ones, and how those loved ones have gone on to impact the lives of thousands of others. This is why it is so important, and why now is the time to act."
Hector Herrera `79 and his wife, Michelle, had previously initiated a joint family donation with Hector's brother, Carlos `75, and his wife, Sylvia.
The Herreras are contributing $250,000.
"Hector and I have given to STH in the past but in much smaller numbers," Michelle said.  "To go from that size to this is a statement, a leap of faith.  Most donors don't do that.  But I absolutely believe this is the right time for us, absolutely believe in the vision and the credibility Fr. Storey and (principal) Fr. (Patrick) Fulton have for the future of St. Thomas."
This STH acquisition strikes a particular emotional chord for the Herreras.
Hector and Carlos' father attended George Washington Middle School on the same existing Law Enforcement site. Hector tells an inspiring family story of how his father would stare through the hurricane fences which separated the two schools, mesmerized by the presence and order of those Catholic boys and the priests, not just sensing but knowing that something special was happening on that side. After starting his own family he hoped that one day his own sons would grow and become "good men of St. Thomas."
Hector's sons, John `09 and Alex `15, and Carlos' sons, Ray `03 and Antonio `16, are continuing the Herrera legacy at St. Thomas.
"Every contribution is important at this stage of the game," Michelle said.  "No amount is too small, no involvement is not meaningful.  We're one-third of the way there.  This is going to happen.  There is no doubt in my mind.  And we've only tapped the surface."  
Catholic.  Basilian.  Teaching Goodness, Discipline and Knowledge since 1900.