More than a decade ago St. Thomas identified three essential growth areas to propel the school into its second century of teaching goodness, discipline and knowledge in the tradition of the Basilian Fathers.
Critical to continuing its acclaimed academic excellence as one of the leading all-boys schools in the United States are an enhanced resource center serving science, technology, engineering and mathematics (subjects collectively known as STEM) … additional athletic fields and campus green space … and a thriving student center to meet the social, recreational and co-curricular necessities of STH's ever-diverse student population.
The vision is beginning to take definitive shape with the recent unveiling of the move-in master plan for the Joplin Campus expansion funded by the 4500Forever capital campaign.
"The response from our collective community is that this plan reflects our values and our needs for furthering our mission for the next 25 years and beyond," president Fr. Kevin Storey, CSB said.
The design team at Kirksey Architects set out to create a unifying campus experience.  One of the four largest architecture firms in Houston with a long-standing relationship with the school which dates more than 25 years crafted a final blueprint after nearly a year of deep dialogue with various St. Thomas boards, administrative and land acquisitions teams, plus current faculty and staff.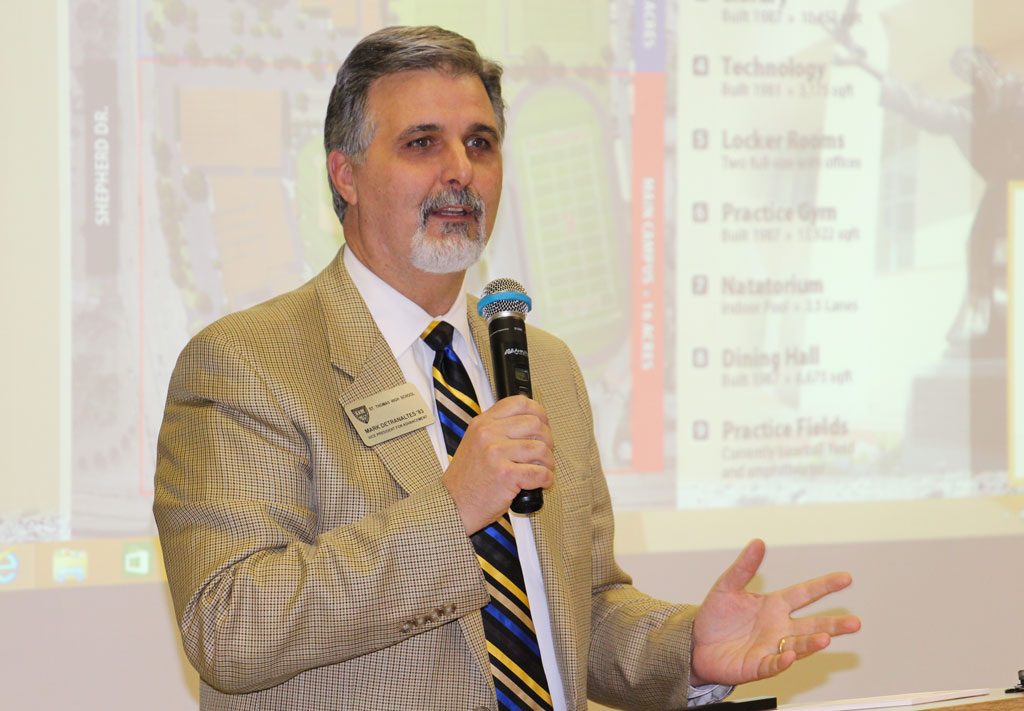 "The immediate strategy was to maximize the physical property before the deep dive into maximizing the additional classrooms and offices," Vice President for Advancement Mark deTranaltes '83 said.  "Kirksey proved to be attentive listeners and really captured the culture and spirit of St. Thomas."
Moving STH's existing weight room and adjacent locker room to an athletic performance and conditioning space on the Joplin Campus expands the science program with valuable classrooms and innovative technical labs for STEM curriculum which emphasizes a collaborative and applied approach to the four specific disciplines while providing students with a foundation to pursue a number of growing, in-demand careers.
The renovated Joplin Campus will also house a much anticipated student center dedicated to giving students the best out-of-classroom experience possible featuring a range of resources to meet their daily needs while fostering personal growth as they arrive early on campus or remain into the early evening hours.
4500Forever Finish Strong is raising the necessary $12 million for the Joplin Campus redevelopment.  Currently 25% of that monetary goal has been reached with St. Thomas scheduled to take control of the property May 2017.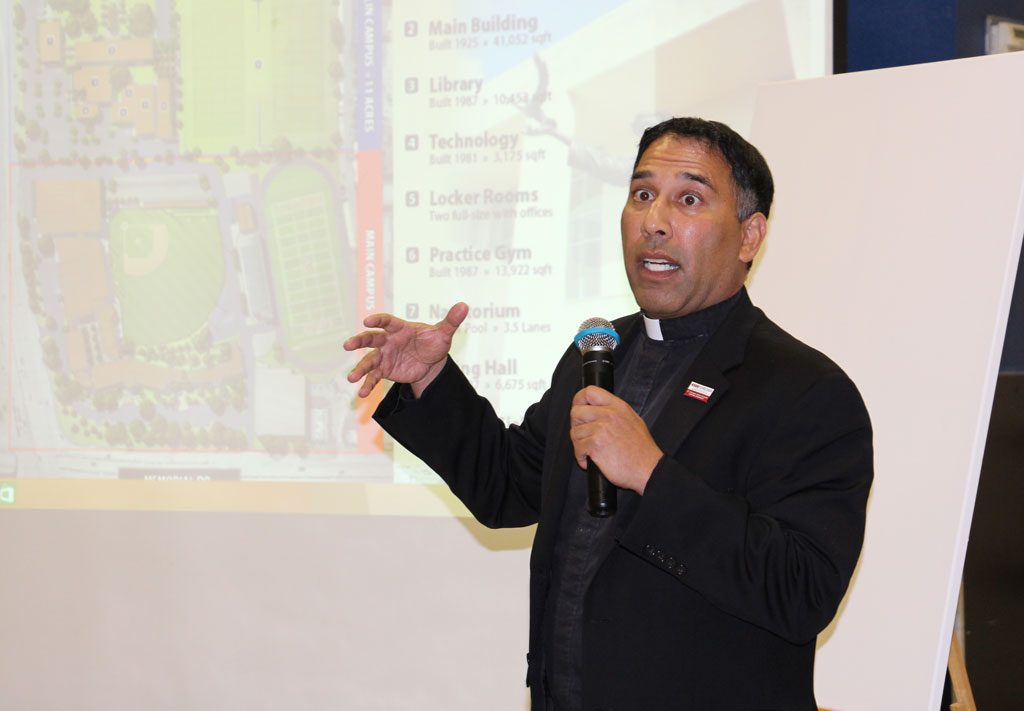 "On Day One we want bulldozers at the curb ready to immediately push our plan into a reality," Fr. Storey said.  "If Finish Strong becomes prolonged … we won't have that freedom.  There's great appreciation in what our campaign has achieved financially in raising $54 million to purchase the land, but in terms of facilities we must embrace the same hyper-urgent diligence if we want to be able to respond to the needs of our expanding enrollment."  
Fr. Storey and deTranaltes agree that Finish Strong is the operative description for the 4500Forever campaign final stage … both believing that the satisfaction in conquering the final objective is what promises to become what is most memorable about the most ambitious fundraising effort in the school's 115-year history.
"When you examine our donor list … it's more than 2,000 names deep … incredibly impressive," deTranaltes said.  "When you look at the top contributors … St. Thomas will always be eternally grateful for their philanthropy.  But without the entire group we wouldn't be positioned for our next defining moment.  As we like to say, it has never been about equal gifts, but rather, equal sacrifice, and that's the fuel which will drive us to finish strong.  No different than what St. Thomas has instilled in its students for generations … maximizing talents and treasures."
The redevelopment begins with creating a new and improved Fr. Wilson Field for Eagle baseball which will become the one of the latest jewels among the ever-expanding facilities for Eagle Athletics … much more than a mere makeover for the home of 23 state champions since 1953.
"I truly believe it's an opportunity to celebrate Fr. Wilson for all that he's meant to St. Thomas and amateur baseball in Houston with a showcase venue," athletic director Mike Netzel said.
The ball park re-positioned to the northeast area of the Joplin Campus will include artificial turf … expanded playing dimensions, spectator seating and media area … state-of-the-art lighting and all the amenities necessary to maintain the rich winning tradition of the program.
"For all the history and for all the great players and coaches who are synonymous with Fr. Wilson … we honestly have outgrown the present location," Netzel said.  "This move gives us a much larger physical footprint.  The setting takes advantage of the the surrounding residential neighborhood on Dickson Street … the same dynamic views of downtown … and allows for alumni gathering areas.  Eagle supporters are among the best in the city and they'll enjoy the more spacious fan-friendly facility."
Two-time Eagle championship coach and Houston Astros Hall of Famer Craig Biggio along with prominent Eagle baseball alumni such as Frankie Mandola '65, Ted Nowak '70, Jeff McCurry '88 and Adam Zornes '04 were consulted on the relocation and gave unanimous approval.
Filling the Fr. Wilson Field vacancy will be two natural grass practice fields to serve many of the 12 varsity sports of a surging Eagle athletic program which has captured an unprecedented six consecutive TAPPS all-sports awards.
"This is the next logical step in building upon our success," Netzel said.  "The real priority is greater flexibility and having student-athletes home at earlier hours.  We can have lacrosse and rugby working at the same time without interference plus have Hotze Field with the surrounding track available.  It's the smartest use of space for the greater good … athletics on the perimeter with an open commons in the heart of campus which will accommodate Round-Up, Auction, intramurals and student nights.  And with a bigger and better Fr. Wilson to go with Reckling Gymnasium and Granger Stadium … few high schools in the state or region would be able to match what we can offer."
Catholic.  Basilian.  Teaching Goodness, Discipline and Knowledge since 1900.