The Mount Everest-climb of the most robust capital campaign in St. Thomas history is nearing the final crest.
The $66 million summit appeared unreachable in November 2013.  The ascent would require faith, resolve and a deeply rooted due diligence as essential as the necessary funds to close in one year's time on the monumental land acquisition.
The unprecedented philanthropy included more than 1,800 commitments from STH family and friends, alumni and foundations plus time if not treasure from countless benefactors.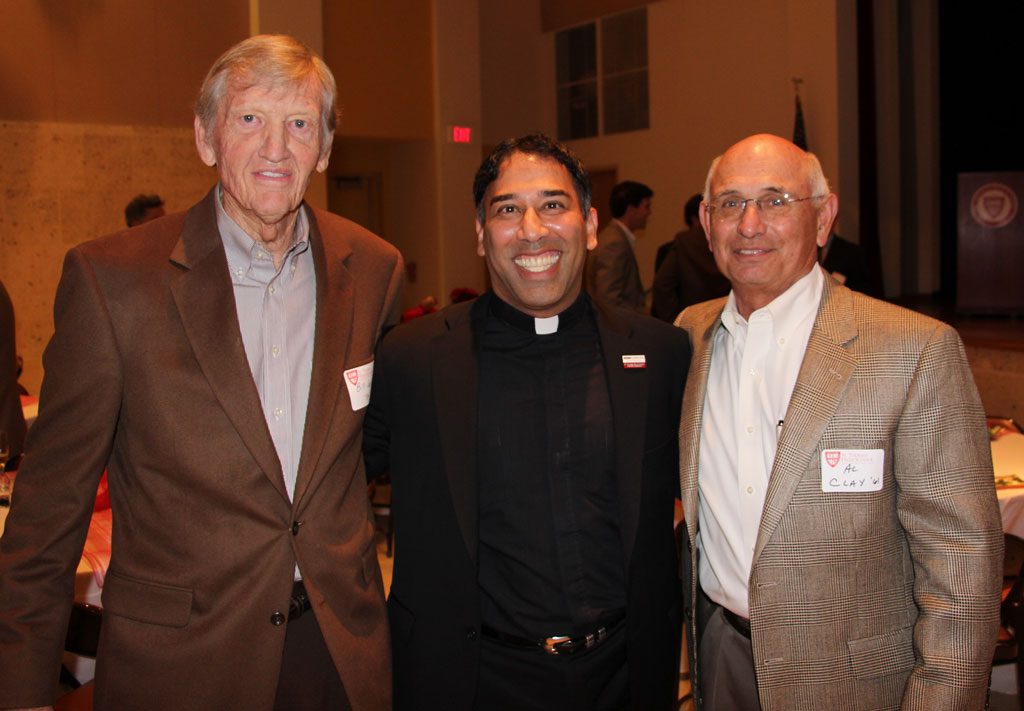 And the two largest individual leadership gifts in the school's 114-year history … a $6 million matching gift from Jane and Bill Joplin '54, which generated contributions of $14.6 million during an 11-week period as part of the No Substitute For Victory Challenge … and a $10 million donation from Dona and Al Clay '61, raising the 4500Forever Campaign total to more than $53 million.
The extraordinary infusion of financial assistance will enable St. Thomas to continue its educational mission and vision established in Houston more than a century ago, as well as deepening STH's foundational Catholic identity in the city.
"I know there were those who believed our bid was crazy, that we there was no way we would ever be able to close on the property.  I was 100% sure this was the right number, the right project, the right time.  If we could get the traction, it would happen.  But we had to swing for the fences.  And we hit the home run." — Al Clay
Clay and Joplin emerged as the angel investors as St. Thomas approached the one-year anniversary of securing the final bid for the adjacent 11-acre HISD property.
The acquisition equips the Basilian Fathers with the necessary resources at the current 4500 Memorial Drive address to meet the future needs of their diverse student body.
To honor the exceptional leadership gifts of Clay and the Joplin, the Basilian Fathers and the STH Board of Directors approved the naming of the expanded STH footprint as the Jane and Bill Joplin Campus and renaming the main building as Clay-Storey Hall, honoring the visionary leaders who boldly stepped out to help give rise to an extraordinary period in STH history.
With nearly $54 million raised to date, the strategic planning to expand programs and increase enrollment continues.  And the laser focus of 4500Forever remains fixed on the final objective … raising the the remaining $12 million to complete the acquisition and renovation of the Joplin Campus.  
"Sometimes you feel you have no right to feel this blessed.  Blessed that Al Clay and Bill Joplin are contributing like this, blessed that Al is choosing to put our names together for the campus, blessed that our entire community has rallied in a way few others ever have, blessed that I can be but one small factor in this reality.  Just a great moment to thank God." — Fr. Kevin Storey, CSB, St. Thomas President
—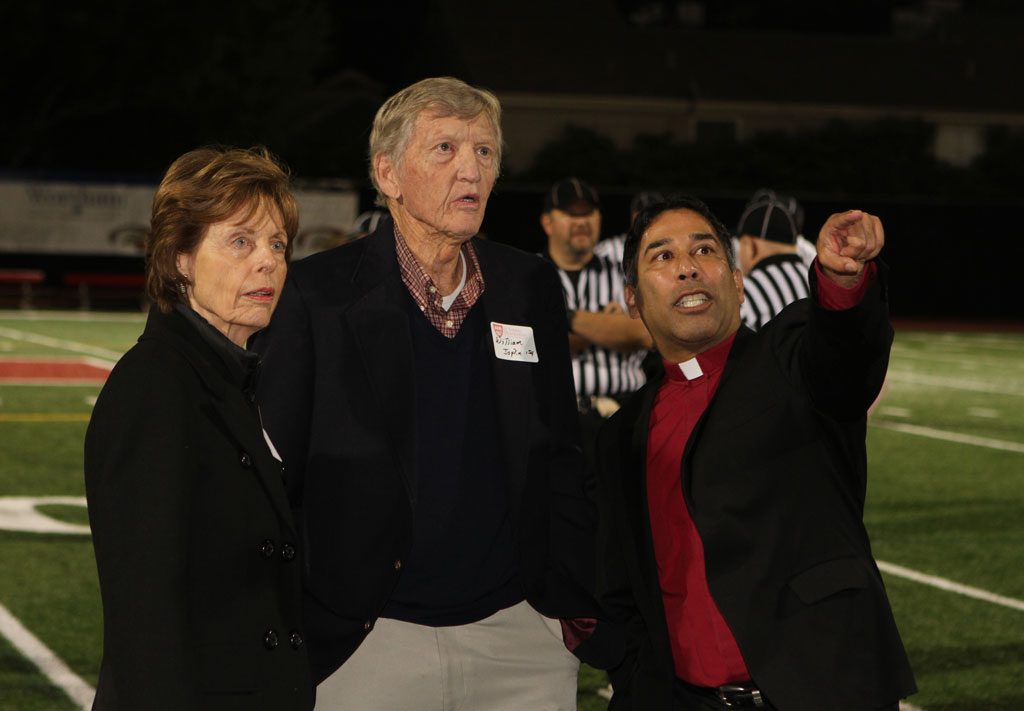 Bill Joplin was always highly regarded not only for his sharp business mind but also for his deep devotion to his alma mater.
His involvement with 4500Forever was initially in the shadows, an anonymous presence whose physical profile was not nearly as important as his pledge – offering to match, dollar for dollar, gifts between September 19 and December 5 up to $6 million as the No Substitute For Victory Challenge.
"Very seldom in life do you have the opportunity to make a real difference," Joplin said when still an unknown benefactor.  "And this campaign needed someone to step up.  How are they going to close this deal this year unless someone stepped up big? And I said to myself, 'I can do it.'"
Joplin's realization was not without soul searching before deciding that a gift made from the heart creates a connection to something larger and brings meaning and purpose to one's life which may not have before existed.  And the nature of his philanthropy appealed to Joplin's intensely competitive nature with a name borrowed from his introductory days to St. Thomas.
"No substitute for victory … the first thing I heard when I was a freshman at St. Thomas before our first football game that fall.  I can't remember who we played.  I'll always remember those words." — Joplin
Just as vivid to Joplin was an emotional recollection describing how his family once faced financial stress and his father, unable to meet the next tuition payments, arrived on campus fully prepared to remove an older brother from the school.
The Basilians would have none of it, instructing the father to leave his son enrolled and simply pay when the dollars became available.
"And that was one of the best investments St. Thomas ever made." — Joplin
Joplin stands now with equally strong convictions to support the STH students of tomorrow, to shape a STH stronger and more entrenched than ever as the school moves forward into a  second century of teaching goodness, discipline and knowledge in the tradition of the Basilian Fathers.
Joplin was revealed as the driving force behind the Challenge during Alumni Weekend, presented to a thriving support group gathered on campus with a more than suitable backdrop … the Eagles clinching a third consecutive district football title with a surging win against generational rival St. Pius X, with the Eagles' 1964 state champions honored at halftime.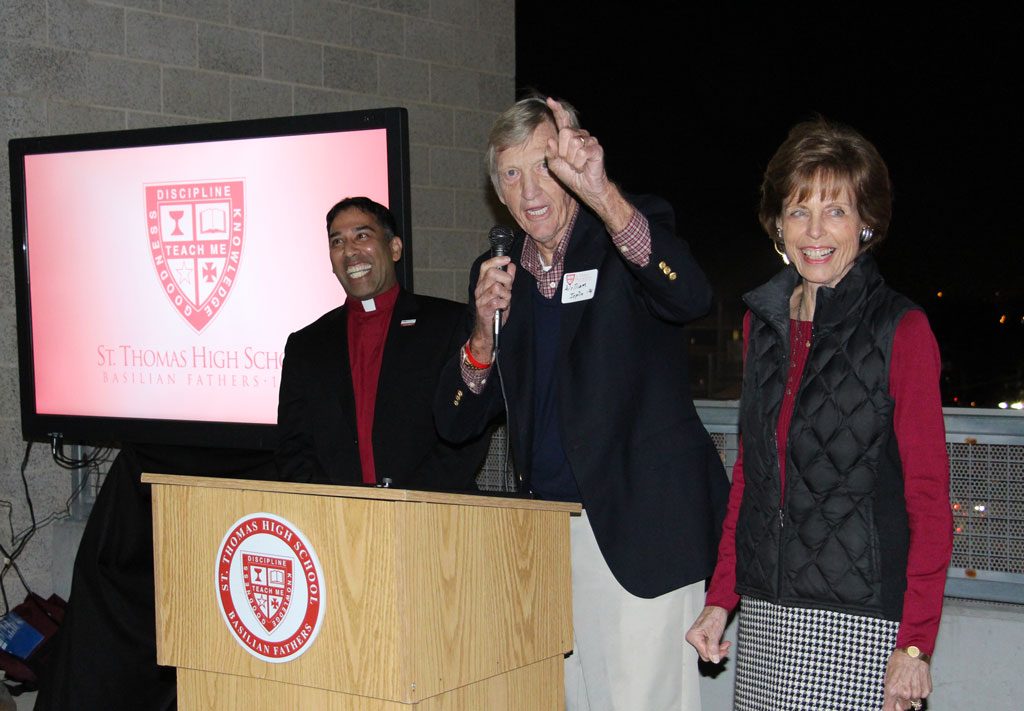 "Not that long ago I never would have dreamed being here tonight … certainly never expected to participate quite like this," Joplin told the assembled alumni.  "But this campaign is so big for St. Thomas.  We needed something to help get us over the hump."
"Bill was an answer to our prayers, no doubt about it.  He guaranteed the success of the campaign, transformed it.  Having that size boulder go into the pond mid-way through our fundraising effort sent a reverberating belief of accomplishment and confidence to our community.  So many wide-ranging examples … a $250,000 donor who indicated he was inspired by Bill's initiative.  But regardless of the amount of each gift, Bill instilled that sense of  'now it's my turn' which struck a chord within so many Eagles." — Fr. Storey
"Bill understood our closing deadline was approaching and 4500Forever needed a jolt.  The entire St. Thomas community continues to make this campaign a success but Bill Joplin called the right play at precisely the right time when he issued the challenge." — Mark deTranaltes, St. Thomas Vice President for Advancement
—
Al Clay has long embraced STH's unique environment of caring and sense of brotherhood.  The  Basilian traditions and devotion to personal and academic growth were instrumental in shaping his life's path.
"There comes a time when you have look inside yourself and ask, 'Why am I on this earth?  Why am I accomplishing all that I have?'  And the reason is that God has smiled on my life with Dona and on our business.  We have to pay that forward, help provide the future Eagles the same opportunities I was given." — Clay
Clay's enduring relationship with STH took root more than a half century ago.  He then graduated from Texas A&M in 1965 with an accounting degree and followed with a Masters of Business Administration from the University of Texas.  He was a certified public accountant and active in mortgage brokerage in Houston until founding Clay Development & Construction with his son, Robert, in 1998. The two have helped pioneer the re-emergence of the city's real estate development business.
"There are other charities out there to support.  But St. Thomas is part of me.  Without St. Thomas, I wouldn't be the same person I am today.  Wouldn't have had the work ethic and moral ethic instilled in me, that drive to be successful. Wouldn't have the relationships which continue to last.  I'm 71-years-old and the guys I went to St. Thomas with remain my very best friends."  — Clay
Clay was a one of the driving forces behind the relentless St. Thomas effort to win the best-final bid in November 2013 for the current High School For Law Enforcement and Criminal Justice.  
The expansion will eventually enable St. Thomas to increase enrollment to approximately 1,000 students, as well as provide additional classroom areas, enlarged science and drama departments, plus much needed and expansive athletic practice fields.  
As a member of the Land Acquisition Committee, Clay contributed the initial $500,000 escrow deposit which allowed St. Thomas to enter the bidding without financial exposure to the school.  He continued to work closely with 4500Forever chairs Suzanne and Danny Grant `78 through a tireless fundraising process.
"There was never any doubt from Al from the very beginning this campaign was going to get done.  That supremely positive attitude was infectious.  I'm so excited that his name will be associated with the campus for the next 114 years … makes me so proud given all that he's invested.  And we had so many in our community who matched Al's spirit, whether the contribution was $25 or $10 million.  They've all stepped up." — Danny Grant
"Al is a man of faith.  We are humbled by his persistence, loyalty and love for St. Thomas.  Al and Dona's family legacy will live at the school deep into the next century, allowing so many more fine young men to learn what Al has not only talked but walked the St. Thomas motto of 'Goodness, Discipline and Knowledge.'" — Suzanne Grant  
"I have been awed by Al's passion and energy he has brought to 4500Forever.  He has continually gone beyond what is expected in terms of time and effort.  It's clear that this campaign is very personal to Al and he's willing to sacrifice for the school he loves." — John Rathmell '75, head of St. Thomas Board of Directors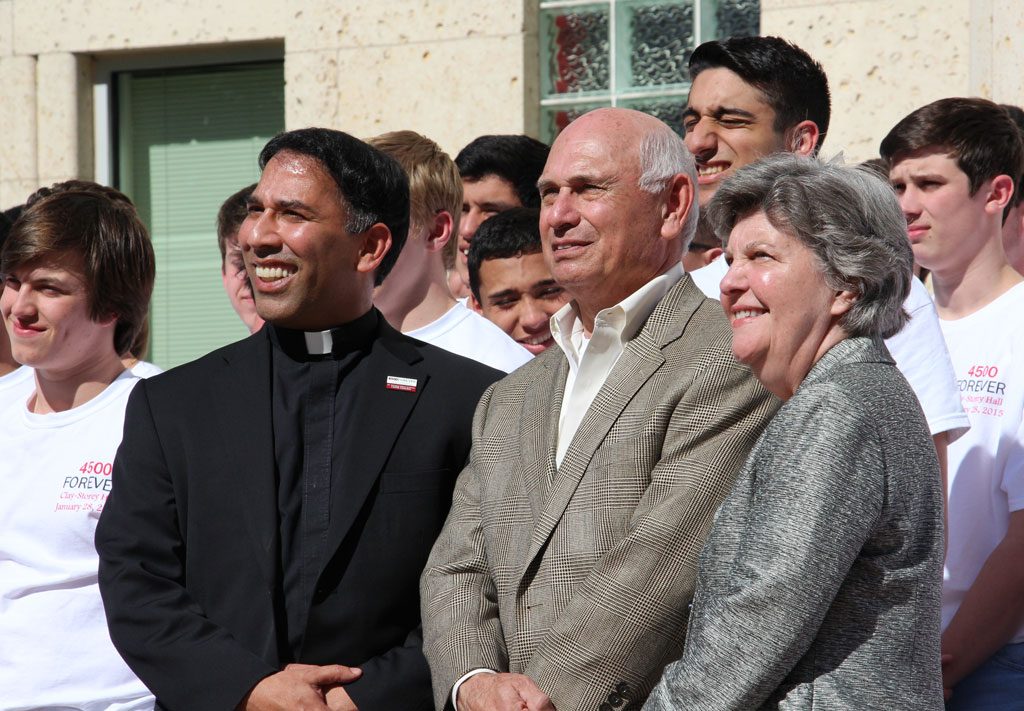 In the spirit of a particular verse which Clay favors, he has been a determined advocate for the growing needs of his alma mater and has advanced the STH objectives through his generous support.
"'To whom much is given, much is expected.' That's the drill.  I totally believe that.  Dona and I owe.  Because we have the ability to make this kind of contribution, we will.  I owe St. Thomas a debt.  And I'm paying it back … investing in the future boys of the inner city … hoping to make the Basilian experience available to many who otherwise could not participate." — Clay
—
The boldest capital campaign in STH annals included an never-before boost from the Basilian Fathers of Toronto, along with a significant contribution from the Basilian Fathers of St. Thomas, capturing much the same sentiment of those who established Houston's first college preparatory school in 1903, and then had the foresight to relocate from downtown Austin St. to the current site on the bank of Buffalo Bayou.  
Rev. George T. Smith, CSB, the Superior General of the Congregation of St. Basil since 2004, announced an inaugural gift of $500,000 to 4500Forever in November 2014.
"The General Council of the Basilian Fathers has decided to financially support 4500Forever for a number of reasons.  First of all, we believe that the vision of Fr. T. P. O'Rourke (in the 1930s) to create a new home for St. Thomas on the banks of Buffalo Bayou, guided by the Holy Spirit as it was, should continue to inspire us.
"Secondly, we see that same Holy Spirit to be powerfully at work in the St. Thomas community today as it fulfills its mission to teach goodness, discipline and knowledge.
"Finally, we are convinced that to bring our founding vision to fulfillment we must invest in the future of St. Thomas at 4500 Memorial Drive. We have the option of believing that the 11 acres touching the north perimeter of our campus became available because of coincidence, or because of Divine Providence. The Basilian Fathers choose to believe in Providence!" — Fr. Smith in a statement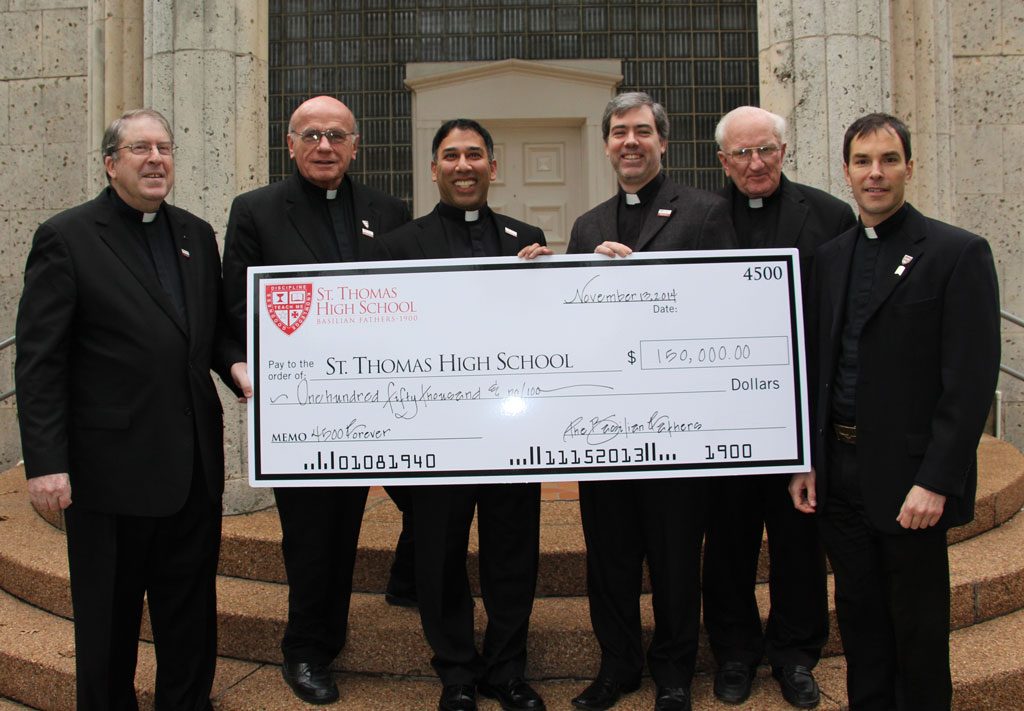 In the wake of the half-million dollar donation, the St. Thomas Basilian Fathers contributed their own gift of $150,000.
"I am equally inspired by our elder Basilians.  Fr. Albert Gaelens and Fr. Ronald Schwenzer were the most vocal about our financial contribution to 4500Forever, especially when our resources are set aside to provide for their security with health and retirement." — Fr. Storey
Fr. Gaelens' 40-plus years in education as a Basilian priest included serving STH in a number of roles and capacities, including faculty member, assistant principal, director of guidance, senior counselor and principal from 1987-94.
Fr. Schwenzer ignited a STH resurgence after becoming principal in 1998, remained for eight years until becoming the school's first president in 2006 and was succeeded by Fr. Storey in 2012, two years after Fr. Patrick Fulton, CSB was named principal.
In the last five years under the combined leadership of Frs. Storey and Fulton, St. Thomas has enjoyed a surge of achievement and was recently recognized as a 2014 Top Workplace by the Houston Chronicle.
Fr. Bob Glass, CSB is currently assisting in the Dean of Students Office.  He returned to STH in 2006 for his fourth assignment with the school, previously contributing as a valued faculty member from 1967-70, 1974-79 and 1987-1993.
Fr. Jim Murphy, CSB teaches Theology, serves as the assistant athletic director to Mike Netzel, the chaplain in Campus Ministry and an assistant director in the fall and spring STH drama productions.  Fr. Murphy joined the St. Thomas faculty in 2011.
—
Bill O'Brien had never spent so much as a second on the STH campus.  He was a city resident for only a matter of weeks after becoming only the third head coach in Houston Texans history when he agreed to speak at a 4500Forever event at the cold-call request from Fr. Storey.
What O'Brien delivered measured beyond celebrity endorsement and struck to the core of 4500Forever.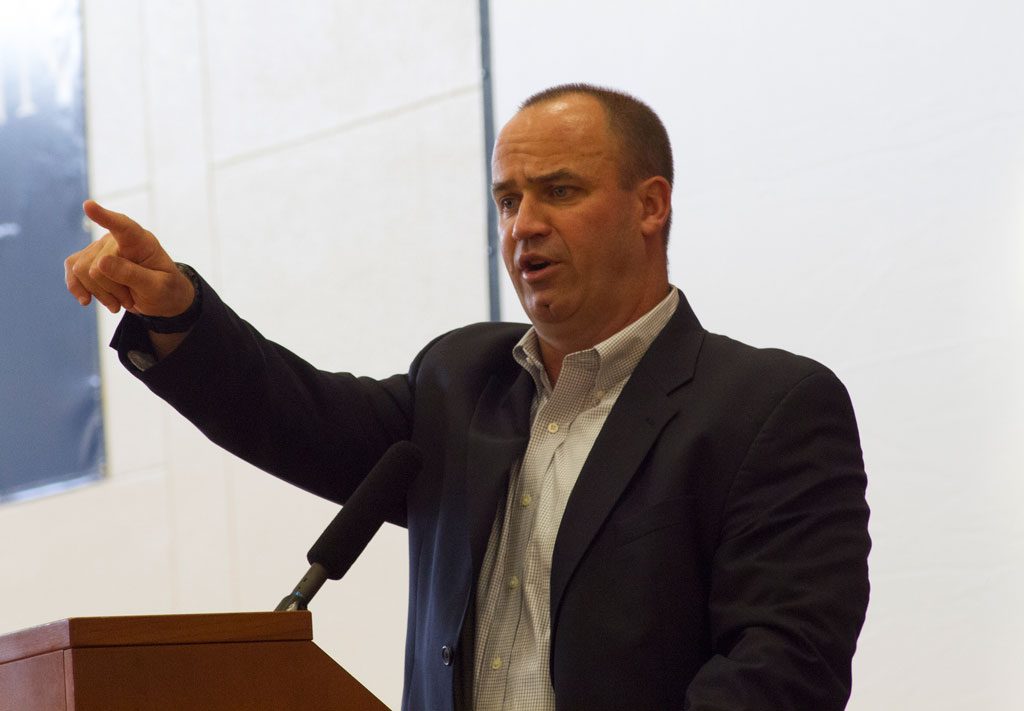 "I really believe in Catholic education.  One of the turning points in my life (was graduating from St. John's Prep in Danvers, Massachusetts) … taught me so much about structure and discipline and hard work and competition.  And one of the things that made St. John's such a great school … phenomenal facilities.  I went back a couple of years ago and they've put in FieldTurf, a new library, new classrooms.  An amazing makeover." — Bill O'Brien
"(O'Brien's) sense of the importance of being a Catholic, of Catholic education, of athletic excellence paired with academic excellence, of facilities … was as if he were a St. Thomas Eagle his entire life.  He told our story without really knowing us.  He legitimately believes in what he said and that's what (was) so empowering for our community to hear." — Fr. Storey
From O'Brien's commitment to speak to the night of his riveting address in Reckling Gymnasium, 4500Forever raised more than $2.2 million.
"For St. Thomas, to take the school from where it is now to where it can be, it's really how far do you want to go to be the best you can be.  Fundraising is obviously a huge part of that." — O'Brien
—
Among the multiple donations which paid a double dividend during the No Substitute For Victory Challenge was the $50,000 contribution from the STH Alumni Association.
"With a campaign as historic as 4500Forever and all that it represents, we knew the Alumni Board, as representatives of the Association, had to step up and do our part to see this to fruition.  This contribution reflects our ever-present dedication to the ideals and core values St. Thomas and the Basilian Fathers have instilled for generations.  It shows current students, parents and the public at-large that the lessons of service to a cause greater than yourself begin within the halls of STH and continue throughout our lives." — George Oggero '00, St. Thomas Alumni President
The Alumni Association hopes their emphatic move continues to serve as a motivation for thousands within the Eagle community.
"Any amount, no matter how large or small, truly matters.  The strong message here is our desire to see St. Thomas continue to succeed and we're willing to do our part to make it happen." — Oggero
—
The 4500Forever campaign is proving stupendously successful.  Clay acknowledges that closing on the HISD property brings a proper celebratory moment, yet the final fundraising efforts remain.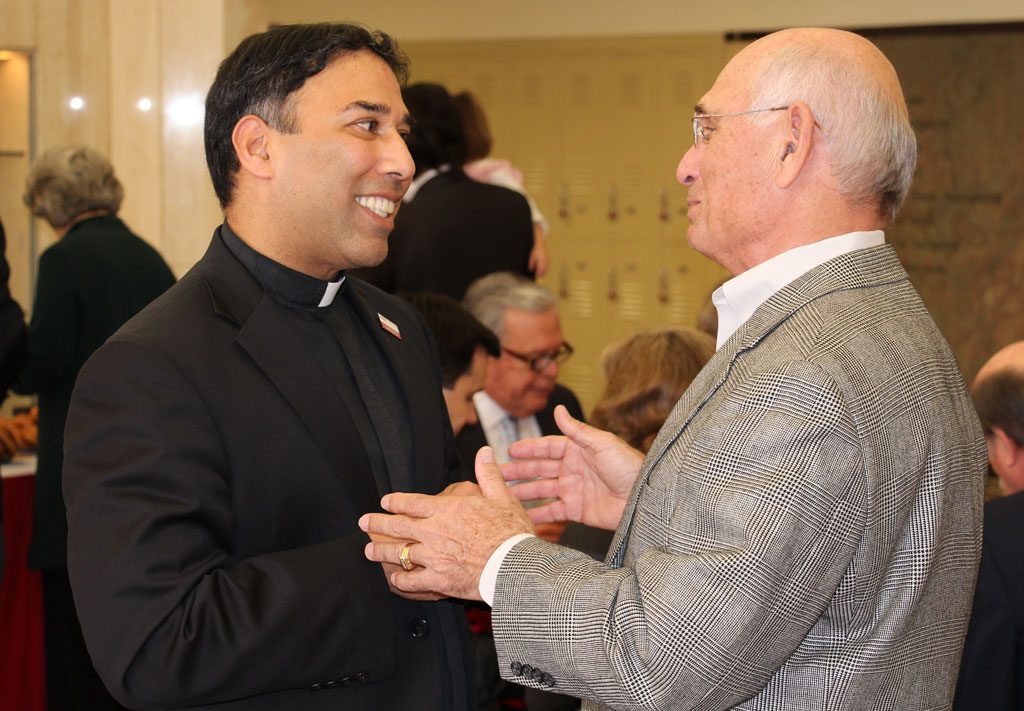 "This campaign will continue.  We're not finished until the pledges reach $66 million to cover the refurbishing of the property.  We're all living in a remarkable time in the history of St. Thomas.  I'm blessed to be surrounded by loyal and courageous friends who have stepped forward to encourage all of us to take hold of a rare opportunity." — Clay
Catholic.  Basilian.  Teaching Goodness, Discipline and Knowledge since 1900.