The boldest capital campaign in the 114-year history of St. Thomas has received an unprecedented boost from the Basilian Fathers of Toronto.
In addition, the Basilian Fathers of STH are committing their own significant contribution to the 4500Forever fundraiser.
Rev. George T. Smith, CSB, the Superior General of the Congregation of St. Basil since 2004, has confirmed a gift of $500,000 to the fundraising campaign closing the St. Thomas bid on the adjacent HISD property which will represent the North Campus expansion.
"The General Council of the Basilian Fathers has decided to financially support 4500Forever for a number of reasons," Fr. Smith (below) said in a statement.  "First of all, we believe that the vision of Fr. T. P. O'Rourke (in the 1930s) to create a new home for St. Thomas on the banks of Buffalo Bayou, guided by the Holy Spirit as it was, should continue to inspire us.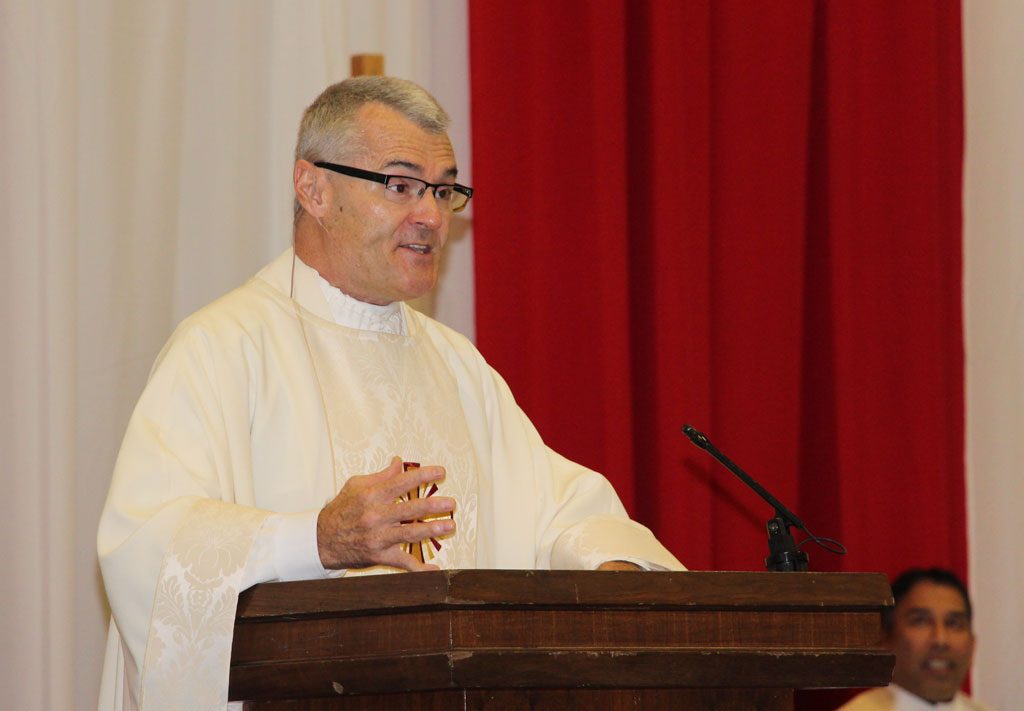 "Secondly, we see that same Holy Spirit to be powerfully at work in the St. Thomas community today as it fulfills its mission to teach goodness, discipline and knowledge.
"Finally, we are convinced that to bring our founding vision to fulfillment we must invest in the future of St. Thomas at 4500 Memorial Drive. We have the option of believing that the 11 acres touching the north perimeter of our campus became available because of coincidence, or because of Divine Providence. The Basilian Fathers choose to believe in Providence!"
President Fr. Kevin Storey, CSB graciously accepted the generous half-million dollar donation on behalf of St. Thomas and acknowledged that his fellow STH Basilian Fathers are contributing their own $150,000 gift.
"I am equally inspired by our elder Basilians," Fr. Storey said.  "Fr. Albert Gaelens and Fr. Ronald Schwenzer were the  most vocal about our financial commitment to 4500Forever, especially when our resources are set aside to provide for their security with health and retirement."
Fr. Gaelens' 40-plus years in education as a Basilian priest included serving St. Thomas in a number of roles and capacities, including faculty member, assistant principal, director of guidance, senior counselor and principal from 1987-94.
Fr. Schwenzer ignited a St. Thomas resurgence after becoming principal in 1998, remained for eight years until becoming the school's first president in 2006 and was succeeded by Fr. Storey in 2010, the same year Fr. Patrick Fulton, CSB was named principal.
In the last five years under the combined leadership of Frs. Storey and Fulton, St. Thomas has enjoyed a surge of achievement and was recently recognized as a 2014 Top Workplace by the Houston Chronicle.
STH student enrollment is spiking at all-time levels with the Class of 2014 awarded merit-based college scholarships which totaled more than $9 million while Eagle Athletics has established itself as the premiere private program in the state.
Fr. Bob Glass, CSB is currently assisting in the Dean of Students Office.  He returned to St. Thomas in 2006 for his fourth assignment with the school, previously contributing as a valued faculty member from 1967-70, 1974-79 and 1987-1993.
Fr. James Murphy, CSB teaches Theology, serves as the assistant athletic director to Mike Netzel, the chaplain in Campus Ministry and an assistant director in the fall and spring STH drama productions.  Fr. Murphy joined the faculty in 2011.
4500Forever is in the final weeks of the No Substitute For Victory Challenge, propelling the campaign to a triumphant final stretch.
Bill Joplin `54 was identified by Fr. Storey on November 7 as the mysterious $6 Million Man, the previously anonymous alumni-donor who is matching dollar for dollar, each donation and pledge, up to $6 million through December 5.
Catholic.  Basilian.  Teaching Goodness, Discipline and Knowledge since 1900.