"Without being overly dramatic, Dona and Al Clay have assured the future of St. Thomas.  In 50 years, in 100 years, in 150 years, it's appropriate that their names will be known." — Fr. Kevin Storey, CSB, St. Thomas President
—
Al Clay '61 relished the time which allowed for a deeper appreciation of the phenomenal series of events which marked the next monumental moment in the history of St. Thomas.
Weeks before when he part of the official closing on a land acquisition once thought to be well beyond reason and the realm of rational thinking, Clay was struck with a wave of emotion, not unlike the rush which follows the moment a baby takes a first breath or when an against-all-odds championship is suddenly won.
But now back on campus, walking the very same hallways he occupied as an Eagle student more than a half century ago, Clay was given some distance to reflect as he was surrounded by an inner circle family, friends and cohorts to commemorate the blessing of Clay-Storey Hall, the  naming honored two visionary leaders who boldly stepped out to help give rise to an extraordinary period in St. Thomas annals … Clay and president Fr. Kevin Storey, CSB.
At the conclusion of the Sunday celebration, Clay calmly but emphatically declared that "today made the dream a reality."
The reality that St. Thomas will expand its physical footprint and remain an urban educational beacon in the Basilian tradition, continuing to meet the needs of diverse students and families well into the school's second century.
The dream made possible in large part because of Clay's $10 million leadership gift which pushed the most ambitious capital campaign in the school's 114 years within close proximity of the $60 million needed to close on the adjacent 11-acre HISD property renamed the Jane and Bill Joplin Campus.
"When you're in the trenches, you're fighting for your life, another kind of life, with a fixed focus.  But this day brings a finality of the larger picture, that we did what we set out to do.  Not so much the naming aspect but a community celebrating what we all accomplished … all of us.  This is about reaching the goal, not taking 'no' for an answer, keep pushing and shoving.  I know that making that bid and raising these millions was the right thing to do because it happened.  If God didn't want this to happen, there would have been an obstacle we couldn't have cleared," Clay said.  
On Wednesday the St. Thomas faculty, staff and student body recognized the institution's largest single donation with "Al Clay Day," including a mid-day Mass in Cemo Auditorium on the feast day of St.Thomas Aquinas.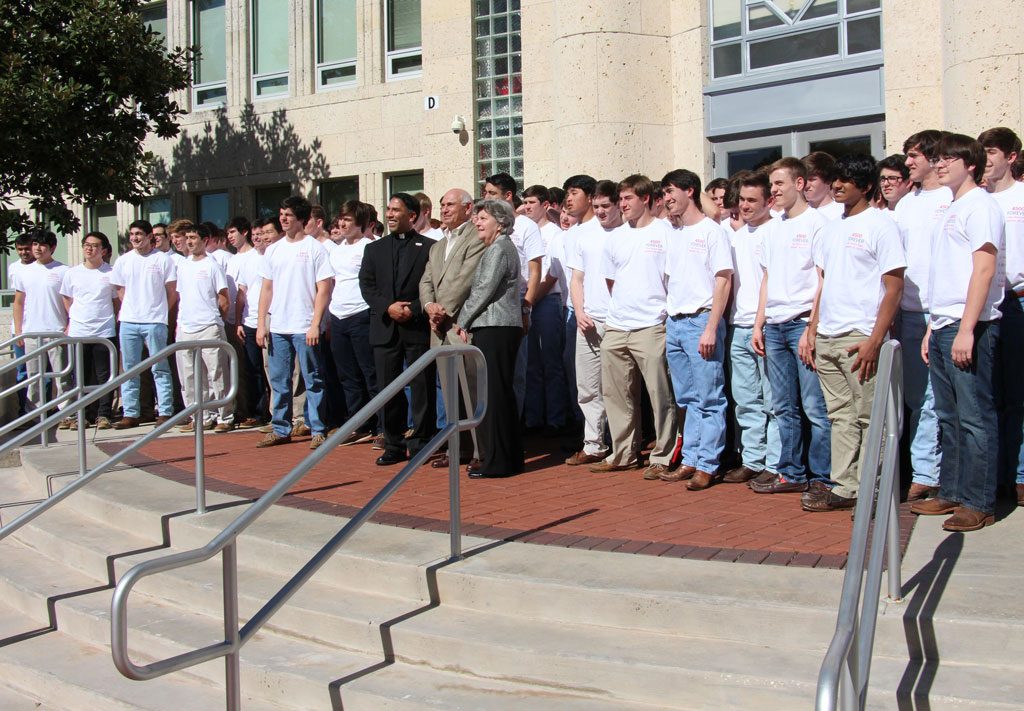 Students wore Al Clay t-shirts detailed with the Nine Points of Life central to his significant personal and professional success which he delivered as the commencement speaker at the 2014 St. Thomas Commencement ceremony.
When Fr. Storey proclaimed "Al Clay Day" at the conclusion of Mass, Clay received a 1:15 standing ovation from the student body and then posed with the Class of 2015 in front of the main building which is now Clay-Storey Hall.
"Being around these students just reaffirms what we did.  I don't know the guy who enabled me in 1961 to have my experience.  What we're doing is for future students I won't know.  You can't make a better investment," Clay said.  "It's the best money I've ever spent."
Max Machiorlette '15 admittedly didn't know Al Clay before his designated day on campus and was only vaguely familiar with the groundbreaking lead gift.
But Machiorlette wasn't the least bit surprised a benefactor would contribute to St. Thomas in such a way.
"I think that's the kind of impact St. Thomas has on so many students, instills that wanting to give back.  It's part of the culture.  When you're a student it's easy to take for granted all that's available here.  It's more than buildings with classrooms and teachers who give lectures and grade tests.  Down the road so many alums have a greater appreciation of the time here and that's why I think they give back the way they do."
Prior to the blessing of Clay-Storey Hall, Fr. Storey along with Principal Fr. Patrick Fulton, CSB, Fr. Bill Glass, CSB, and Fr. Jim Murphy, CSB, served as co-celebrants of the Sunday Mass in the STH Chapel.
Fr. Storey's homily spoke to the overriding theme reverberating throughout the Eagle community.  
"Real gratitude is recognizing that the most significant things in our lives come from God.  All of us are simply placeholders for those gifts until we pass them along to others.  I was genuinely touched not just with Al's enormous generosity, his willingness to give $10 million to St. Thomas, but that he wanted my name up there (with his).  How do you say thank you for something like that, someone grabbing you by the arm and lifting you up to a platform and saying I want to share this with you.  That is a sign of someone who lives with a grateful heart and with an authentic relationship with God."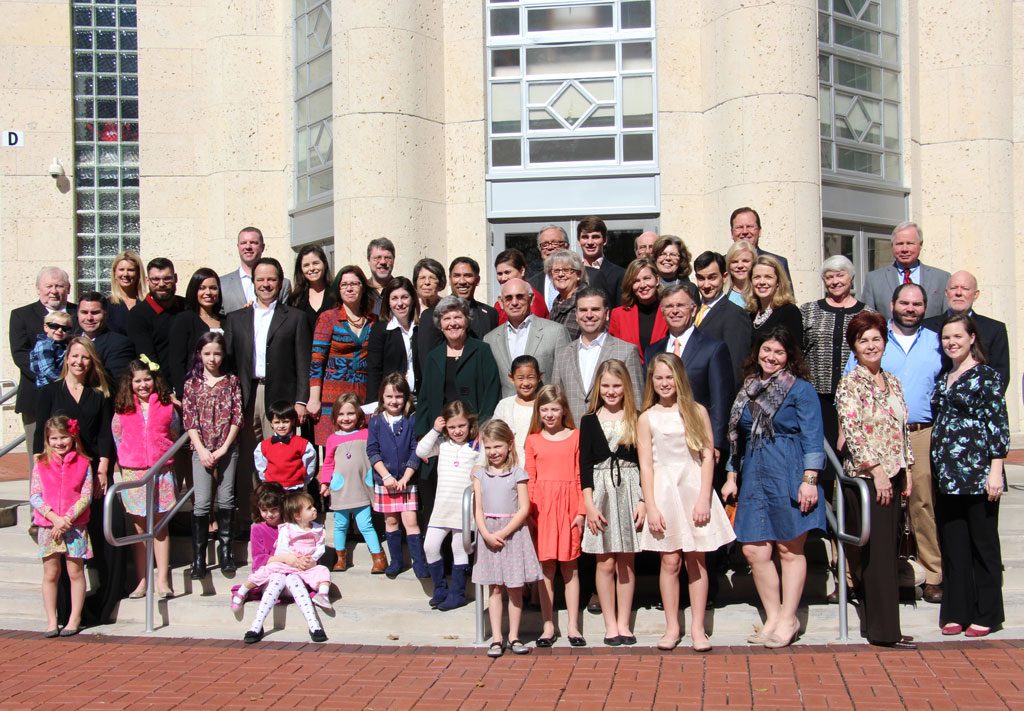 Nearly 50 members of the Clay family, spread through generations, were in attendance, the most notable Dona Clay, Al's wife and chief confidant, whose day was filled with "so much pride."
"I know how much this (campaign) meant to my husband.  I've never seen him so passionate," she said.  "And the more he worked on this, the more he got involved, the more passionate he became."
Also among the gathering was Al's oldest son, Robert.  The two became business partners in 1998 and pioneered the re-emergence of Houston's commercial real estate development.  
In February 2013 the spiking success engulfing Clay Development & Construction was described as "expertise and dedication with a willingness to take risk" mixed with "careful attention to detail while enhancing relationships."   In short, "educated talent combined with hard work and an amazing ability to look into the future."
The absolute qualities Al Clay utilized to help navigate the 4500Forever campaign through tumultuous times.
However, Robert's initial reaction to St. Thomas committing to a staggering $60 million bid in November 2013 was less than enthusiastic.
"You're an idiot.  Don't do it.  There is no way you're going to accomplish this," Robert remembered to the roaring laughter of those seated in the St. Thomas Rotunda.
"And every month I was like, 'Dad, this isn't happening.'  But my father has such a great optimistic persistence about everything he does in life.  We all know that.  We all have seen it throughout our lives.  It's taught me.  It continues to teach me."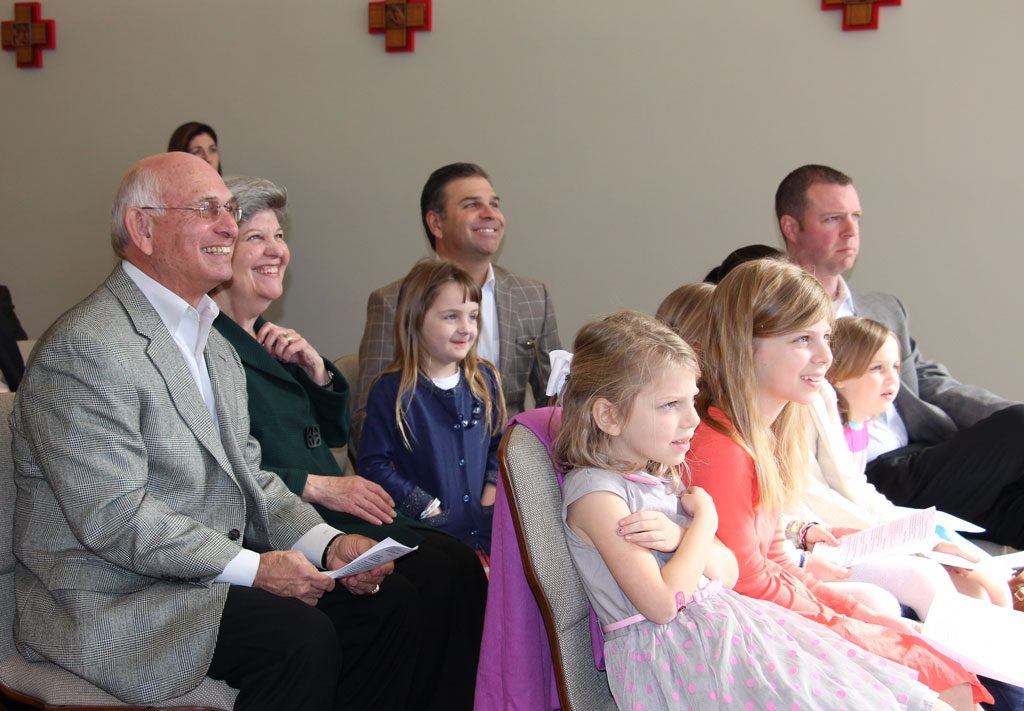 And the ultimate lesson for all involved in this unprecedented philanthropy, the more than 1,500 commitments from STH family and friends, alumni and foundations, reinforced the message of Fr. Storey's Sunday homily.
"All of us may not be able to give this type of contribution to a worthy cause," Robert said.  "But we all can live every single day being grateful and thankful, helping others who have not been given all which God has blessed us."
Robert then referenced the mantra which his father has repeatedly echoed throughout the 4500Forever adventure, including the night his $10 million donation was revealed to the STH community.  
"'To whom much is given, much is expected."
But Al Clay is quick to emphasize that never did he expect to play such a pivotal financial role in positioning the Basilian Fathers at 4500 Memorial Drive to further their tradition of teaching goodness, discipline and knowledge into the next century.
"I didn't think I was going to make that kind of contribution … never even gave it a thought," Clay said.  "But as we moved ahead in the the (fundraising) process, I saw that I could do it.  Ultimately we would have discovered the dollars in a different way, gotten it done eventually.  But the urgency was 'right now.'  Someone needed to step up now and make this happen.  And Dona and I were fortunate to have the wherewithal to be able to do it."
Catholic.  Basilian.  Teaching Goodness, Discipline and Knowledge since 1900.