St. Thomas has been selected among the 2015 honorees by the Houston Chapter of the Association of Fundraising Professionals for the ongoing 4500Forever capital campaign which received distinction in the category of Outstanding Fundraising Program, More Than $2 Million.
4500Forever continues to be the most ambitious financial effort in the school's 115-year history, anchored by the legacy commitments from Jane and Bill Joplin '54 and Dona and Al Clay '61, an ongoing effort to raise more than $60 million in securing the adjacent 11-acre property which will provide an essential physical expansion to assure a thriving and vibrant STH future.
"This award is an incredibly affirming statement and a tremendous honor for the St. Thomas Advancement team," president Fr. Kevin Storey, CSB said.  "More importantly, this is a salute to our remarkably generous alumni, parents and friends who are generating new levels of financial support for the school and the devoted group of volunteers who believe in our vision to ensure our collective success."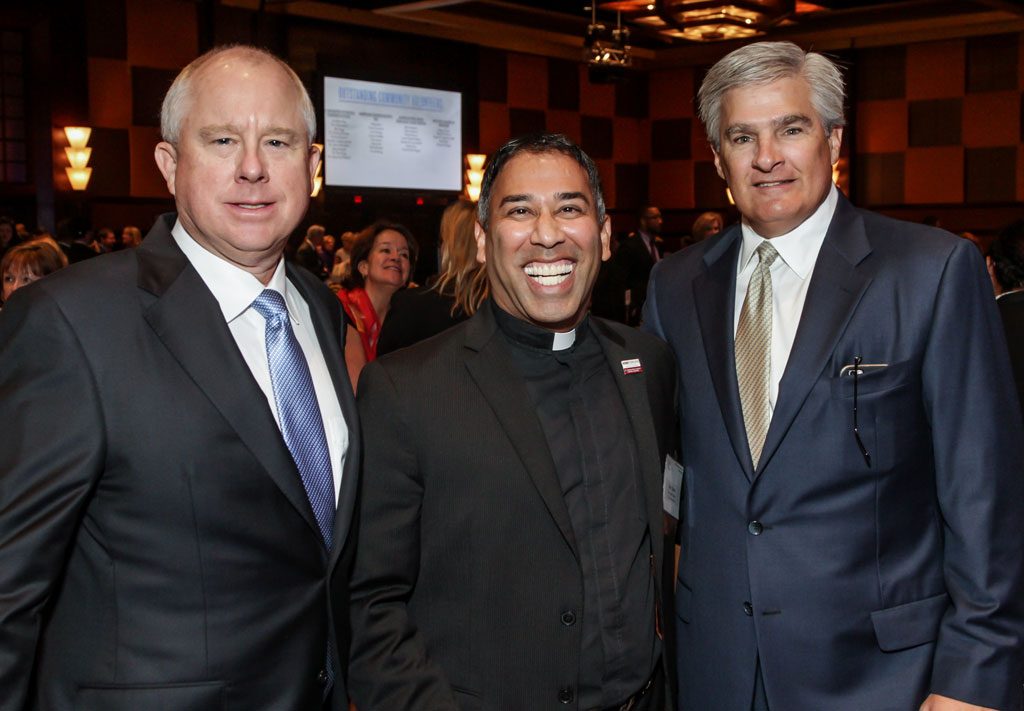 Fr. Storey, Clay and the Joplins were joined at the awards luncheon by 4500Forever co-chairs Suzanne and Danny Grant '78 (above, left) vice president for advancement Mark deTranaltes and Vincent Giammalva '80 (above, right) who is co-chairing the Finish Strong Phase II of 4500Forever.
Fr. Storey was presented by Kim Sterling, the founder and president of Sterling Associates, a Houston-based consulting firm which partners with St. Thomas through the completion of 4500Forever.
The AFP announcement was part of the 2015 National Philanthropy Day Awards Luncheon which also recognized the Baylor College of Medicine, the Bristol-Myers Squibb Company and the Cullen Trust for Health Care, among others.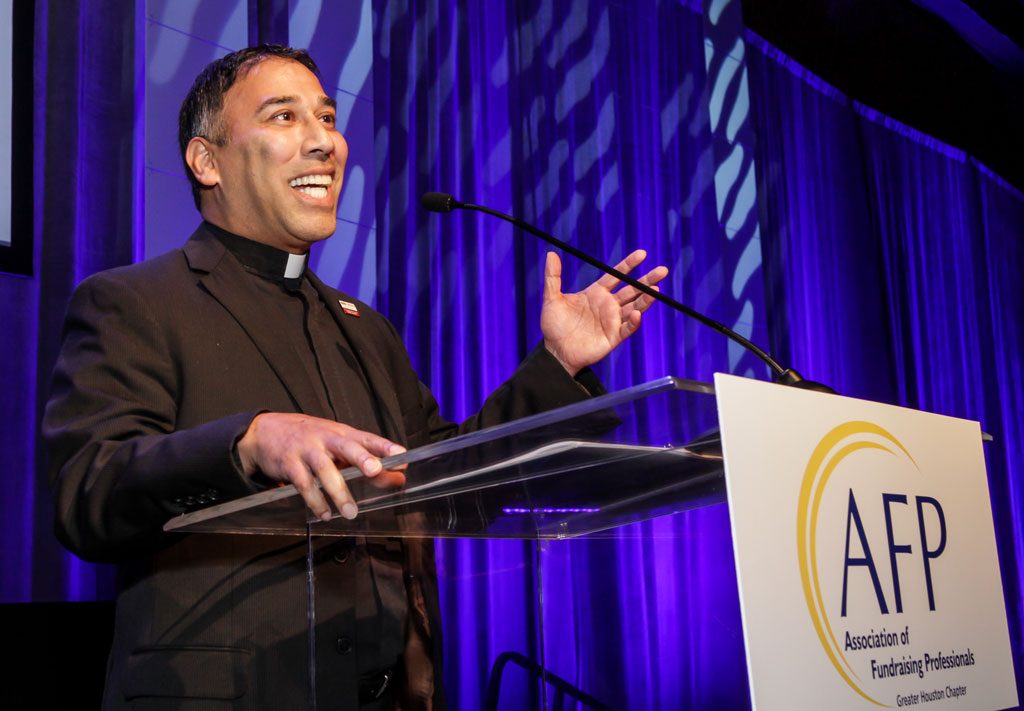 "That's a phenomenal group with which to be associated," Fr. Storey said.  "I take that we all share a devotion to excellence, to giving back.  When you live with a generous spirit, you can change the world.  Not always in the same dramatic ways as others but in your own way.  St. Thomas has done that and is doing that, our alumni are doing that, and the results may be just as impactful as higher profile examples."
In December 2015 the Basilian Fathers and the St. Thomas Board of Directors honored the Joplins for their significant leadership gift by naming the expanded St. Thomas footprint as the Jane and Bill Joplin Campus.  
That same month Clay's remarkable generosity resulted in the naming of Clay-Storey Hall on the STH main campus, recognizing two visionary leaders who boldly stepped out to help give rise to this extraordinary period in STH history.
"You have to have a passion and you have to be unwavering, completely devoted to the goal," Clay said of the collaborative 4500Forever achievement.  "Every St. Thomas alum and supporter who contributed to this campaign understands where we were headed and how we were going to get there."
Joplin is "continually struck with a strong sense of pride that we all did something which will make a profound difference.  St. Thomas wasn't going to acquire the land, move forward and remain relevant unless we all stepped up and made something big happen.  It's just an awesome feeling."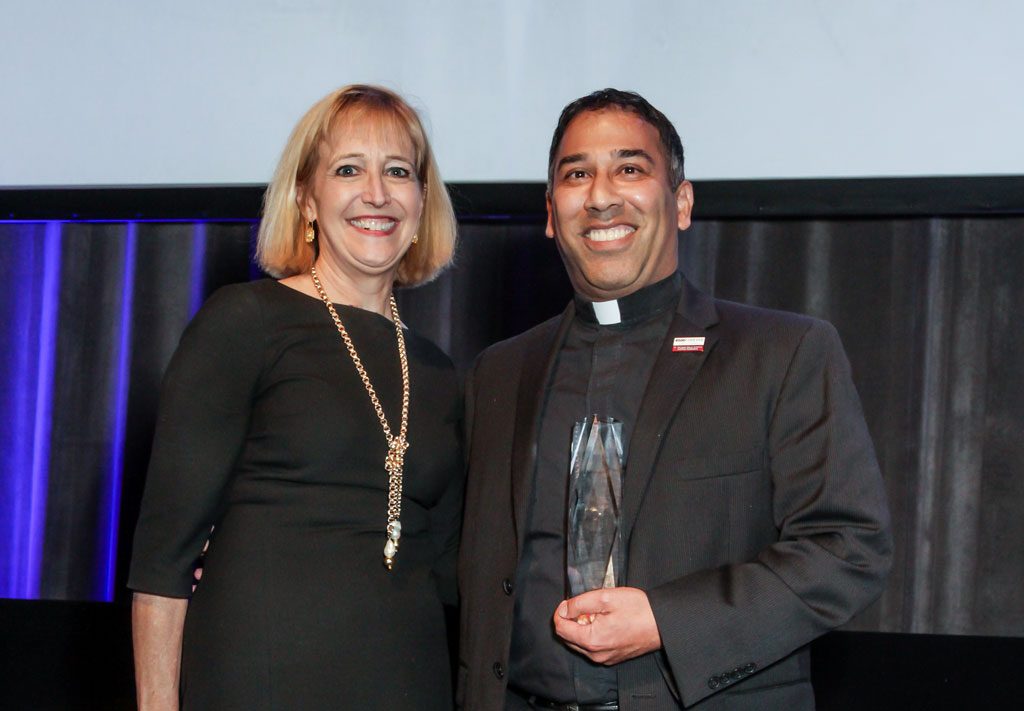 The recognition by AFP comes in the wake of St. Thomas earning Top Workplaces by the Houston Chronicle for the second consecutive year.
Yet many leaders within the 4500Forever effort echo that the truest measure of acclaim and accomplishment will be the future generations of Eagles learning, living and growing within a community ever mindful of its commitment to building on the traditions it cherishes most – teaching goodness, discipline and knowledge in the tradition of the Basilian Fathers.
"Education is the most important opportunity you can provide," Clay said.  "An untold number, an exponential number will be impacted by this expansion.  That domino effect is what's critical.  Not just affecting today and tomorrow but forever."
4500 forever.
Catholic.  Basilian.  Teaching Goodness, Discipline and Knowledge since 1900.