Teaching Goodness, Discipline and Knowledge for Over a Century
St. Thomas High School is a Roman Catholic college preparatory school for young men in grades 9-12. The school was founded by three Basilian priests in the spring of 1900 with the mission to provide secondary education strongly rooted in the teachings of the Catholic faith.
Located in nearly the geographic center of Houston, St. Thomas thrives on a lush campus at the corner of Memorial Drive and Shepherd Drive, approximately two miles west of downtown. From its high-tech classrooms and state-of-the-art athletic facilities to the constant celebration of its rich and storied tradition, St. Thomas prides itself on providing the most fulfilling and well-rounded high school experience to inquisitive young men during some of the most formative years of their lives.
St. Thomas is conducted by the priests of the Congregation of St. Basil. They are an international community of religious priests who live a communal life and bind themselves to God by vows of poverty, chastity and obedience. They dedicate themselves to the service of the Church in any priestly ministry but have centered their apostolic work on the education of youth since 1822.
For its first forty years, St. Thomas High School's name was St. Thomas College. Later, when the school moved to the current campus and with the Basilian Fathers parenting the University of St. Thomas a few miles away, they officially changed the name of the school to "St. Thomas High School."
Today, St. Thomas is the oldest college preparatory high school for young men in the State of Texas.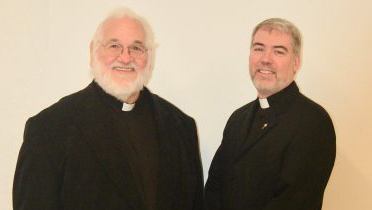 Fr. Mitchell Dowalgo, CSB and Fr. James Murphy, CSB, President of St. Thomas High School.