Culled from the ranks of the outstanding St. Thomas alumni and the devoted members of the St. Thomas community at large, the inspiring men and women who make up the St. Thomas Board of Directors and Foundation Board truly set an example of excellence to which our students can aspire. Their dedication and vision maintains the rapid momentum of the school's growth and keeps the school on a righteous path that benefits not only St. Thomas, but also the greater Houston community.
Leadership at St. Thomas is not strictly limited to the Board of Directors or Foundation Board, however. Graduates of St. Thomas go on to make monumentally positive impacts on the world and often lead in subtle ways as employees, employers, parishioners, coaches, etc., continuing the St. Thomas tradition of using one's gifts to serve others.
| | |
| --- | --- |
| Fr. Kevin Storey, CSB | President |
| Aaron Dominguez '96 | Principal |
| Eve Grubb | Vice President of Finance |
| Mark deTranaltes '83 | Vice President for Advancement |
| Mary Criaco | Assistant Principal |
| Rodney Takacs | Dean of Students |
| Fr. Jim Murphy, CSB | Assistant Dean of Students |
| Gail Calkins | Assistant Dean of Students |
| Taffy Daussin | Director of Admissions |
| Scott Wiens | Director of Counseling |
| Mike Netzel | Athletic Director |
| Marty Matulia | Campus Minister |
Board of Directors 2017-18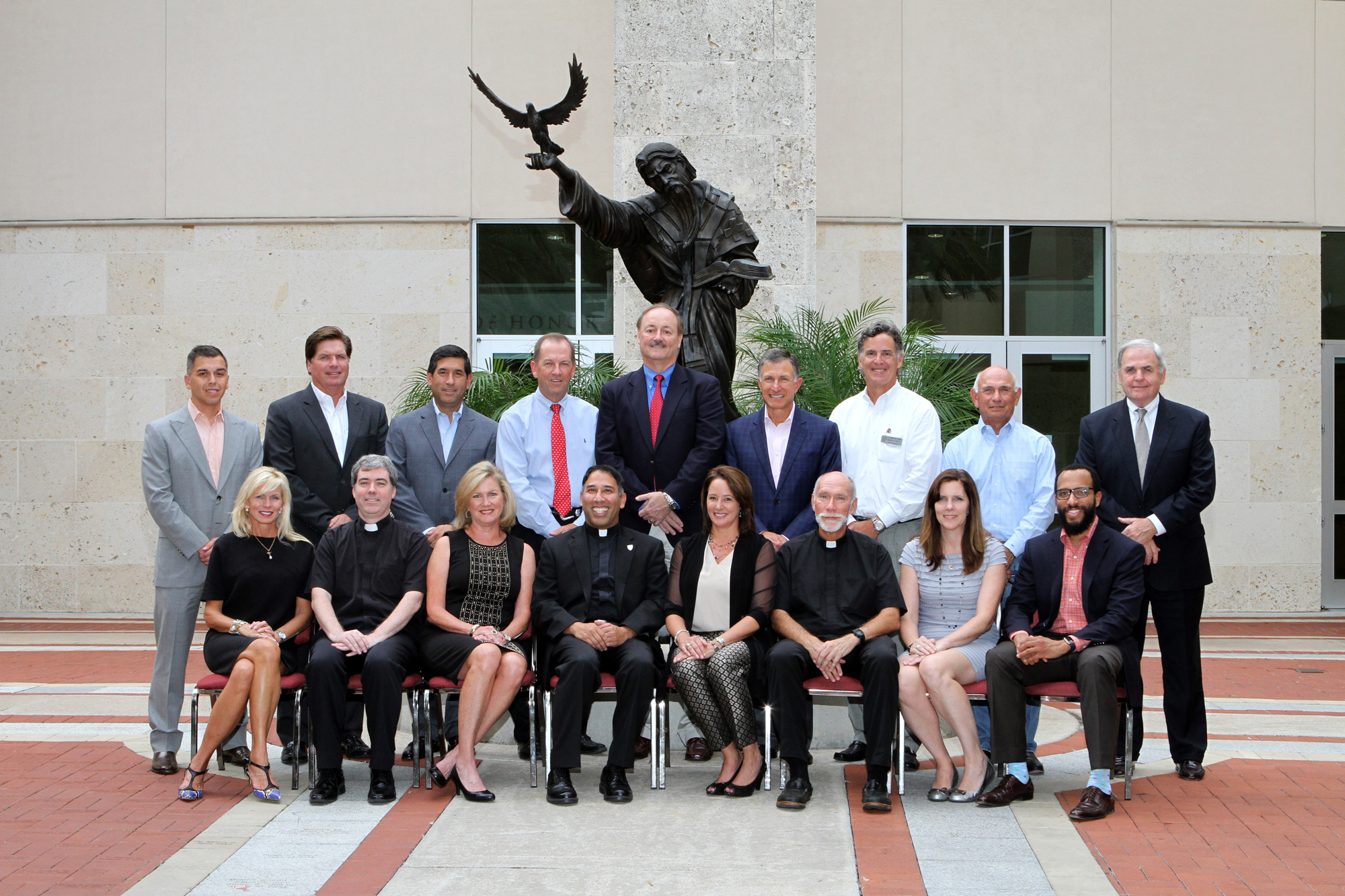 Front Row: Terrie Hogan-Turner; Fr. Jim Murphy, CSB; Tina McCarthy; Fr. Kevin Storey, CSB; Betsy Bagley; Fr. David Bittner, CSB; Michelle Carnahan; Sammy Ford; Back Row: Oniel Mendenhall; Doug Wrinkle; Hector Herrera; Larry Haas; Leon Adams; John Rathmell, Jr.; Robert O'Brien ; Al Clay ; Greg Hall. Not pictured: Bishop George Sheltz.
John Rathmell, Jr. '75, Chair
Leon Adams P'13
Betsy Bagley P'12
Fr. David Bittner, CSB
Michelle Carnahan
Al Clay '61
Sammy Ford '00
Larry Haas '73, P'12
Greg Hall '69, P'98 & '00
Hector Herrera, '79, P'09 & '15
Terrie Hogan-Turner P'13
Tina McCarthy P'03
Oniel Mendenhall '96
Fr. Jim Murphy, CSB
Robert O'Brien '82
Bishop George A. Sheltz '63
Doug Wrinkle
Fr. Kevin Storey, CSB, Ex-Officio
President
Thad Fuller '76, Raymond James & Associates Inc.

Treasurer
Ken Fisher, Noble Energy
Past Presidents
Jim Maroney '69, Retired
Andy McStay '69, Porto, Trueheart, & McStay
Members At Large
Ed Britt P '17, Bowen Miclette Britt
Ann Garnett P '11, '13, MRC Global Inc.
Rev. James Murphy, CSB, St. Thomas High School
David Hanse '91, Wunderlich Securities
Bob McConn '66, Trial Lawyer
Charles Russo '80, Marketouch Media
John Rynd '75, Hercules Offshore Inc.
Rev. Kevin Storey, CSB, St. Thomas High School, President
By Invitation of the Board
Mark deTranaltes '83, St. Thomas High School, Vice President for Advancement
Eve Grubb P '09, '14, St. Thomas High School, Vice President of Finance