When plotting for the upcoming St. Thomas spring production, long-time acclaimed director Dan Green opted for something creepy and kooky, mysterious and spooky, and altogether ooky.
[

CLICK HERE for ticket information

]

Overwhelming recommendations from his actors convinced Green that the time had arrived to debut The Addams Family, a musical slant on that devilishly delightful family with an affinity for all things gleefully macabre, coming to life at the Cemo Auditorium March 24-26. 

Snap, snap.

"This show isn't something I had in mind but when the students express enthusiasm for a project and we can do it … we do it," Green said.  "They were after light-hearted and fun.  The story is straightforward.  I've enjoyed the music for years.  The actors are really bringing an energy to rehearsal so I believe this will make for some great nights on stage."

The Addams Family began innocently enough as a series of one-panel gag cartoons by Charles Addams in The New Yorker in the late 1930s, became a classic TV sitcom in the '60s, a Saturday morning cartoon in the '70s, and a pair of popular films in the '90s … all as a run-up to the 2010 smash-hit Broadway musical featuring Nathan Lane and Bebe Neuwirth.

Snap, snap.

Green is "in love with our set.  (Faculty member) Phil Gensheimer is unmatched anywhere in high school theater in this city and I'm always amazed at his craftsmanship.  The singing and dancing are wonderful. The challenge is choreographing with a large number of performers.  I've been blown away with how much everyone is adding as we progress to opening night."

Fronting the ghoulish Addams gang are the pencil-mustachioed patriarch Gomez (Parker Robertson '18) and his vampirically glamorous wife Morticia (Incarnate Word Academy's Sarah O'Connor).

IWA junior Susannah Wilson portrays their daughter, wicked Wednesday Addams, and is flanked for the fun and frolic by Daniel Tran '19 as her brother Pugsley, with Andrew Neaves '17 (Uncle Fester), IWA senior Lauren Turner (Grandmama) and Alec Gordon '17 (Lurch) filling out the primary misfits and malcontents.

The plot swirls around a shocking development in the eccentric Addams household where the ordinary rules of human nature are reversed and Goth is grand.  Wednesday, the precocious princess of darkness, is charmed by a sweet and smart middle class all-American type from a respectable family.  Friction emerges and hilarity ensues, all engulfed by a witch's brew of tango, cabaret and vaudeville-style numbers.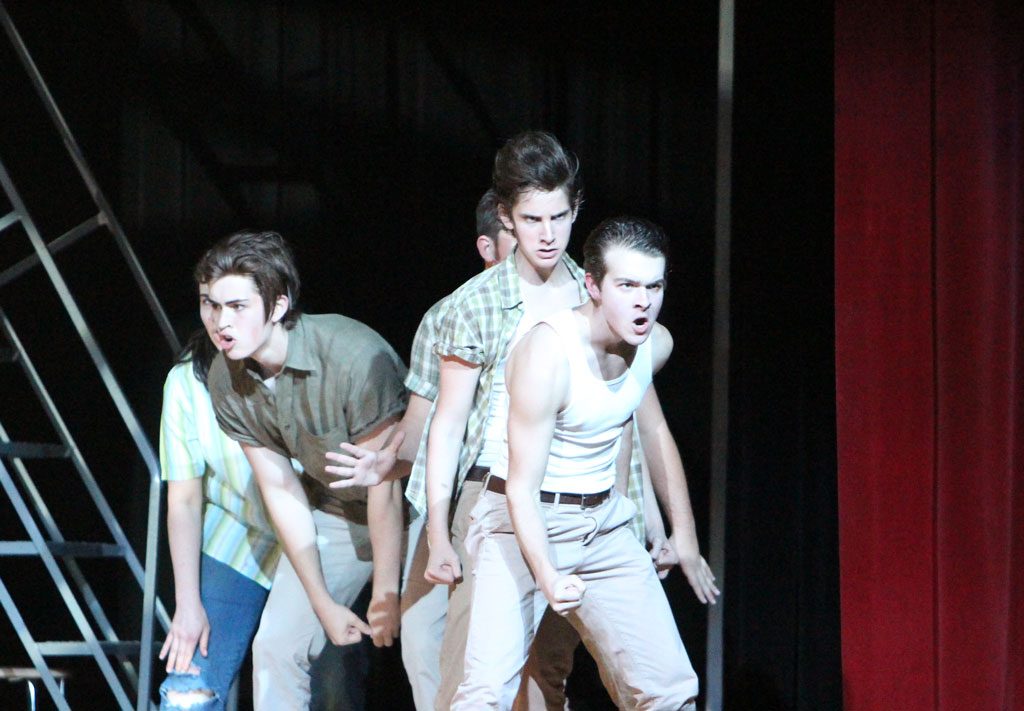 The robust Robertson promises to deliver a pitch-perfect performance after seizing the stage in only his second STH production with the colorful and explosive Action in West Story Side (above), following with the not-so-foolish fool Feste in Twelfth Night (below, left), a jester who thoroughly embodied the spirit and folly of Shakespeare's madcap festivities.
Robertson describes Gomez as "debonair and flamboyant.  There's a zest to that character and I didn't realize how much range I would have with the role. When you bring it to the stage, it's incredible."

Robertson was first cast at age five in Grease ("I had one line … Could she get a friend? … from the song Summer Nights").  Three years ago he auditioned and was accepted into HISD's renown High School for the Performing and Visual Arts, yet opted for "a more well rounded" educational experience at St. Thomas where " where he follows the legacy of his grandfather Anthony '48 and "could continue to grow my acting experience in first-rate productions."

In addition to his dynamic performances on campus Robertson recently starred in The 25th Annual Putnam County Spelling Bee at the HITS Theatre (with Cameron Mills '19) … and has longed for the opportunity to revisit Addams Family after his chorus role in the 2014 HITS production at the Miller Outdoor Theatre.

"You can never have bring too much background to the interpretation," Robertson said.  "Knowing the timing of the comedy, the polish required, seeing how seasoned actors execute is a definite asset.  One reason I loved being a part of that (HITS) production was everyone was entirely on the same page, from the ensemble to the main roles.  It's the very same with our production.  We're all pushing each other to bring out our best."

Neat, sweet, petite.

Green identifies Robertson as "fully dedicated from day one in character.  He brings an intensity and professionalism.  His work ethic might actually be his greatest skill.  The talent throughout this production is deep with all our actors taking equal ownership of the show, raising the bar for each other, which drives for high caliber performances, and actually makes my job much easier."  

The ghastly, the ghostly and the side-splitting Addams Family premieres March 24 at 7:00 p.m., followed by Saturday performances at 2:00 p.m. and 7:00 p.m. and concluding Sunday at 2:00 p.m.

Snap, snap.

Catholic.  Basilian.  Teaching Goodness, Discipline and Knowledge since 1900.