St.Thomas President Fr. Kevin Storey, CSB is proud to announce that His Eminence Timothy Cardinal Dolan, Archbishop of New York, will participate in the school's 2017 commencement weekend, serving as the principal celebrant of the Baccalaureate Mass May 19.
Fr. Storey described the charismatic Cardinal Dolan as "a modern-age Fulton Sheen. And his commitment is much more than our Friday night celebration. He's arriving earlier in the day to meet with our students, attend a luncheon on campus, perform the Baccalaureate that evening and then remain for a reception. When someone of his stature is engaging our community in such an extended and meaningful way, that speaks to the importance of St. Thomas. His gracious efforts are extremely appreciated."
St. Thomas initially reached out to Cardinal Dolan in collaboration with loyal supporters Melissa and Mark Dolan, whose great grandfather was the brother of Cardinal Dolan's great grandfather. The original intent was to arrange a visit for the 2013 Mother / Son Mass with Mark '17, only to be informed that Cardinal Dolan's agenda is usually filled two-three years in advance.
"We decided at that point that it would be great if Cardinal Dolan could be involved in our 2017 graduation ceremony … sent that invitation right away … and heard back last spring that we made the calendar," Fr. Storey said.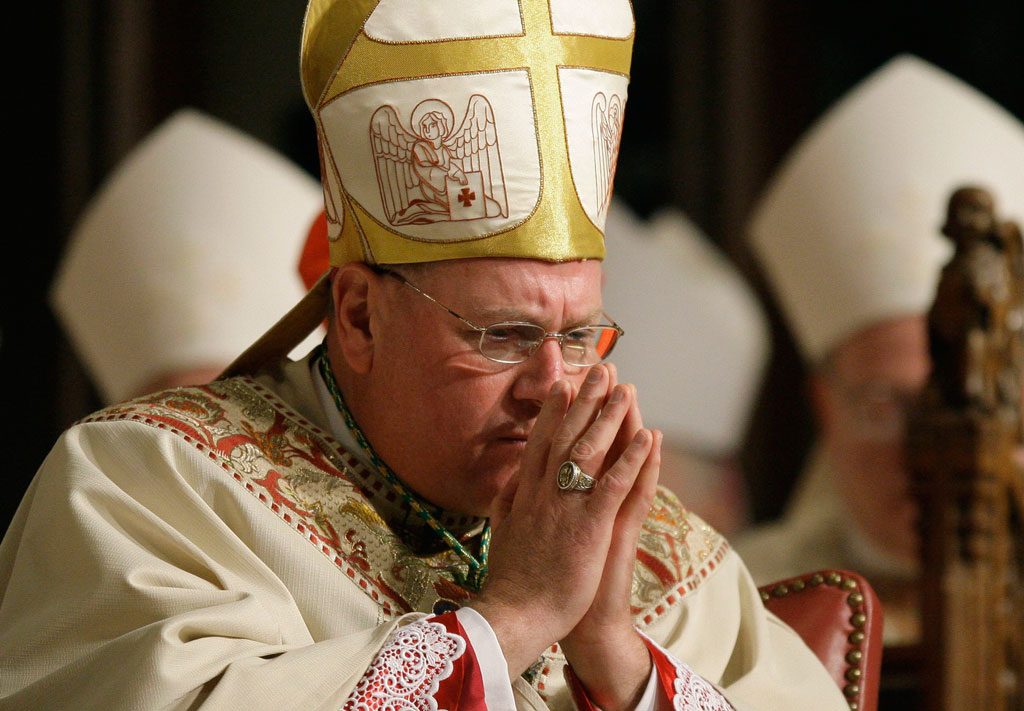 Throughout his priesthood, Cardinal Dolan has consistently applied a fixed focus on issues involving faith, family and religious freedom. His gregarious and infectious personality have made him a major figure in the life of New York City and beyond, visible in the national conversation of contemporary social topics, inside and out of Catholic circles, whether spending time in Iraqi Kurdistan on a pastoral visit to that region's displaced Christian families, or spearheading a recent $100 million fundraising campaign for New York City's human services.
Owning a charming style and penchant for humor, Cardinal Dolan is no stranger to the political limelight and has become something of a celebrity, sharing space with the powerful and the wealthy from his prestigious position.
Self-deprecating and unselfconscious, Cardinal Dolan is known to give no ground on doctrinal issues, yet maintains a relentless determination to keep lines of communication open.
He delivered prayers at both the Republican and Democratic national conventions in 2012, and joined other religious leaders at President Donald Trump's inauguration in January, reciting Solomon's Prayer from the Book of Wisdom.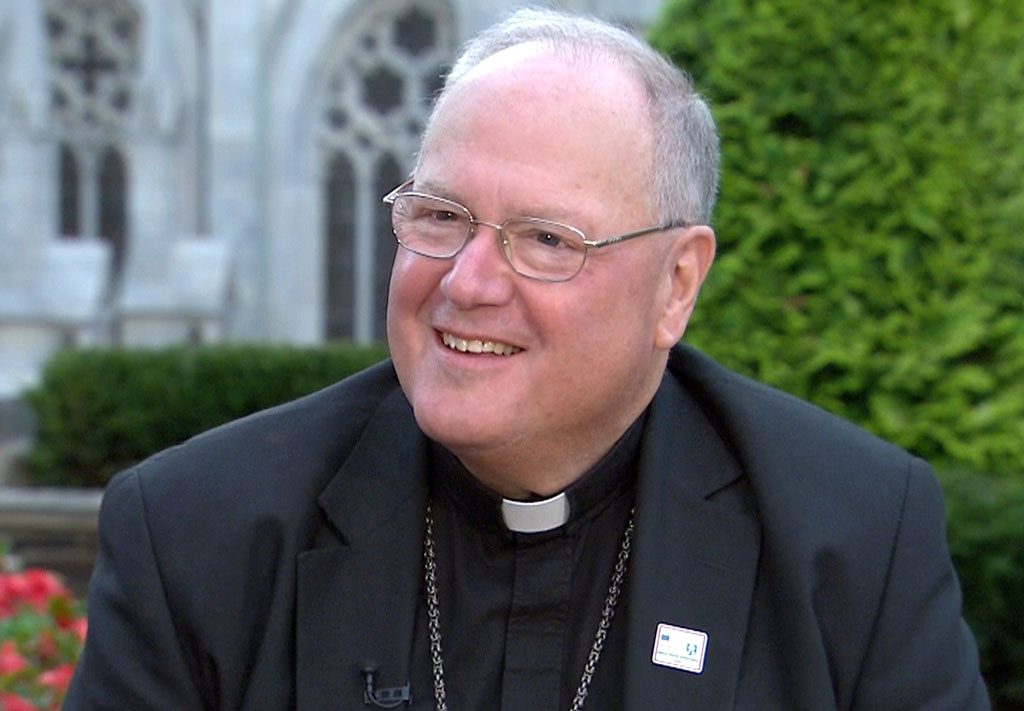 Cardinal Dolan has proven a savvy media maven, equally at ease trading barbs with Bill O'Reilly on Fox News Channel or revealing on NBC's Today jokes he shared with Pope Francis.
The Cardinal maintains a daily dialogue with hundreds of thousands of followers on Facebook and Twitter. His "Conversation with Cardinal Dolan" is part of the Catholic Channel broadcast on Sirius XM satellite radio, featuring the archbishop's booming bass voice and interest in subjects as varied as immigration to the March for Life to the food of Fat Tuesday.
The 2017 Commencement Exercises are scheduled for May 20, 6:30 p.m. at Granger Stadium on the St. Thomas campus.
—
From the Archdiocese of New York website
Timothy Dolan was named Archbishop of New York by Pope Benedict XVI in February 2009 after serving as Archbishop of Milwaukee, appointed there by Pope Saint John Paul II in June 2002.
Ordained to the priesthood for the Archdiocese of St. Louis in June 1976, he served as associate pastor at Immacolata Parish in Richmond Heights, Mo., until 1979 when he began studies for a doctorate in American Church History at The Catholic University of America.
In 1994, he was appointed rector of the Pontifical North American College in Rome, where he remained until June 2001. While in Rome, he also served as a visiting professor of Church History both at the Pontifical Gregorian University and the Pontifical University of St. Thomas Aquinas.
In June 2001 – the 25th anniversary of his ordination to the priesthood – then Monsignor Dolan was named the Auxiliary Bishop of St. Louis by Pope Saint John Paul II.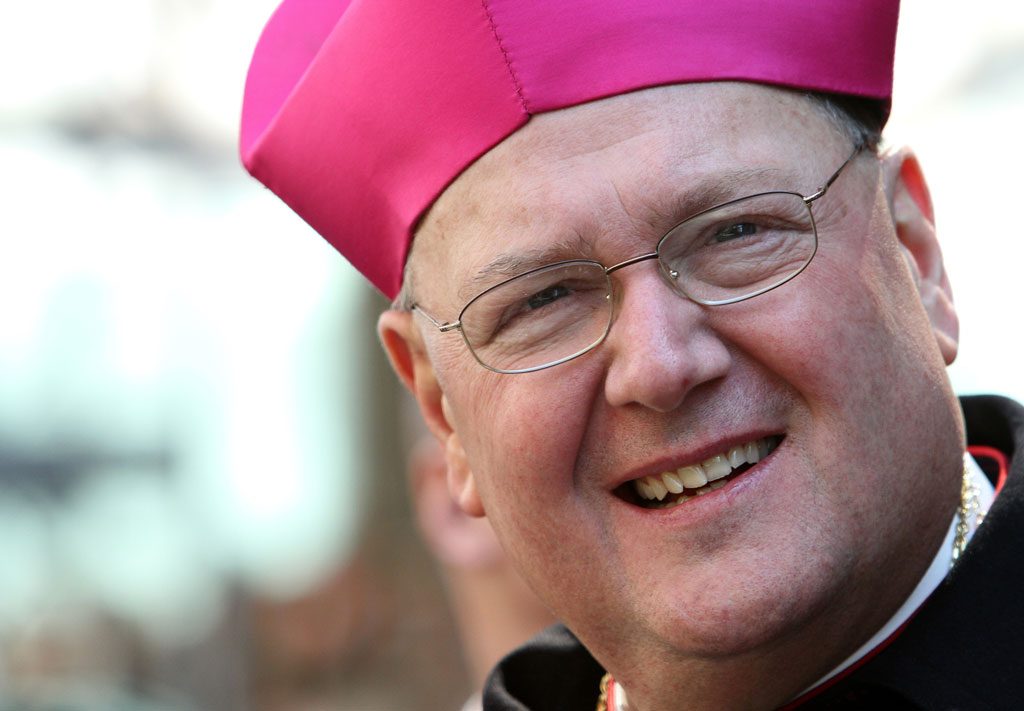 Cardinal Dolan served as chairman of Catholic Relief Services, and is a member of the Board of Trustees of The Catholic University of America. He is also a member of the Pontifical Council for Promoting New Evangelization, the Pontifical Council for Social Communications; and, at the Vatican, the Congregation for Eastern Churches, and the Congregation for the Evangelization of Peoples.
Cardinal Dolan was elected to a three year term as president of the United States Conference of Catholic Bishops in November 2010. He now serves as chair of the Bishops' Committee on Pro-Life activities.
In January 2012 His Holiness Pope Benedict XVI announced that Timothy Dolan was to be appointed to the College of Cardinals.
Following the resignation of Pope Benedict XVI, Cardinal Dolan participated in the Conclave that elected Pope Francis in March 2013.
—
Catholic. Basilian. Teaching Goodness, Discipline and Knowledge since 1900.
---