St. Thomas is proud to salute acclaimed faculty member Daniel Bryant '93 who has been selected as the 2017 Outstanding Biology Teacher Award (OBTA) winner for the state of Texas.
This prestigious distinction is sponsored by the National Association of Biology Teachers and "is a testament to (Bryant's) dedication to provide students with an excellent biology education," honoring his "professional achievements as well as … the sacrifices to ensure that (his) students receive a high-quality biology scholarship."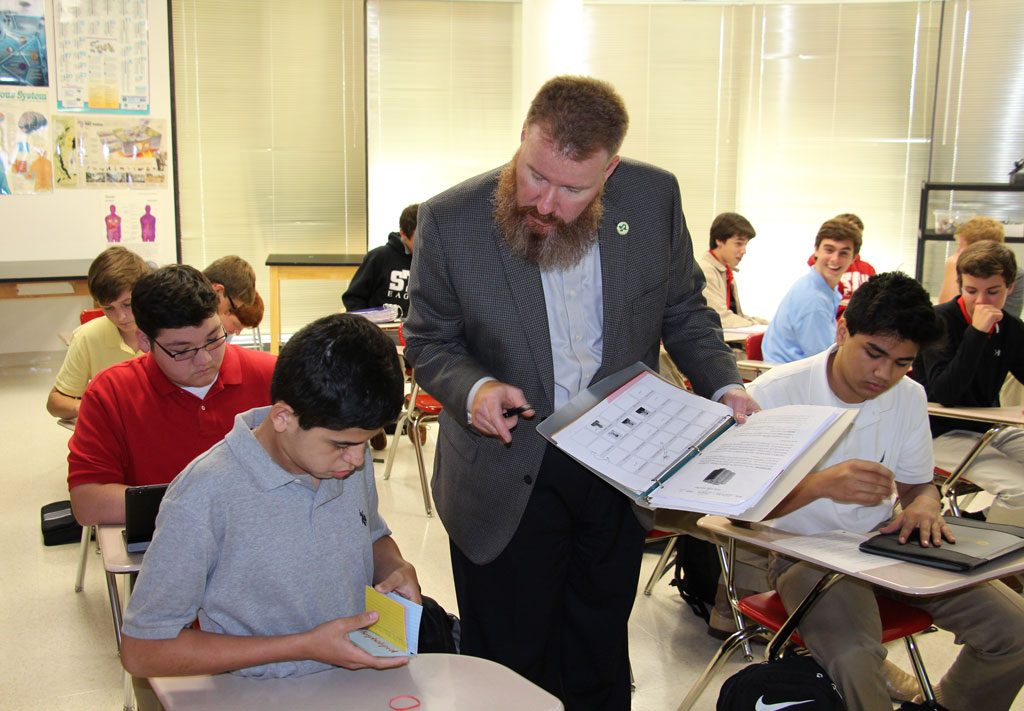 Bryant will be honored at two science education meetings, first during 2017 Conference for the Advancement of Science Teaching, November 9-11 at the George R. Brown Convention Center, and then at the 2017 National Association of Biology Teachers Professional Development Conference held this year in St. Louis.
Bryant joined the St. Thomas faculty where he teaches Biology, Anatomy and Physiology, and Chemistry, while also contributing as a Instructional Technology Specialist.
Bryant previously was the Dean of Science for 12 years at Incarnate Word Academy where he taught Biology, AP Biology and Honors Biology. He is a third generation Catholic school teacher, following his grandmother who taught in Brooklyn, New York, and his mother who was a middle school instructor and later a principal in Pasadena.
Bryant is an avid volunteer with the Boy Scouts of America, the American Red Cross, and joined forces in 2012 with The Woods Project, a nonprofit enrichment program rooted in outdoor education and environmental awareness. He serves as a wilderness counselor for disadvantaged students, utilizing camping and hiking trips to Sam Houston National Park and Grand Canyon National Park to help them rise above systemic barriers.
Catholic. Basilian. Teaching Goodness, Discipline and Knowledge since 1900.