GAME TWO: Thomas Educational Sports Center, Beaumont
Eagle Football 16
Beaumont West Brook 49
WHAT YOU NEED TO KNOW
Thunder-foot kicker Jacob Manley '18 delivered three field goals and running back Ian Wheeler '19 bolted 69 yards for a touchdown but the Eagles could not recover after a monster momentum shift in the final minute of the first half of a 49-16 defeat at Beaumont West Brook.
TURNING POINT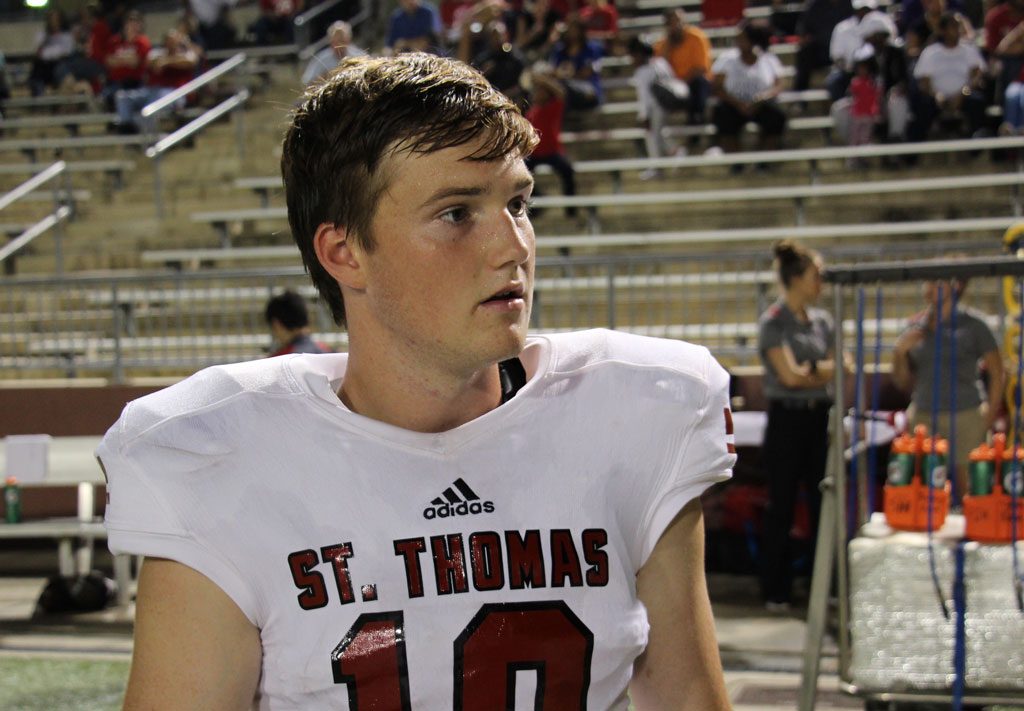 Manley connected from 40 and 43 yards on consecutive possessions in the second period to keep Eagle Football (0-2) within 7-6 when West Brook capped a 59-yard touchdown drive with barely a minute remaining before the break … then cashed in quickly following an interception to take command 22-6.
RAPID REVIEW
Head Coach Rich McGuire
"We fought hard for the first 22 minutes … were right there. But we let some plays get away from us. Our defense without four starters going in and losing another at halftime wore down. (West Brook) is a big-time program … big numbers … big talent. But our effort was there … absolutely no quit. And this really isn't the kind of game to properly gauge improvement from Week One to Week Two but it's there."
Manley answered West Brook's touchdown march on its first series of the second half with a 37-yard boot to cut the count to 29-9 midway third period … only to have West Brook counter with two more touchdowns in its next three possessions … including a 50-yard burst untouched to the end zone from Bruins running back James Jones … to smash the game open.
Wheeler then broke loose with the longest Eagle scoring play of the young season for the only St. Thomas touchdown.
MORE MCGUIRE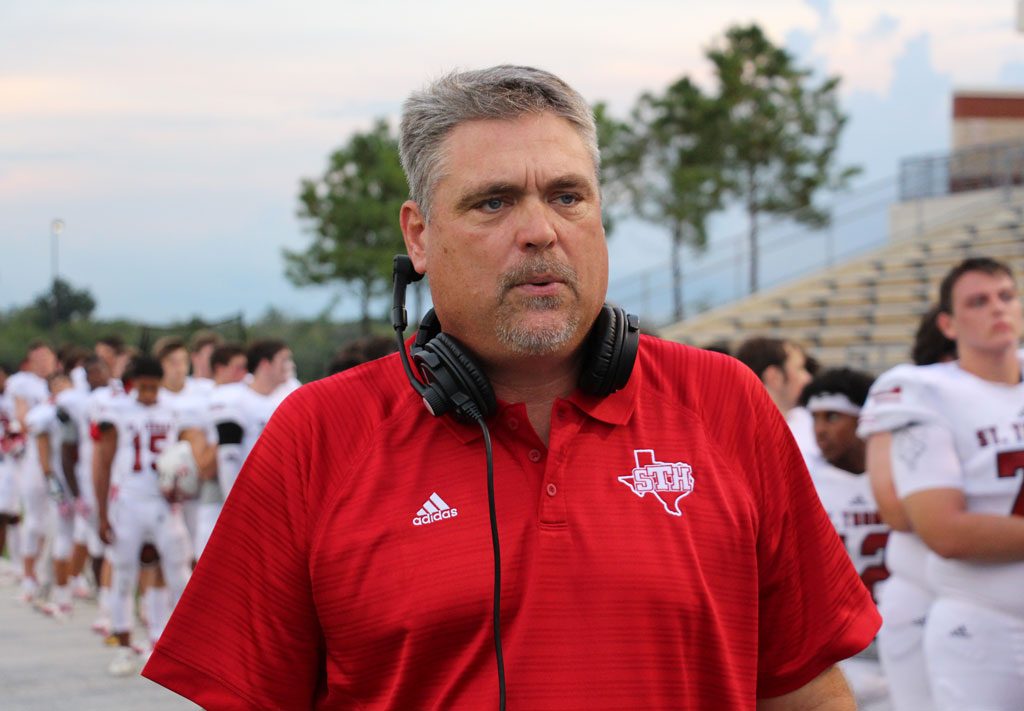 "Manley is a huge weapon, no question. Offensively we have to improve execution. We're getting better up front and starting to jell … ran the ball better against a front that is physical and active … but our receivers have to learn to separate off press coverage. And we can't burn timeouts (in the first half) with substitution issues."
CHECKDOWNS
Safety Daniel Coco '20 intercepted quarterback La'Ravien Elia on the game's fourth play from scrimmage.
Receiver Hunter Cheek '19 contributed three catches on the Eagles' first scoring drive that stalled at the West Brook 23-yard line before Manley's kick split the uprights for 7-3 early second quarter.
Manley calmly drilled his third field goal of the game … and fifth of the season … in a scoring series fueled by a 28-yard catch-and-run by receiver Josh Madden '19.
STATE OF PLAY
The two-game Rorschach test has yet to reveal the Eagles identity as Mcguire's first team seeks to harness the necessary depth to generate a winning edge and attitude critical to playing hard and physical and fearless for 48 minutes.
McGuire's confidence remains steadfast … Let's Do It Till We Get It Right.
Lay me up, throw me down
Throw my head, spin around
Think above and think about
Let's do it till we get it right, ah yeah
RED AND WHITE WITHOUT WINGS
Eagle Football with feature an innovative helmet design with the block STH logo outlined with the state of Texas throughout the season.
UPCOMING
Eagle Football hosts Episcopal Friday, September 29 at Hotze Field inside Granger Stadium and then Pasadena October 6 during homecoming weekend.
Let's do it, let's do it, let's do it
Do it till we get it right
Let's do it, let's do it
Do it till we get it right
Do it till we get it right
Do it till we get it right
Eagle Fight Never Dies!