GAME ONE: Hotze Field inside Granger Stadium
Cedar Hill Trinity Christian 28
Eagle Football 27
WHAT YOU NEED TO KNOW
In a second half that saw three lead changes after the Eagles relinquished a 10-point advantage … thunder-foot kicker Jacob Manley '18 had his final-play field goal attempt from 32 yards blocked … and St. Thomas suffered its first season-opening defeat in six years in the St. Thomas head coaching debut of Rich McGuire.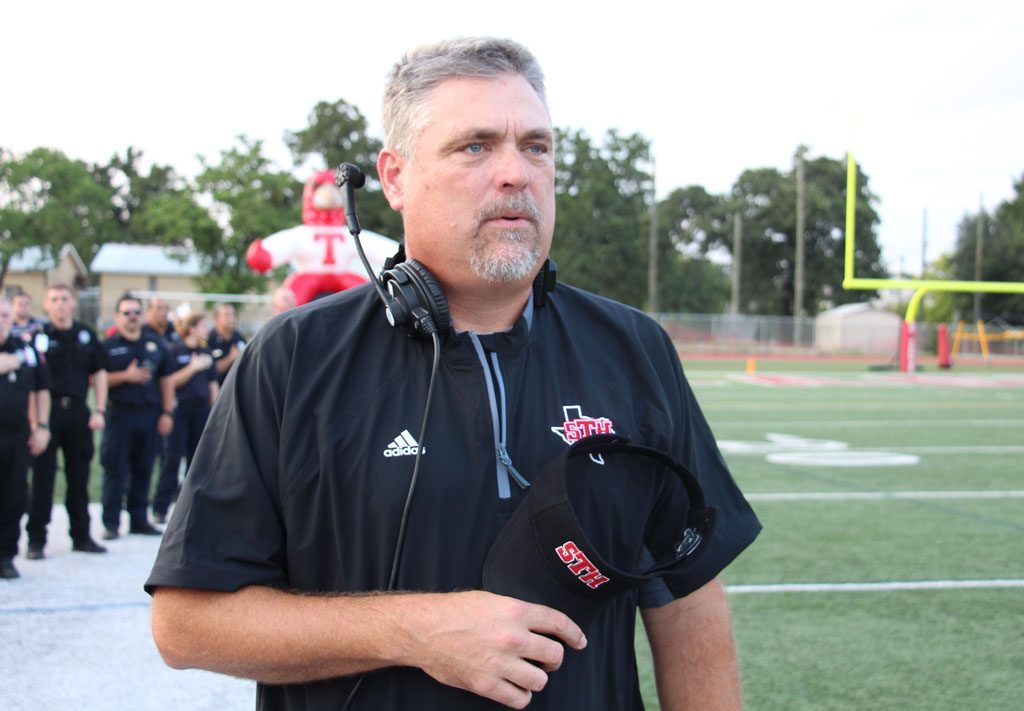 The delayed start to 2017 was played out after previously scheduled games with The Kinkaid School, Strake Jesuit and College Station were cancelled by an abrupt Hurricane Harvey hiatus and the wettest weather event ever to hit the continental United States, producing punishing flooding and destruction in an assault on Greater Houston and the Texas Gulf Coast.
RAPID REVIEW
Rich McGuire
"It was our Week One. And in your first game you're going to make mistakes that kill drives. It was their third game. We haven't had live action in three weeks. That's not an excuse but obviously, we're behind in season development … really didn't hit much since the scrimmage (August 23 against New Caney). Good teams really improve from the first game to the second. That's what I expect."
SIZZLING START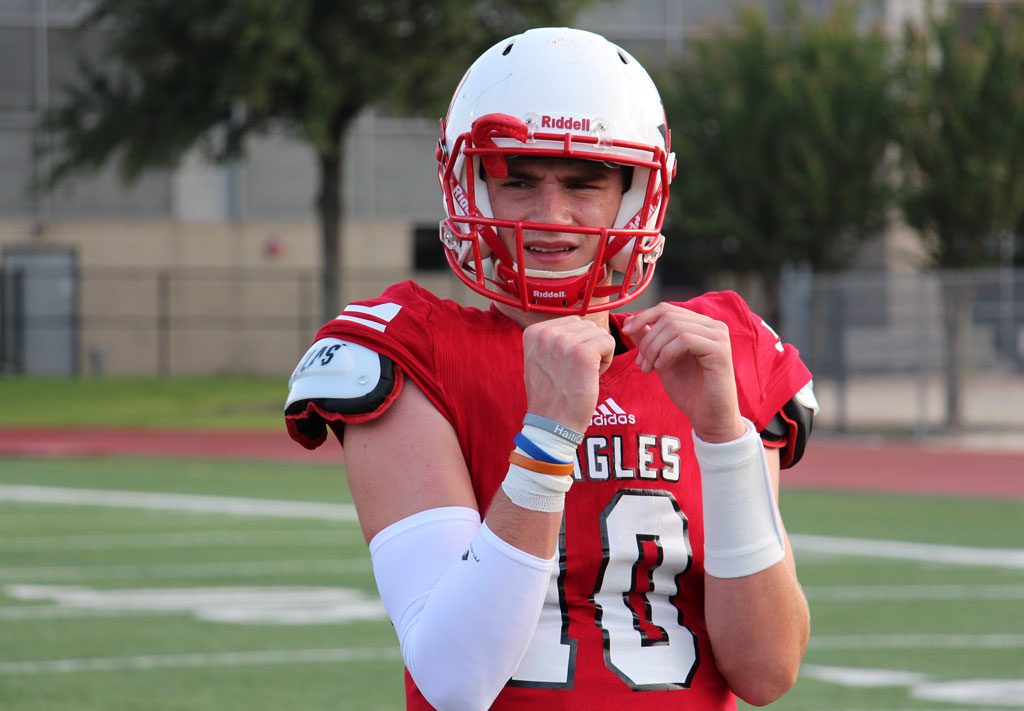 Quarterback Peyton Matocha '19 returned after starting all 11 games as a sophomore … took the first offensive snap of the season … broke clean on the right side option … and danced 32 yards into the end zone for the first points of 2017.
Seth Deitz '19 previously smothered a Trinity Christian punt like a 4 a.m. triple order of Waffle House hashbrowns to give the Eagles the short-field opportunity.
CRACKING THE CODE
Following a red zone interception and three consecutive three-and-outs … Eagle Football took possession near midfield with 47 seconds remaining in the first half.
Back-to-back bursts from Matocha for seven and 16 yards set up Manley who crushed a 43-yard field goal as the clock ticked to triple zeroes for a 10-7 margin at halftime.
Matocha, the reigning TAPPS 6A high jump champion who tied the state record in winning the 2017 title, was again the primary catalyst to start the second stanza. Designed romps of 11, 19, 10 and five yards produced first downs before he carried the final three yards for his second touchdown to stake St. Thomas to a 17-7 lead with 8:22 left in the third period.
REVVED UP WHEELER
After Trinity Christian answered with touchdowns on its next two series … 68 and 67 yard drives … to hand the Eagles their first deficit of the season … 21-17 less than two minutes into the fourth quarter … running back Ian Wheeler '19 immediately supplied the quicksilver remedy.
First, a 20-yard dash deep into Trinity Christian territory on the first play following the kickoff … and one play later a 30-yard catch-and-run after Matocha rolled against his body … released on contact … and found him alone on the left side to swing the Eagles back in front 24-21.
PRIME OPPORTUNITY MISSED
After surrendering consecutive touchdown drives … the Eagles forced a three-and-out … and a botched snap from punt formation left St. Thomas at the Trinity Christian 25-yard with less than 6:30 remaining on the clock.
But Eagle Football again could not cash in at the brink of the end zone and was forced to settle for Manley's 25-yard chip shot, a less-than-safe 27-21 cushion.
MORE McGUIRE
"Penalties … first game confusion … all correctable rather than concerns. Our offense will come together."
BACKBREAKER
The Eagle defense failed to close out the count.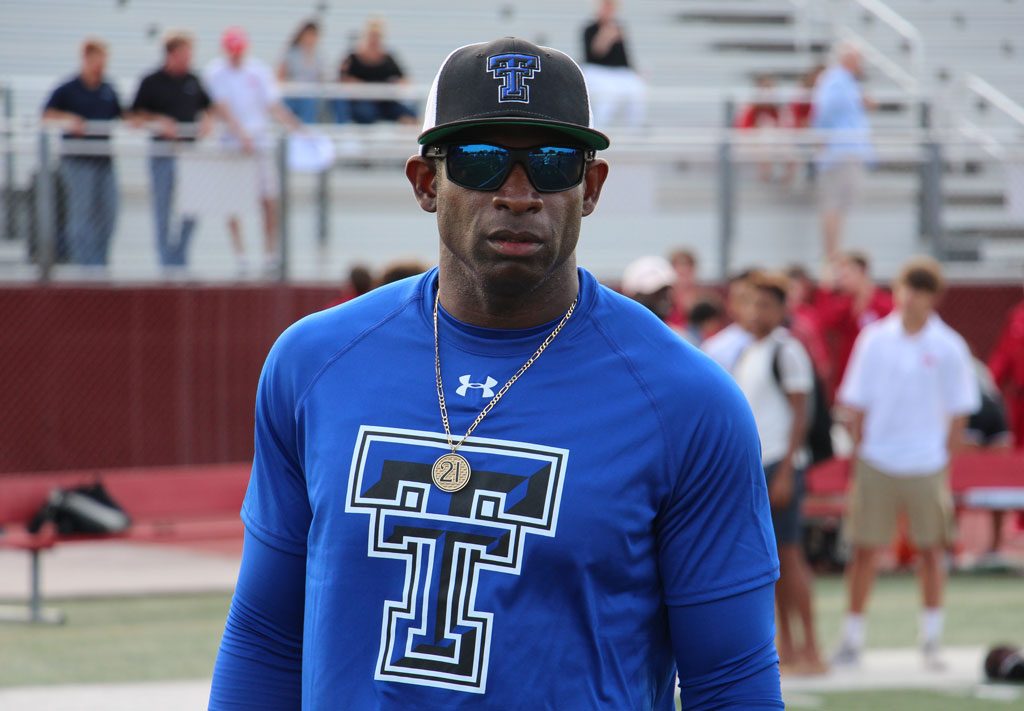 Trinity Christian quarterback Shedeur Sanders … the son of Pro Football Hall of Famer Deion Sanders who serves as the team's offensive coordinator … completed five straight passes in the drive for 57 yards … including a daring and precise completion across the turf to the left sideline good for a plus-30 gain and a 75-yard possession required only 2:00 to leave the Eagles trailing 28-27.
MORE McGUIRE
"Sanders made some impressive throws late. They have superb athletes. The backs run hard … run strong. The receivers go get the ball. We contained them most of the night. But give them credit for making some big-time plays when they needed them."
HEARTBREAKER
The final counter-punch again resulted in red zone fatigue. The Eagle offense reached first down at the Trinity Christian 15-yard line in the closing seconds. But Manley's third attempt never reached beyond the line of scrimmage and the 28-27 verdict was sealed.
MORE McGUIRE
"Manley was money. We had great confidence he was going to make that kick but we had leakage up front."
STATE OF PLAY
In searching to rejuvenate a program following a five-win season that interrupted a run of straight-flush district campaigns … McGuire owns a firm understanding how to organize … how to develop … how to set up a system … and how to communicate the value in following it.
He absolutely believes his bedrock principles … ball, block, cover, cut and slice, pursue and gang tackle … will quickly emerge during the coming weeks.
One game, regardless of the result, remains one game.
The Work has truly only begun.
Sun up, sun down
Somebody's gotta do it
When aid
done
, no one's around
Somebody's gotta do it
You can sit around with your hand
Get your boots on, play the ground
You gotta work
EXTRA POINTS
On the second offensive series, Parker Nelms '18 flashed the scintillating signature play of the game … a one-handed tip and grab worth 23 yards into Trinity Christian territory. But three plays later the first turnover killed the scoring threat.
With the score even 7-7 in the final three minutes of the first half … Jackson Hanna '18 reached for a one-arm ankle tackle that prevented a massive gain with room to roam down the far sideline. On the following play, defensive back Jackson Reece '18 defended a fourth-down throw to give the Eagles possession less than a minute before the break … time enough for five plays and Manley's big boot for 10-7 at the recess.
Chris Rose '18 in the defensive trenches … along with linebackers Cooper Thomas '20 and Deitz … were manic forces throughout the night.
The defeat marks three consecutive home losses and four in five games at Granger Stadium for the first time in more than eight years.
HOUSTON STRONG, EAGLE STRONG
Prior to the game Eagle Athletics saluted first-year principal Aaron Dominguez '96 … the first layman to serve as chief academic officer since the school's inception in 1900 … and a number of Houston area first responders who courageously met the needs of the city during the hurricane crisis.
RED AND WHITE WITHOUT WINGS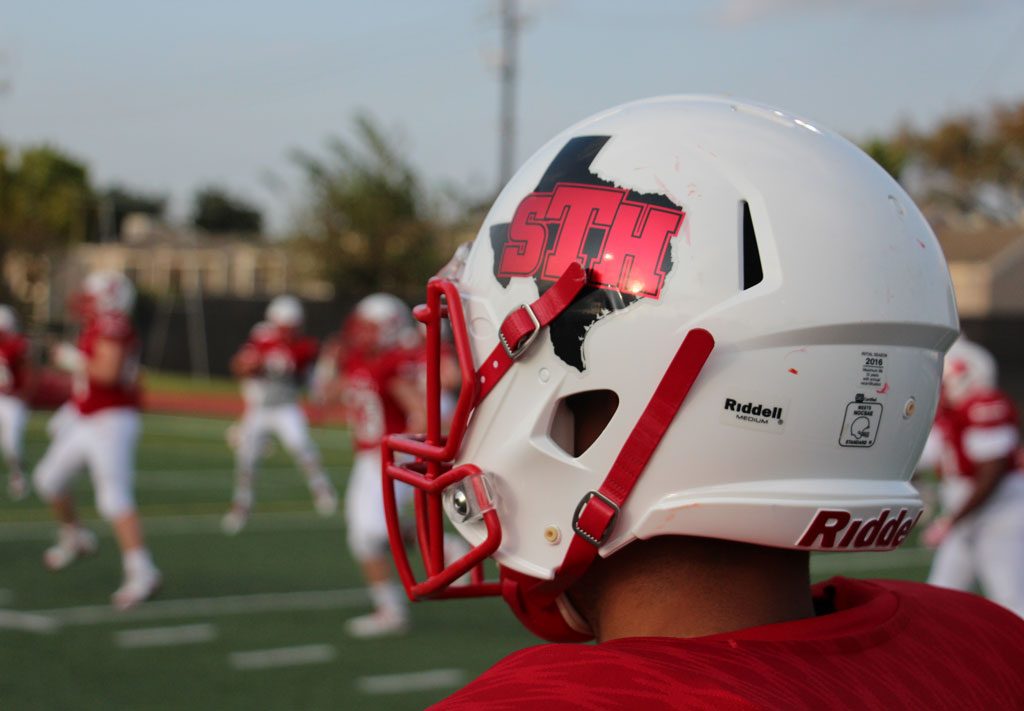 Eagle Football debuted an innovative helmet design featuring the block STH logo outlined with the state of Texas.
UPCOMING
Eagle Football travels to Beaumont to complete a two-year home-and-home series with UIL 6A West Brook Thursday, September 21, at 7:00 p.m. before returning to Granger Stadium to face Episcopal Friday, September 29.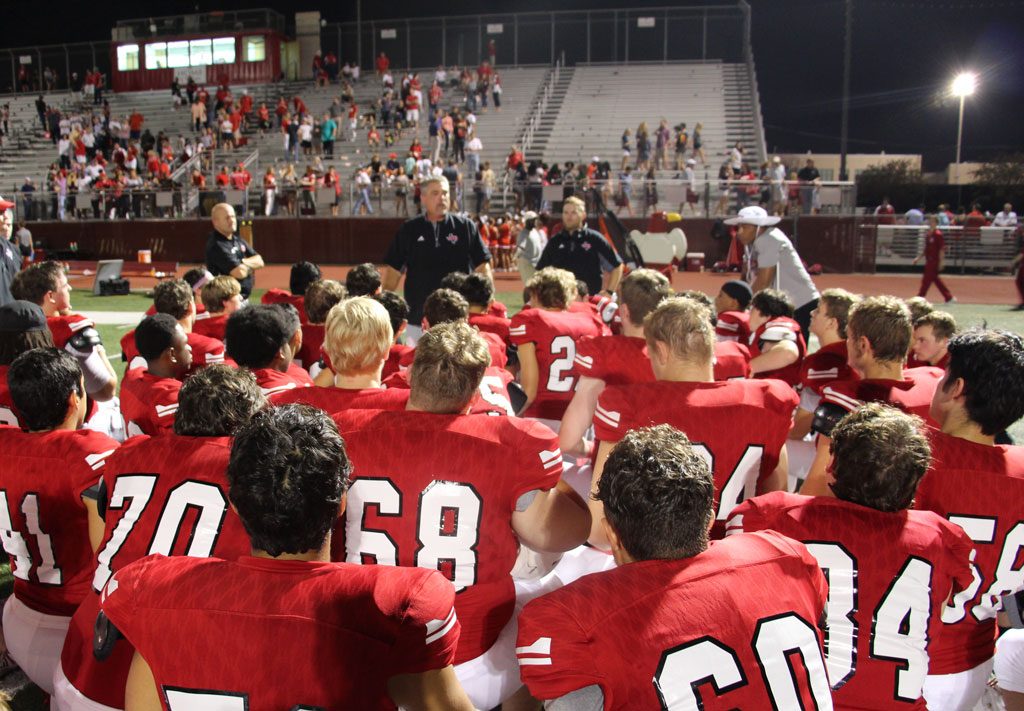 MORE McGUIRE
"The important thing … and I really stressed this to the players … we have the entire season left … and we're a good football team. We have to make mental adjustments more than anything else. The effort was there (Friday) night. We'll look at the video in a short week and then be ready to go."
I know the road is deep
I know the journey's long
I know it's up to me
So, I've got to carry on
And when I'm in too deep
I need you to help me to be strong
It ain't gonna happen on its own
You gotta work
Eagle Fight Never Dies!