The St. Thomas Sports Hall of Fame Class of 2018.
Alphabetically, the inductees are: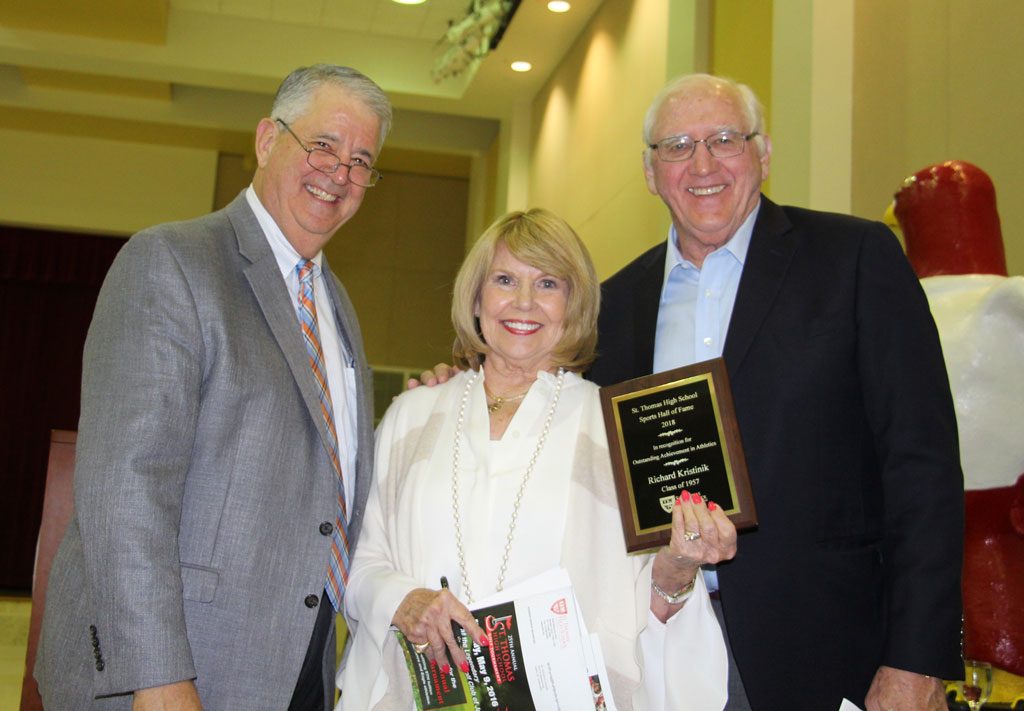 RICHARD KRISTINIK '57
acclaimed two-sport athlete who earned six varsity letters and was a four-time member of the St. Thomas Club
accepted scholarship to Rice University when he hit .422 during senior season while winning the 1961 Southwest Conference batting title
three-time all-SWC and third-team All-American in '61
signed with the Baltimore Orioles after graduation
served in the Marine Corps Reserves
distinguished professional career with former Big Five accounting firm Arthur Andersen & Co. in Houston, Tulsa and Denver where he served as Managing Partner
passed in 2017, honored by Bobbie Burke Kristinik, his wife of more than 53 years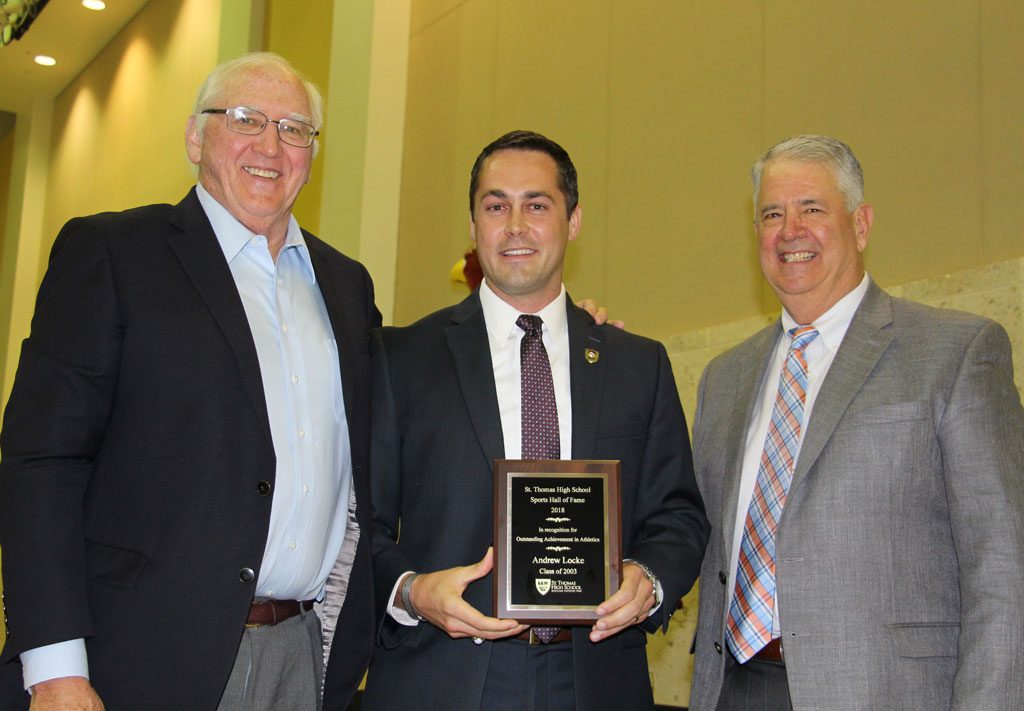 ANDREW LOCKE '03
prolific student-athlete career earning 10 varsity letters while also emerging as cornerstone talent in establishing Eagle Rugby as the premier high school program in Texas

2003 TAPPS Male Athlete of the Year

two-year starting quarterback passing for 5,587 yards and 50 touchdowns while rushing for 1,021 yards

two-time state champion wrestler and three-time state finalist selected as the outstanding performer in the 2003 competition after entering the tournament unseeded and then defeating the nos. 4, 3, 2 and 1 seeds in capturing the gold medal

member of 4×440 state champion relay team that clinched both the 2002 and 2003 state team titles

catalyst for Eagle Rugby in securing the first Texas State Rugby championship, advancing to the 2003 USA Rugby National High School Championship Tournament where St. Thomas finished 7th in the nation

selected to 2002 and 2003 USA Rugby National U19 teams

was recruited to West Point as a quarterback but transitioned exclusively to rugby as a freshman

two-time collegiate rugby All-American and senior captain as Army collected three top-8 finishes at the USA Rugby National Collegiate Championship Tournament during his career

three-year captain as a six-year member of the Army Select-Side 7s team which won the U.S. Military Championship 7s Tournament five consecutive years

invited by USA National 7s to compete for a position on the 2016 Olympic team

deployed to Iraq as a Stryker vehicle platoon leader, followed by three mission-specific Ranger engagements to Afghanistan

retired from the active Army in October 2017 to accept a position with Palantir Technologies, a private American software and services company which specializes in big data analysis while continuing his military career with the Texas National Guard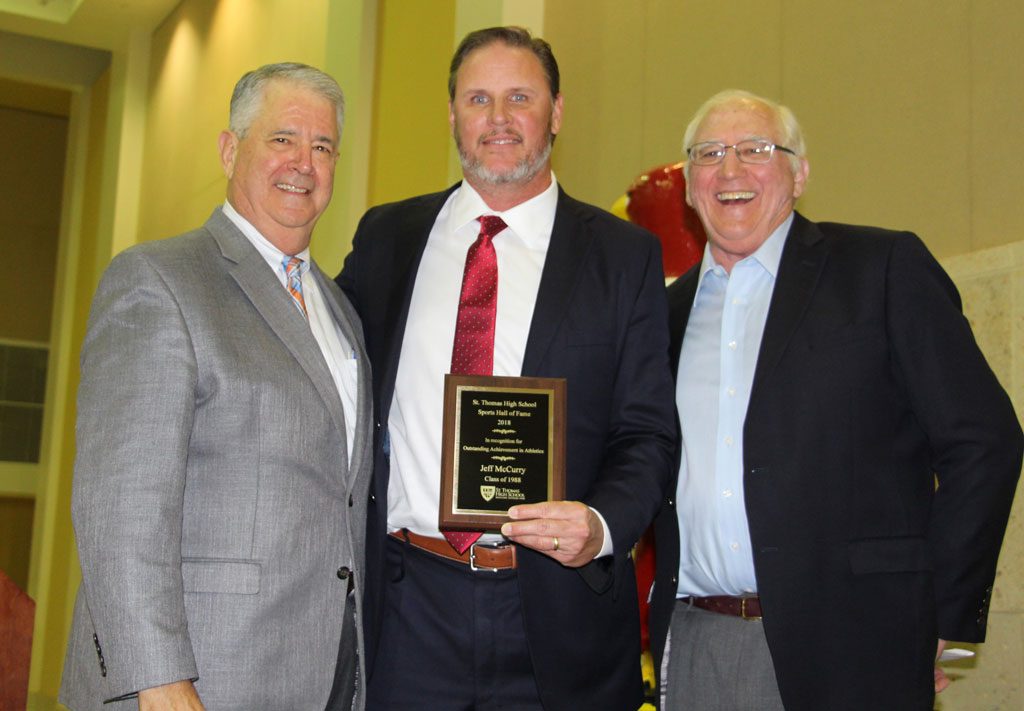 JEFF MCCURRY '88
dominate two-sport student-athlete nationally recruited in both basketball and baseball

three-time all-state and two-time all-Greater Houston basketball standout while averaging double-figures in points and rebounds

accepted a baseball scholarship opportunity to Texas Christian University before transferring to national power San Jacinto Junior College with College Baseball Hall of Fame icon coach Wayne Graham, appearing in two JC World Series Championship games

14th round draft selection in 1991 by the Pittsburgh Pirates

made his MLB debut in 1995, appearing in 55 games

his five-year pitching career included stays with the Tigers, Rockies and Astros

two-decade investment career as vice president and senior financial advisor with Merrill Lynch, customizing financial strategy specifically designed for clients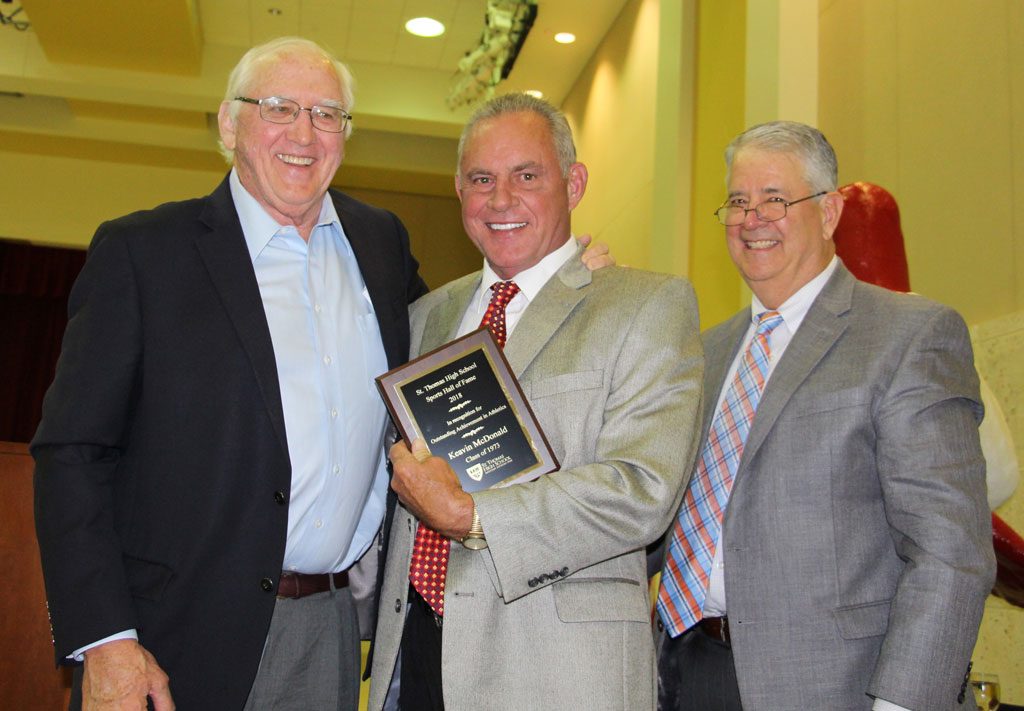 KEAVIN MCDONALD '73
two-time All-American and the 1972 Catholic Player of the Year in leading Eagle Football to consecutive state championships in 1971-72

accepted scholarship opportunity with Baylor University and College Football Hall of Fame coach Grant Teaff

sophomore linebacker on the 1974 Miracle on the Brazos champions who represented the Southwest Conference in the 1975 Cotton Bowl against Penn St.

three-decade law career in Houston where he currently maintains a private practice specializing in bankruptcy, creditor-debtor, litigation and commercial real estate

son of STH Sports Hall of Fame member Joe McDonald and brother of 2018 inductee Kelly McDonald '78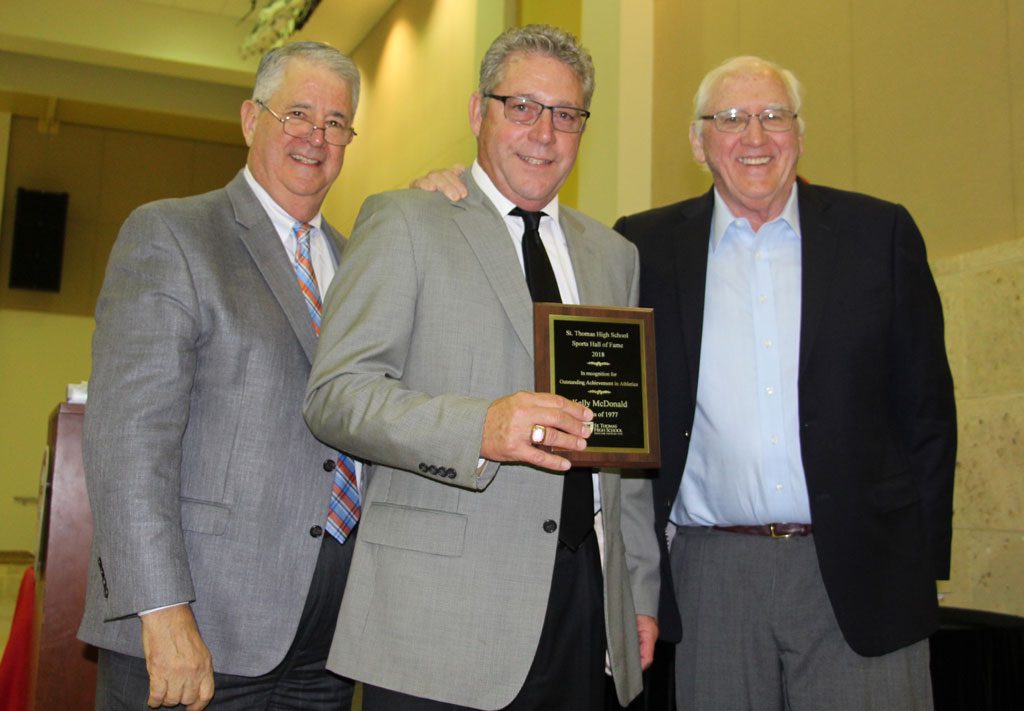 KELLY MCDONALD '77
three-sport letterman, and two-time all-state and All-American football star who anchored consecutive Eagle state championships in 1975-76

accepted scholarship to University of Houston and College Football Hall of Fame coach Bill Yeoman

distinguished two-decade professional career and current regional sales manager at Ash Grove Cement Company in Houston

son of STH Sports Hall of Fame Joe McDonald and brother of 2018 inductee Keavin McDonald '73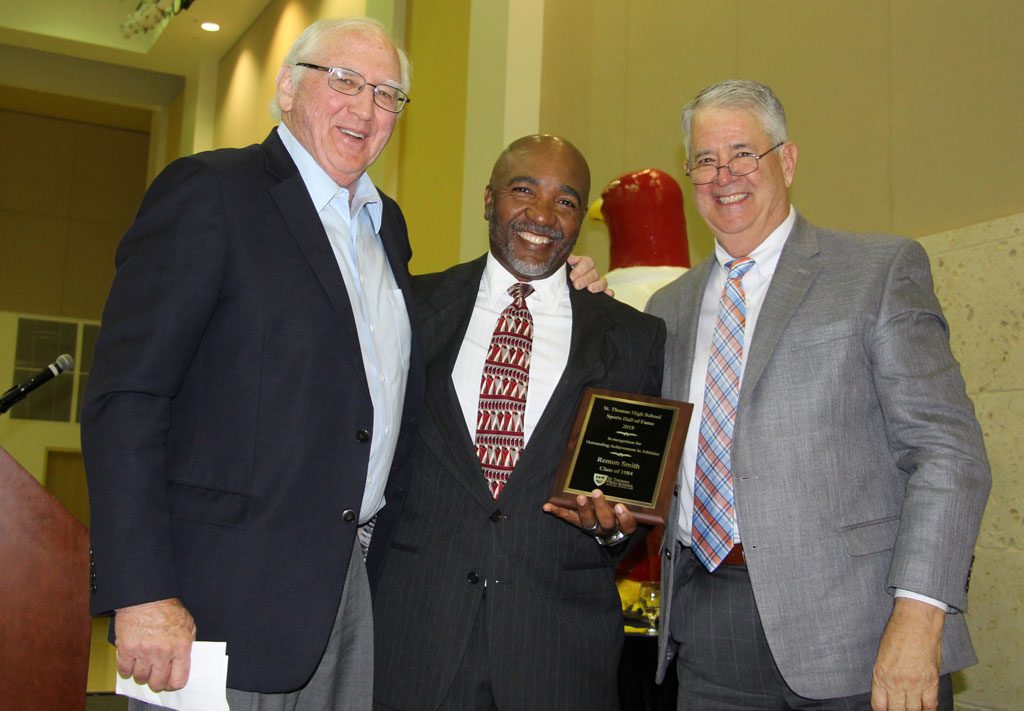 REMON SMITH '84
versatile three-time state champion and acclaimed honor roll student-athlete

key contributor and team captain in leading Eagle Football to state championships in 1981 and '83, and Eagle Track in '84

all-state running back in 1982, all-state track in 1982-84 where he excelled in the long jump, 200 meters, and the 400 and 1600 meter relays

stellar career at D-III Randolph-Macon in Virginia from 1984-87 where he remains the all-time leading rusher in the Old Dominion Athletic Conference with 4,276 yards and is fifth all-time in rushing touchdowns with 39

earned first-team ODAC recognition in 1986-87

distinguished high school football and track coaching career in the Greater Houston area, mentoring student-athletes at Klein Forest, Westbury, Nimitz and MacArthur with consistent record-breaking, all-district and all-state results for a near quarter century
The St. Thomas Sports Hall of Fame was established by the Alumni Association in 1998 to commemorate exceptional Eagle athletic accomplishment while celebrating lifelong excellence consistent with the Basilian motto of Teach Me Goodness, Discipline and Knowledge.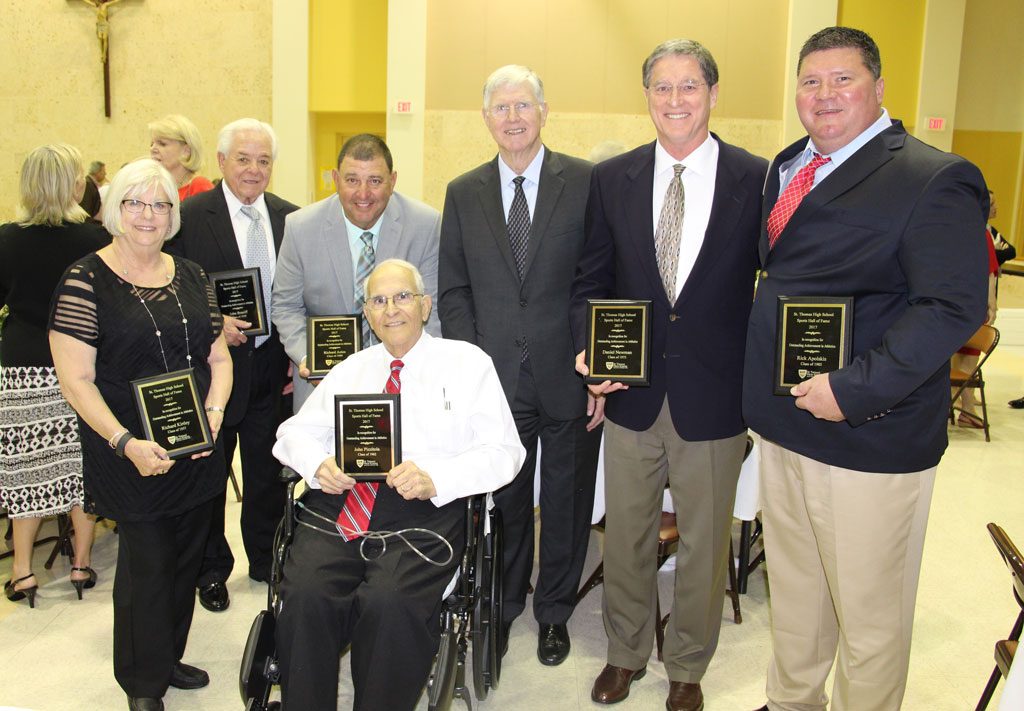 The Class of 2018 joins Rick Apolskis '85, Rick Azios '69, John Braniff '59, Tom Brown '65, Dick Kirtley '57, Danny Newman '75, and John Pizzitola '62 from the Class of 2017 … Brandon Caraway '96, John Fisher '74, Marcus (Marc) Jankowski '70, Roland Laurenzo '65, Del Leatherwood '73, Stephen Martin '67, Bill Sage '61, Tim Staples '54, Michael Young '66, Larry (Zinny) Zientek '66 and the legendary undefeated 1939 St. Thomas Football Team from the Class of 2016 …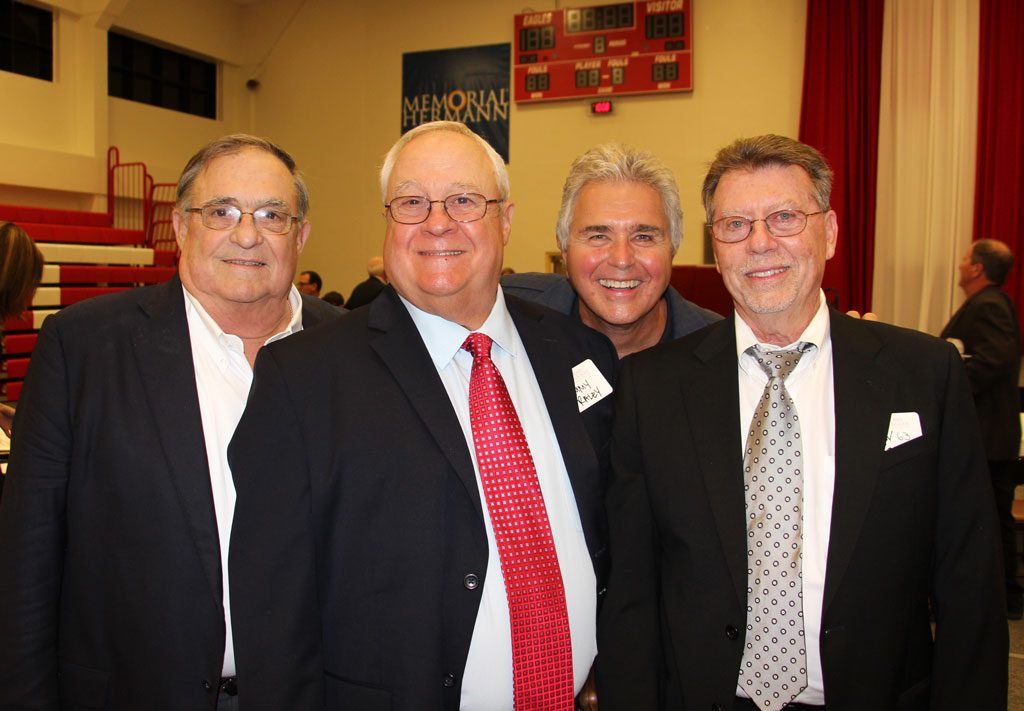 … and Bernard "Nardy" DeGeorge, Jr. '63, Gary Martin '69, George Mehaffey '53, Mike Mulvihill '56, Ted Nowak '70, Jerry Pizzitola '60, Jimmy Raley '65, Bradley Smith '88, Billy Welu '50 and Mark Yokubaitis '70 from the Class of 2015 as the most recent inductees … increasing the overall membership to 70 Eagles.

Eagle Fight Never Dies!