Difficult is why footprints are on the moon.
If the road were easy, it often meant going the wrong way.
Difficult challenges limits and reveals potential. No matter how daunting the struggle … difficult is worth it. Difficult makes us who we are.
Six luminaries traveled the difficult climb of most resistance and ascended to the greatest heights afforded an Eagle student-athlete – induction into the St. Thomas Sports Hall of Fame, remembered and revered at a ceremony before a vibrant and supportive crowd May 12 in Cemo Auditorium.
For Jeff McCurry '88, the distinction and festivities were "right there with getting called up for the first time to the major leagues … very similar … nerves … excitement … didn't really hit me until tonight … really cool."
For Andrew Locke '03, the celebration delivered a firm affirmation of the "formative four years that greatly influenced my moral and ethical development. Athletics played a major role in terms of understanding what is required to be an effective leader and paved the way for what I've been able to accomplish at West Point and in the Army."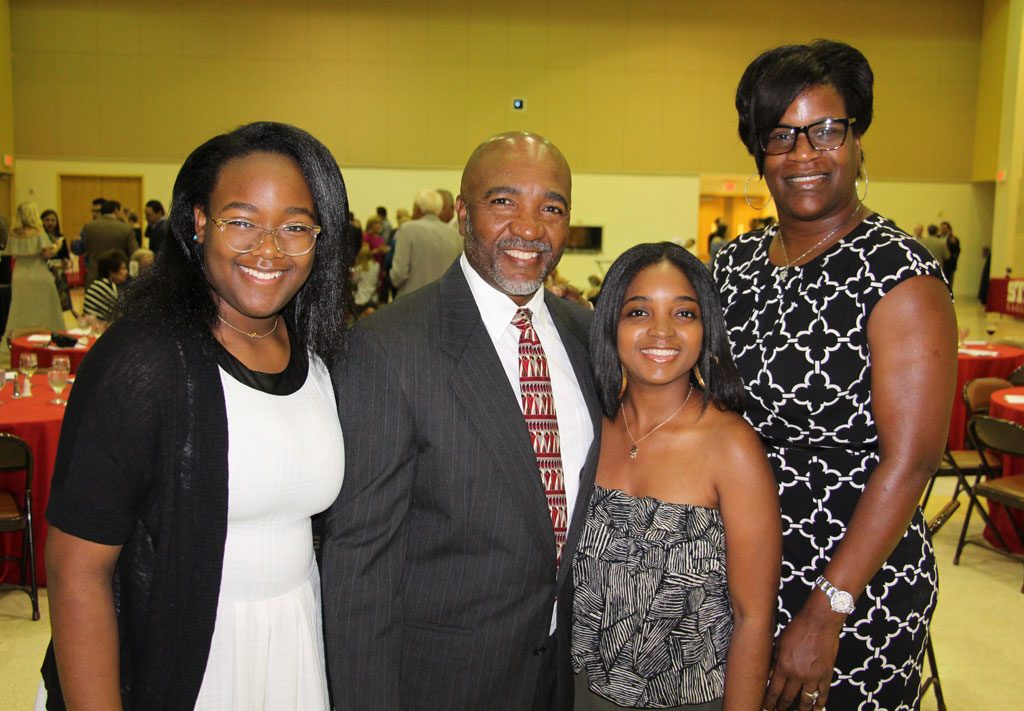 For Remon Smith '84, a distinguished high school football and track coach with a near quarter century mentoring student-athletes in the Greater Houston area, his induction deepened an acknowledgement that "St. Thomas is where it really all began for me. This is where we were all shaped as young men. This is the kind of impact I hope I am providing, what my St. Thomas coaches did for me."
Keavin '73 and Kelly McDonald '77 discovered up close and personal a double dose of such powerful coaching prowess that molded young men into prominent people as well as performers.
Not when both advanced to play for iconic collegiate sideline masters who both remain the most successful at their respective schools, but more emphatically at St Thomas where the McDonalds were witnesses since old enough to more or less complete a direct 40-yard sprint to the daily, yearly and everlasting teachings of their legendary Eagle gridworld father Joe.
And now the McDonalds have entered Eagle enshrinement as a threesome.
Richard Kristinik '57 appreciated a similar brotherly bond made all the more meaningful by his times with and around Don '56, Bill '62 and John '63.
An acclaimed two-sport athlete who earned six varsity letters and was a four-time member of the St. Thomas Club, Richard springboarded to an acclaimed All-American baseball career at Rice and then distinguished service with former Big Five accounting firm Arthur Andersen & Co.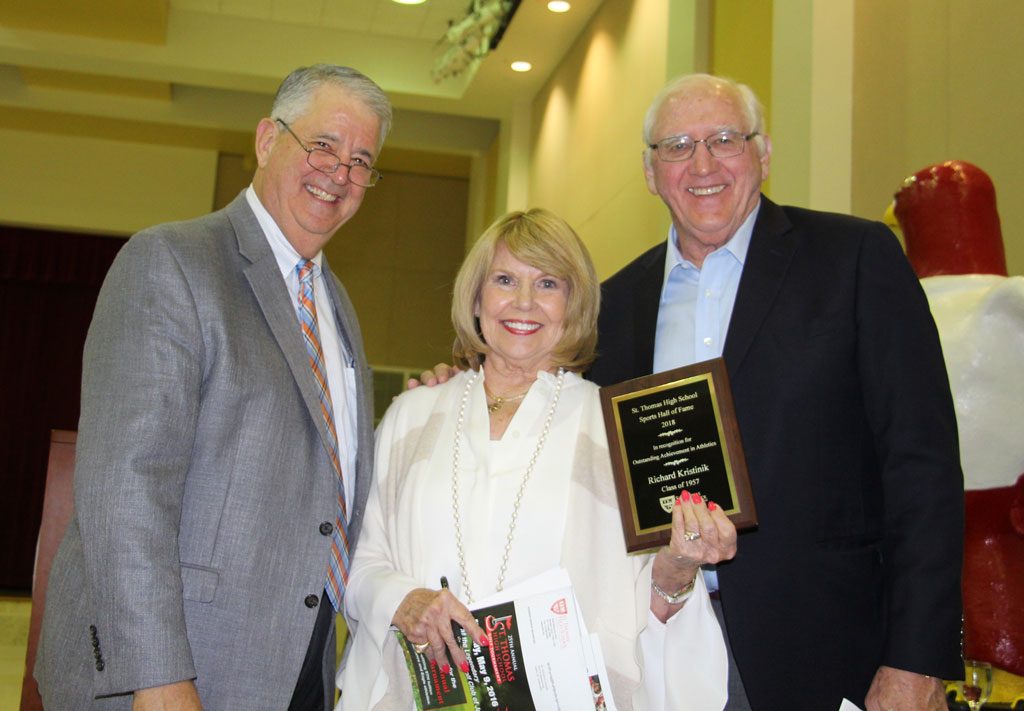 Kristinik passed away in 2017 at age 78. He was honored by Bobbie Burke Kristinik, his wife of more than 53 years.
"More than anything else Richard was a man of faith and that was firmly rooted here at St. Thomas," she says. "Whatever he did, whether baseball or business, he did with all his heart. And even with all his success, he remained humble and treated people with the respect they deserved. He was extremely proud of being an Eagle and attending St. Thomas. He would have been just as proud to be part of this group tonight."
[CLICK HERE for the biographies of the Class of 2018]

The vivid glory day memories from yesteryear are forever embossed on the brain.

Smith's near-and-dear indelible moment came at Delmar Stadium, taking a last-tick kickoff return the distance for a stunning win over Sam Houston.

"Middle wedge and I broke it to the outside and went up our sideline," Smith says with obvious delight. "At midfield, it was over. No one was catching me from behind. And coach (John ) Carrigan was running just as fast as I was. He met me in the end zone. Triple zeros on the clock. On their turf."

Smith was a key contributor to a pair of state football championships but most cherishes "winning the state track title for coach (Jim) Schwarzbach" in 1984 on a day when Smith was a Carl Lewis-like tour de force.

"I won the long jump, the 200 meters, was part of the winning 4×100 relay and anchored the 4×400."

Smith's daunting display cemented the first Eagle track crown since 1978 and only the second in 24 years.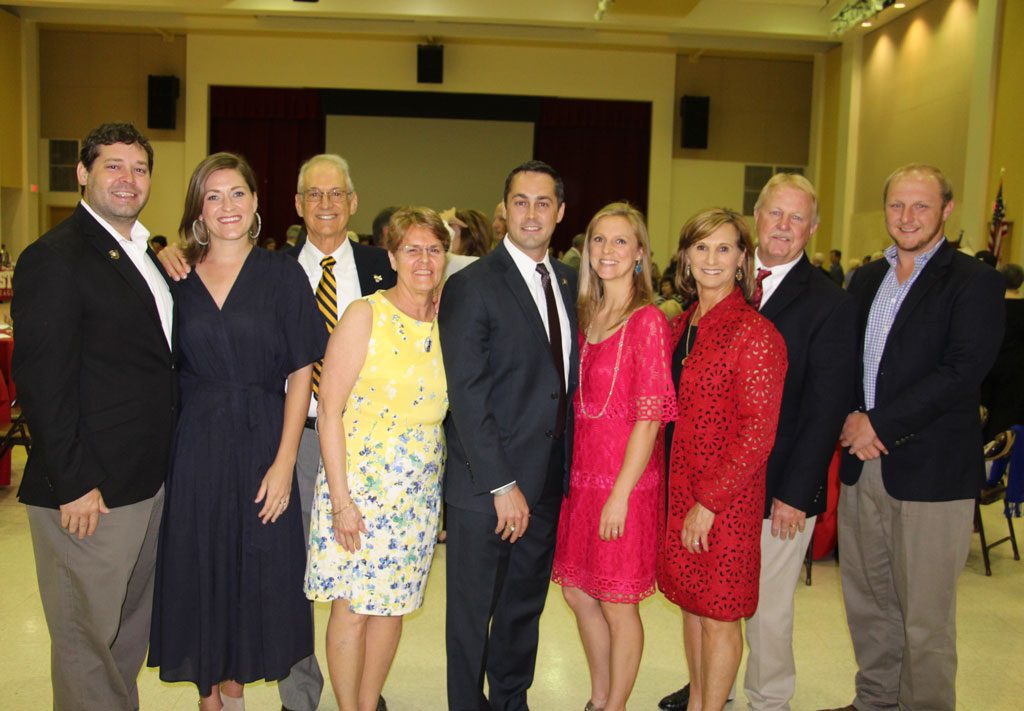 Even with state championship renown spread across three Eagle sports, Locke holds his rugby experience with a savory satisfaction.

"I started playing the sport in the fifth grade and it always meant a great deal to me," Locke says. "The program here wasn't really established yet, more of a club sport with guys from all over Houston, more social than competitive. That changed. My intent was if I'm investing, we are out here to accomplish something. We laid the foundation (for five state championship from 2008-13) and left it better than we found it."

Yet Locke readily admits that nothing quite compared to "Friday night lights in Texas … on the road against larger public schools, often times for their Homecoming. They would schedule us thinking they would feast on a bunch of private school boys and clean us out. And we went into places like Santa Fe and Wharton and turned the tables. Special times."

Special for McCurry was "my senior year when we reached the Final Four of the Houston Jaycees (rebranded HISD) Basketball Tournament … the only private to reach that far … beat public schools with big-time talent and then ran into Milby with Chris Walker (future Villanova star before embarking on two-decade college coaching career).

"My sophomore year we won the state baseball championship after a 20-year drought. I played first base and right field, pitched behind Robert Lozano (fifth all-time wins at Centenary) and Robbie Howard (sixth all-time innings pitched at Rice)."

Before he was selected in the 14th round in 1991 by the Pittsburgh Pirates, McCurry generated significant two-sport buzz on the national recruiting circuit resulting in piles of mail from across the country cascading into coaches offices soliciting his stamp of approval.

"I went to Arizona State during high school and my roommate was Paul Byrd (future 15-year MLB career)," McCurry says. "Later when I was playing at San Jacinto I was entertained at LSU and met up with Byrd again, and Chad Ogea (1997 World Series with the Cleveland Indians) and Keith Osik who I played with in Pittsburgh. Just an awesome weekend. We always seemed a bit connected. And as it turned out we all saw many of our baseball dreams come true."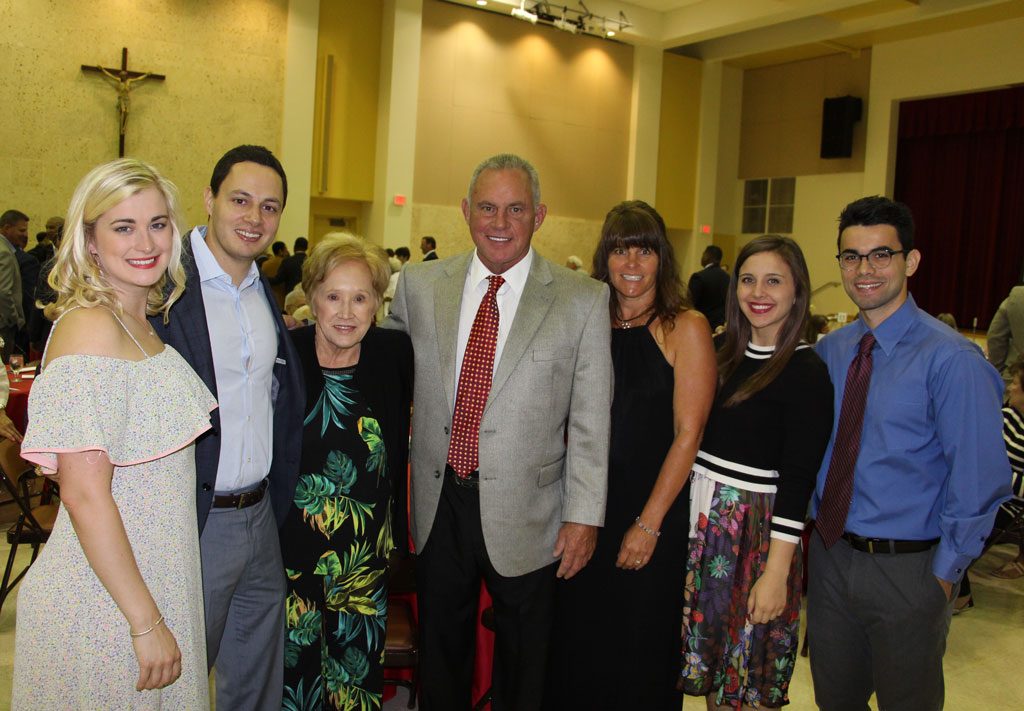 Keavin McDonald was a two-time All-American and the 1972 Catholic Player of the Year in leading Eagle Football to consecutive state championships in 1971-72, all of which paled in his view to the three-year sweeping success in the series with Strake Jesuit.

Making the recruiting rounds meant trips to "Notre Dame, Houston, LSU. I visited Tulane, sort of. Got into New Orleans on a Friday night. There was a Saturday morning introductory breakfast. An assistant coach comes in, says he heard of some antics the night before on Bourbon Street. I had no idea what he was talking about but he rushed us all back to the airport to send us home. Never met the head coach. I signed with Baylor."

And as a sophomore linebacker, he was a part of the 1974 Miracle on the Brazos champions, the program's first in 50 years, orchestrated by Grant Teaff, and represented the Southwest Conference for the firsts time in the 1975 Cotton Bowl against Penn St.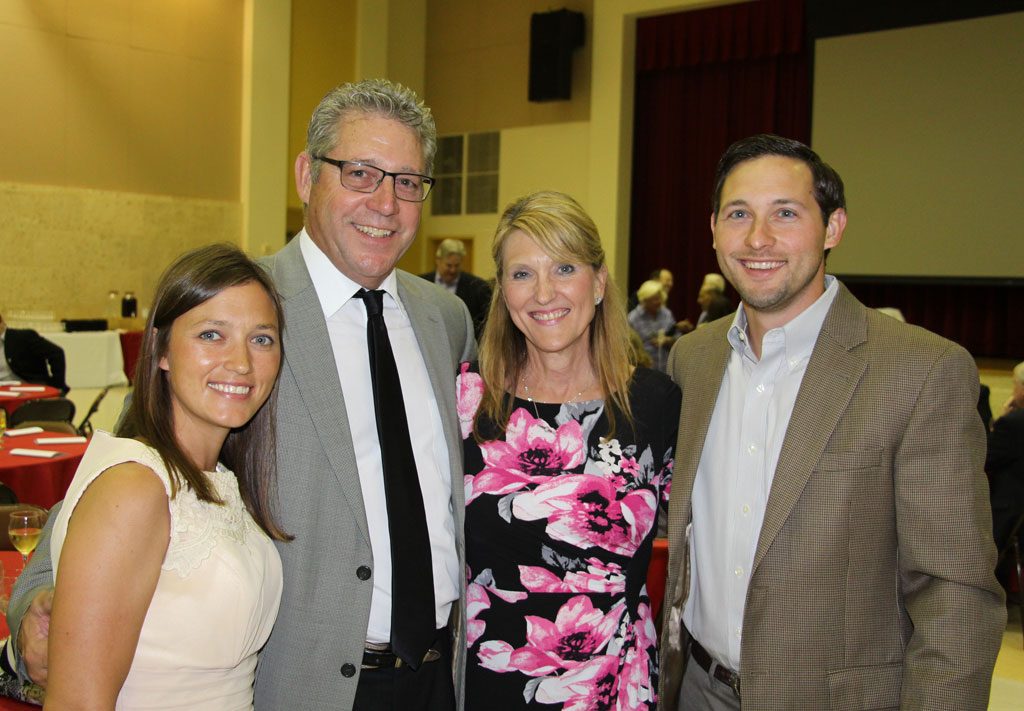 The prevailing logic had Kelly following his older brother's track to Waco. But the three-sport letterman, and two-time all-state and All-American football star who anchored consecutive Eagle state championships in 1975-76 had other ideas.

"I was really looking forward to my recruiting visit to Notre Dame. Flew into Chicago … big weather delay … took a bus into South Bend … arrived six and seven hours late … ended up leaving almost as soon as I got there. Those were the Dan Devine years. They had just won the national title (after a thorough 38-10 thrashing of no. 1 Texas and Earl Campbell in the 1978 Cotton Bowl). I could have been a teammate of Joe Montana. Ended up playing against him."

The very next season, in fact, in the very same New Year's Day venue in Dallas after Kelly opted for the University of Houston. His Cougar career included at least a share of three Southwest Conference championships and four consecutive bowl games from 1978-81, the zenith of the treasured Billy Yeoman tenure.

Smith's college pursuers were a bit more off the radar. He was targeted by D-III Randolph-Macon in Virginia where he "sent a recruiting tape to (head coach) Jim Blackburn. A few days later I got a phone call and he says he watched two plays … turned off the video … sent me a one-way ticket."

Smith would enjoy a strong stay. He remains the all-time leading rusher in the Old Dominion Athletic Conference with 4,276 yards and is fifth all-time in rushing touchdowns with 39.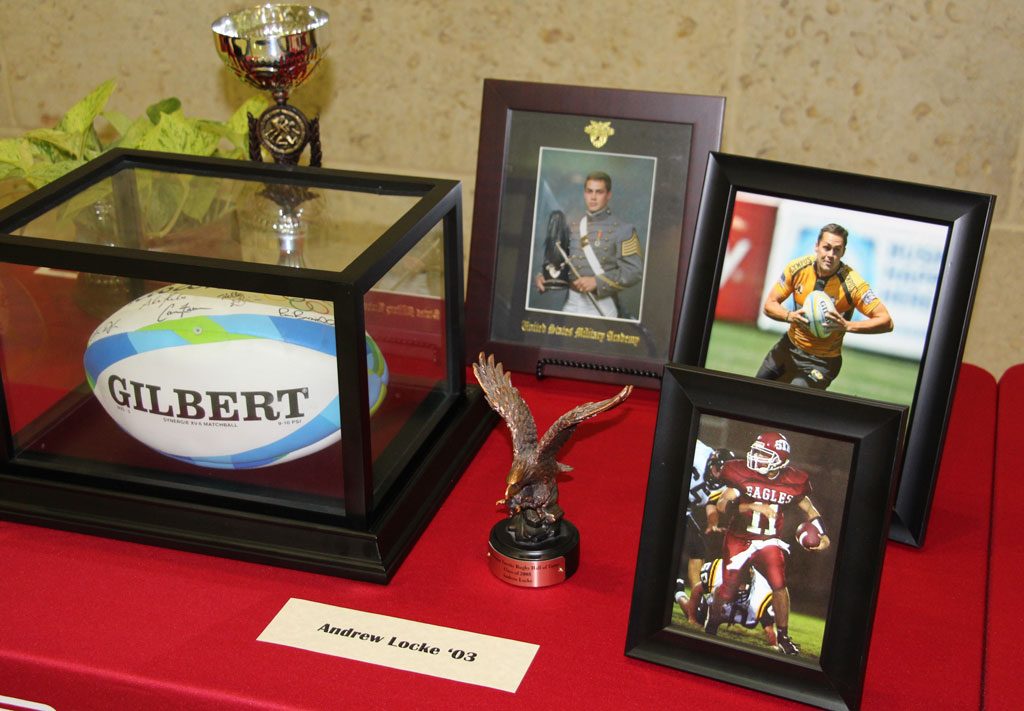 Locke hosted college invitations and options while keeping the process highly selective. He was pursued by West Point as a quarterback but had to be convinced by his father to make the on-campus visit.

"It was a free trip … why not take advantage," Locke says. "I showed up, the weather was miserable, and after two hours I was hooked. Couldn't have more impressed by these highly dedicated Americans choosing to be a part of the Academy, all leaders of character for our military and our country. I was quickly convinced this was the environment I wanted."

Locked transitioned exclusively to rugby as a freshman and emerged as an All-American performer. He later captained extensive championship accomplishment and distinction on the international stage, including a role with USA Rugby at the Summer Olympics in Rio de Janeiro in 2016. Locke was deployed to Iraq as a Stryker vehicle platoon leader, followed by three mission-specific Ranger engagements in Afghanistan before retiring from the active Army in October 2017.

McCurry has remained tight to the St. Thomas community, lending his savvy MLB experience and expertise to Eagle Baseball and the St. Thomas Booster Club. His daughter Maddy (St. Agnes '15) was the 2014 Homecoming Queen and will graduate from LSU in 2019. Sons Grayson and Cameron '21 have repeated Jeff's path to St. Thomas.

He perhaps captures the collective soul of his five fellow inductees when he speaks not to the measure of personal prestige, of wins and awards, but to the invaluable and unbroken bonds that have united Eagles generation after generation.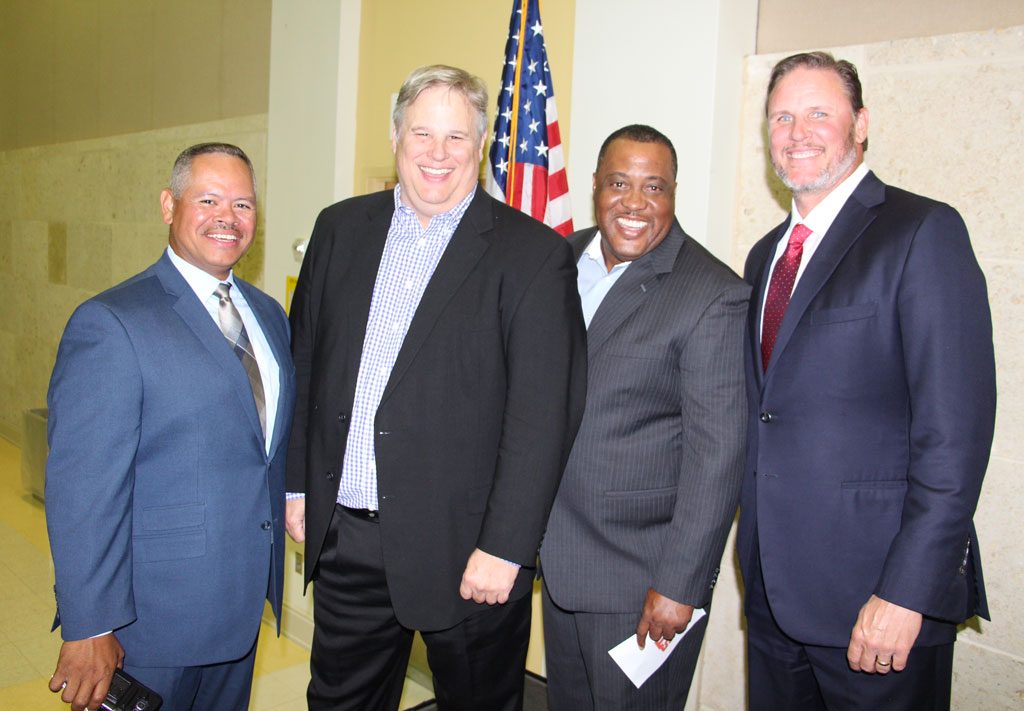 "Ultimately your athletic experience at any level is about your teammates," McCurry says with bases loaded two-out 3-2 pitch conviction. "When I go back on the field today (assisting head coach Ryan Lousteau) I see that same camaraderie I had decades ago. Guys busting each other one minute, defending each other the next. Pushing each other, supporting each other, hanging out together. You can't coach it, teach it, demand it. You have it or you don't. At St. Thomas it's here. And it remains inside of you forever."

Eagle Fight Never Dies!