In the uber creative world within St. Thomas Fine Arts, expectations are ever-present, the standard long ago elevated to supreme heights.  Successes are measured most by a student's continuous critical and intuitive dialog with the work to gain increased self-knowledge and inventive growth.
A model program in peak prowess remains committed to persistence and promise but most importantly – the process. Encouraging and empowering motivated artists to engage in visual storytelling as the primary inspiration, with opportunities for increased exposure through exhibitions and special events a bonus dividend.
In the most recent clear validation of refined artistry driven by voracious intent, a dozen Eagle scholars captured acclaim at the National Scholastic Regional Art Competition – including Tommy Garcia '19 (Moonshine, Ceramics and Glass) and Patricio Valdes '19 (Mantis, Ceramics and Glass) who earned Gold Key distinction. Their original works automatically advance to the National Scholastic to be considered for Gold and Silver Medals awarded June 6 through a ceremony at Carnegie Hall in New York City.
David Nemec '19 (Earth and Water, Ceramics and Glass) and Jack Hatcher '19 (Ancient Matter, Ceramics and Glass) will also be celebrated among more than 1,100 entries accepted into the 22nd Annual National K-12 Ceramic Exhibition March 27-29 in Minneapolis. The event is designed to showcase the country's best age-specific ceramic art.
At the root of repeated St. Thomas acclaim is not some immortal hybrid of talent, teaching and otherworldly wizardry. Simply department dean Mike Nebel imbuing a natural kinetic state that causes the sensation of always moving toward.  "Our entries were again strong without question," he said with understated pride. "This was an impressive collection with wide-ranging visuals, designs and colors, a variety of techniques and true spontaneity."
The National Scholastic Regional sponsored by the Harris County Department of Education represented 22 school districts, 26 private schools and home schools. Submissions were juried by luminaries who look for works that best exemplify technical skill with the emergence of a personal voice or vision.
Matthew Ignas '19 produced two Silver Key awards in Ceramics and Glass (Morning Tea and Ancient Royal Coffer). He was joined by Nemec, Jonathan Pruneda '19 (Egyptian Tower) and Sean Gillespie '19 (Bottled Oasis) who also received a honorable mention along with Hatcher, Matt Cotrone '19, Corey Felan '19 and William Garner '19.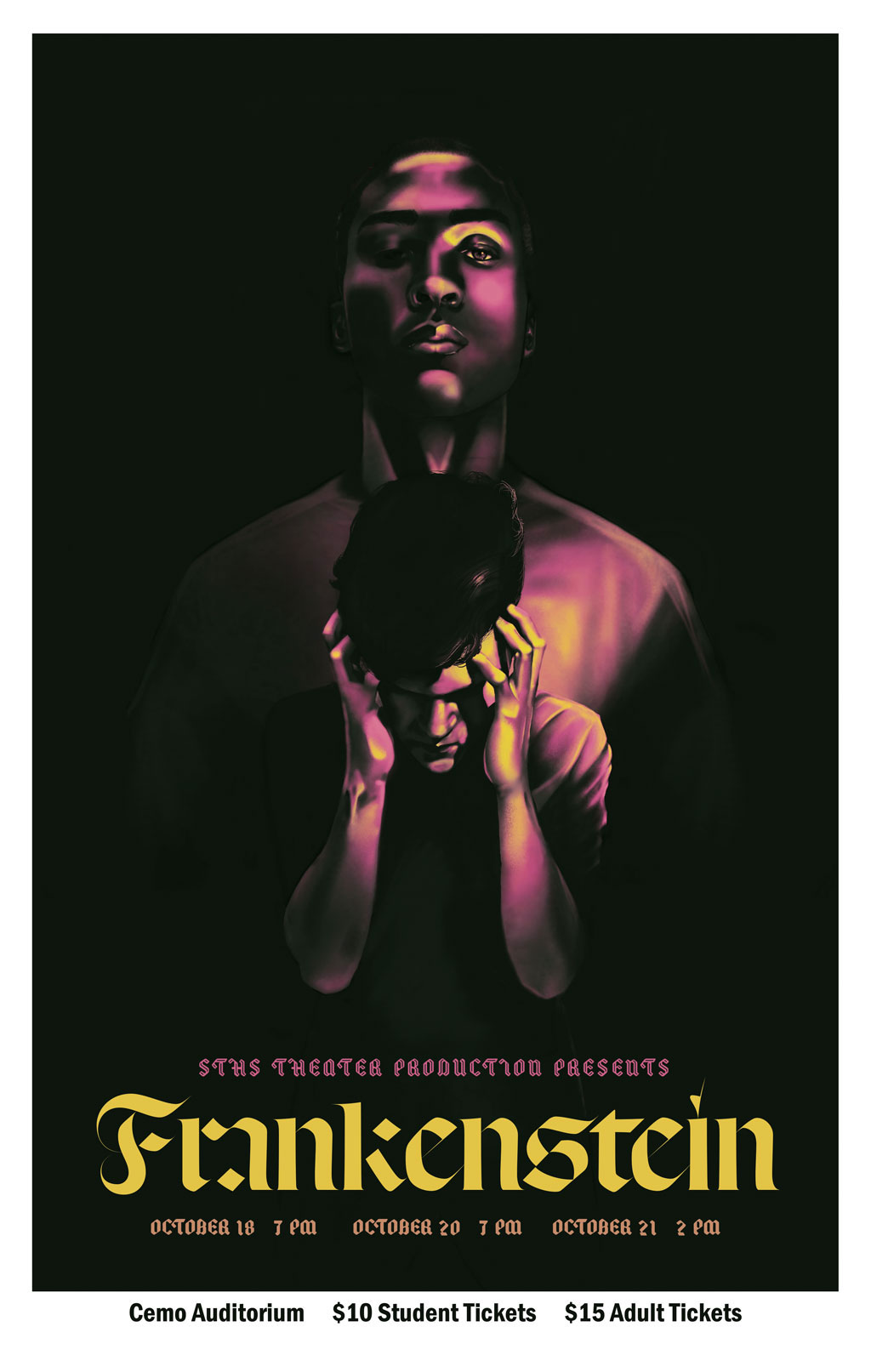 William Castillo '19 and Matt Stevens '19 were recognized with Silver Keys in the Digital Art category, Castillo for his compelling Frankenstein show card (above) promoting the 2018 fall production staged by St. Thomas Drama. In 2018 he collected two Silver Keys for Drawing and Illustration, one year after becoming the first-ever Eagle to be so honored with Gold Key identification (and one of only 80 honorees among more than 1,500 entries from private and public schools.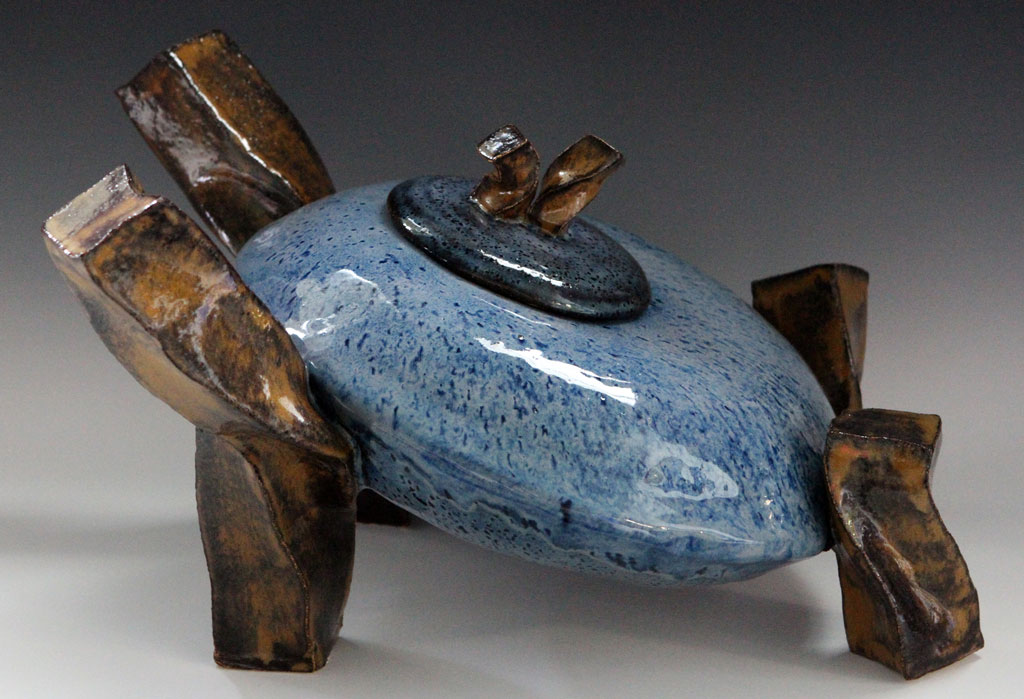 Nebel was "extremely confident Patricio had a Gold Key entry (above). Unique design … extruded clay … twisted elements … angled legs almost like stilts … thick blue and white glazes which ran beautifully with high contrast on the legs … gorgeous piece. Anyone who saw raved about it. Unanimous reviews. That's rare.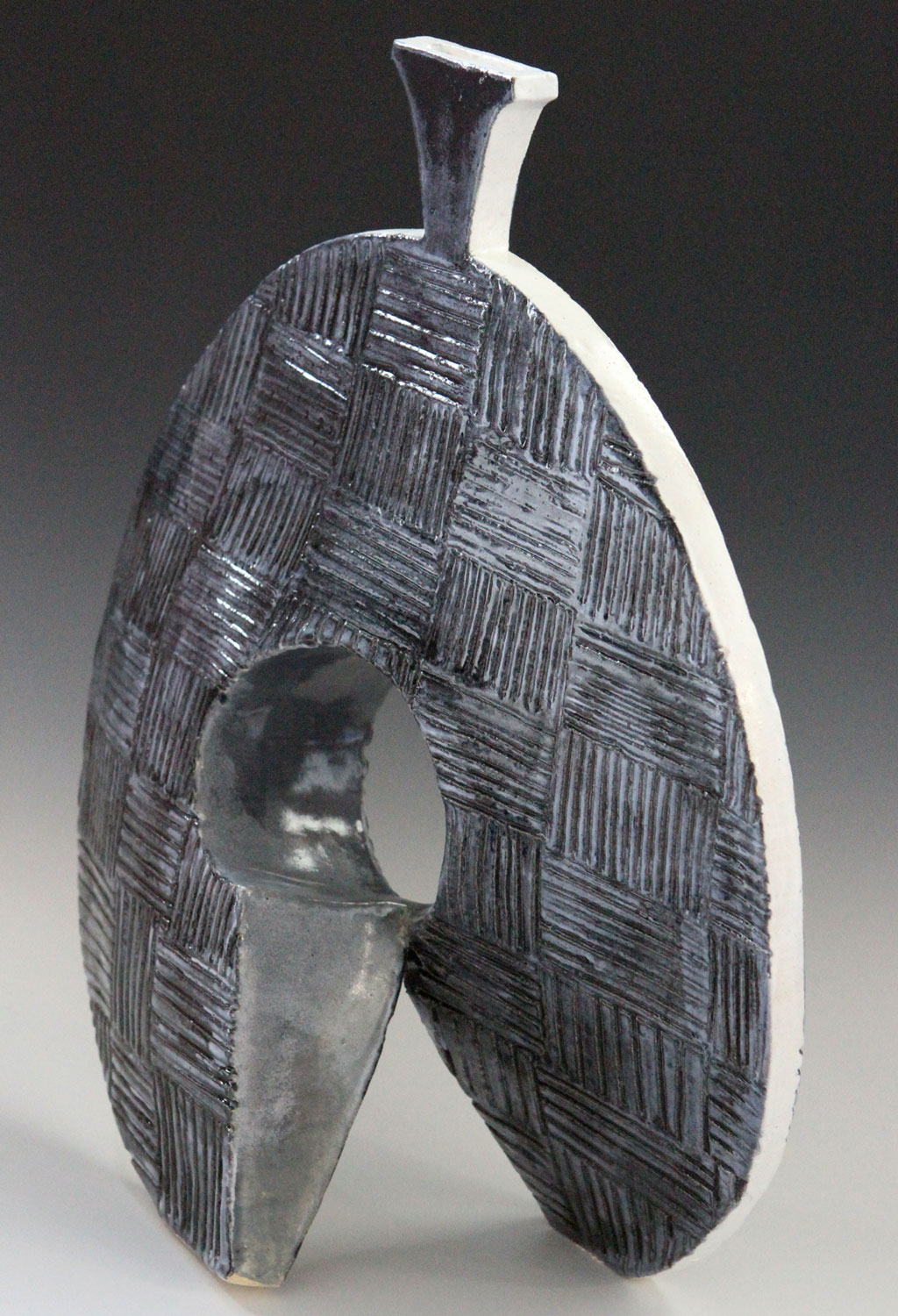 "Tommy's piece (above) was exceptionally large … 18 inches in diameter. There were some significant challenges to get that completed to the judges. But Tommy had great belief and I had great belief in Tommy. This wasn't strictly symmetrical. There was a twist and he worked texture into the surface … horizontal and vertical lines. Then applied the glaze with a roller … the first time we've ever done that … dark into grooves then white on top. Tremendous execution."
The double Silver Key distinction for Ignas reflected a remarkable versatility when the tendency in even the gifted artist is to work primarily where previous success has been proven.
"It's human nature to remain repetitive inside particular strengths," Nebel said. "Find one area to excel and exploit it. I applaud Matt for a bold and aggressive approach … to be able to split his focus into two completely unrelated objects and reach that level of distinction."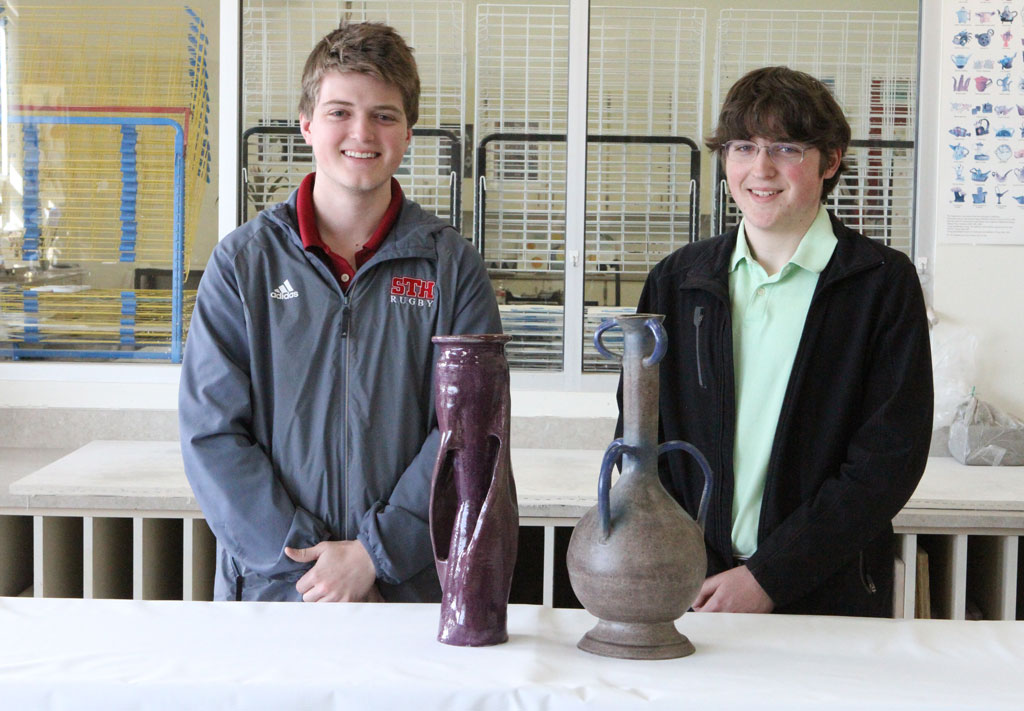 Hatcher and Nemec excelled in their first full creative exercises without strict project specifics, each displaying a flair for improv that proved essential in achieving the desired result.
"This definitely was a chance to experiment and you have to be open-minded because rarely does the piece translate directly off the design or blueprint," Nemec said. "I originally planned on a Greek vase … turned it into a bottle … 18-20 inches tall … first a matte glaze then blue celadon. You have to trust your instincts. I thought it was a really good piece and to have the judges place it in a national show is a great affirmation."
Hatcher readily admitted that to literally "flipping the concept into what resembles an hourglass-like shape. I still wanted to break from traditional concepts. The structure is what I believe separated the work from the pack."
Nebel elected to significantly change the curriculum in Ceramics II and III for the 2018-19 academic year to foster fresh energy for his students and further test their artistic boundaries. What remained was the goal to identify their inspirations, where they create and how being an artist might influence their daily life.
"This group went beyond what I thought they were going to do and beyond what they probably thought they were capable of doing," Nebel said. "I always hope to push them past their comfort zones and it's satisfying to see how they all responded. The predictable is never acceptable. There's measurable competition within the lab plus so much prep work and detailing outside the classroom setting. I couldn't be more proud of our collective efforts."
Catholic. Basilian. Teaching Goodness, Discipline and Knowledge since 1900.