St. Thomas is proud to acknowledge Diego Guajardo '19 who has earned the prestigious rank of Eagle Scout, the highest achievement in the Boy Scouts of America (BSA).
Guajardo continues the thriving legacy of Eagle scholars throughout generations who have reached this milestone accomplishment that has been and continues to be richly recognized throughout the United States. He was recognized through Troop 63 at the Board of Review at Wesley House which included participation from St. Thomas faculty member Grover Green '04.
Guajardo completed his demanding Eagle Scout project which benefited the St. Joseph and St. Stephen Catholic parishes in Houston's historic Old Sixth Ward. The enterprise consisted of woodworking and painting to update the exterior of the Social Ministry Building which serves as a food bank at St. Joseph where Guajardo actively volunteers.
Guajardo has held several leadership positions within BSA. Before transferring to Troop 63 to complete his Eagle requirements, he attended the National Youth Leadership Training with Troop 1138, earning the Ad Altare Dei bronze cross. The program was developed by the National Committee on Scouting for Boy Scouts of the Catholic faith.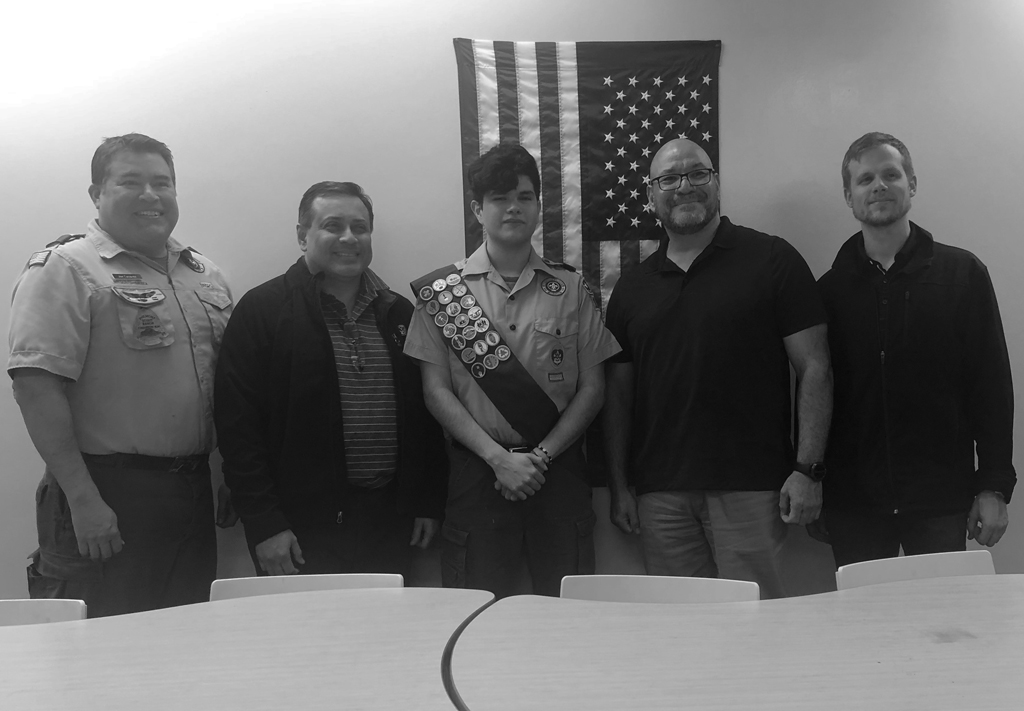 Since it was first awarded in 1912, more than two million young men have achieved the Eagle Scout distinction, less than four percent of the Boy Scout population. Guajardo represents an even more exclusive group given that Hispanics account for roughly seven percent of the entire scouting membership.
After his graduation from St Thomas, Guajardo will continue his academic pursuits at the University of Houston.
Guajardo joins fellow Eagle scholars Christian Groff '19 and Griffen Kindle '21 (Troop 55), Joseph Lauckner '19 (Troops 1332),  Michael Ethridge '19 and Tyler McStravick '19 (Troop 1004), and John Teague '19 (Troop 1940) who all previously obtained Eagle Scout rank during the 2018-19 academic year. Their collective scouting successes are a testament to deep dedications to the BSA values of character, citizenship, community service, and allegiance to the purpose and goals of their respective troops – all consistent with the Basilian credo of Teach Me Goodness, Discipline and Knowledge.
Catholic. Basilian. Teaching Goodness, Discipline and Knowledge since 1900.