For generations of scholars, the authentic St. Thomas experience has delivered a demanding curriculum that prepares students for college and a nurturing environment that prepares for life beyond.
The one-year-old Eagle house system was designed to provide a deeply positive impact on student intellectual engagement and well-being. The introduction for the Class of 2023 came courtesy Camp Aquinas, named for the institution's patron St. Thomas Aquinas, the consummate union of sanctity and intellect. The five-day immersion for freshmen is rooted in the Basilian credo Teach Me Goodness, Discipline, and Knowledge with a healthy mix of academic elements and challenging team-building activities.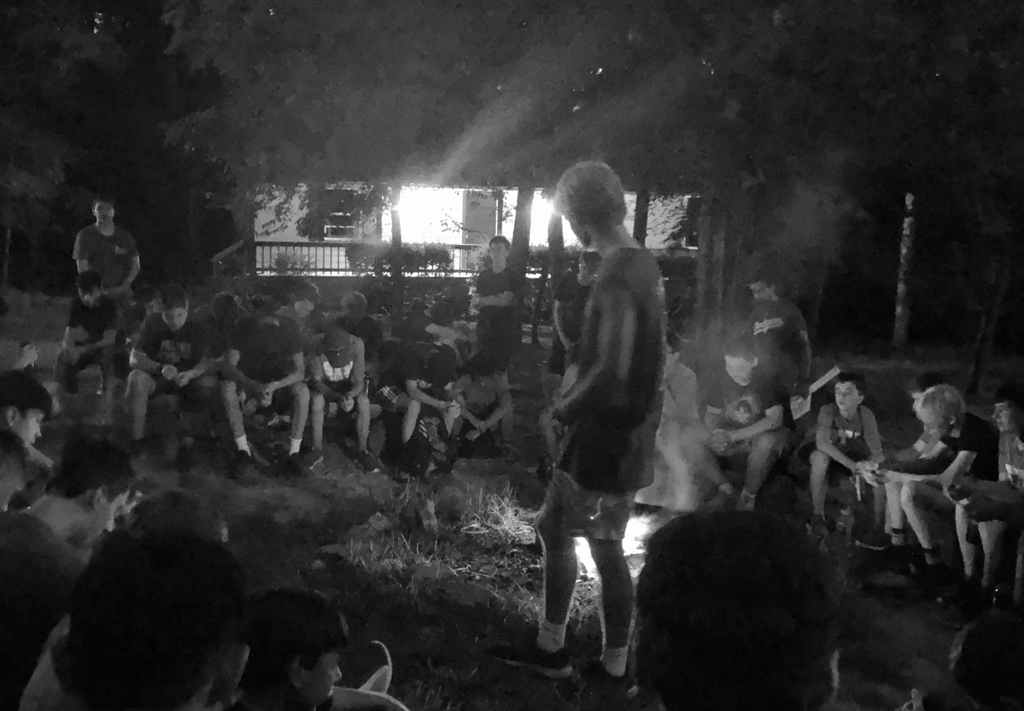 The learning liftoff launched from Camp Cho-Yeh 75 miles north of Houston outside of Livingston. The Eagle contingent landed unglued to Twitter and Instagram, not surgically attached to smartphones, and not particularly caring whether future political courses are opting for continuity or chaos.
Faculty members Grover Green '04 and Andrew Quittenton are the chief architects behind Camp Aquinas and driving forces for the house system. The two tirelessly collaborated for three years before deciding on the proper model for the St. Thomas mission.
Quittenton: Our fundamental purpose is bonding a large number of students from a variety of middle schools and backgrounds and begin forming men. Camp Aquinas is all about establishing what it means to be a Man of St. Thomas. Most importantly for me is what it takes to be a man of God. The faith element here is essential. We made some changes from last year to have every activity and event involve prayer. There was a Mass Wednesday night. God is the center of all that we do. The faculty and seniors bought in 100% and the support couldn't be more complete.

Green: My formation at St. Thomas was quintessential to becoming an adult. As we continued to develop as a campus community, our students face more and more complex challenges – you name it, these young men are inundated with it. We needed a new approach and it needed to be somewhat radical and that's Camp Aquinas. This is a week where the freshmen are provided with the firm foundation to move forward.

One change from our first year was the Five Ps before, during, and after every activity – pray, play, process, pick-up, and pray. Whether it was paintball, a ropes course, sock wrestling, or presentations. We wanted to promote individual reflection that would later be relevant to the campers during their journaling.
In establishing its house system, St. Thomas honored eight Basilians exemplars who played integral roles in the school's history. Naming rights belong to St. Thomas Hall of Honor members Fr. Carl Allnoch, CSB; Fr. Donald Cooper, CSB; and Fr. Thomas O'Rourke, CSB, all former St. Thomas principals as were founder Fr. Nicholas Roche, CSB; inaugural president Fr. Ronald Schwenzer, CSB; and Fr. Ernest Magee, CSB. Former faculty members Fr. Carl Belisch '54, CSB and legendary baseball coach Fr. James Wilson, CSB complete the regal row.
St. Thomas has long discovered that students are enriched by its diversity of backgrounds, academic interests and experiences, talents, and goals. The house platform creates further opportunities for stronger cross-divisional bonds and mentorship, and drives healthy competition among young men.
Jennifer Pearson is the faculty leader in House O'Rourke. She participated in a house system at a previous teaching position and believes the experience will prove indispensable to conveying the rich flavor of academic life at St. Thomas.
The first day there were obviously a great many freshmen who didn't know anyone. But they quickly were confiding and respecting the seniors and each other. Their upcoming year is challenging, not just the transition to high school, but learning the St. Thomas way. And when they return to campus there's now a support system that otherwise wouldn't be in place that they can rely on and draw from. There's also a core group of teachers whom they built early relationships for advice and support. The unexpected bonus for me was hearing stories from the seniors and how they have overcome some rough personal times to grow as people. I enjoyed our conversations and discovered more of who they are as people, and not just students.
Hank Shivers '23 attended St. Thomas Episcopal School in Meyerland. He's a member of House Cooper and realized during Camp Aquinas many of the dimensions of St. Thomas that motivated him to become an Eagle.
The core values of brotherhood are something else! I got here on Monday …. knew only three guys … and they were in different houses. But I didn't feel alienated at all. We all began talking on the bus and just seemed to want to have fun before classes started the next week. The crate stacking activity developed a lot of trust and enthusiasm within our house. The teachers seem so supportive and willing to help.
The first three days of Camp Aquinas presented opportunities to illustrate the value of goodness, discipline and knowledge in the daily routine. Travis Enochs '20 is a senior leader in House Schwenzer.
I shared with my house how discipline takes on different definitions. I explained how I have to cut 14 pounds a week in weight in order to compete during the wrestling season. To get to 132 pounds for meets, I coordinated with my coaches a spreadsheet detailing a routine from 7:50 a.m. to 10:00 p.m. Every Sunday I planned and prepared meals for the week. I weighed ingredients, four ounces of chicken for every meal, stored them in the refrigerator, ready to go each day when I left for school. I drank three gallons of water a day. Discipline is not fun, but the byproduct is fun. Making weight is not fun, but wrestling is fun. Studying for a test is not fun at all, but the rewards are awesome.

For the freshmen to hear that from a fellow student often means more and if the messenger is a parent or a teacher. The reaction to an adult can be "what do you know about today, life is so much different than when they were in high school."   Everything you do at St. Thomas requires some form of discipline, and if you have it, you can accomplish anything you want.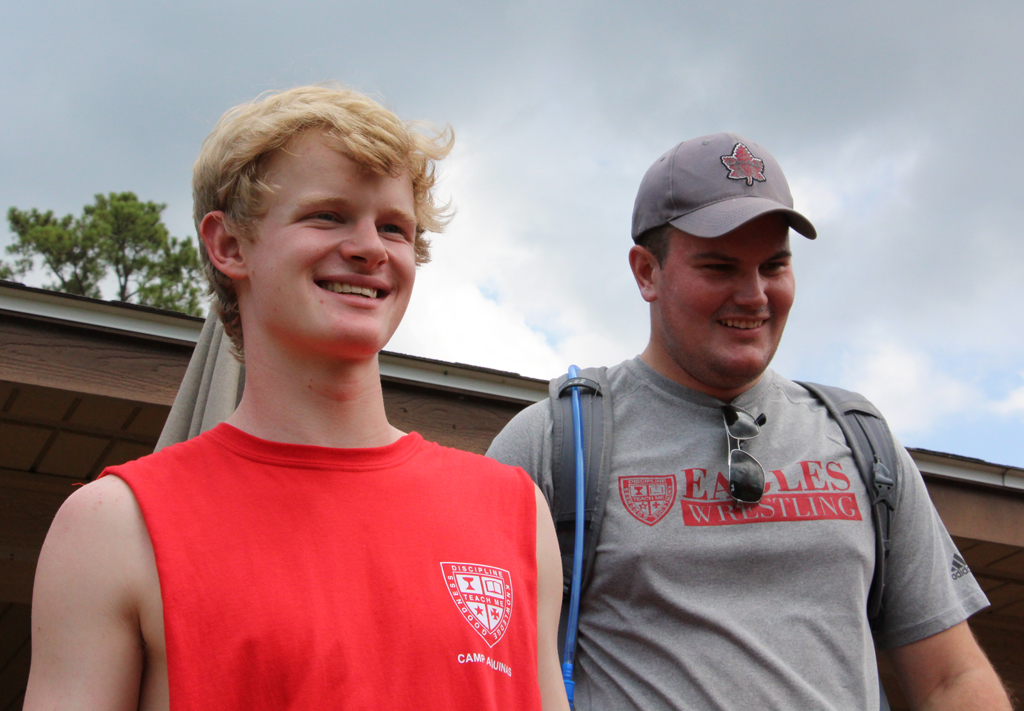 Zach Kroencke '20 teams with Enochs in House Schwenzer. His heart-felt testimony to the uniqueness of St. Thomas came from a random interaction in the most unexpected of circumstances.
I was in Baltimore a couple of years ago for a lacrosse tournament with my summer travel team. I'm thousands of miles from Houston in the airport wearing a St.Thomas shirt. An older adult came up to me and started a conversation. He had attended St. Thomas years and years ago and this was the question that struck me – How are my brothers? He meant the current students who he obviously didn't know decades after he graduated. How are my brothers? That's what the St. Thomas experience meant to him and helped make him the man he is. And the St. Thomas experience is shaping me in many of the same ways. I wanted the freshmen to hear that so they can learn to love this school as much as I do.

When my senior class started as freshmen we had to find our own ways individually and ways to fit in. This group (of freshmen) is so much further ahead. They've made friends during Camp Aquinas that they never would have been drawn to otherwise. And I love being a part of that connection.
Travis Dunwoody '23 is, like Shivers, a member of House Cooper. He transitions to St. Thomas from Western Academy and found immediate evidence of a community that unites all as one.
As soon as I stepped on the bus I become friends with everyone and can already see that the brotherhood is very strong here. Learning the meaning of goodness, discipline, and knowledge is definitely something we can all take back to campus. I can see where all those areas are important to be successful, not only in high school but also in college and throughout life. The seniors know what we're about to go through and they're giving us the courage to be ourselves. It's like they're one of us. It's amazing. Camp Aquinas was the best time of my life.
Catholic. Basilian. Teaching Goodness, Discipline, and Knowledge since 1900.