WEEK 13 || TAPPS DIVISION I STATE SEMIFINALS, FORD CENTER AT THE STAR IN FRISCO
Eagle Football 21
Dallas Parish Episcopal 41
WHAT YOU NEED TO KNOW
Running back John Fontenot '21 rushed for two fourth quarter touchdowns after quarterback Maddox Kopp '21 teamed with receiver Spencer Kryger '20 for a score in the second stanza but Eagle Football ran low on octane and defensive resistance in a 41-21 loss to Dallas Parish Episcopal in the TAPPS Division I state semifinals.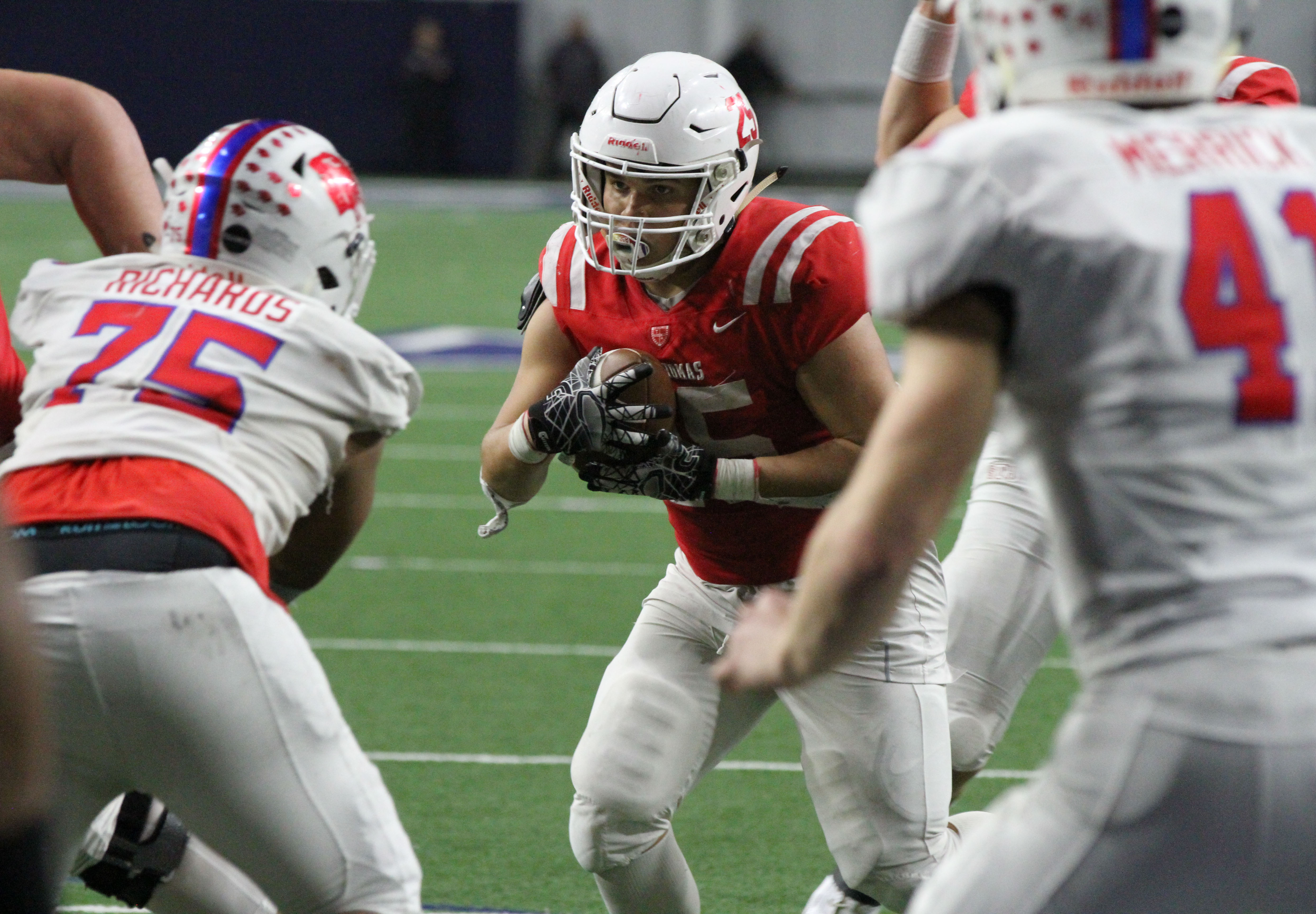 The defeat snapped a seven game St. Thomas winning streak and ended its season at 9-4.
TURNING POINT
The Kopp connection with Kryger capped a 10-play drive ignited by a sizable kickoff return from electric Cameron Bonner '21 to near midfield. Kopp delivered a third down four-yard strike to Kryger slanting left to right to close the count to 14-7 just under the two minute mark in the second quarter.
But Parish Episcopal quickly regained control driving 75 yards and squeezing in a second rushing touchdown with only four ticks left before the break and a momentum swinging 21-7 advantage.
The Eagles opened the second half with an interception and Parish Episcopal (11-1) posted touchdowns on two of its next three series to seize command 34-7.
Streak snapped, title hopes dashed, disappointment complete.  Reminded once again that Radiohead was right.  Gravity always wins.
¡UNO! ¡DOS! ¡TRE!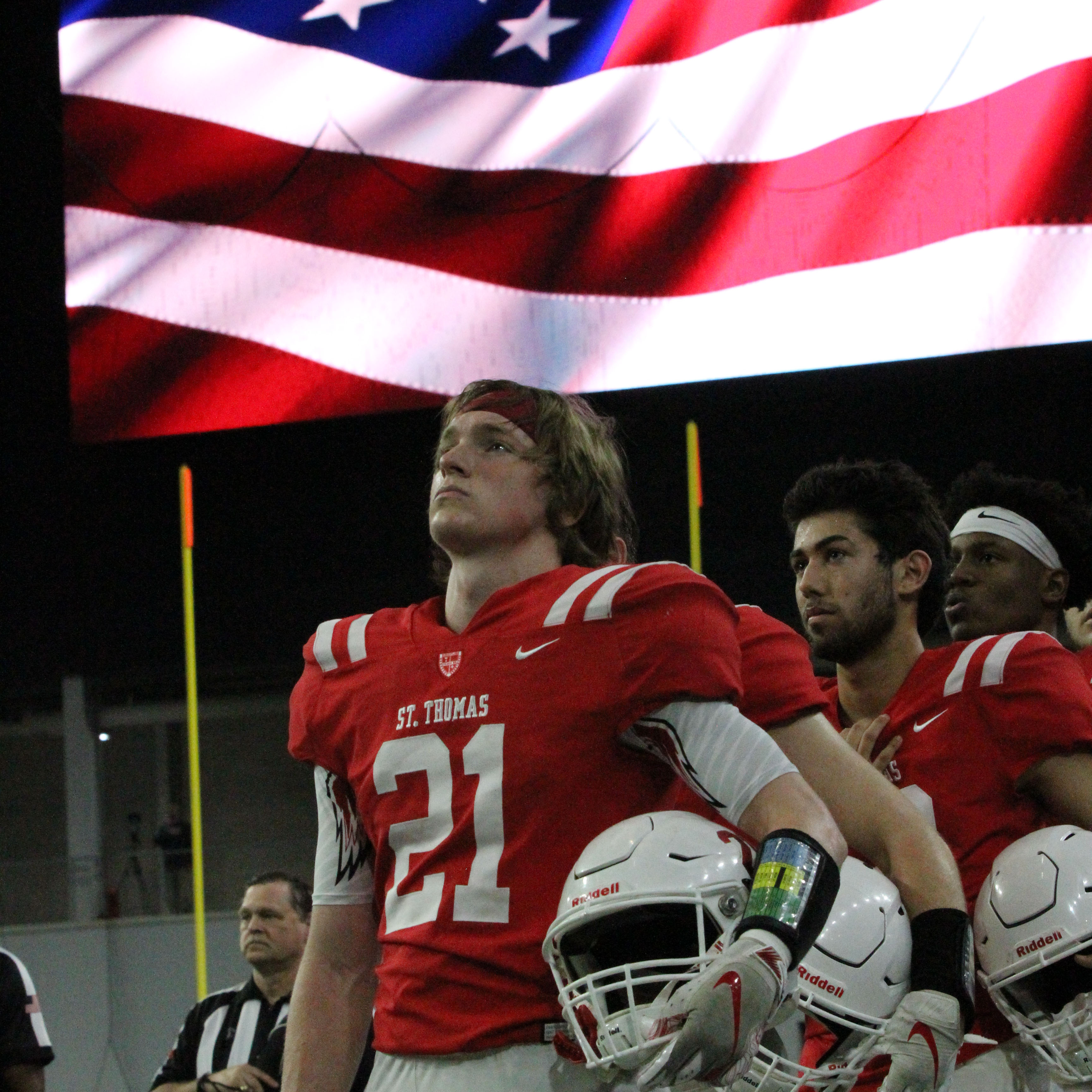 The Eagles managed only 108 total yards in the first half and failed to cash in points on two favorable possessions with the profile of the game not yet determined. They turned the ball over on downs after a shanked punt and had a chip shot field goal from kicker Paul Langemeier '20 blocked to end a series that penetrated the Parish Episcopal 10-yard line. St. Thomas was out-gained 464 yards to 302 and out-rushed 229-116.
Fontenot closed the St. Thomas scoring bulldozing for a pair of short range scores and the final margin.
Eagle Football wrapped the season as two-time undefeated district champions and regional kingpin for the first time since 2014 and '15.
AFTERMATH
Five Eagles and head coach Rich McGuire will be recognized by the Touchdown Club of Houston at the 8th annual Private High School Awards Dinner presented by the Hildebrand Foundation and Houston Methodist Orthopedics & Sports Medicine.
McGuire will be considered for Coach of the Year in his third year leading Eagle Football. Langemeier, All-State safety Daniel Coco '20, receiver Josh Crissmon '20, defensive lineman Chidera Umeh '20, and linebacker Cooper Thomas '20 were selected for individual distinction.
WEEK 13 || FIRST HALF
WEEK 13 || SECOND HALF
STATE OF PLAY
The Eagles fell short of the championship finish line by making just enough plays to build hope and just enough mistakes to destroy it.
Continuing in the postseason party to celebrate and selfie routinely carries a premise that includes getting to the ball at all costs and tackling in packs. Takeaways are important but making the opponent work for their gains and their points is paramount. And teams generally don't advance if they force zero turnovers. Two boxes that must be checked in the next deep postseason run.
While their opponent did a great deal right with cold efficiency, the Eagles simply went cold. No impassioned, season changing speech or movie caliber moment of truth would save the day. The defeat took them out of the state title showdown with Plano John Paul II in Waco and a chance to end the championship drought that dates to 1996.
The turnaround tour from 0-2 out of the blocks and 2-3 at the midway was performance punctuated with plenty of effort and plenty of fight in a righteous raucous recovery that netted nine wins in 10 games. But in high leverage elimination contests, details determine the outcome, and the Eagles finished second on too many fronts.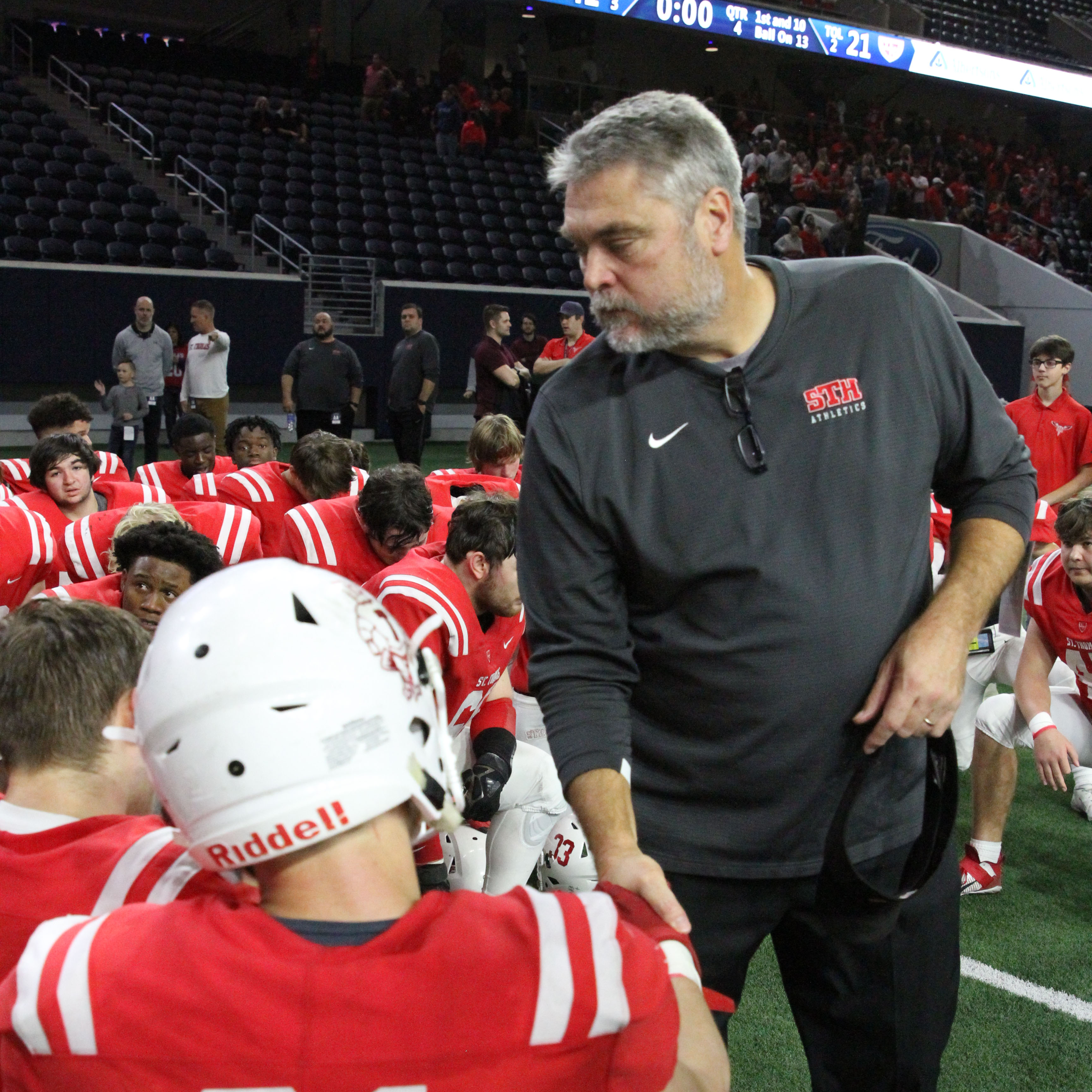 At season's end, there are no apologies for victories, the "how" or "who" does not matter. Playoff attendance is simply about "how many." The Eagles concluded a campaign where it beat almost everybody for two months but still left themselves wanting more. That's the feeling of raised expectations, the reality that the standard of success for Eagle Football has returned to excellence. In spots this season, the Eagles hit that mark. In others, they did not.
St. Thomas is confident moving forward that they have a quarterback, a scheme, and a series of weapons that pile points. They have adopted a dual offensive/defensive identity of attacking without fear and with a double dose of aggression. The hard work that many teams try to avoid must be embraced to lay the proper foundation for future championship contention.
The offseason is already underway.  The soundtrack is from Garbage.
This is the noise that keeps me awake
My head explodes and my body aches
Push it, make the beats go harder
Push it, make the beats go harder
Come on push it, you can do it
Come on prove it, nothing to it
Come on use it, lets get through it
Come on push it, you can do it
Eagle Fight Never Dies!