The spring to summer to fall continuum is a self-described "crazy COVID time" for Kathryn Burns, the two-time Emmy Award-winning choreographer for Crazy Ex-Girlfriend.
In the Before, back before the coronavirus pandemic shut down life as we have known it, making social distancing and self-isolation the ruling principles of everyday life, Burns would be a whirling dervish of dance and expression. The marriage of musical mood and movement.
Instead, like millions of Americans, she now often finds herself traveling down roads that aren't always listed on maps. An unexpected getaway to Houston to visit loved ones offered an opportunity to share her wealth of artistic expertise with the Eagle Cheer squad and her niece Victoria Johnston.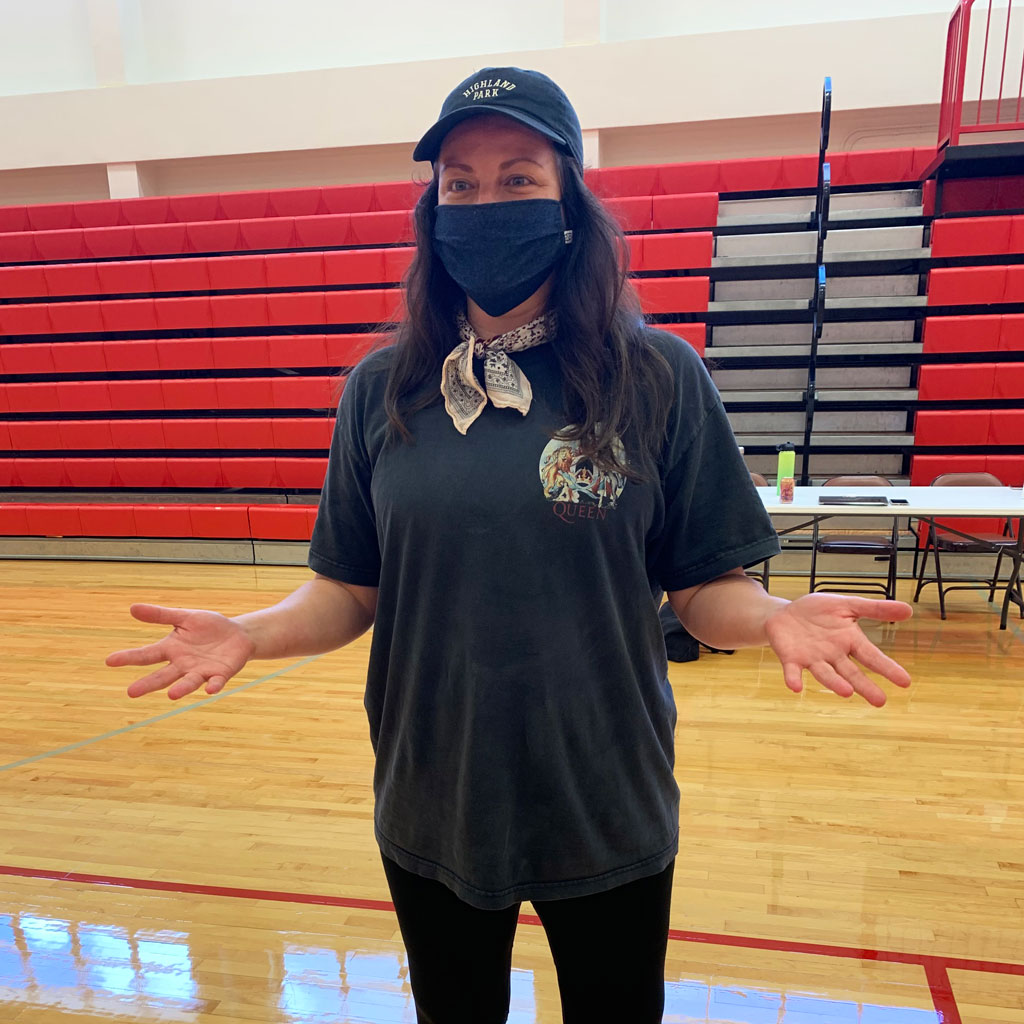 "It's simply surreal, working with cheerleaders with masks on," Burns says. "But I'm glad this group is remaining healthy and has the chance to bond and stay together during this disconnected period. I was excited to give back in some ways to a community that has meant so much to my family."
The Burns' connections to St. Thomas are deeply rooted, extending from Kathryn's father Jeff Burns '63 to cousins Eric '91 and David Burns '96, to Victoria and her brother Joey Johnston '20, to brother-in-law Alan Johnston '89.
The weekend crash course orchestrated by Burns at Reckling Gymnasium with St. Thomas coaches Paola Boitel and Eliza Wiggins offered a combination of intricate techniques and rhythm patterns, offbeat and aggressive.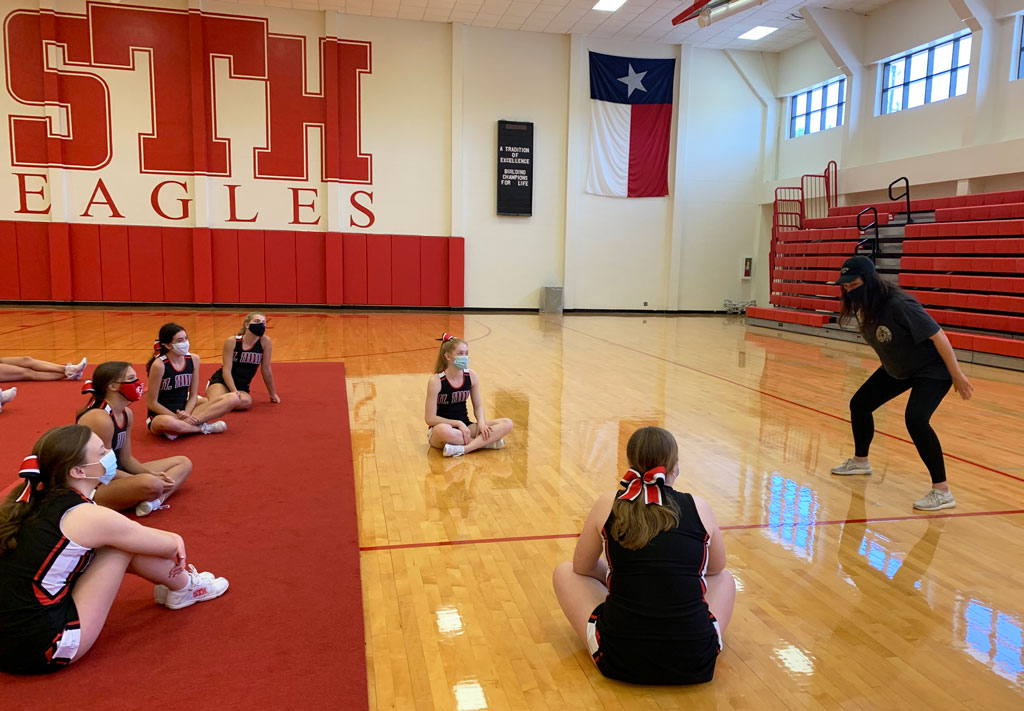 "I introduced some jazzy high-energy styles and formations," Burns says. "I wanted to challenge them outside their comfort zone, not present typical routines that are clean and even. More dance and sass, pushing their brains to think about different levels and dynamics."
Burns was born in Kingwood, grew up in Los Angeles beginning in 1988, then bolted to Dallas as a teenager. At Highland Park High School, Class of '98, she was a dynamic member of the nationally acclaimed Highland Belles drill team. Burns graduated from the University of Missouri where she concentrated her studies in film and communications while creating a distinctive profile performing with the Mizzou Golden Girls, the university's highly competitive dance ensemble.
"My high school experiences, in particular, are some of my absolute favorite times," Burns says in a moment marinating in nostalgia. "We performed at an All-American level, great precision within a group of 50 or more.  And great friendships are vivid to this day."
Burns' celebrated professional career is punctuated by more than 150 television episodes including Key & Peele, The Late, Late Show with James Corden, Bill Nye Saves The World, Two Broke Girls, and Wet Hot American Wax. She choreographed and cast the Grammy-winning video for Pharrell Williams' "Happy" and the WEBBY award-winning short The Wire: The Musical with Funny or Die. Burns also directed and performed with the cast of Crazy Ex-Girlfriend Live at Radio City Music Hall, choreographed Rachel Bloom for her prime time and creative arts Emmy performances, and the 2019 opening number of Hollywood Week for Dancing With The Stars.
Other artist work for Burns includes Weird Al Yankovic, Lil Dicky, Logic, Carly Rae Jepsen, Taboo (Black Eyed Peas), Paulo Nutini, Bonnie McKee, and Dead Man's Bones.
All of which occurred in the Before.
"I had five movie or television jobs in Los Angeles that have been on hold now for five months," Burns says. "The restart keeps getting pushed forward. I might be choreographing an animated musical when I return, something I've never done. That would be cool and fun. But like so many in our country right now, I'll just have to wait and see what develops. But it was such a positive experience to spend some time here in Houston with Victoria and her squad."
Catholic.  Basilian.  Teaching Goodness, Discipline and Knowledge since 1900.