Few coaches could have scripted a cleaner, steadier ascent for Eagle Soccer.
Yet mastermind and maestro Kenny Martin '01 is still very much greedy, gunning not only for gaudier but for the grandest achievement – the golden throne of a state championship.
St. Thomas is one win away from its fourth TAPPS Division I Final Four in five years. Precocious Mambo Tello '25 found the net three times in the latest rampage, a 5-0 stomp over Austin St. Dominic Savio. The Eagles advance to face San Antonio Antonian with an opportunity to avenge a 2-1 neutral site defeat in early December, one of only three losses on the season by a combined margin of 5-2.
The program's recent turnaround has accelerated into another regular-season rocket ride. St. Thomas stormed into the playoff party unbeaten in its previous 16 games with a 10-0 romp through the district. Think tapping into an inner Beth Dutton, rendering Eagle Soccer the tornado and their collective opponents the trailer park.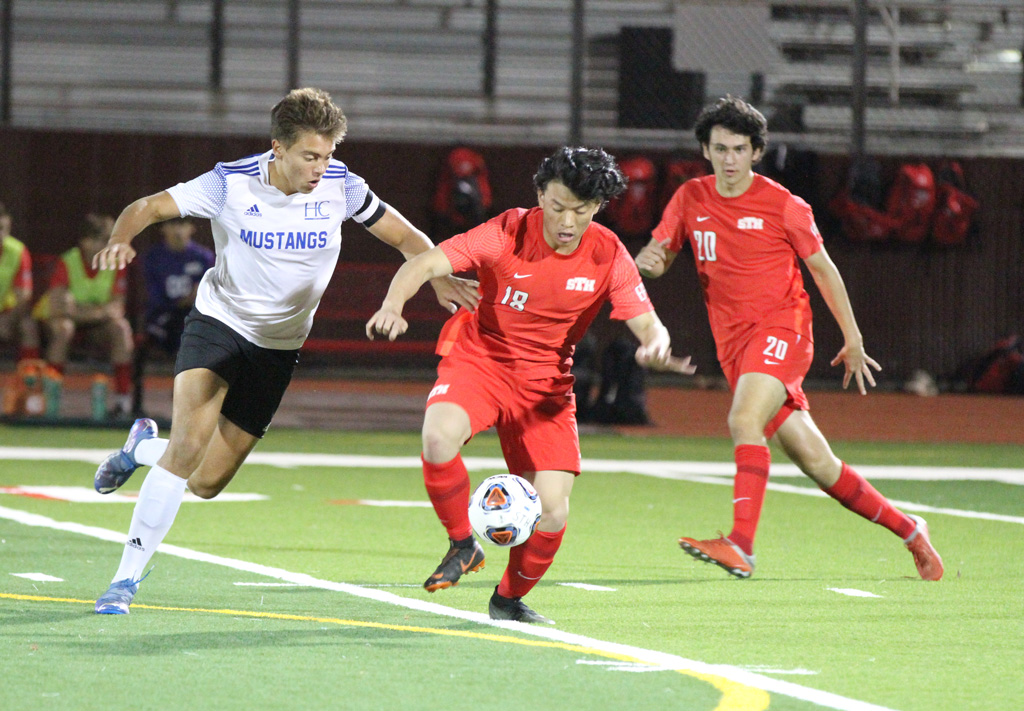 Martin Fútbol prescribes to sudden changes of pace and lively movement, creating havoc by getting vertical as quickly as possible after winning possession. The Eagles have separated from the field with a sizzling tempo and tactics fueled by superior talent on their way to a 24-3-3 mark, the three defeats a pair of 2-1 verdicts and a 1-0 shutout.
A gargantuan gap greater than the fashion chasm separating millennials and Gen Z over distaste for side parts and skinny jeans. Simply too great to overcome.
"When we win the ball, our priority is to get into the final third as quickly as possible," Martin says. "It's about applying pressure, finding those options, and creating as many opportunities as possible."
Martin knew from the fall preparations he would be without the wickedly ingenious ball-striking Pablo Tager '21 who pounded 23 goals in 2021 while earning all-state distinction for the third consecutive year and All-Greater Private by the Houston Chronicle.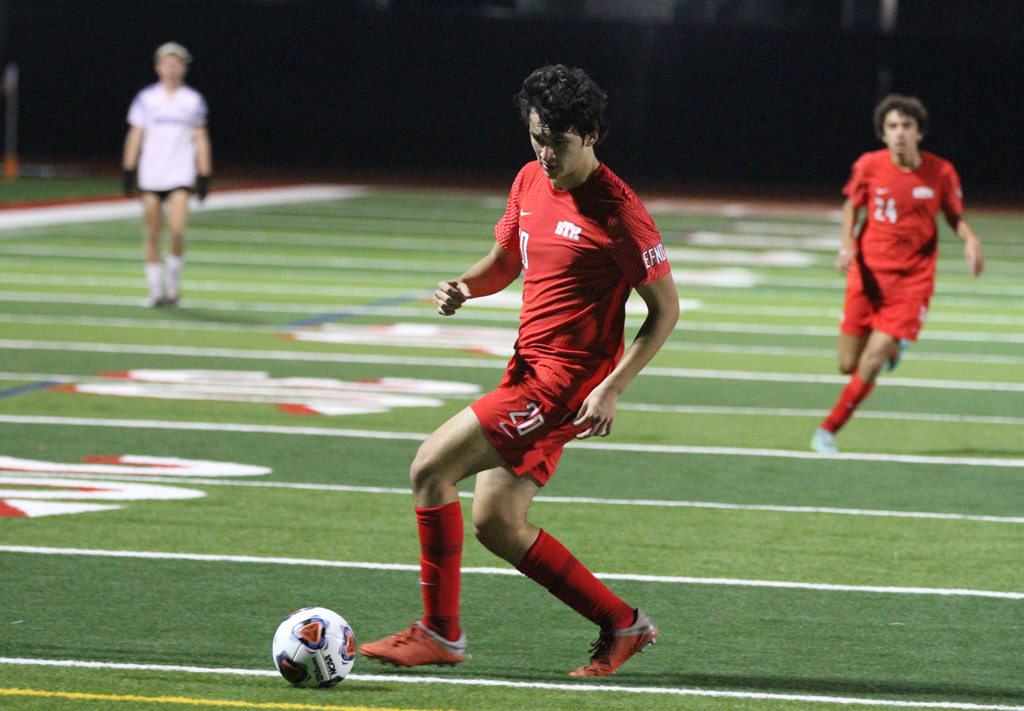 Filling the void was the known – four-year lethal weapon Santiago Labarthe '22, an amazingly gifted and clutch scorer, deadly with either foot – and the unknown Tello, who required very little time to make an empathic impact while showcasing his comfort in transition.
The tag-team sensations have racked exceedingly gaudy statistics, combining in near equal doses for 41 goals and 28 assists in the regular season, essentially half the team totals in both metrics.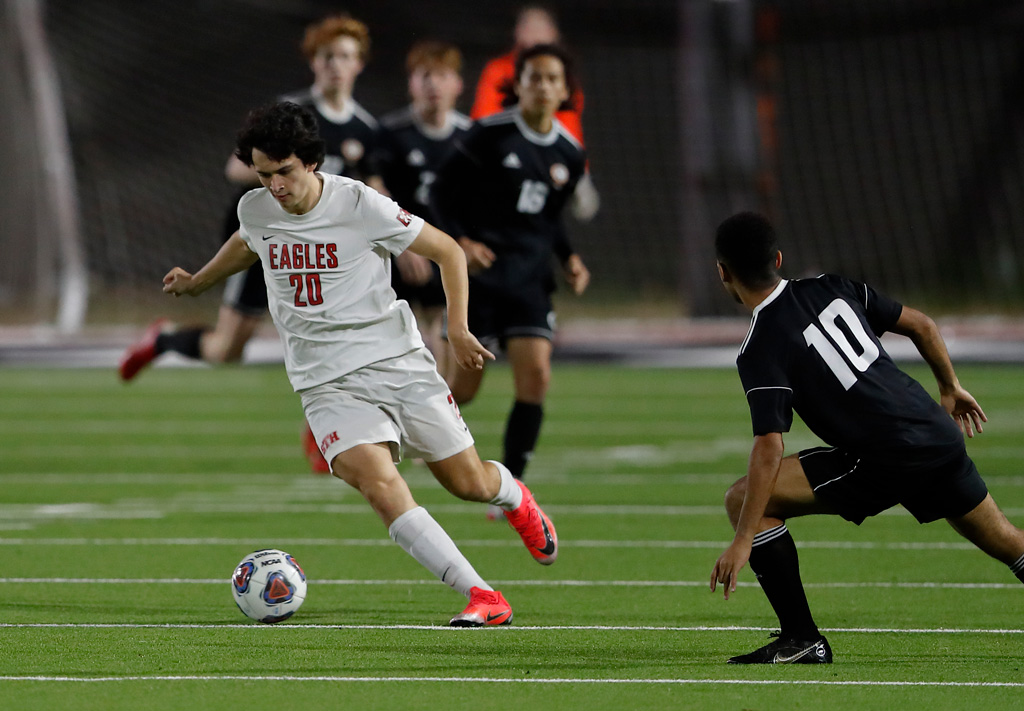 "If the ball is on Santi's feet, he's not losing control and he can put it wherever he wants," Martin says. "He finds teammates on the run. He plays the ball in the air. Crazy creative scorer (20 goals and counting). He may be our best in the midfield since I've been here."
That would be roughly two decades as Martin navigates his 11th season as head honcho.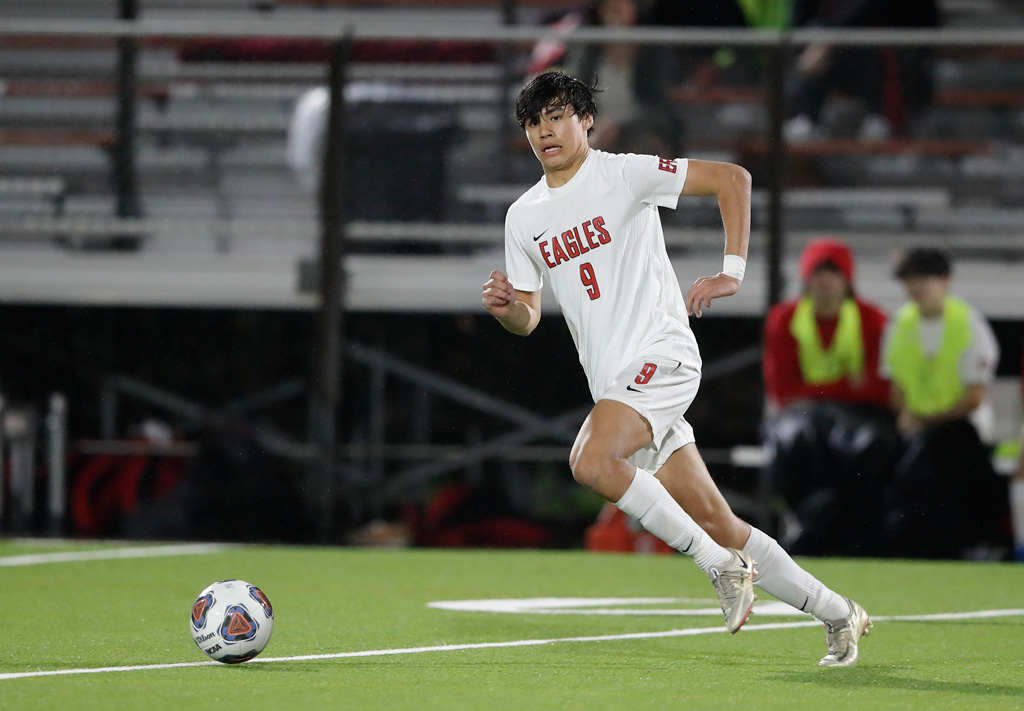 "Club coaches told me Mambo was a 20-goal kind of guy and he's exceeded that (24). He's got a long stride with the ball and is a pure, natural finisher. Gets out in front, knows the net, finds his spot. And he plays with obvious confidence, an edge that top-tier players all have."
Goalkeepers Nico Lopez '22 and Lucas Wood '25 split time during the first half of the season but Wood turned wunderkind during the district blitzkrieg – 9-0, allowing roughly one goal per game.  He's now extended his near-perfect season slate to 16-0-2.
"Lucas is not only making the necessary saves but also converting the save-our-butt plays we need him to make," Martin says. "Good size. Solid feet. Doesn't rely just on his hands. Shot-stopping skills. Communicates well. And he's like Mambo with a moxy beyond his years."
Essential to the team's development was sweeping through January's Castleberry Tournament in Fort Worth. The five-win surge in three days was ignited by a scoring binge from Tello and squeezing three one-goal victories to the team title.
"We fought through tough UIL competition that weekend with guys out with injury or illness," Martin says. "That proved to the group what they were capable of doing. Then it was just a question of not only sustaining but climbing. And we've done that."
The breakthrough morphed into one of Martin's more balanced, unflappable outfits with the ability to set the proper rhythm on demand.
"We've had 14 different guys score," Martin says. "(Seniors) Evan Crosswait and Andre Meza have been rock solid in the back. Our midfield is untouchable with Santi, (senior) Ruben Vara, and (junior) Jacob Wood. Mambo with (junior) Ryan Nguyen and (senior) Nguyen Nguyen are now a proven unit."
And the beat goes on.
Since 2017, Martin's marauders have dropped only 25 games, including seven in 2021, winning a jaw-dropping 125 with 14 ties. In the swirl of sweet success is a measurable misery. The Eagles endured the pain of three consecutive razor-thin knockouts at the state tournament before last season's elimination in the regional finals.
The stage is set for redemption.
"Heading into the playoffs, I know we can beat anyone in the state," Martin says. "But we have to execute from the first whistle, embrace the urgency of win or go home. Mentality is a skill set just like kicking the ball. I feel good about our confidence and approach."
Eagle Fight Never Dies!