Romeo and Juliet is a centuries-old Shakespearean classic that's mostly about teenagers with teenage intensity and recklessness, the impulsiveness of youth, whereby hearts lead and tempers follow as feelings detonate like fireworks.
And as St. Thomas Theater displayed under the visionary ways of director Dan Green, even after all these many years, the kids are alright.
What Green and his inspired cast of characters brought to life for an October engagement at Cemo Auditorium was no extreme stylistic contemporary chutzpah as a nod to Baz Luhrmann and the angelic pairing of Leonardo DiCaprio and Claire Daines. Forget an overwhelmingly of-the-moment pop-punk version underscored by the likes of Garbage and Shirley Manson's haunting "#1 Crush" (I will twist a knife and bleed my aching heart … And tear it apart).
Rather, Green revived one of the Bard's most enduring works for a fresh generation, returning the endlessly malleable tragedy to its roots as one of literature's most heart-wrenching love stories – a throwback to classicism with vividness, spontaneity, and emotional authenticity.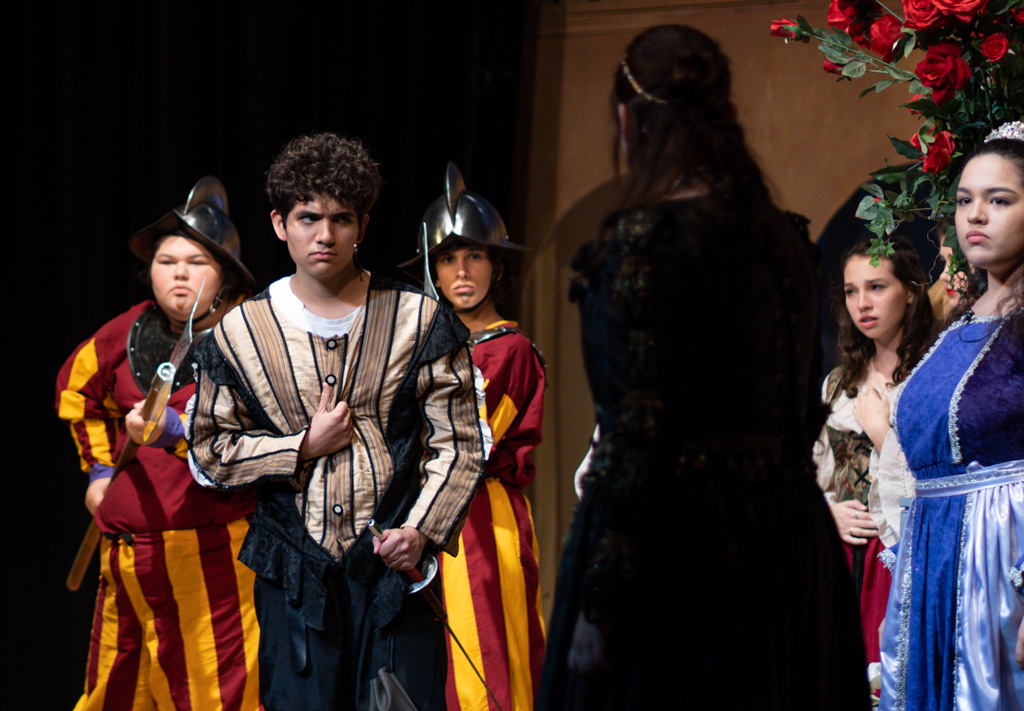 "I have directed a lot of Shakespeare over the years, but I have always avoided Romeo and Juliet. I guess I thought it overdone," Green says. "I finally embraced the opportunity, and I'm so glad I did. We had 15 teachers, scores of parents, and 80 students who came together to fence, dance, grapple with the language, score scenes, weld actual halberds, and craft leather pouches and scabbards. The actors mastered more than 4,700 lines of poetry, performed on three different stages – one of which spun entirely around – and managed to do all of it in less than eight weeks. I'm immensely proud of our program. We produce great works and that's only because of all the talented and committed people involved."
Green and his superlative company of actors injected uncommon urgency into the performances, along with stirring depth of feeling.
You know the drill – two houses, both alike in dignity yet divided. Romeo's Montagues and Juliet's Capulets, feuding families in the world of Verona. Forbidden, star-crossed lovers align. Tragedy ensues. This ever-lasting tale routinely stands or falls on the appeal of its fatal attraction, and Green's young stars brought sweet passionate poetry to their immortal roles.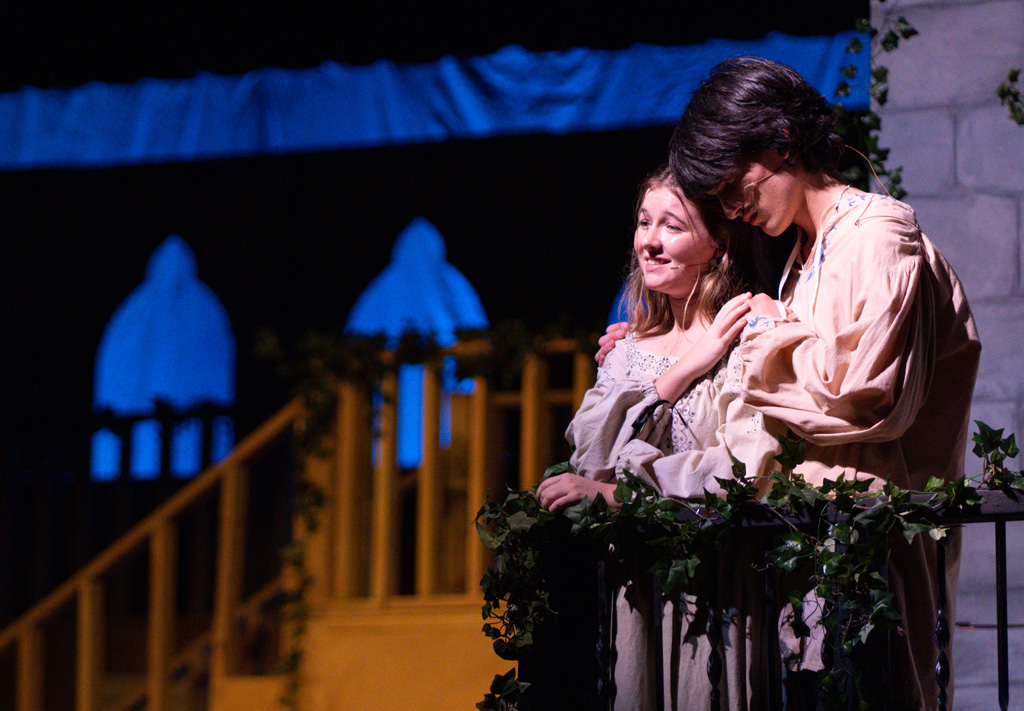 Damian Wilson '23 in his ninth St. Thomas production and Flinn Burrell (Incarnate Word Academy '24) were mesmerizing as head-spinning romantics. Their chemistry was instantaneous, fierce, and bright, the poignancy between them palpable. The audience was never doubting the youthful, I-would-die-for-you intensity of their passion. Burrell (fourth STH production) brought a force to match Wilson's, but her Juliet was no flighty lovebird, rather strong-willed and intelligent. And as the tension narrowed, the ill-fated duo were flooded with feeling.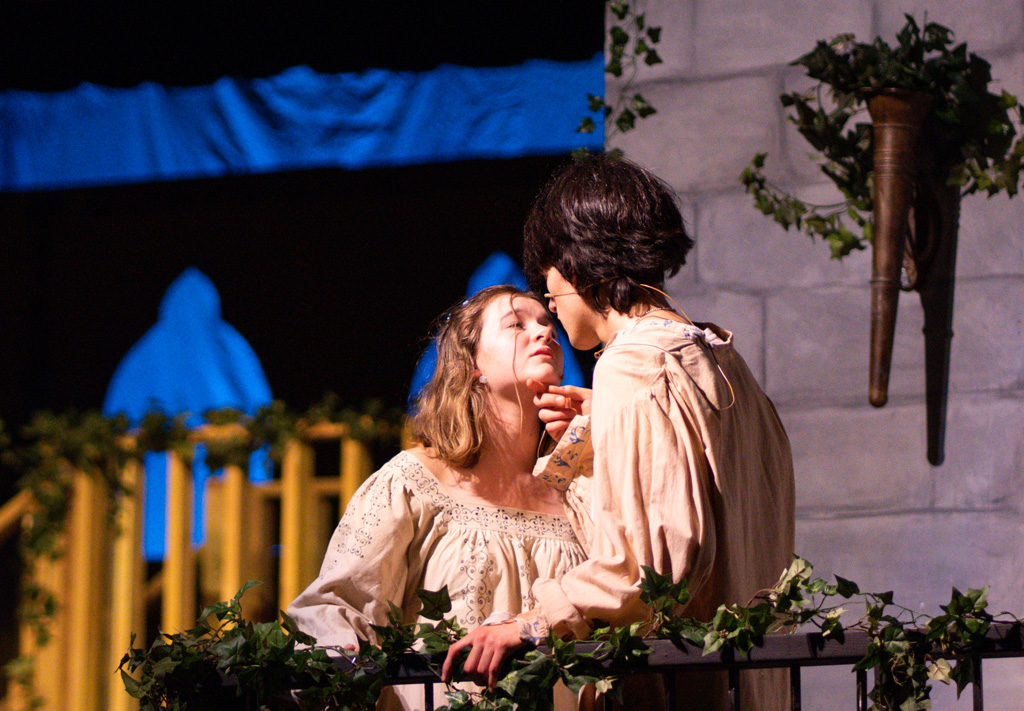 "Damian was nuanced, poetic, profound, and occasionally comic. Flinn was perpetually sweet, independent, full of vigor and wit," Green says.
Zoe Yokubaitis (IWA '23) conveyed a true measure of gravity to the role of Juliet's nurse, while Casey Salvatierra '23 was flawless as the compassionate Friar Laurence who goes out on a limb again and again in support of true love.
"Zoe was cast against type – earthy, rustic, and forever comical until the character revealed herself to be untrustworthy, unsympathetic, and foolish," Green says. "She played the part beautifully for both laughs and for moments of true grief. Casey was the voice of wisdom in the play.
"(Senior) Jorge Morfin was erratic, irreverent, and amazing as Mercutio. (Seniors) Brandt Peterson (Paris) and Evan De Anda (Benvolio) added plenty of punch as the perfect foils for Damian's Romeo. Aidan Nanquil (Lord Capulet) was cast against type as well, delivering an aggressive and violent father alongside Danielle Bartholet (IWA '23) and her traumatized Lady Capulet."
Additional expertise in full dazzling display was the unrivaled set construction and fluid scenic design spearheaded by invaluable faculty member Phil Gensheimer with Ben Thoede '24, Christopher Brochu '23, and Simon Pham '23 contributing and Paul Dunn '23 organizing the set crew. Period costumes were simply stunning. Jaw-dropping sword fights and brief bouts of stage mayhem were artfully choreographed by Teresa Stranahan with faculty member and production assistant Chris Patton '13.
Faculty member Darrell Yarborough instructed 18 students in a beautifully realized gavotte, led by Brian Deavers '23 (seventh STH production) and Elena Padilla (Duchesne Academy of the Sacred Heart '26). The rich talents of music director Josh Wilson, audio/visual coordinator Chris Hodge, and faculty member/art consultant Chau Nguyen were essential.
Romeo and Juliet offered a sharp jolt of exquisite theatrical storytelling, a crisp adaptation with striking familiar beats. Despite its inevitable and predictable conclusion, St. Thomas Theater offered a visual experience fully immersive, its emotional power fueled by the lyrical beauty of the language and the unfaltering command of a first-rate cast.
"We embrace the challenge to be our best as a group," Green says. "Sometimes that means constructing magical forests with 15-foot trees. Sometimes we build stairs that light up with every step but only for tap dancers. Sometimes we place everyone in slippers and make them fence all over the stage. The latter was the case for its most recent production. The end result was magical."
Catholic. Basilian. Teaching Goodness, Discipline and Knowledge since 1900.