For more than a century, St. Thomas has primed its graduates for a life of purpose and continual exploration – young men empowered to bridge divides and engage in public service, poised to pursue human aims and define true worth in the eyes of God.
The Class of 2023 endured much mayhem and achieved much success both individually and collectively. Now the freshly minted graduates are commanded to continue the profound legacy of Basilian college preparatory as they make their mark, wherever life takes them. To be inventive and inspiring. To advance the natural world, as well as the human spirit, through science and technology and faith. Through power and prosperity in tandem with large-scale human cooperation. All avenues for progress.
By mid-afternoon of the festive Baccalaureate Mass and Commencement celebration, the scholars tossed their caps in the air from the steps of the Co-Cathedral of the Sacred Heart. An enthusiastic roar of applause arose from the next wave of alumni, alongside their treasured family members and friends who gathered for the school's 123rd commencement.
President Fr. James Murphy, CSB, Principal Dr. Aaron Dominguez '96, Assistant Principal Daniel Bryant '93, and Board President Greg Phillips '82 welcomed Eagle scholars who will enter esteemed colleges and universities throughout the United States. Fr. Maurice Restivo, CSB served as homilist as the soon-to-be innovators, motivators, leaders, and caretakers were saluted by St. Thomas faculty and staff whose exceptional service and distinctive contributions to Catholic pedagogy were essential to the achievements.
Living and excelling through the pandemic provided these scholars with a once-in-a-lifetime opportunity to evaluate what they truly value and solidified their decisions to pursue further studies in a chosen field or perhaps change course to best utilize their talents to make a difference in the lives of others.
The Best of the Best
Valedictorian Celeb Davis and salutatorian Thomas Pham addressed the gathering as if their classmates served as symbolic cornerstones – cherishing an establishment while also projecting future construction.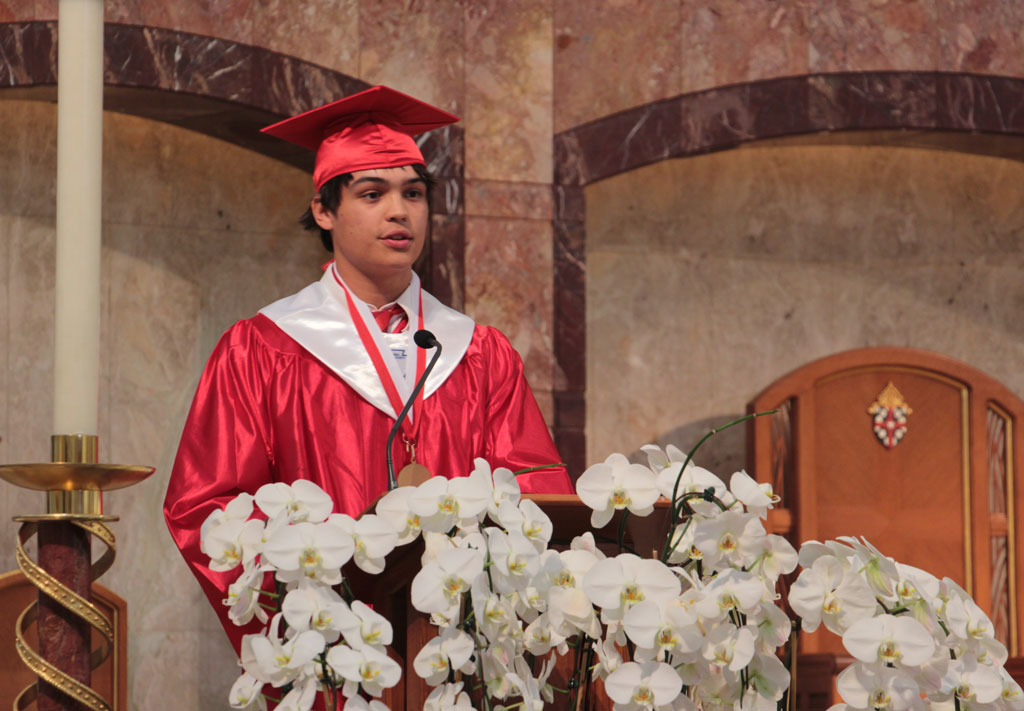 "We must continue to thrive with goodness, discipline, and knowledge throughout the rest of our lives," Davis said. "Our job is not yet finished. We still have much work to do to cement ourselves in St. Thomas history. Let's be the class that charges into the world and makes a positive impact on every community and every family we encounter. Let's all make St. Thomas proud. And as we reach the end of our time together in high school, remember to move forward with the power of the Holy Spirit and our outstanding education. God bless the Class of 2023."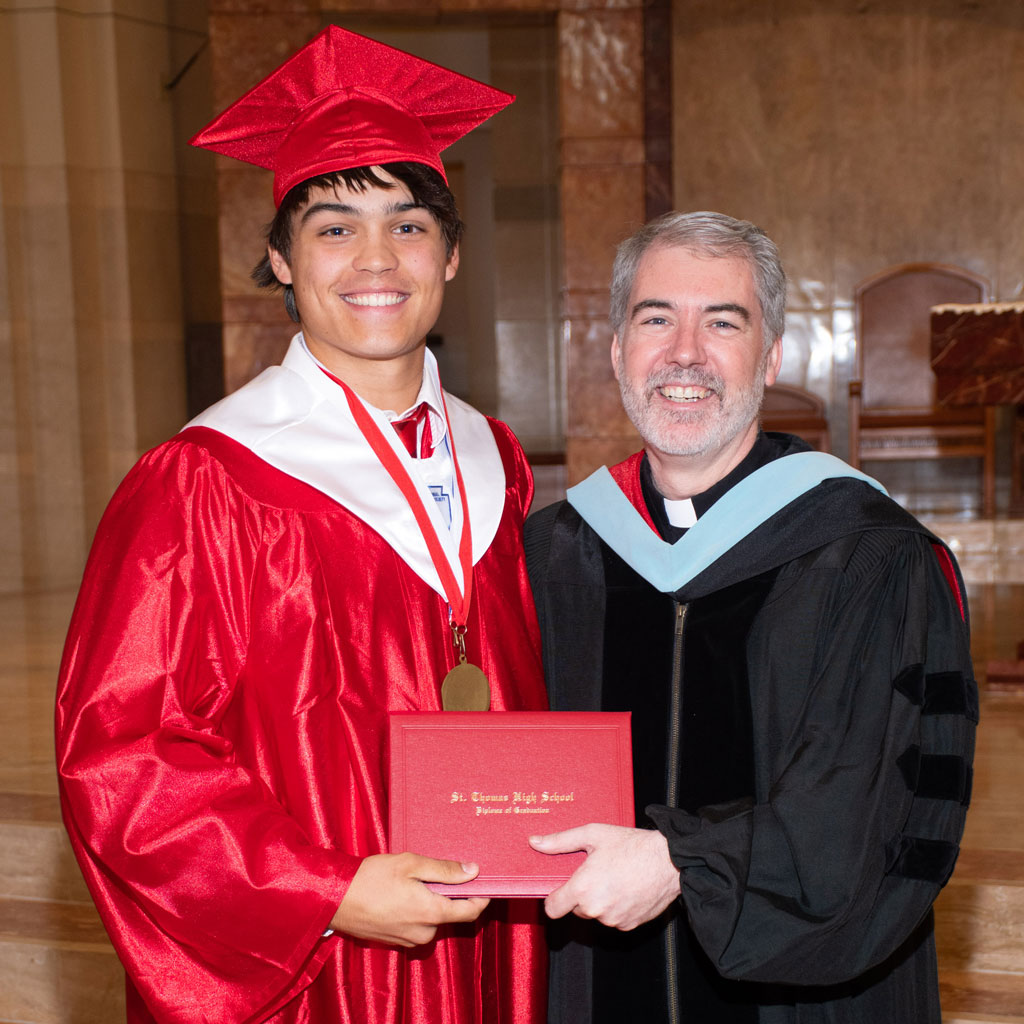 The multi-acclaimed Davis will continue his stellar scholar-athlete career at the Massachusetts Institute of Technology where he plans to study engineering and business. He earned a 4.81 grade point average with an unheard-of perfect 36 score on the ACT. Davis and Pham were both two-year members of the St. Thomas Chapter of the National Honor Society and gained permanent membership into the acclaimed St. Thomas Club – champion scholars with a minimum 4.0 grade point average for seven consecutive semesters.
Pham posted a 4.76 GPA and achieved 1460 on the SAT. He accepted a position in the Business Honors program at Texas A&M University.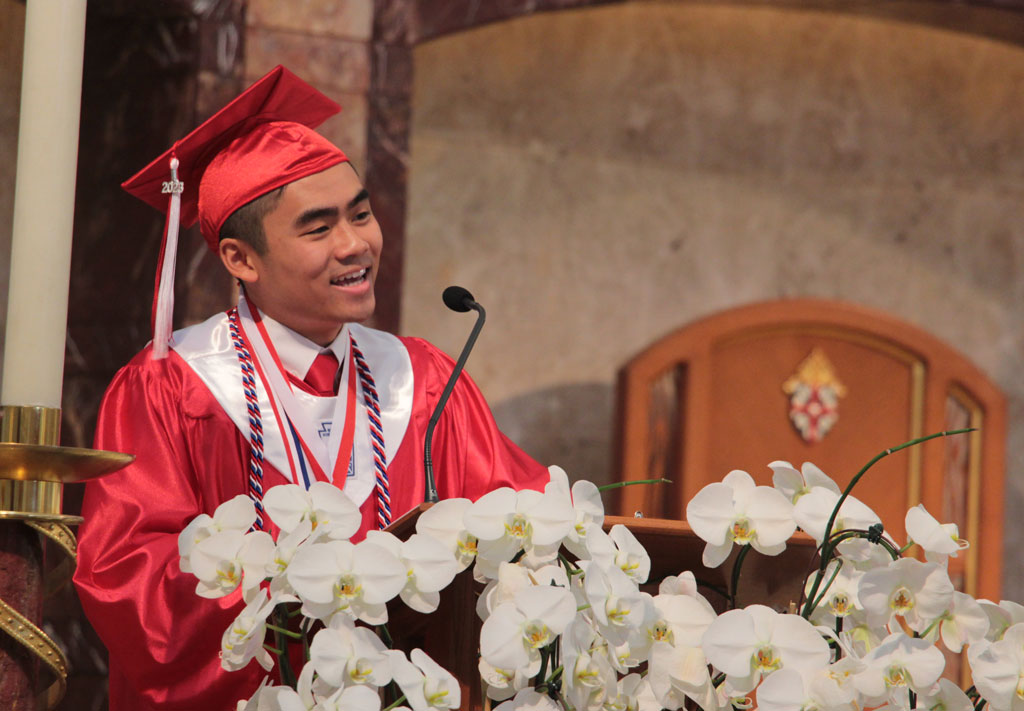 The salutatorian encouraged his colleagues to "trust the lessons we have learned at St. Thomas. Go out into the world, ready to take risks, and be the change that you seek. Embrace failure as a necessary part of the journey. Remember that through failures, we uncover new skills and abilities just as we have the previous four years. Seize chances to obtain greatness. Go forth and fail big. Dream big. Accomplish amazing things."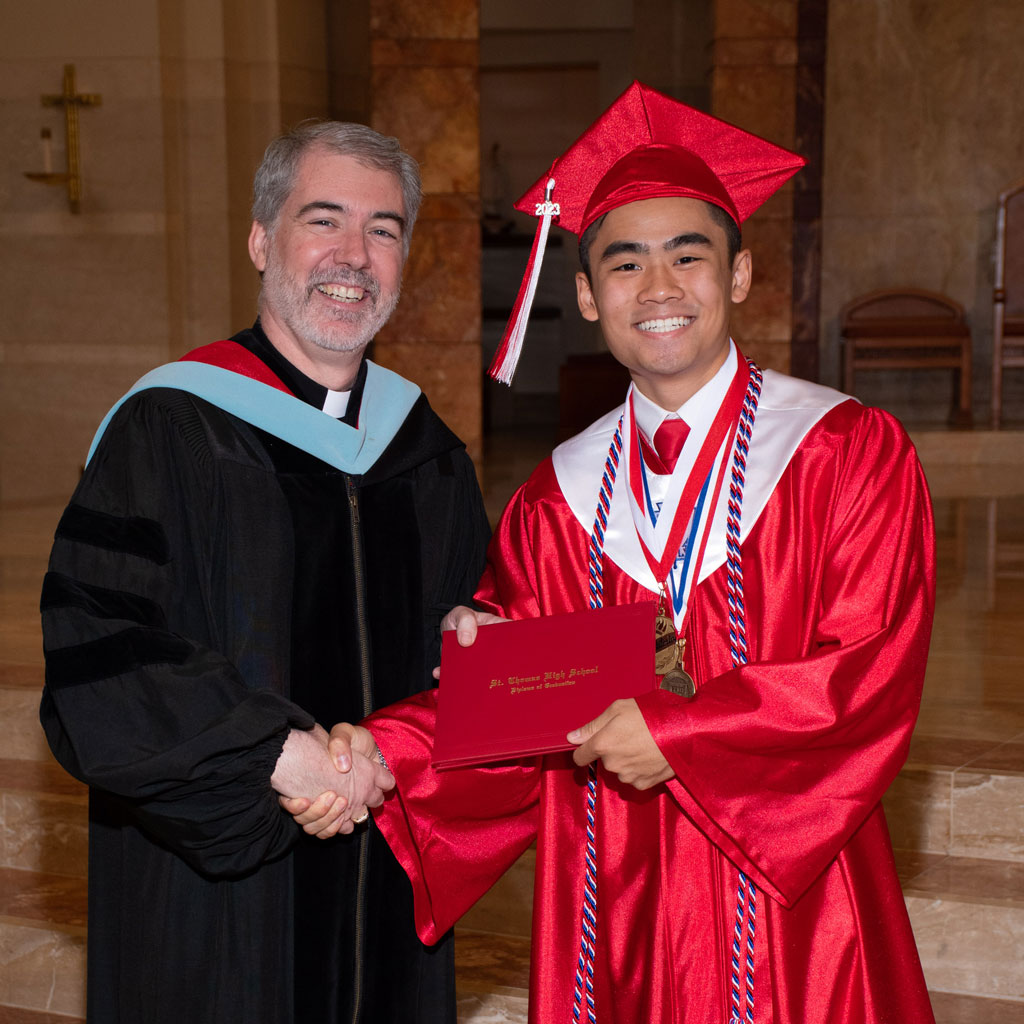 Servant Leaders
Previously in the spring semester, four Eagle coterie received exclusive accolades, excelling in a rigorous college preparatory environment while also separating through a compelling identity beyond the curriculum.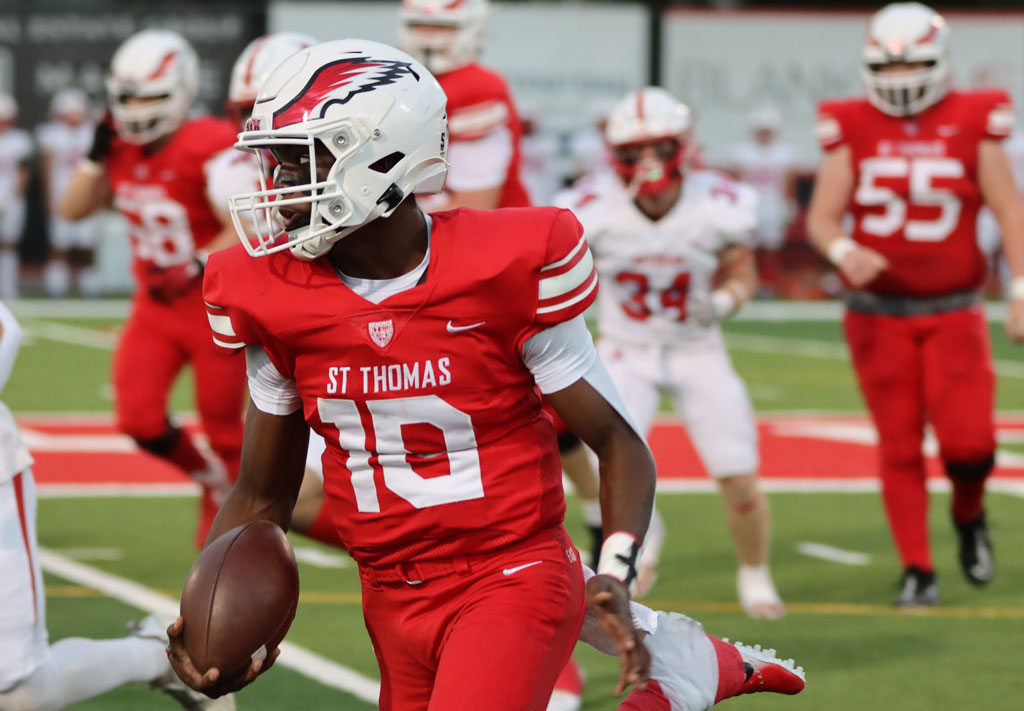 Preston Bowman '23 was the recipient of the Rev. Allnoch Athletic Memorial Trophy for Excellence in Academics, in honor of the 16th principal of St. Thomas. Bowman was a two-sport scholar-athlete in Eagle Football and Eagle Track and will continue his career with the Colorado School of Mines football.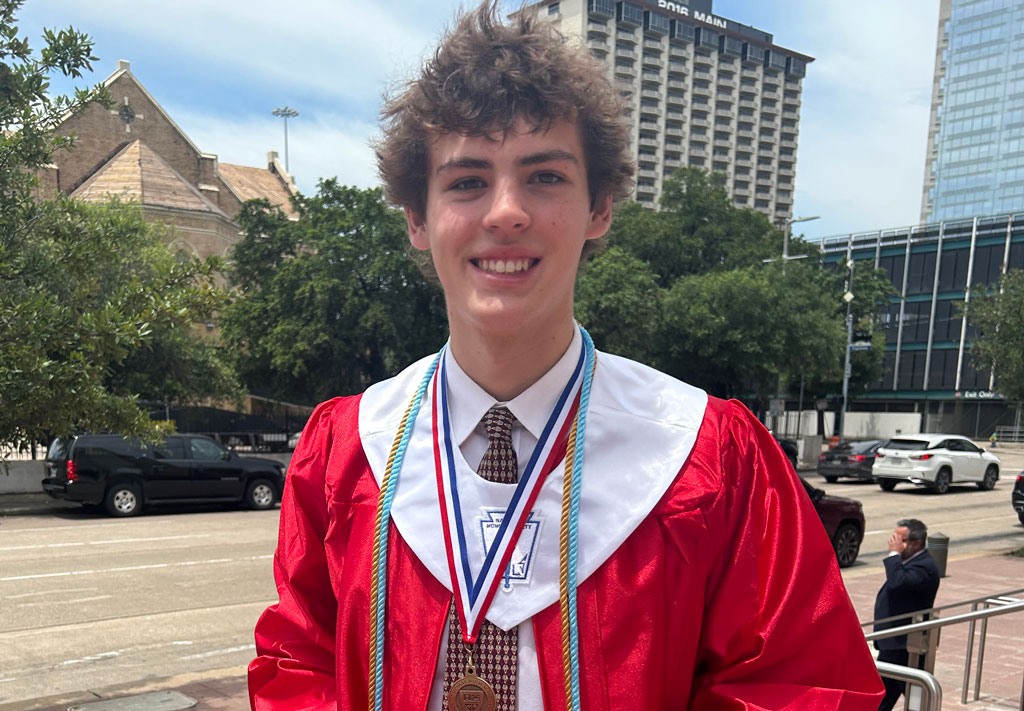 Commencement Master of Ceremonies and Student Body President Jake Pike '23 was selected for the Rev. Albert R. Gaelens, CSB Award, given to the senior student who best embodies the school motto of Teach Me Goodness, Discipline, and Knowledge. Seniors are nominated by their peers for this distinction and the faculty then votes on those receiving the most nominations. Pike is another exemplary member of the St. Thomas Club and a two-year member of the National Honor Society. He will extend his scholar-athlete career with Lehigh University basketball.
The Principal's Service and Leadership Award was given to Vincent Iandoli '23 who will study at the University of Dallas. Ted Naeher '23 received the Rev. Ronald G. Schwenzer, CSB Campus Ministry Award for most exemplifying the Man of St. Thomas motto of Faith, Service, and Leadership. The St. Thomas Club and National Honor Society member will continue his scholar-athlete career with the University of Tennessee rugby. Fr. Schwenzer was appointed in 2006 as the first president in St. Thomas history after serving eight years as principal, working tirelessly to develop citizen scholars and relentless leaders during his tenure.
Robust Scholarship
Austin Burke '23 and Damian Wilson '23 earned finalist acclaim in the 68th annual National Merit Scholarship Program. The two represented among the most elite scores from the PSAT Qualifying Test and were awarded National Merit $2,500 scholarships. Burke will attend Rice University after receiving the Stephens Scholarship Award for Outstanding St. Thomas Seniors and was also awarded multiple scholarships from Texas A&M and Trinity University.
Wilson will study at Notre Dame University after considering offers from Trinity and the University of Alabama, plus awards from Texas A&M, the Univesity of Texas at Dallas, and Saint Louis University.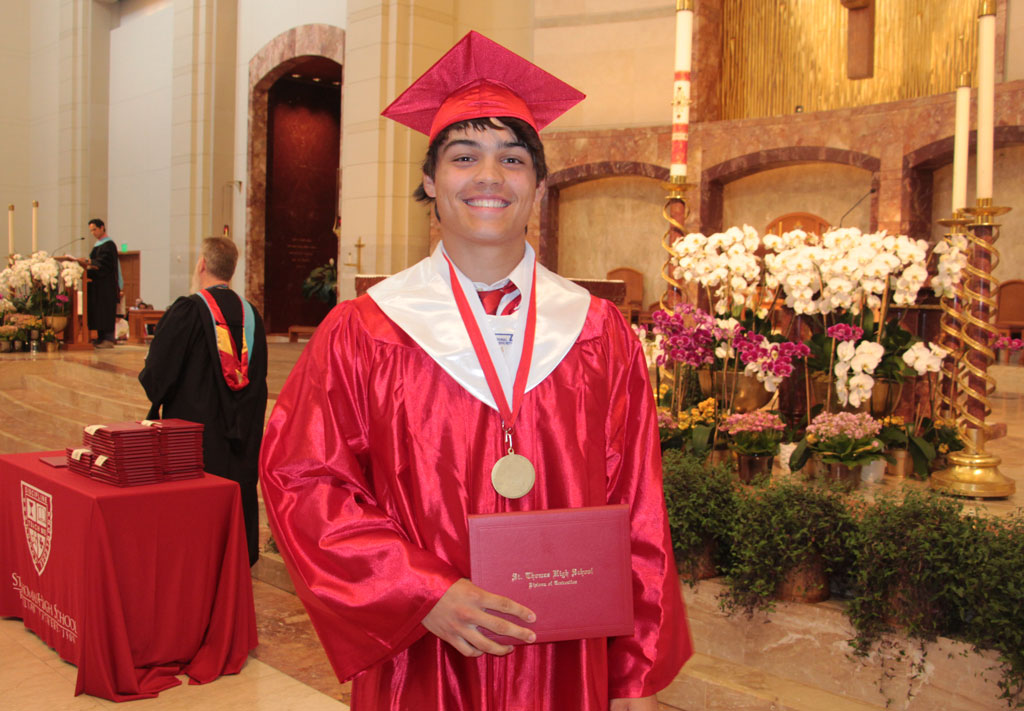 Davis joined 16 additional St. Thomas scholars selected as National Merit Commended Students from the Class of 2023, recognized for "the exceptional academic promise demonstrated by their outstanding performance on the qualifying test used for program entry." The St. Thomas total in this esteemed category has grown to 56 since 2017 and now includes:
Benjamin Brown
Isaac Cabello
Evan De Anda
James Dickinson
Thomas Erb
Alexander Erickson
Nathaniel Hulvey
Garner Kelling
Vincent Le
Evan McCarthy
Caleb McClure
Charlie O'Leary
Jake Pike
Caleb Sudkamp
Frans Vingerhoedt
Bradley Wight
Ten additional St. Thomas scholars were named to the College Board's National Hispanic Recognition Program. The honor was extended to students who scored in the top 2.5 percent among Hispanic and Latino PSAT/NMSQT test-takers in the region.
The latest group bringing the St. Thomas total to 42 in the previous six years includes:
Mateo Albrecht '23
Eduardo Carstensen '23
Manuel Cohen '24
Eldon De Anda '23
Rafael Joseph '24
Zackary Parker '23
Isaac Perez '24
Adrian Pruneda '24
Luka Salcedo '23
William Wittman '24
Luke Anigbogu '23 and Samuel Pratt '23 were selected for the National African American Recognition Program, and Levi Finkelman '24 and Thomas Roberson '24 for the National Indigenous Recognition Program.
Venture Forth
More than a dozen St. Thomas graduates will attend Texas A&M. Multiple scholars are advancing to other prestigious destinations such as the University of Texas at Austin, Texas Tech University, the University of Houston, Baylor University, Auburn University, Colorado School of the Mines, Gonzaga University, Louisiana State University, the University of Mississippi, St. Edward's University, Southwestern University, the University of Alabama, the University of Tennessee, Texas A&M at Galveston, Texas Christian University, the University of Oklahoma, Blinn College, Rice, and Trinity.
Eagle scholars will also attend renowned institutions, including Belmont University, Clemson University, Florida State University, Fordham University, Loyola University Chicago, Villanova University, Sam Houston State University, the University of Arkansas, the University of Louisville, the University of Texas at San Antonio, and the University of Washington at St. Louis.
The Great Awaits
In between the reverence of tradition and the joyous moments of May 20 were invitations for the Class of 2023 to take stock with satisfaction for the passion and perseverance in creating the journeys just completed, and next charge confidently to embark on a shifting world.
The seniors showed the promise and potential to gain knowledge outside their comfort zones. They were developed to seek truth rather than fighting solely on belief and to embrace the people they will meet who may otherwise exist at the edge of their awareness because of differences in ideology, culture, or socioeconomic status. Every St. Thomas graduate may shape history by following his sense of adventure, discovering the wisdom of history, and understanding how it shapes his life.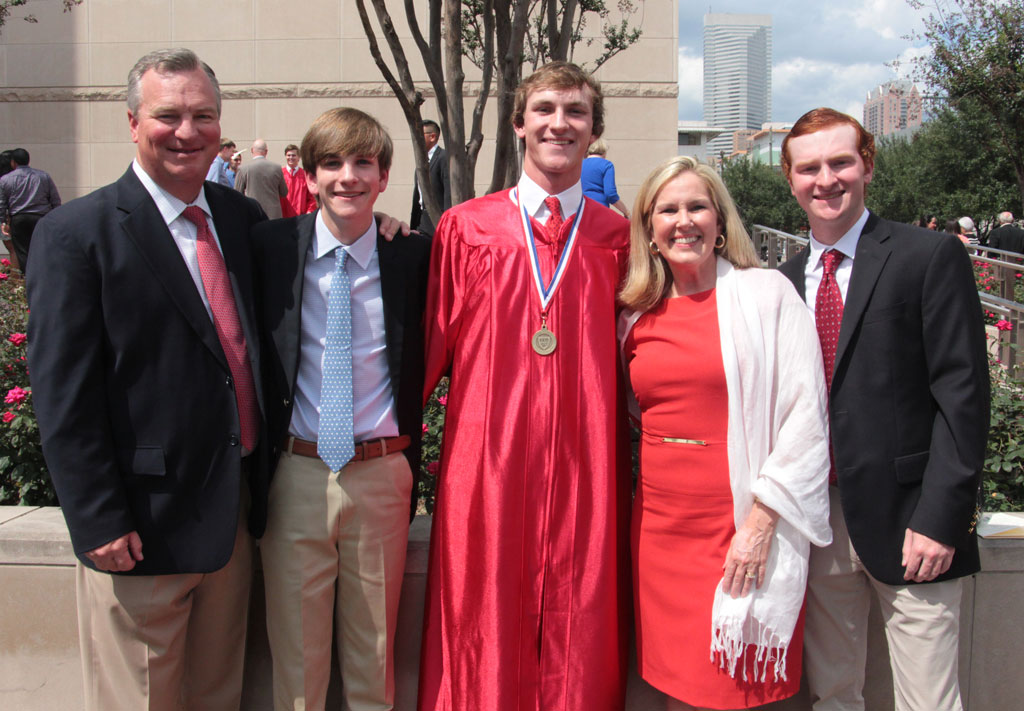 Catholic. Basilian. Teaching Goodness, Discipline and Knowledge since 1900.