One of the signature players in the history of Eagle Rugby is next bound for Baylor.
Two-time All-American Griffin Maat '17 is continuing his student-athlete career for a rising program in the Red River Conference after choosing from group of finalists that included Texas, Texas A&M and Oklahoma.
Among many influential factors, Maat made a strong connection with head coach Mason Herring, a Baylor assistant promoted in 2016 who owns more than a decade of experience with the Austin Blacks as a player, coach and club administrator.
"'I've been building that relationship with the (Baylor) coaches," Maat said. "(Herring) was straight to the point in terms of how I fit the program, how he plans to use me and how I can grow both as a player and a person over the next four years. Given all the options I had for rugby and academics, there was always a clear image in my head that Baylor was the place to be."
Maat is again the leading force for the Eagles while making the transition from flanker to outside center for his senior season, scoring a hat trick in the dominating 48-5 win over Memorial to even the St. Thomas record at 2-2.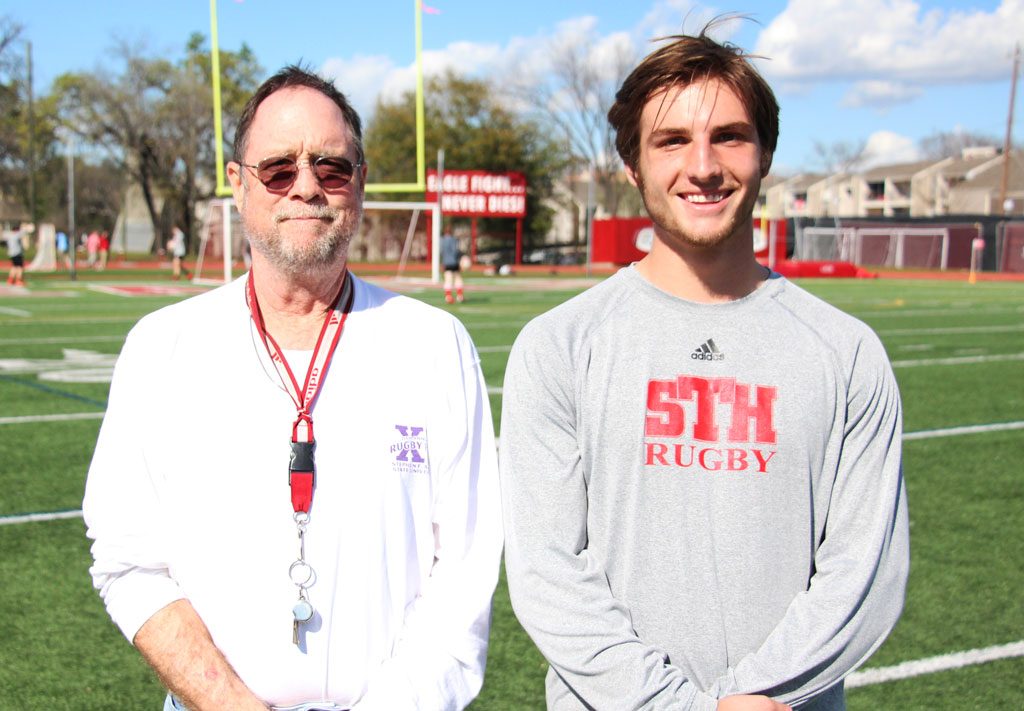 "This is a tremendous opportunity for one of the hardest working players we've ever had in our program," head coach Jim Wolfinger said. "I couldn't be more for proud of Griffin."
Wolfinger co-founded Eagle Rugby with assistant coach Brett Mills in 1999 and has tutored Andrew Locke '03 (two-time All-American West Point, USA coaching staff 2016 Olympics), Conor Mills '09 (two-time captain Texas A&M), Kingsley McGowen '10 (All-American and national champion St. Mary's College) and Keegan Mills '13 (Lindenwood University) among the highest impact performers in a program that first broke through with a state championship in 2002 and then proceeded to win five more titles in six years from 2008-2013.
"Often times the difference between someone who does exceptionally well and someone who does well is the motor," Wolfinger said. "Griffin has a huge motor, puts in the work and gets the results. He's an outstanding addition to the Baylor program."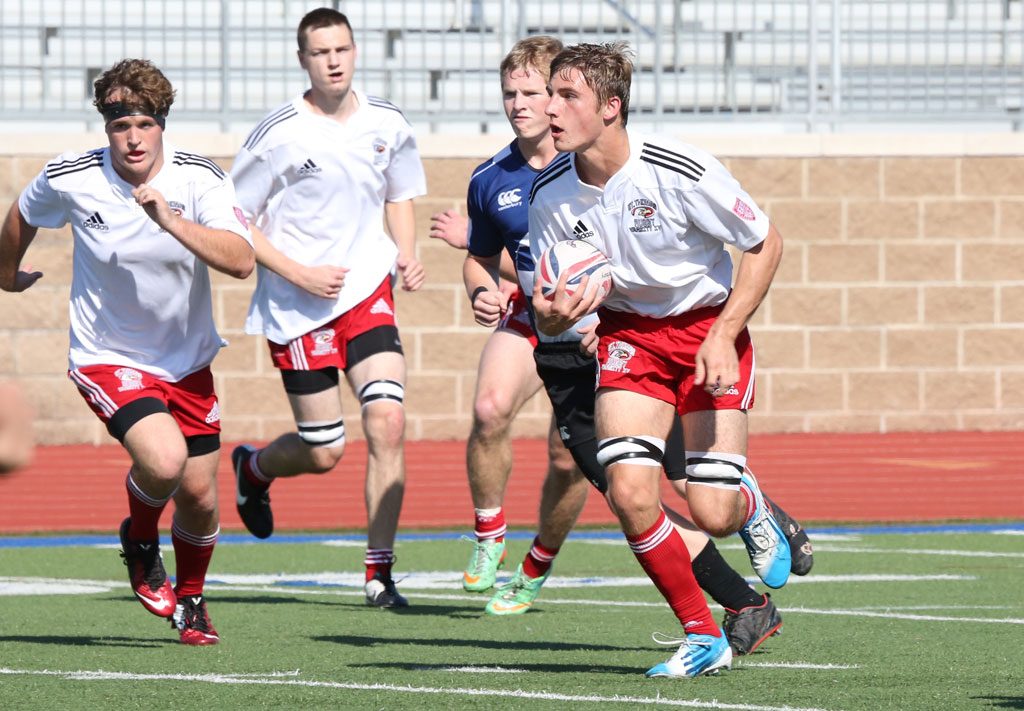 Maat's talent and profile developed significantly through a series of select USA Rugby camps. In 2016 he was named USA Rugby High School All American for the second consecutive year and invited to the prestigious Winter Camp in Casa Grande, Arizona, where he took part in one of the largest annual national team assemblies.
"There are so many talent players in this country," Maat said. "Having the chance to compete against the best is humbling, a motivation to reach a higher level, not just for the individual accomplishment but to make our (St. Thomas) team better. I'm always looking to see how I can benefit my teammates."
Maat wasn't introduced to rugby until after his freshman season with Eagle Football as he searched for opportunities to improve his athletic skill set.
"I saw that rugby was a sport where you tackled without pads," Maat said. "I thought that sounds like fun. I can use that to get better at football. I knew nothing about the game but the coaches were really patient and encouraging."
Maat soon devoted his full athletic focus to the sport and quickly rose through the ranks in Eagle Rugby. After not making the travel team for the first junior varsity match of 2014, he needed only three games to move up to the second tier varsity, earning additional playing time to become a starter, and by the regular season finale Maat was promoted to the varsity squad. He has seen his career soar over the next three years.
"The turning point for me was the 7s play in the summer (of 2015)," Maat said. "Four separate tournaments in the Houston area, players up to age 19, and by the end I was named MVP. That was a great feeling, that maybe I had some potential. Now let's see how far I can take it."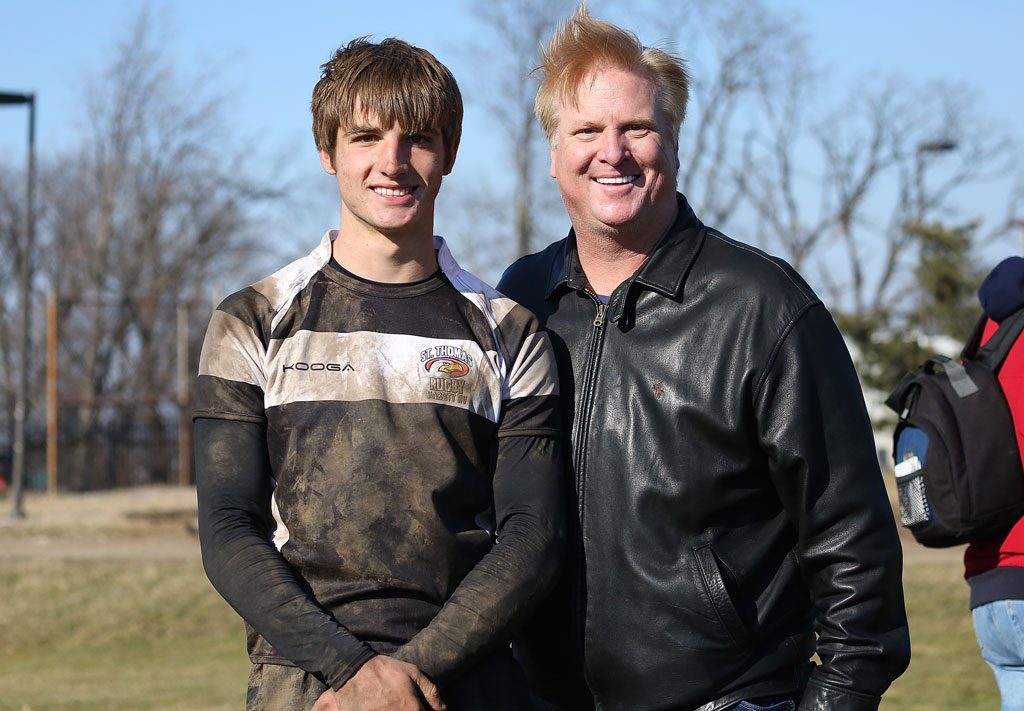 Maat first became intrigued with Baylor while on campus participating in a seventh grade championship football event with Pin Oak Middle School. He'll continue a strong family association with the university that includes his father and uncles. But Maat maintains that his decision was determined only after a thorough due diligence process.
"I really evaluated every single factor that was in play," Maat said. "From the student-faculty ratio and degree options, to meal plans, student activities and lifestyle. Baylor is just the right fit."
Maat embraces his promising future now available at Baylor and his final Eagle Rugby season with great appreciation for the totality of his St. Thomas experience where nurturing the complete student is the hallmark of the Basilian educational tradition.
"I've made great friendships here," Maat said. "The faculty have been so supportive. They care about each individual, want you to learn, want you to be engaged, be the best you can be. In many ways they are a second set of parents. One of the best decisions of my life was making the choice to come to St. Thomas."
Eagle Fight Never Dies!