St. Thomas Mike Netzel has announced the appointment of Rich McGuire as the Eagles head football coach and the promotion of former Texas A&M record-setting quarterback Jerrod Johnson to assistant head coach and offensive coordinator.
McGuire returns to Eagle Football after one season as a defensive assistant at Katy Taylor where the Mustangs won nine games and advanced to the area round of the UIL 6A Division II playoffs.
McGuire emerged from a group of four finalists as the new leader of Eagle Football, a coach who has demonstrated proven success and who shares the traditional values of the Basilian Fathers of developing the complete student.
"I feel as though I'm coming home," McGuire said. "I grew so much personally during my time here. I've grown as a coach in a lot of places. But my personal development here in a community of faith, working with Mike, made a profound impact on me. That's a significant reason why I wanted to come back. To make that same kind of difference in our young men. I missed the community, missed the faith. The timing is right."
McGuire was a vital element in the resurgence of Eagle Football from 2012-2015 as defensive coordinator for head coach Tim Fitzpatrick. The Eagles posted four consecutive 10-win seasons, claiming four straight district titles, advancing to consecutive TAPPS state semifinals in 2014-15 and extending the win streak at Hotze Field inside Granger Stadium to 26 straight games.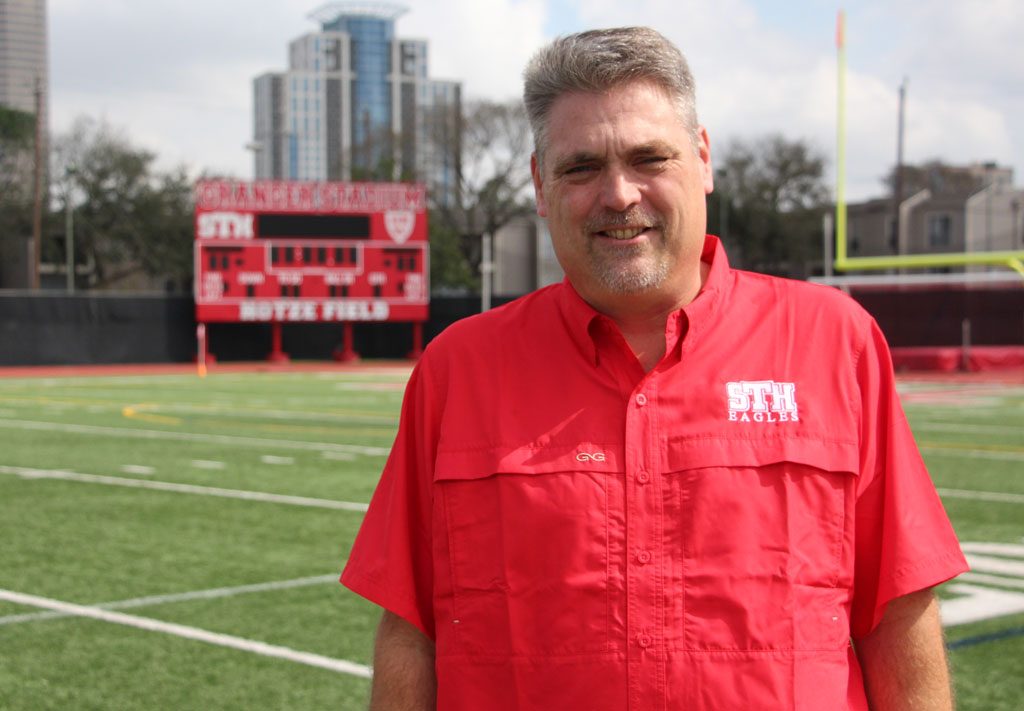 "Rich has a tremendous football IQ with an insatiable appetite to always learn more," Netzel said. "Whether through clinics or the coaching network he's cultivated throughout the state, there's a constant motivation to seek more. And he has equal abilities as a relationship builder, within the team, within his staff or within our support group."
President Fr. Kevin Storey, CSB firmly believes that McGuire embodies the competitiveness, the passion and a unified vision "that is the perfect fit with the Eagle community."
"I knew Rich was the right guy when he made the connection between teaching law in the classroom and coaching football on the field," Fr. Storey said. "He realizes that great coaches are first effective teachers. He's convinced he can build one of the best football programs in Texas. While that may seem an audacious goal, especially given that this is the most highly competitive state in the country, it's definitely the perspective that we're striving for at St. Thomas."
McGuire brings a clear message of how to match the program's competitive desires with 2017 realities, beginning with "a culture of accountability where the bedrock is built on hard work and hugs. What kids need is a fair and consistently high standard set by someone who advocates for them and holds them to that standard."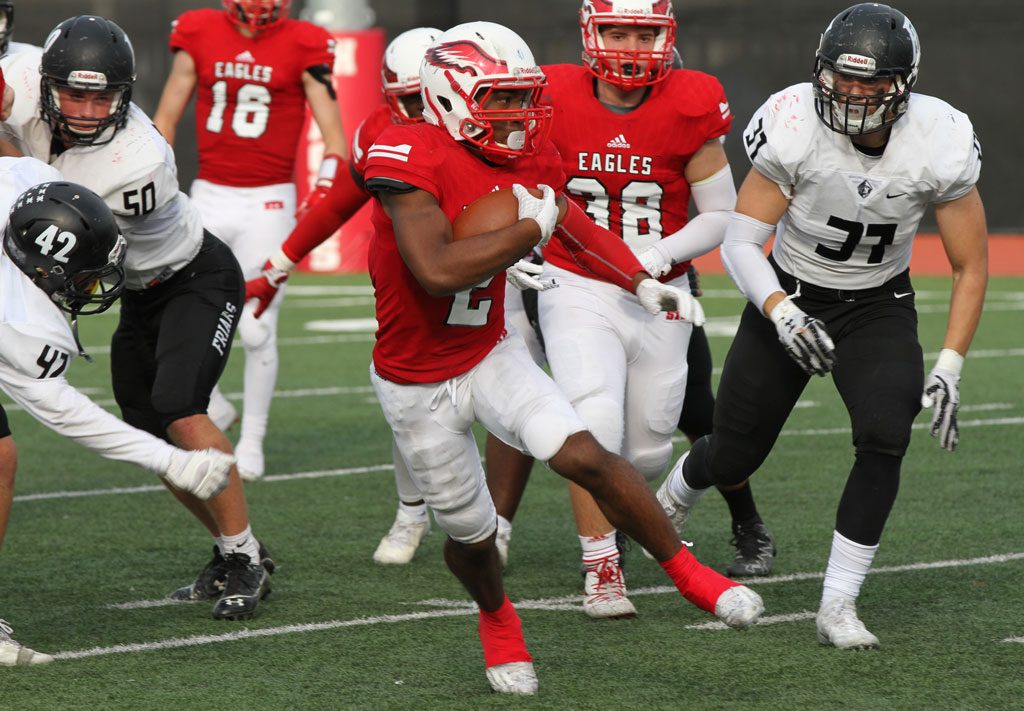 "We should be playing for or winning a state championship in two of the next five years," McGuire said. "That's the goal. If you don't have that mentality, then why do it."
McGuire brings a skill set consistent with the Basilian motto of Teach Me Goodness, Discipline and Knowledge. He earned his Juris Doctor and Master of Education from the University of Illinois, has served on the St. Thomas faculty, and in addition to his head coaching role will assume the duties of Student Athlete Mentor in the school's Learning Enrichment Center to ensure a comprehensive Eagle experience.
"I believe Rich will provide a huge impact on our students both on the athletic field and in the classroom," assistant principal Mary Criaco said. "He'll work closely in the LEC with director Terri Shaffer and establish that the top priority for our young men is to perform as students and then as athletes. Rich firmly believes and supports a student-athlete being a student first."
McGuire said "it's about helping the students. Whether in the classroom, with a teacher, or the NCAA or whatever the goal may be. And it could be the goal that particular day … 'How do I get through this test'… or it might be 'How do I get into Princeton.' It's all a great challenge. It's about empowering our students. It's who we are here."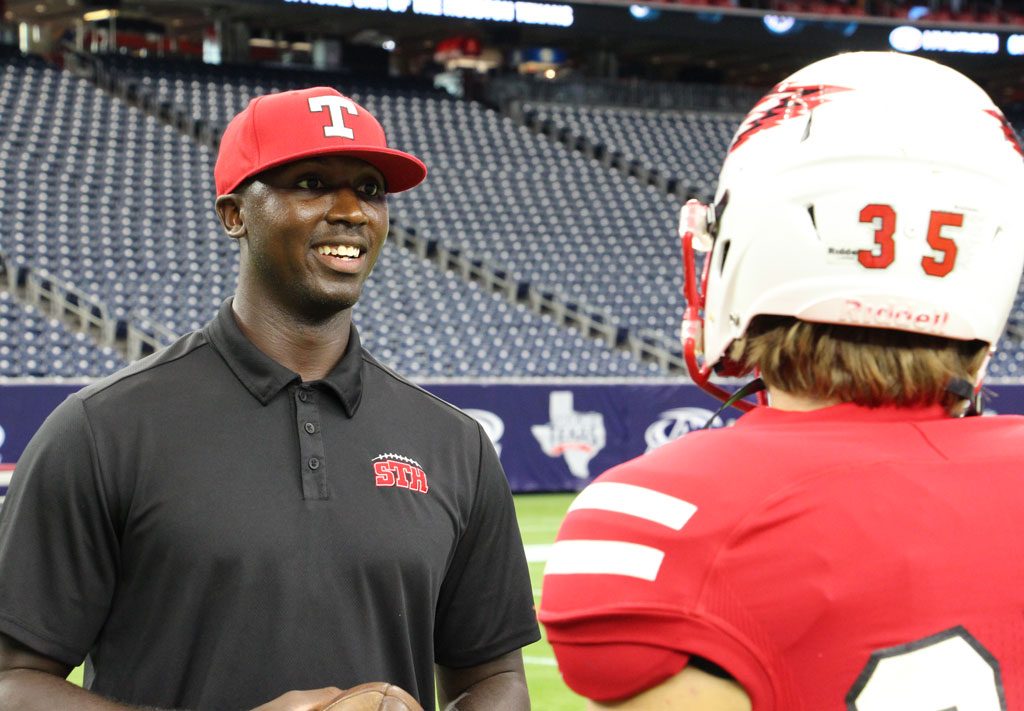 Johnson has served as a part-time coach to Eagle Football for the previous two seasons and provided significant input with an offense that averaged more than 37 points per game and generated more than 5,000 yards of total offense in 12 games in 2015.
Netzel anticipates Johnson bringing "an inventive offensive style" as coordinator and play caller. "His specialty work with quarterbacks is known throughout the city, state and region, and there's talent at that position returning for us next season."
After leaving Texas A&M as the program's all-time leader for passing yards and total yards, Johnson battled through a series of recurring injuries while spending time with the Philadelphia Eagles, Pittsburgh Steelers, Seattle Seahawks, Chicago Bears and Baltimore Ravens but never securing a final roster spot to appear in an NFL game.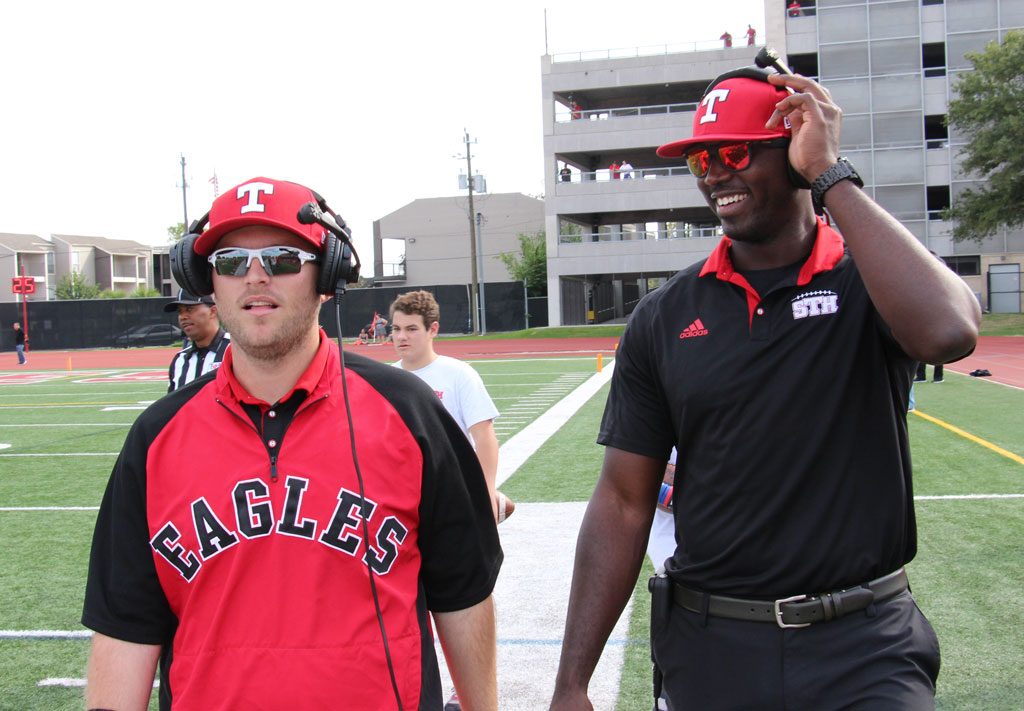 Johnson was added to the St. Thomas faculty in January 2017 and exudes an infectious personality with the ability to galvanize any group he's a part of, not exclusive to his new role with Eagle Football.
"I've lived in 12 cities in six years pursuing the NFL dream, and this (move with St. Thomas) is almost cleansing, refreshing," Johnson said. "I love the bond that I've made with the kids and feel so at peace that this is where I should be for the next stage of my life."
Netzel said that St. Thomas is "truly fortunate to have Jerrod as part of our family. I was adamant to bring him aboard when there was an opening before the spring semester. His football accomplishments speak for themselves. He's the son of a coach who has been immersed in the game his entire life. His leadership during this void before naming our head coach has been invaluable. He and Rich make for a dynamic combination."
Johnson was a three-sports star at Humble where his father Larry Johnson proved to be a powerful influence as a coach, principal and longtime educator in the Humble Independent School District. Jerrod was first encouraged by McGuire to seek an opportunity at St. Thomas two years ago and since that introduction Johnson has gained a distinct appreciation for the totality of the St. Thomas mission.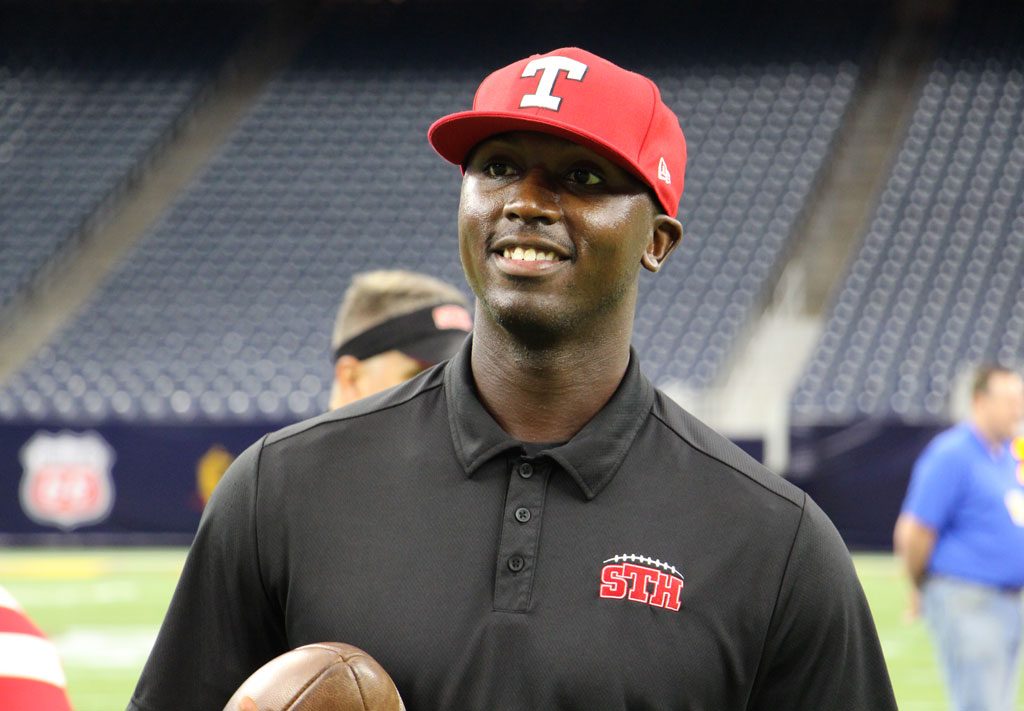 "I truly respect the values here, the emphasis on academics and molding young men," Johnson said. "And this is a really good high school football job and program … facilities, administration, support … the total package. Much of what is in place right now is a testament to coach Fitzpatrick. Rich has a great understanding of that recent history, the tradition, and how to build on what is already here. For a young coach to learn and gain experience in this environment, it's exciting to think how far we can take it."
McGuire previously was the assistant head coach and defensive coordinator at Klein Forest for seven seasons and the head coach at Bartlesville High School (OK) from 1997-2004.
Netzel said McGuire brings "an open door policy that makes people comfortable" and promises to build a coaching staff capable of nurturing the kaleidoscope of backgrounds that historically have made up the St. Thomas student enrollment.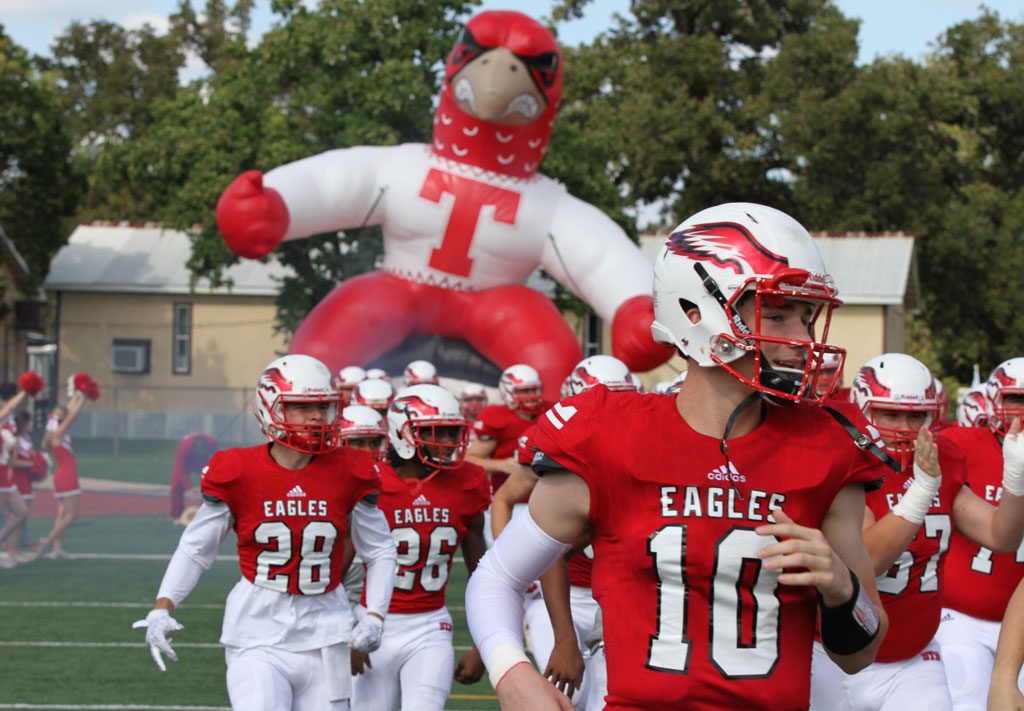 "I'm thrilled to be teaming with Jerrod and the continuity of our existing coaching staff," McGuire said. "We have so many key players returning from last season who gained experience. And with the upcoming Joplin Campus expansion I see the program growing in numbers and gaining in profile unlike ever before."
Eagle Fight Never Dies!