The much needed antidote to a struggling start for Eagle Football was as obvious as it was elusive during a frustrating September stretch.
The breakthrough 51-0 verdict over Pasadena is what head coach Tim Fitzpatrick hopes is the potential season-turning victory creating momentum and a belief that there is much to be accomplished during the second half of the St. Thomas season.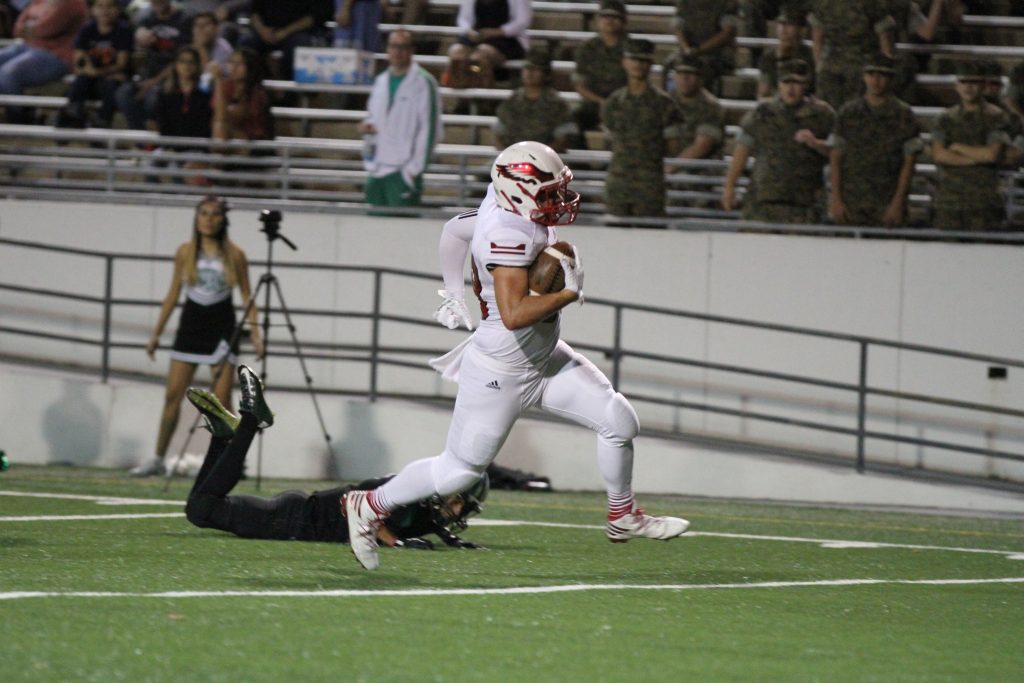 Linebacker Michael Gentempo '17 ignited a 23-point opening period with a fumble return touchdown followed by a pair of breakaway scoring runs from Ian Wheeler '19 and fullback Seth Dietz '19.
"Our young guys just relaxed and played," Fitzpatrick said.  "The early game success certainly took off some of the edge after some frustrating weeks.  We really didn't change the preparation.  The focus was what we've emphasized from the beginning … eliminate the mistakes and big plays on defense.  Do your job, stay disciplined, rely on your instincts and be a football player."
An overall lack of efficiency on third down and inconsistencies on both sides of the ball during September had cost the Eagles where it impacts most, on the scoreboard, against a blue chip crucible of opponents who combined to win 21 of 23 games through the first six weeks of the season.
The shutout was the sixth since Fitzpatrick was promoted to the head coaching position in 2012 and the largest margin after blanking Beaumont Monsignor Kelly Catholic 49-0 in 2014 and Tomball Concordia Lutheran by that same score in 2015.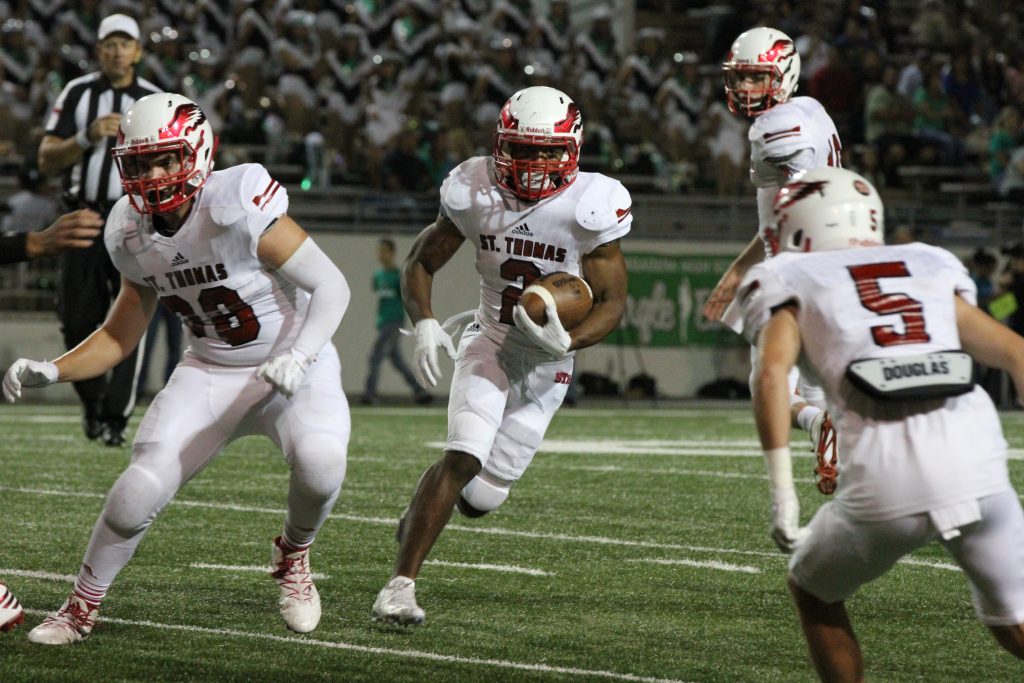 Eagle Football now has an immediate opportunity to have their confidence resonate louder and longer.  
The final preliminary before defending their four-year TAPPS 5A District 3 title is against San Antonio Central Catholic in the annual Homecoming contest, the third of four regular-season outings at Hotze Field inside Granger Stadium where the Eagles notched their 27th straight home win with an opening night knock over Kinkaid.
Three games later the success streak was snapped when STH stumbled in the second half after a scintilating start and fell 28-20 to Beaumont West Brook, their lowest offensive output so far in a six-game undefeated march.
"Regardless of the opponent each game starts with us having a physical presence in the offensive and defensive fronts,"  Fitzpatrick said.  "Running the ball, exploiting some single coverage in the passing game and finishing plays.  Overall we can certainly get better, will have to get better and just keep climbing the mountain."
Eagle Fight Never Dies!