GAME EIGHT:  BULLDOG STADIUM, BEAUMONT
Eagles 49
Monsignor Kelly Catholic 0
WHAT YOU NEED TO KNOW
Quarterback Peyton Matocha '19 threw four touchdown passes during a first-half avalanche of points, two to wide receiver Daniel Perkins '17, as Eagle Football scored on its six possessions and opened defense of its four-year district championship with a dominant 49-0 shutout.
TURNING POINT
Running back Jaylen Davis '19 put the Eagles in command from the start, capping the first two series with touchdowns.  Matocha kept the opening drive alive with a leaping 10-yard designed keeper on fourth-and-five to the Kelly five-yard line, then later tossed for a pair of scores in a seven play stretch, sandwiched around a short-range touchdown burst from Ian Wheeler '19 and a 35-0 advantage.
The outcome was determined before halftime.
TRENDING
The Eagles have now won three consecutive games by a combined score of 140-13 to even their season record at 4-4 and racked 20 consecutive district victories since 2012, the first season with head coach Tim Fitzpatrick.
The shutout was the second in three games, the seventh under Fitzpatrick, three by a 49-0 count, the second largest margin after blanking Pasadena earlier this season 51-0.
RAPID REACTION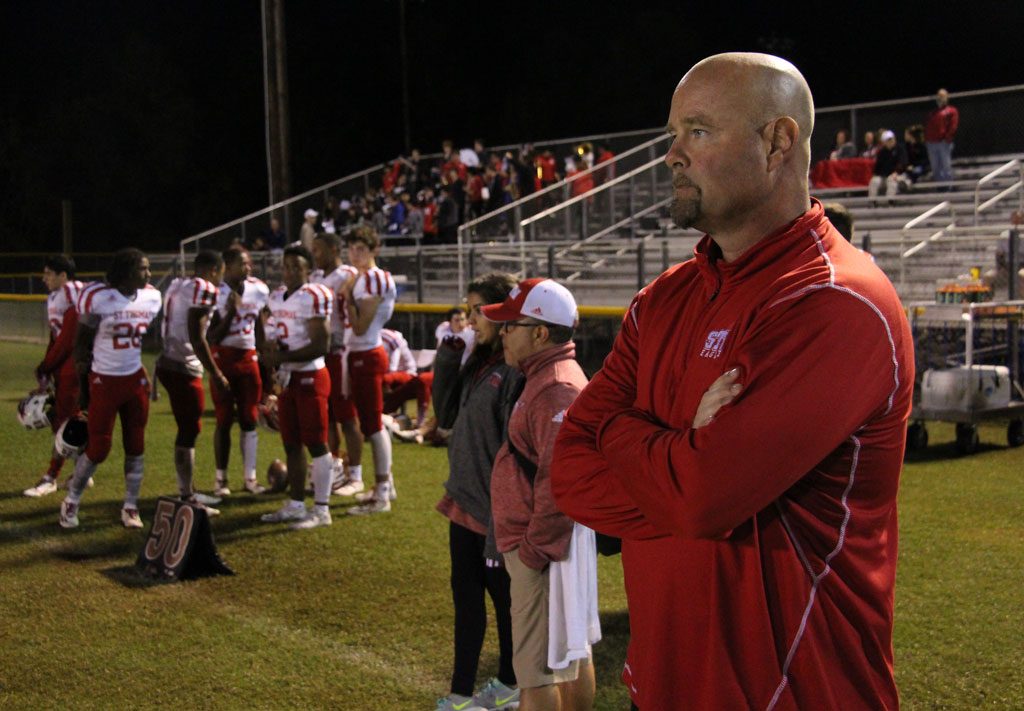 Fitzpatrick:  "Great start to the district (race).  Taking a team out convincingly shows that this group is maturing.  We're growing up.  We preach that you play the game, not the opponent.  Set the bar high, perform against your potential.  That tough schedule to open the season is likely paying some dividends now.  And we got out injury free … always a plus."
OUT OF THE BLOCKS LIKE BOLT
Davis touched the ball four times for all 74 yards of the five-play opening drive, gaining 19 yards on his first two carries before taking a middle screen from Matocha and cruising 45 yards to the end zone.  The runaway was underway.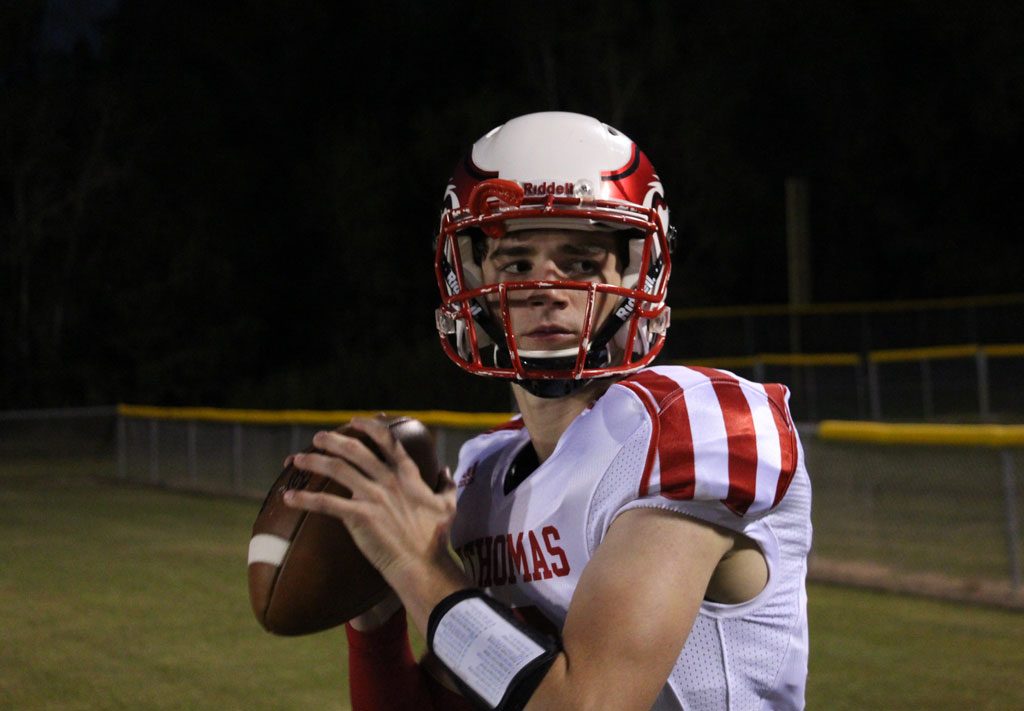 Two of the next three Eagle touchdowns were one-play Matocha to Perkins possessions … a 31-yard strike following a shanked punt pushing the margin to 21-0 … then a left-to-right slant for an uncontested score and 35-0.
With less than 30 seconds left before the break, the Eagles broke the game wide open when Matocha teamed with running back Parker Nelms '18 for the sixth St. Thomas touchdown in six possessions.
"D" IS FOR  DOOMSDAY
The suffocating Eagles defense prevented Kelly from crossing midfield, allowed only three first downs in the first half, two by penalty in the same drive that ended with a Sean Madden '17 interception, forcing four three-and-out series in six possessions.
Max Brower '17 slam-danced a Kelly ball carrier to stuff one series, then linebacker Daniel Garcia '18 and defensive tackle Sam Yeboah '17 crushed the next with back-to-back bruising knocks on the Bulldog quarterback.
Two possessions later defensive lineman Elliott Hammon '17 and Jarian Parker '17 were relentless in pursuit in forcing Kelly into a fourth-and-20 from deep in their own territory.
The wave of destruction continued in the third period when John Fitzpatrick '18 dismantled Kelly's opening drive with a sack, and then combined with Chris Rose '18 and linebacker Jonathan Britt '17 for a three-man wrecking crew and another negative yardage Kelly possession.
MORE FITZPATRICK
"We've really improved out discipline and integrity up front … a much better tackling team … have limited the explosive plays that really hurt us earlier in the season.  Big plus tonight … we got a lot of guys into this game and that's always important with a team is young and still developing depth.  Those reps will prove valuable down the road."
[

CLICK HERE for a Eagle Band photo gallery from halftime.

]

QUICK RELIEF

Parker replaced Matocha to start the second half and immediately reeled off runs of 31 and 22 yards before Wheeler's second touchdown of the game capped a four-play trip to the end zone and 49-0.

THE SERIES A TAD ONE SIDED

The Eagle have won eight straight games in an overmatched matchup by a combined score of 415-52.

SALUTING ONE OF OUR OWN AND ONE OF A KIND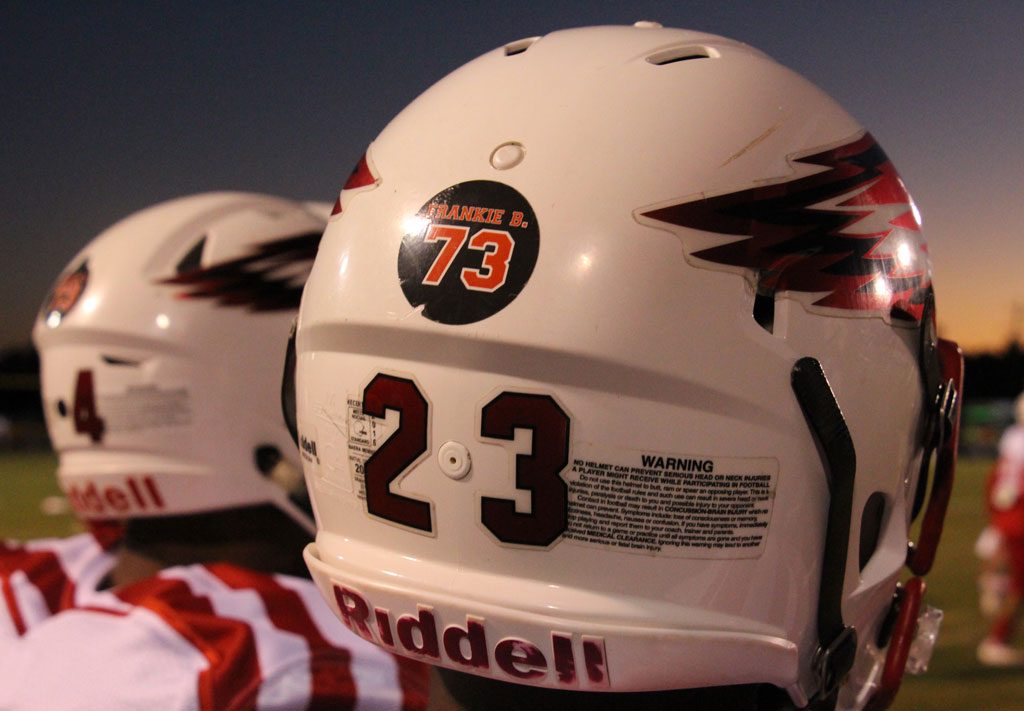 Eagle Football will wear a specially designed helmet sticker throughout the season to honor beloved alumnus and STH Sports Hall of Famer Frankie B. Mandola '65, a former Eagle All-American and two-sport student-athlete at Rice University, a forever Eagle ambassador and famed Houston restaurateur who passed away in July 2016.

UPCOMING

The Eagles travel to Tomball Concordia Lutheran Friday, October 28 before the regular-season finale with St. Pius X at Hotze Field inside Granger Stadium during Alumni Weekend.

MORE FITZPATRICK

"Now it's crunch time.  Still have some things to clean up … getting our quarterback dirty which is not good.  We need to improve our protection … that's going to be critical moving forward.  We've been in some games this season against some heavyweights.  We'll see how we respond the next two weeks."

Eagle Fight Never Dies!