This story was originally published in March 2015.
Head baseball coach Ryan Lousteau's pre-season challenge for his Class of 2015 had little to do with defending the TAPPS 5A state championship or adding to the proud pedigree of the St. Thomas program.
Every year Lousteau emphasizes a community service project for his seniors.  And this year's group quickly identified where their collective efforts would perhaps make the most significant impact … a game day tribute to raise dollars and salute the family of former teammate Tucker Redden, whose father, Tim Sr., passed in February 2015 after a courageous year-long battle with kidney cancer.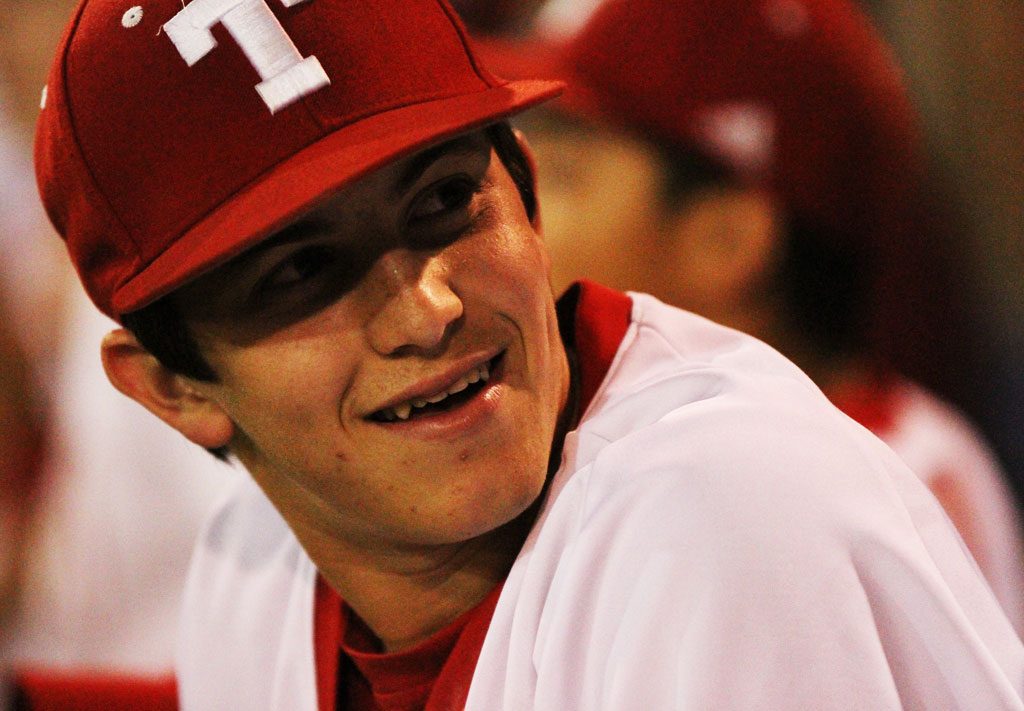 "We just wanted to help in any way we can," Jared Hoesel '15 said.
The assist came in the form of a varsity / junior varsity doubleheader with The Kinkaid School at Fr. Wilson Field which generated $10,000 from gate and concession proceeds, plus monies collected from a day-long silent auction and raffle, all generously accepted with heartfelt gratitude  by Tucker, Tim Jr and their mother, Tammy.
"One of the main reasons we wanted to send the boys to St Thomas was because I witnessed and seen what this community is all about," Tammy said.  "What we have experienced and endured over the past year wouldn't have been possible without the added strength and support from those who reached out to us, especially from this St. Thomas community."
Tucker's older brother, Tim Jr '09, was a TAPPS all-state infielder who helped lead STH to district and state championships in 2008.
Tucker was following those same cleat marks when his father's health condition forced the family to relocate to Rockport mid-way through the 2013-14 academic year, missing out on the dramatic STH playoff run which resulted in the program's 23rd state title.
"We all heard about the Eagle brotherhood when we came in as freshmen.  I left here as a junior, am back for just a weekend as a senior, and it's as if I never left.  For the rest of my life I'll remember my times at St. Thomas," Tucker said.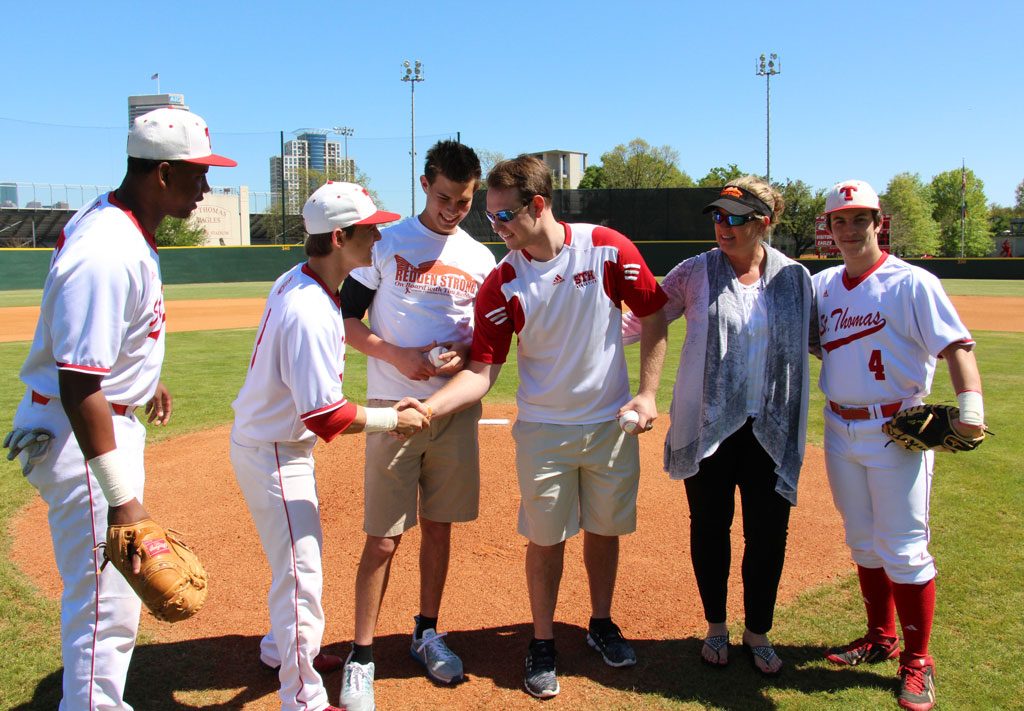 The Reddens returned to the field where they wore the Eagle red and white with distinction and joined their mother at the pitcher's mound for a pre-game ceremonial first pitch alongside Hoesel, Wendell Champion '15 and Max Machiorlette '15.
"Any time you get rocked the way our family has the last few months, really the last year since Dad was diagnosed, there's such comfort when people reach out and help you.  It makes you realize the world would be such a better place if there were more good people willing to make those efforts," Tim Jr said.
Lousteau took considerable pride that his players "understood there's more to life than just their own pursuits.  The seniors saw a good friend and a family in need.  We always say there's more to our program than just wins and losses.  And this is just another example to prove it."
Prove that Eagle fight … and commitment … never dies.
"Give the group credit.  I didn't do a thing," athletic director Mike Netzel said.  "The seniors gave me a template for all they wanted … targeted the game date, made the contacts, acquired the auction items, all the details, all the logistics.  Senior dads worked the concessions.  I can't think of a more fitting way to salute a great father and husband who loved his family and loved life."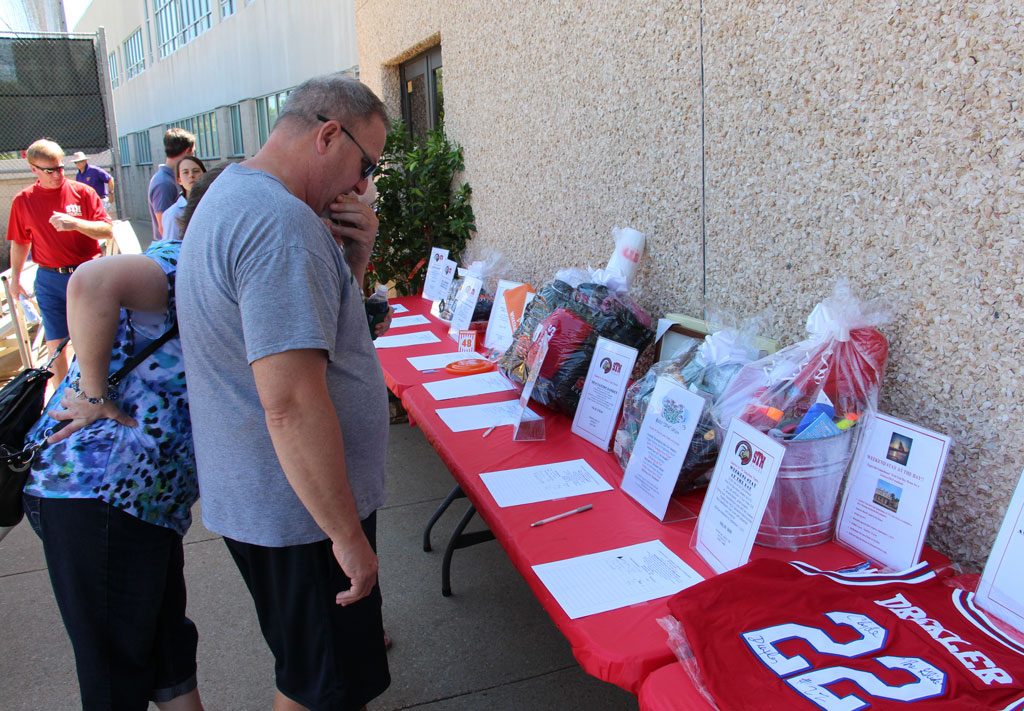 Hoesel determined early in the planning stages that a raffle would be required to drive the largest dollars and donations.
He hooked a pair of midcourt Rockets-Spurs tickets in the lower concourse in the Club Level, with a postgame photo opportunity at center court with play-by-play voice Bill Worrell and analysts Clyde Drexler and Matt Bullard … courtesy Randy Sorrells, whose son Garrett '16 plays STH golf for Billy Tuten.
Hoesel then approached Lisa and Tom Ganucheau, the parents of classmate and teammate John '15, and arranged for a weekend stay at their Jamaica Beach house in Galveston for the silent auction.
Also among the many other items available were an autographed Rockets jersey from the Hall of Famer Drexler, golfing rounds at Houston Oaks Country Club and a Redden Strong t-shirt signed by members of the 2015 STH varsity.
"It wasn't easy to get started.  But once we got the ball rolling it seemed to all come together," Hoesel said.  "I looked for anyone I thought might be willing to donate or push me in the right direction.  I made some calls and stressed that we were trying to help a family during some tough times and got enough responses.  It's what St. Thomas is all about.  There's a brotherhood, no question."
The collective effort was similar in spirit to the previous STH benefit games, including fundraisers to fight against breast cancer and ALS.
But the personal nature of this latest project proved profound.
Hoesel admittedly has felt a recurring emotion after attending the last services in Rockport with more than a dozen other Eagles, Lousteau and assistant coaches Sean O'Neill '00 and Keith Page.
"It was a humbling experience.  You take it for granted every day that you have a father and mother.  And Tucker isn't going to have that the rest of his life," Hoesel said.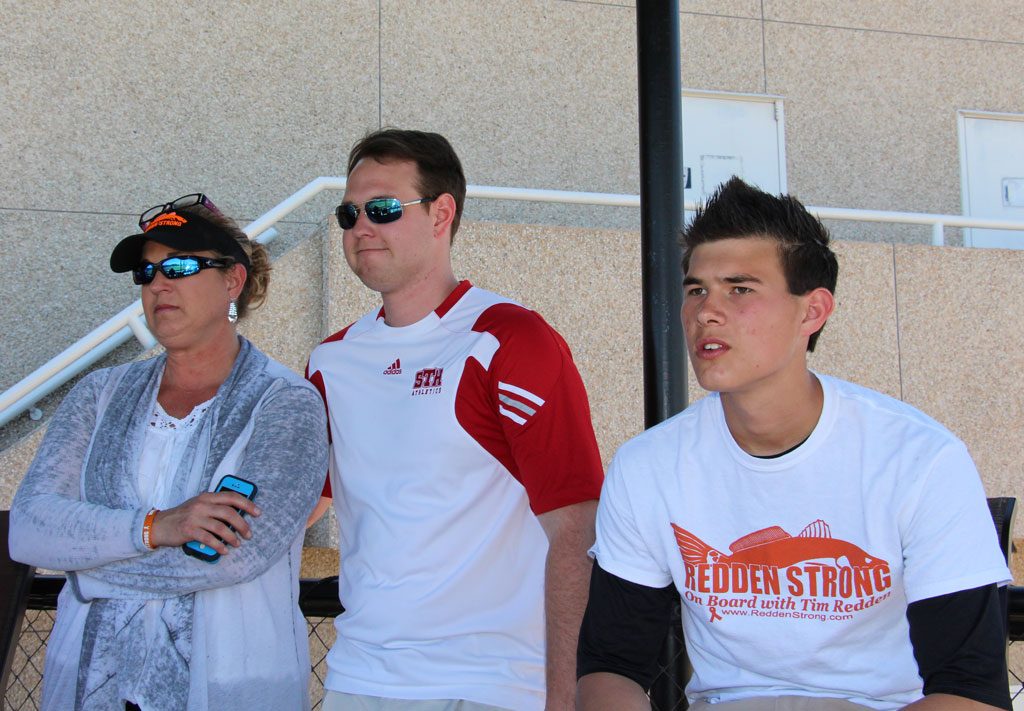 The STH ties to the Reddens have turned stronger in the wake of Tim's passing.  Tim, Jr is a house guest of Netzel while attending South Texas School of Law.  Tucker completed his senior season at Rockport-Fulton High School as team captain and was named to the Texas High School Baseball Coaches Association 3A All-State team, the first such selection in school history.
"This all means the world to me and my family," Tim Jr said.  "What's extremely special is that the guys did it themselves.  Jared really the led the charge.  Just speaks to the power of the St. Thomas community."
And all associated with STH echo that the tribute was measured less by the money raised and much more about the support and sentiment which cannot carry a price.
"We just hope the Reddens know that so many here at St. Thomas haven't forgotten them, that they're not going through all this by themselves.  Perhaps all this picked up their spirits just a bit and will stay with them," Hoesel said.
Eagle Fight Never Dies!