This story was originally published March 2014.
A recent 91st birthday wasn't near enough reason for Jackie Burke `40 to break from his deeply rooted morning routine.
He would be found in the hollows of what he believes is his grandest golfing accomplishment, the walls of his wood-paneled owner's office lined with framed photographs, the shelves packed with plaques and mementos of a life unlike any other in a game which respects history and regards tradition like no other.
On this occasion the recollections are not of back nine comebacks at Augusta National and or riveting Ryder Cup wins.
No historic tales from the golf course, rather where the course was plotted for his legendary life and professional successes.
The first name in nostalgia is not Hogan, not Snead, but Rev. Carl Allnoch, a St. Thomas Basilian Father who would eventually become the academic and spiritual leader of the school in the 1960s.
In 1940, Fr. Allnoch was a priest … and instructor … and head football coach … who could rival any Marine drill sergeant from Burke's future years in World War II.  But Allnoch could also dish with subtlety.  And one particular lesson remains as vivid this day to Burke as the day the Basilian delivered it decades ago.
"He put the number 50 on this board," Burke recalls without hesitation.  "And the number 51 on the other board.  And then told the class … if you earn this one … do not spend that one."
For decades long after, it would be Burke who dispensed the words of the wise, golf's greatest living sage with plenty still to teach with, but one ground-rule – check your ego at the door and listen up.  Non-negotiable.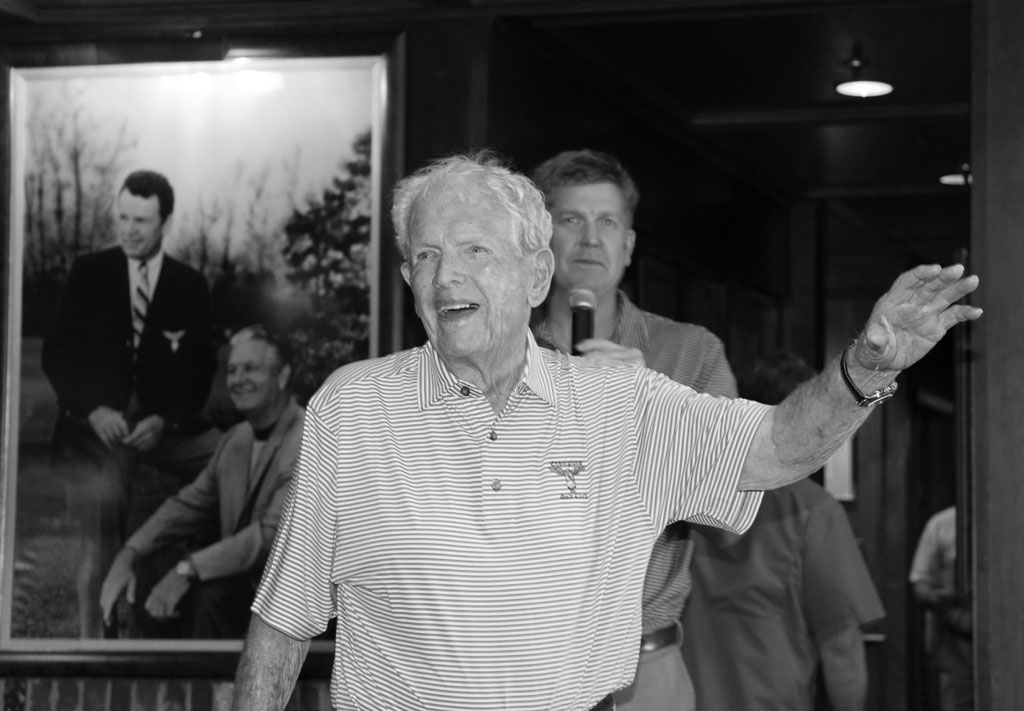 Burke's opinions are hard and straight … like the drives off the tee which led to 17 tour wins and two major titles separated by a matter of months.  A renowned instructor and one of his game's great ambassadors.  An original by any standard.
And with St. Thomas on the brink of its next defining moment, the $66 million 4500Forever capital campaign to expand the physical footprint, improve its facilities and propel into 21st century education, to visualize where STH is headed, there is no greater authority to paint the picture of where the school has been, and what continues to serve as his Basilian bedrock.
"They instilled that goodness, discipline and knowledge … didn't just talk about it,"  Burke says of his St. Thomas time bordering on 75 years ago.  "That's just the way they were.  You couldn't have gotten a better education than what I received from the Basilian Fathers.  They were older guys.  The rest of us kids didn't know what the hell we were doing."
Burke was part of last St.  Thomas graduating class at the original downtown location before the move to the current 4500 Memorial address.
"We didn't have playing fields," Burke says.   "Played basketball on dirt.  Had a handball court and boxing gloves.  That was it.  And we fought sometimes at lunch."
Presumably without the gloves.
Fitting given that Burke was never known to pull a punch, verbal or bare-knuckle.  Not then, not now.
"We didn't have a cafeteria for lunch," Burke rememberes.  "Nearby families would make sandwiches for us.  Rode the bus in every day from River Oaks to Austin St.  Went to dances with the St. Agnes girls.  Only ones we knew."
Burke knew from the early ages what was expected from him.  Hard work.  No nonsense.  And no hesitation when asked what remains the greatest impact of his St. Thomas experience.
"Just the Basilians," Burke immediately answered.  "Father Higgins.  Father O'Rourke.  Father Magee.  Father Sullivan.  I remember every one of them."
As soon as Burke completed his St. Thomas' school day he would immediately head to the caddie yard at River Oaks Country Club, where his father, Jack Burke, was the first teaching professional.  His son proved to be quite the protege.
By age 13, Jackie Burke was running his father's pro shop, by age 20 was a working pro at Galveston Country Club, nurturing a love for the game rivaled only by the loyalty to his faith.
"My dad was from Philadelphia,"  Burke says.  "Anything Catholic was what I was going to be doing.  Went to St. Anne Church.  Grade school and every Sunday.  Always sat in row one.  Dad would say that way you get to hear the Mass first."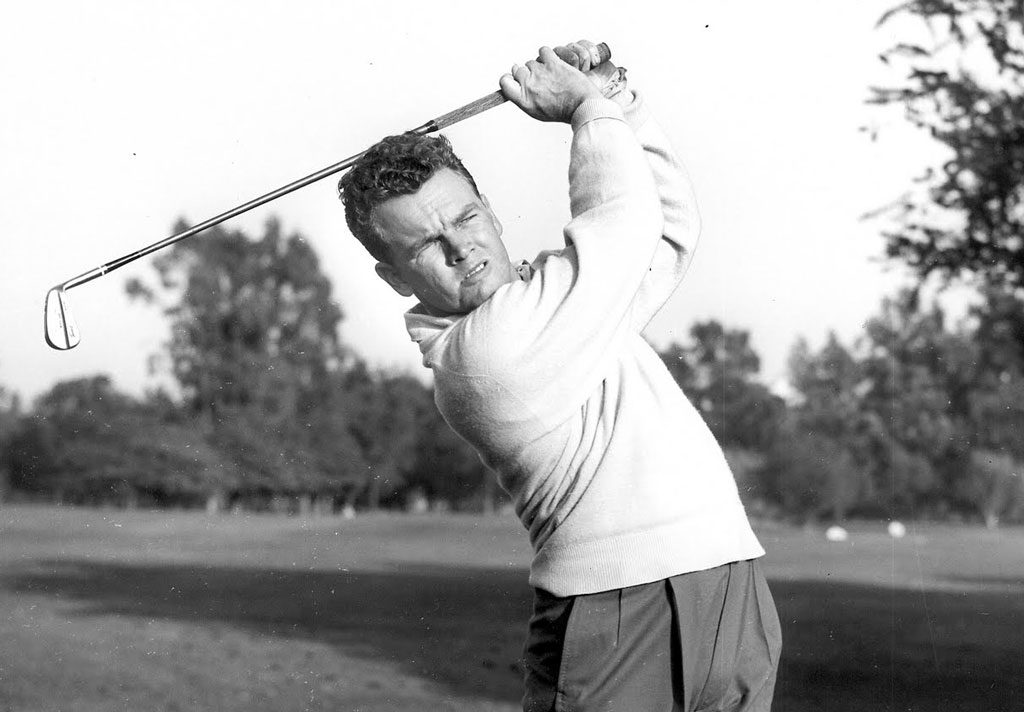 In 1952, Burke finished first five times on tour, including four tournament wins in a row, and was first for the Vardon Trophy for low scoring average.
In 1956, Burke staged the greatest final-round comeback in Masters history, coming from eight shots down to win his first major, the first televised Masters, and later that year added the PGA Championship.
Burke then struck his boldest move.  He left the full-time tour at age 35 and with three-time Masters champ and close friend Jimmy Demaret founded Champions Golf Club in their hometown Houston.
Burke's golfing cathedral would host several Tour Championships, a Ryder Cup in 1967, a U.S. Open in 1969, a U.S. Amateur in 1993 (the year before Tiger Woods would win three in a row).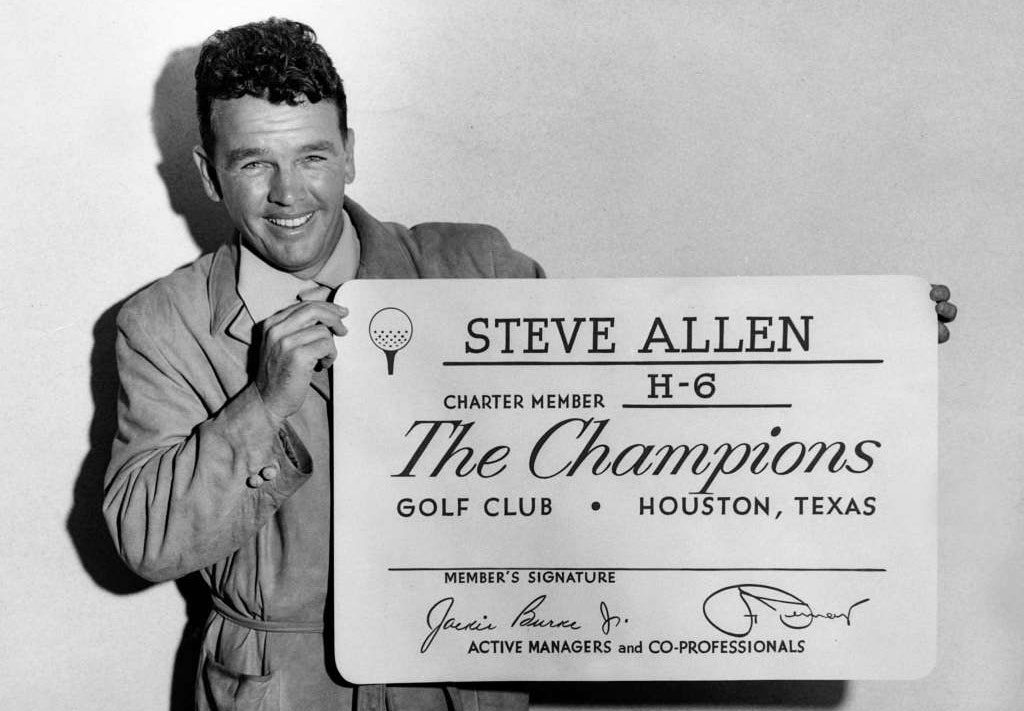 "We tried to bring something to Texas they didn't have here," Burke says.  "And that's a golf club.  There were no golf clubs here.  Plenty of country clubs with dances and food.  And we brought at least 50 events to this city that wouldn't have been here otherwise.  And I'm on line to bring some more."
Champions – no better brand is synonymous with Jackie Burke.  One he protects with a vengeance.  A number of years ago Burke was involved in a copyright infringement with a club manufacturer.
"We went after them," Burke barks still with defiance.  "This one lawyer said to me, 'Mr. Burke, what education have you had?'  I said, 'St. Thomas High School.'  He said, 'What else?'  I said, 'I don't need anything else.'  Won every lawsuit."
Burke made his mark by never backing down, whether an argument, a conviction, a $2 nassau press.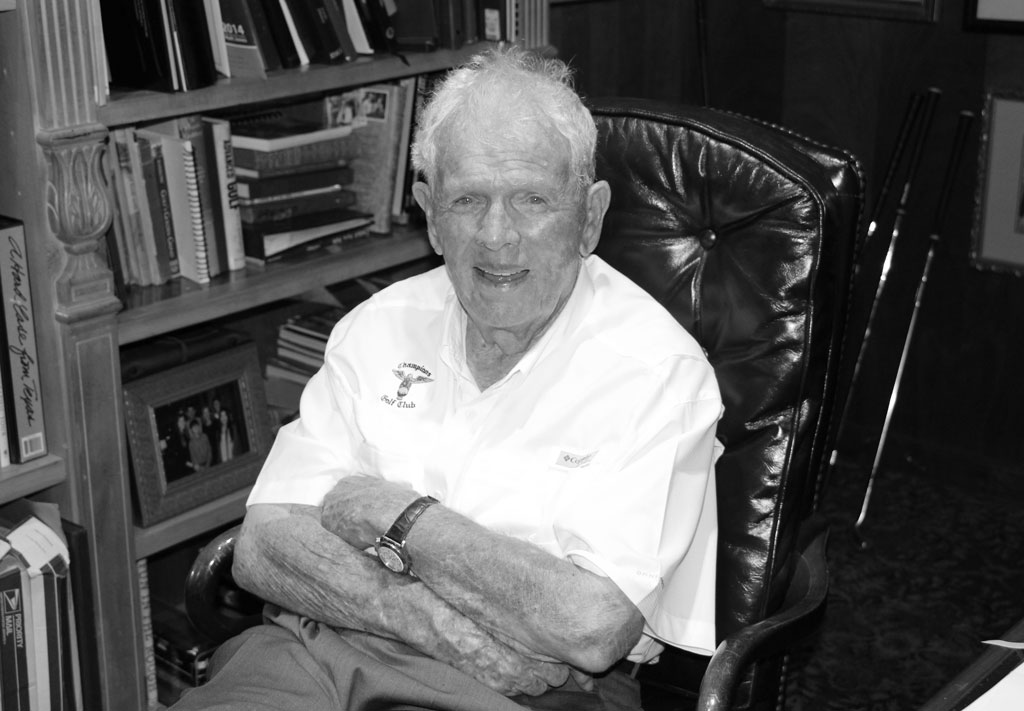 Yet the World Golf Hall of Famer remains a traditionalist at heart.  He never found a better match play than his wife Robin, the runner-up at the 1997 U.S. Women's amateur and the vice president at Champions.
And the two-time Ryder Cup captain is ever ready, always willing to captain the cause for his beloved alma mater.
"Kids are lucky if they get an education out of St. Thomas similar to mine," Burke says.  "That's where the value is.  The rest are amateurs compared to the Basilians.  Don't think anyone can touch them.  I just hope the Basilians don't run out of priests."
Catholic. Basilian. Teaching Goodness, Discipline and Knowledge since 1900.