GAME 10 – HOTZE FIELD INSIDE GRANGER STADIUM
St. Pius X 35
Eagles 21
WHAT YOU NEED TO KNOW
Quarterback Peyton Matocha '19 tag-teamed with receiver Daniel Perkins '17 for two touchdowns in the final 90 seconds of the first half to forge a 14-14 tie but Eagle Football couldn't maintain the momentum and relinquished its four-year grip on the TAPPS Division I District 3 championship after its first district defeat in 22 games.
TURNING POINT
In the closing seconds before halftime Matocha (18-of-33, 218 passing yards) dialed up Perkins in the left corner of the end zone for a 27-yard score to cap an 81-yard drive that took only 48 ticks off the clock. But St. Pius quickly answered out of the recess with two touchdown strikes in its first five plays covering 46 and 76 yards for a commanding 28-14 lead.
RAPID REACTION
Head Coach Tim Fitzpatrick: "Our guys played hard and battled. Tremendous effort to rally and get us even. But we're still really trying to find out who we are and the explosive plays really hurt us. That's what we eliminated during our (four-game) win streak but tonight it was too much to overcome."
TURNING THE TIDE
The Eagles labored through three straight three-and-outs to start the game while the defense was gashed for sizable yardage into the second period. The deficit would have grown to three scores but St. Pius hooked a 29-yard-field goal early in the second period that would have left the Eagles down 17-0.
St. Pius threatened again on its next series but a red zone fumble recovery by opportunistic defensive back Sean Madden '17 quickly swung the mojo in the Eagles' direction.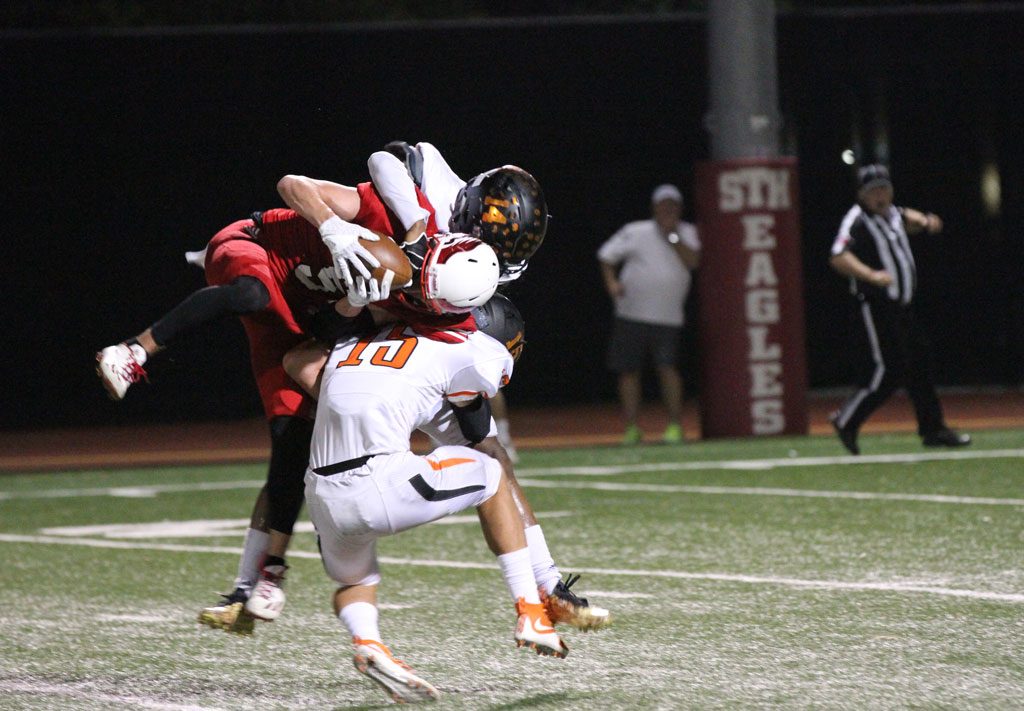 Running back Jaylen Davis '19 (14 carries for 72 yards) converted a fourth-and-short near midfield before Perkins provided the game's signature snare, going deep across the middle to snag a Matocha throw in traffic and holding on after a hard hat collision inside the Panthers 25-yard line.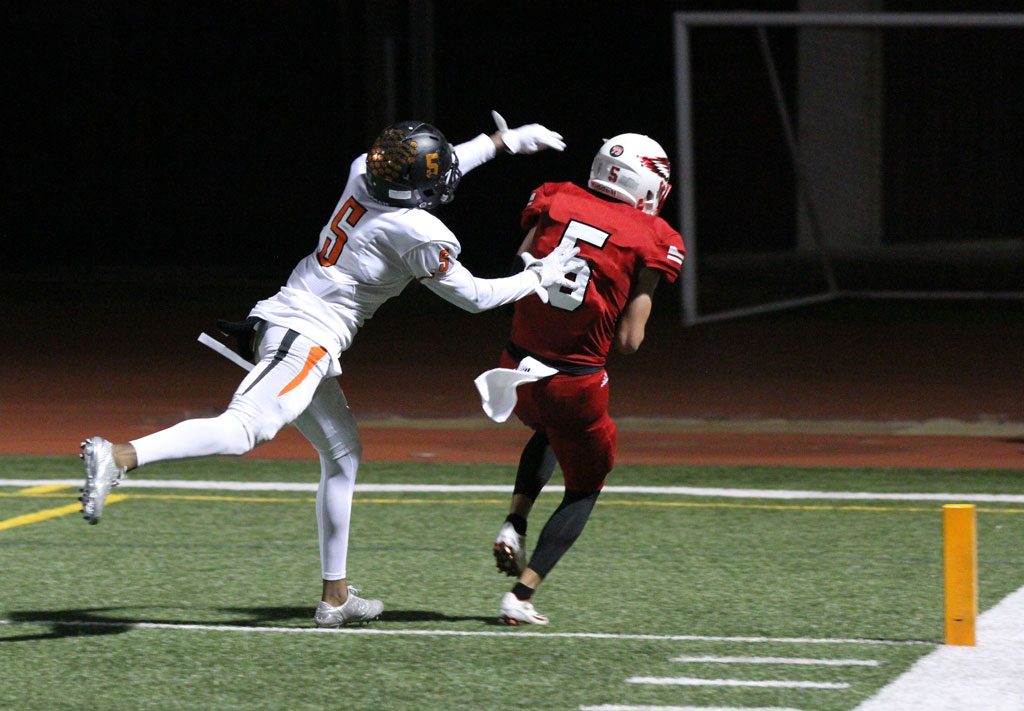 On third-and-13 Perkins broke free from isolation coverage on the right sideline to take a perfectly placed Matocha toss over his outside shoulder in the end zone to slice the deficit in half with 1:36 remaining in the first half.
Max Bower '17 collected a second straight SPX turnover with an interception just under the one minute mark, setting the stage for Matocha's second payoff pass to Perkins for the halftime deadlock.
The Matocha-Perkins combo ignited the Eagles after those early series struggles. A 33-yard pitch-and-catch for a first down near midfield injected a much-needed jolt, even though the possession eventually stalled on the brink of the end zone when the Eagles were stopped on third down and a mishandled snap prevented a short-range field goal for a valuable opportunity missed.
MORE FITZPATRICK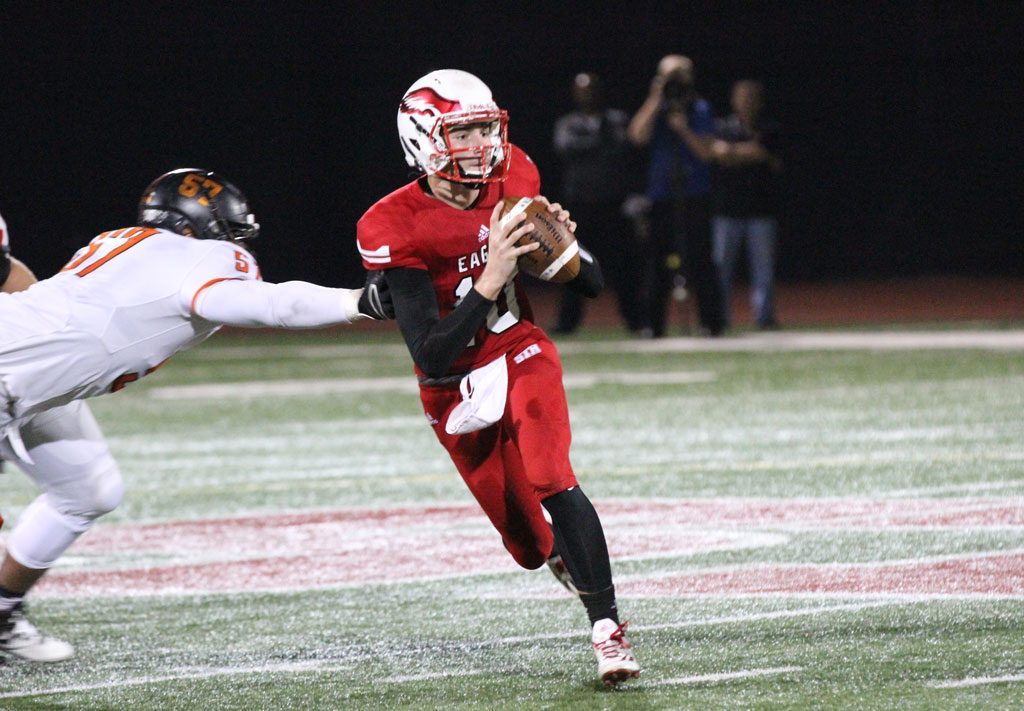 "Peyton made some critical throws and Perkins responded with some big-time catches. He played both ways at times tonight. Same for Jaylen. It's what we had to do to try to match up with their personnel. They broke some containment for some big plays and that's something we have to clean up moving forward."
SIZING UP THE SERIES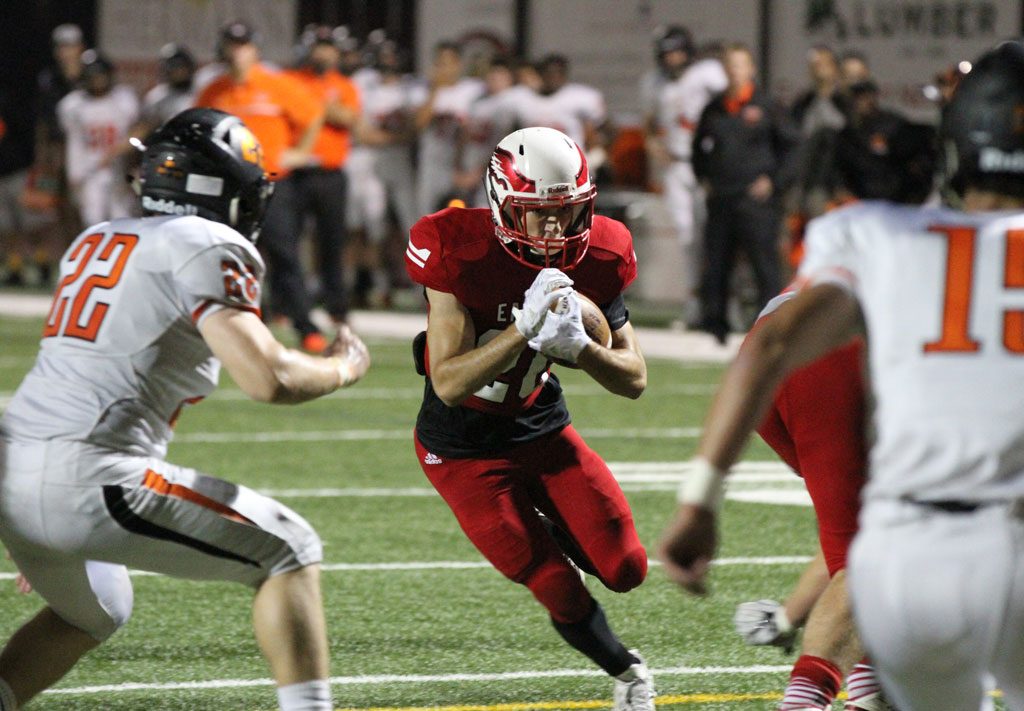 The Eagles had won four straight regular-season showdowns with the district title at stake by a combined score of 144-62, the last two by a count 87-33. The defeat is the first after five straight head-to-head wins and six victories in seven games since 2011.
MOVING THE STICKS
Despite the first period funk the Eagles were out-gained only 249-216 in the first half but were essentially doubled up in yardage in the second half (259-142).
Perkins finished with four catches for 113 yards, all in the first half.
Running back Ian Wheeler '19 (8 carries for 46 yards) closed out the scoring with a four-yard touchdown to close the final count at 35-21 with 5:11 left in the game.
STATE OF PLAY
For the first time since 2013 the Eagles will not enjoy a first-round bye in the TAPPS D-I playoffs, taking five regular-season losses into the postseason after dropping only three in the previous four campaigns.
In order to duplicate the consecutive playoff runs which reached the state semifinals, Eagle Football will have to defy conventional wisdom and demonstrate they remain very much on the Radar for title contention.
Call us the underdog
We're like a dark horse
We do it our way
As if we had a choice
You think you saw something
You think you heard a sound
Go look around the corner
We comin' up now (I'm comin' up now)
We gonna be on your radar
We coming up on your radar
We gonna be on your radar
We poppin' up poppin' up
UPCOMING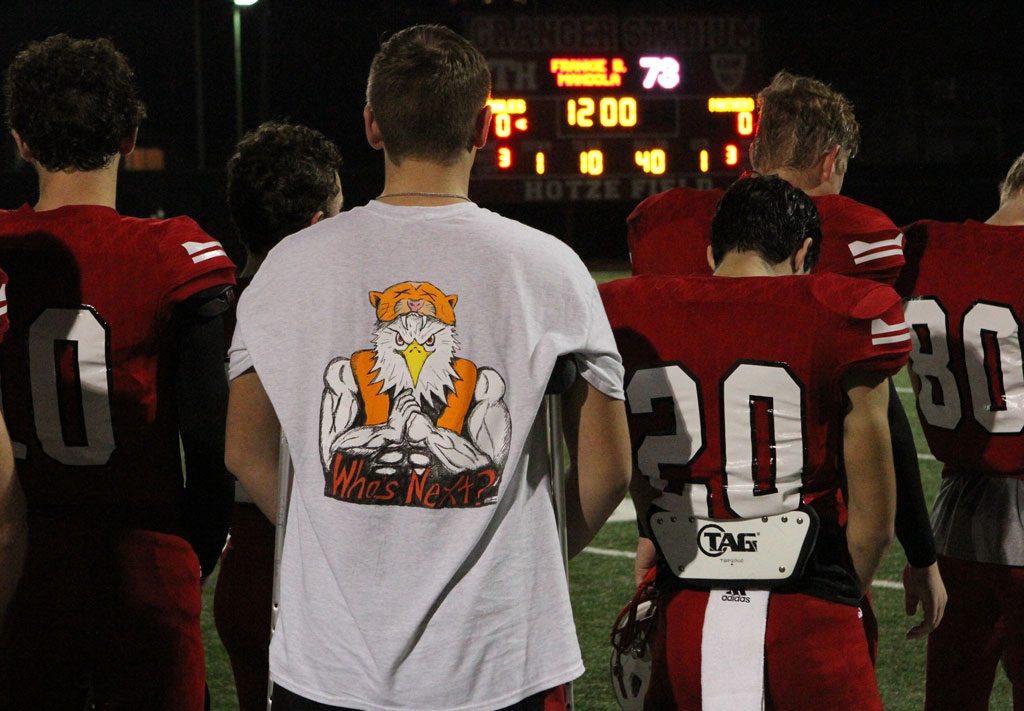 The Eagles face Dallas Bishop Lynch Saturday, November 15 at Hotze Field inside Granger Stadium at 1:00 p.m., the fourth playoff match-up between the two schools since 2011 and the third on the STH home turf.
MORE FITZPATRICK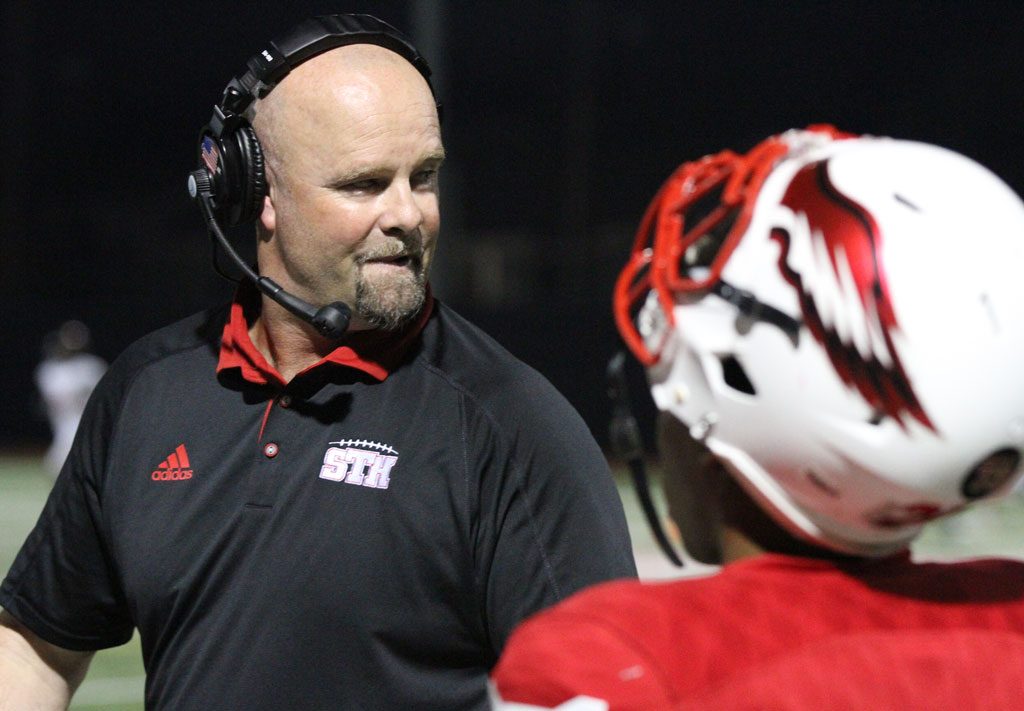 "Now everyone (in the 13-team bracket) is 0-0. We have the home game and it's the final time for our seniors on our field. We know how they'll want to respond. Hopefully, we'll keep our pads and our locker room messy for at least one more week after this one. We'll see what happens."
You think you seen it all
You think you're so quick
You ain't seen nothing yet
We got a new trick (we got a new trick)
We gonna be on your radar
We coming up on your radar
We gonna be on your radar
We poppin' up poppin' up
FLASHBACK
STH launched the 2013 playoffs with a hard-charging 47-28 win over BL thanks to a 26-point second period and three touchdown passes from quarterback Michael Reul '15.
In 2012 Eagle Football fell 27-11 to the Friars in the area round at neutral sight Teague one year after staging a dramatic overtime comeback to open the 2011 postseason.
After falling behind 21-7 in the second half quarterback Chris Zook '14 orchestrated a furious finish, finding receiver Doug Sauter '14 with the touchdown toss with 1:04 remaining in regulation to tie the game at 21-21. Running back Derek Martin '12 wrapped a 135-yard rushing effort with a one-yard score in the extra session to give the Eagles their first playoff win since 2005.
EAGLE FIGHT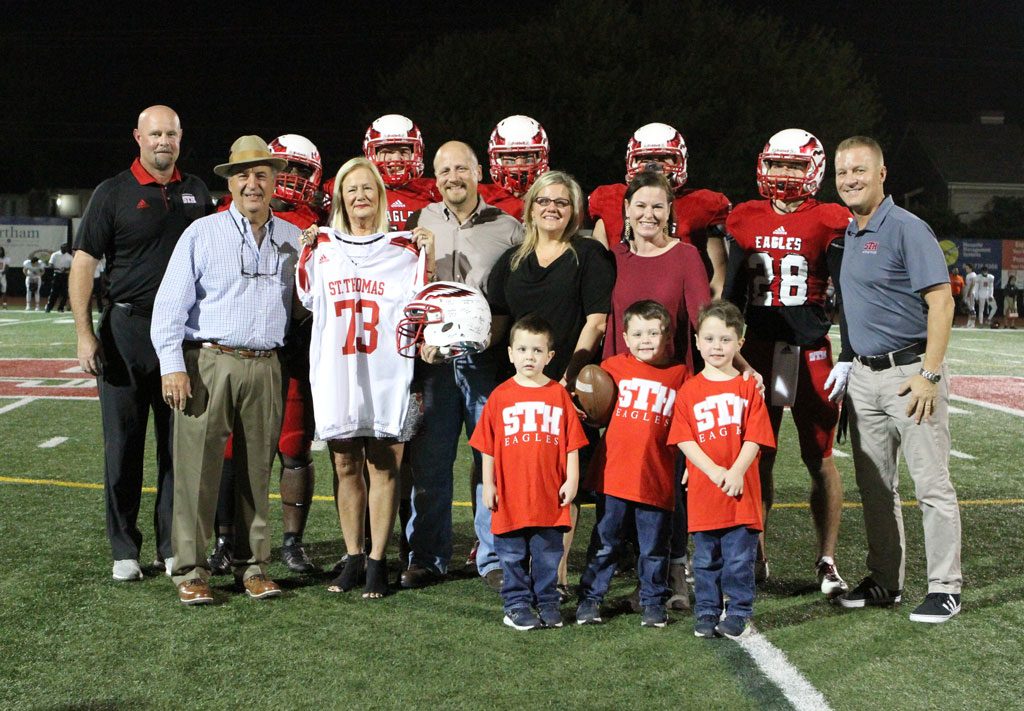 Before the game, the family of beloved Eagle Frankie B. Mandola '65 was distinguished with a throw-back Mandola number 73 jersey …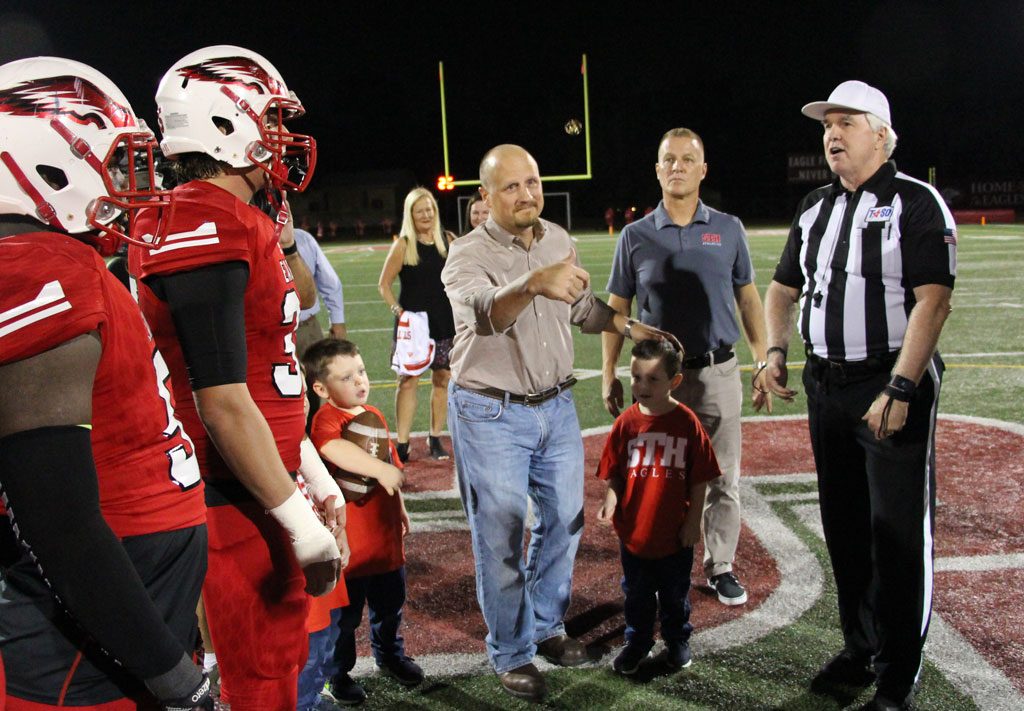 … and son Johnny Mandola '94 and his triplet sons were brought to midfield for the pregame coin toss.
Long known for his gregarious and infectious authentic personality, the co-owner of Damian's Cucina Italiana and co-owner of Frankie B. Mandola's Catering first distinguished himself as an Eagle state champion and high school All-American student-athlete later to be inducted in the STH Sports Hall of Fame. He packed his two-sport talents for Rice University and later rose as a pillar among the first families of Houston food.
Frankie B. passed in July 2016 but his infectious spirit figures to provide an eternal presence within the Eagle community.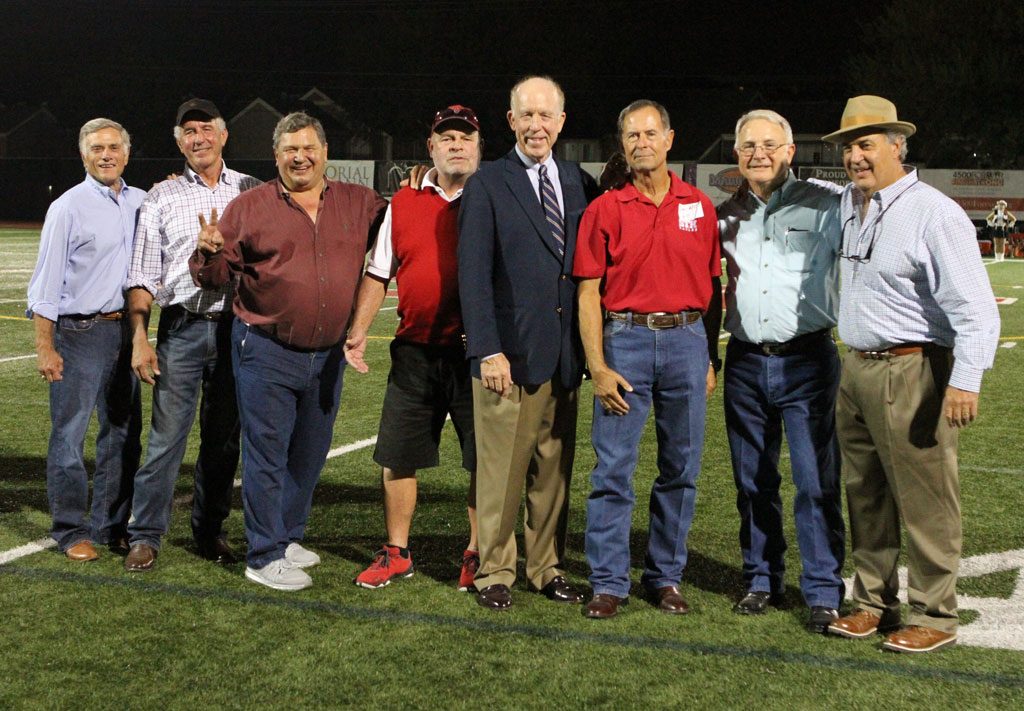 At halftime, the 1966 state champion Eagles were recognized during their 50th-anniversary reunion. Head coach Joe McDonald and lead assistant Burr Davis guided Eagle Football to an 8-3-1 record, including a dominant 37-point shutout over St. Pius X. In the TCIL playoffs St. Thomas squeezed a tight 7-6 victory over Dallas Jesuit and then defeated Waco Reicher Catholic 17-7 in the state title game, the third straight crown in the midst of eight state championships from 1964-73.
Sixteen of the 36 student-athletes receive athletic scholarships to NCAA Division I schools including the University of Texas, Texas A&M, LSU, Nebraska, Rice, SMU, Texas-El Paso and the University of Utah. Five members of the championship unit have been inducted into the prestigious St.Thomas Sports Hall of Fame.
Success continued for those 1966 state champions, civic and community leaders who achieved professional acclaim as attorneys, physicians, engineers and certified public accountants … a gifted high school debate coach, county commissioner, real estate broker and commercial developer … two distinguished patriarchal restaurateurs, a horse trainer, many sales executives and business owners.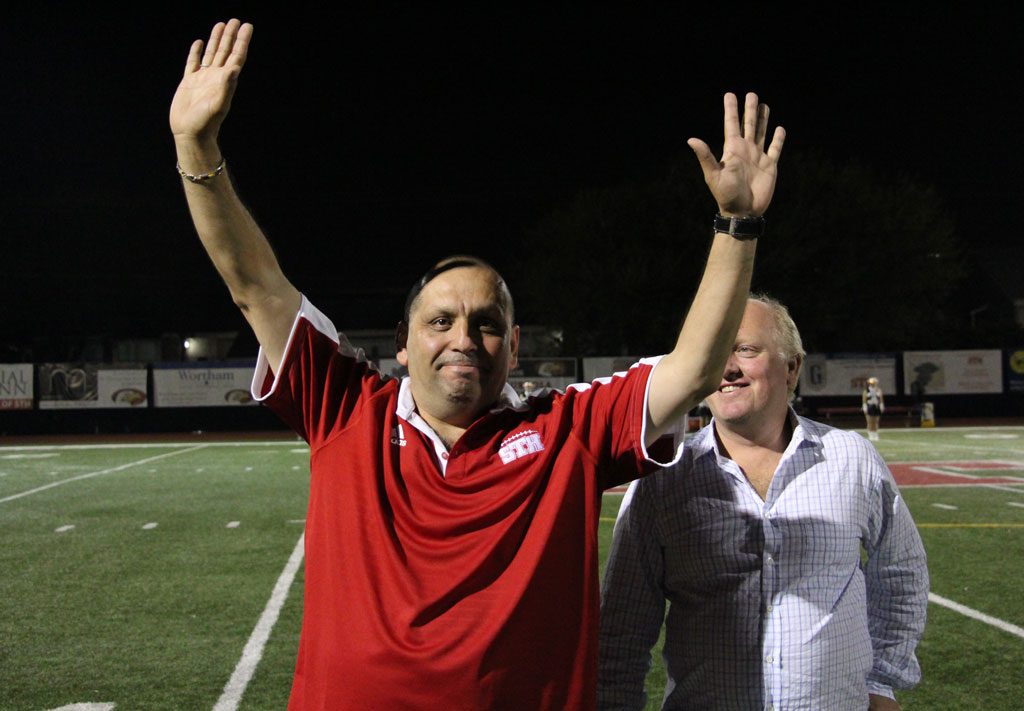 Also honored at halftime was director of operations Sergio Plata, the recipient of the 2016 Distinguished Service Award for his invaluable contributions and selfless devotion to St. Thomas.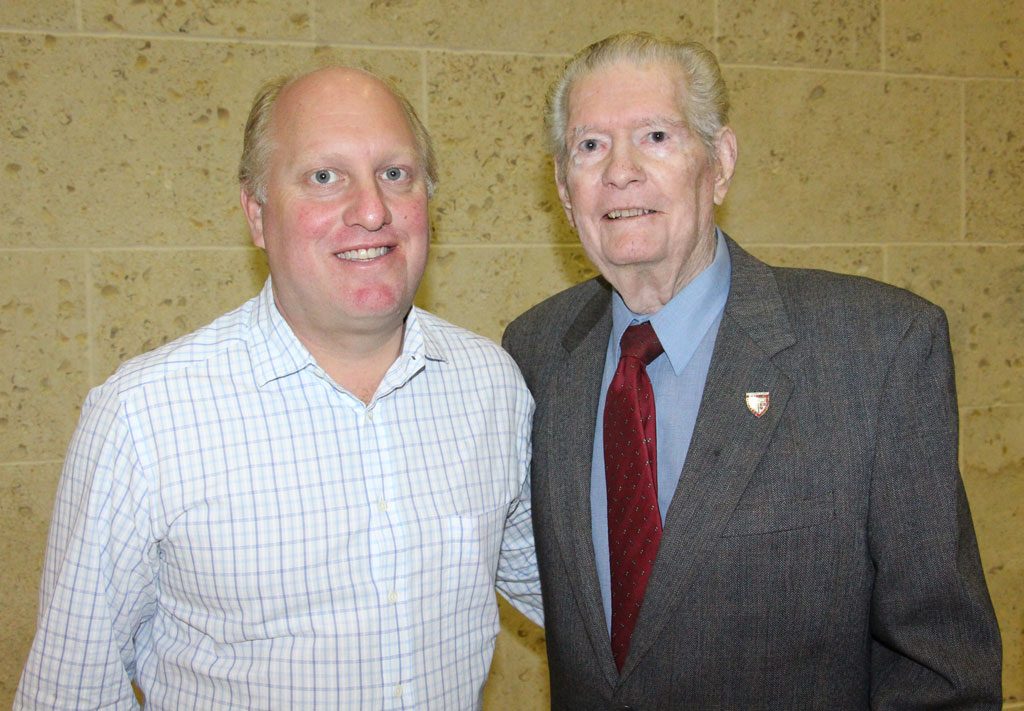 Earlier during Alumni weekend, Hugh Rafferty '42 (above, right) received the Distinguished Alumni Award. Rafferty was inducted into St. Thomas Sports Hall of Fame Class of 2016 as a member of the historic 1939 undefeated Eagle Football team, is a proud graduate of the University of Notre Dame and forever brother in the Eagle community who took an active involvement in a number of ministries, particularly Casa Juan Diego.
"Teach Me Goodness, Discipline and Knowledge. God, Country and Notre Dame. God blessed me with the health to be able to live up to the standards and values engendered in those two mottos."
Rafferty was presented by Alumni Association president Tony Hill '91.
Eagle Fight Never Dies!