St. Thomas announces the appointment of Tommy Schulte '00  as director of Planned Giving.
In this role, Schulte will oversee development and donor engagement activities of the 1900 Society, working in a coordinated approach that increases philanthropic support and enhances the connection to St. Thomas among alumni, parents and supporters from the extended Eagle community.
Schulte's new appointment marks his second tenure at St. Thomas since receiving his diploma.  He served as director of alumni relations from 2008-2011 after earning his Bachelor of Arts in Political Science from Texas A&M University and his Masters of Public Administration from Sam Houston State University where he was a member of the prestigious Pi Sigma Alpha Honor Society.
"Finding the right person for this role was crucial," said Mark deTranaltes '83, the St. Thomas Vice-President for Advancement.  "When I read Tommy's application I knew we had found the ideal candidate who could identify with our greater constituency base.
"Tommy spent three years building relationships from inside our alumni network and is a graduate with a passion for our mission. He understands that a decision to make a Planned Gift is about giving back to an institution that has stood for the principles embodied in our motto for more than 100 years. Goodness, Discipline and Knowledge are not just ideals for the previous or the present young men on campus, but they are principles for the future. And through this Planned Giving program we can ensure that St. Thomas is there to teach and inspire for decades to come."
For generations the generosity of devoted alumni and friends of St. Thomas has given rise to the great Basilian institution acclaimed throughout Houston.  In today's environment, making a plan to amplify the impact of these gifts is more important than ever in helping fund the work of the Basilian Fathers.
"The 1900 Society has always had a stigma attached to it," deTranaltes said.  "Planned Giving has been associated with the passing of a loved one. I want this to change. Sure, many people list St. Thomas as a beneficiary or leave a gift through their life insurance, but the Planned Giving program is about education and then celebration once that decision has been made, not about the events that follow.
"(President) Fr. (Kevin) Storey put it best, 'If someone decides to leave you something in their will, they are family'  I couldn't agree more, so why are we waiting to find out about our extended family only when that person has passed away. I want to meet you now. I want to say thank you for this life-changing decision, and I want to invite you to events planned to honor these gifts the way we recognize all our donors."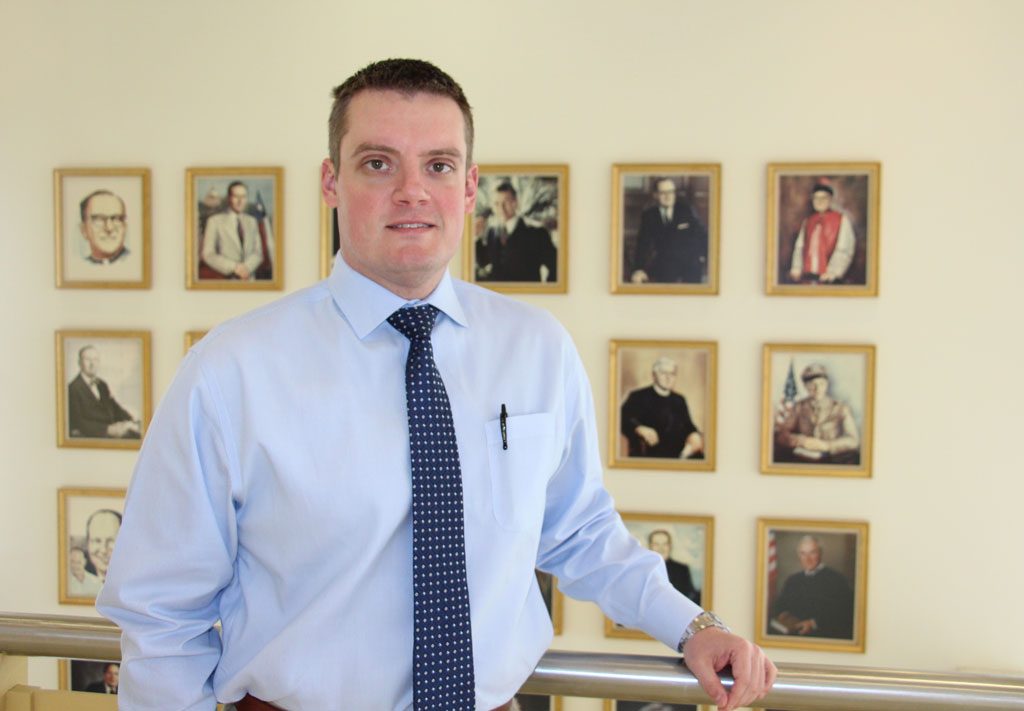 With a deep background in fundraising, alumni relations, communications and marketing, Schulte is energized to present a range of giving strategies to the Eagle Family where a simple gift that may cost nothing during a supporter's lifetime can make a transformational difference far into the future of St. Thomas.
"Through Planned Giving our community can have an opportunity to make a lasting impact, to pay it forward, and keep the St. Thomas tradition of outstanding academic and athletic programs strong into the next century," Schulte said.  "That's a legacy we all can be proud of.  I'm joining a great team already in place, both in Advancement and in the Administration."
As a St. Thomas alumni, Schulte holds a deep sense of gratitude for his own Eagle experience even though he is now nearly two decades removed, and the enduring influence it has provided him professionally, personally and spiritually throughout his adult life.  
"So much of the St. Thomas brotherhood is the same whether you graduated in 2000 or 1960," Schulte said.  "There's that bond.  From the outside looking in, you don't understand it.  From the inside looking out, you can't explain it."
Schulte is a second generation Eagle, following Tom, Senior '72, and rejoins St. Thomas after gaining valuable experience as a regional representative for Community and Economic Development for the Guadalupe-Blanco River Authority and then excelling as an assistant vice president at First National Bank in Port Lavaca, where he was also a proactive member in the community, participating on the board of directors of the Chamber of Commerce, United Way, Rotary Club and YMCA.
"When I left St. Thomas (in August 2011) I told (then president) Fr. (Ronald) Schwenzer I would never close the door to returning," Schulte said.  "This place is like home, and for a variety of reasons now is the time for me to come back home to Houston.  I've always felt a calming peace about this campus and this community, even as a student."
Schulte reconnects with his St. Thomas roots as the school readies for the bold Joplin Campus expansion.
"There's a great anticipation and excitement within our community right now," Schulte said.  "My goal is to reach out to our supporters to identify the exact fit that enables them to provide for their families and also support St. Thomas.  Planned Giving enables all who appreciate the history of our first 100-plus years also be a part of the next 100."
Catholic. Basilian. Teaching Goodness, Discipline and Knowledge since 1900.