In the early 1990s Eagle Track and Field coach Nathan Labus was a newbie to the roaring University of Houston program which for years had doubled as the defacto training grounds for Olympic gold rushes from Team USA.
Under the piercing Texas sun which would routinely beat down on a reddish-brown oval surrounded by the Spartan quarters in the Jeppesen Fieldhouse, Tom Tellez had set up a base of operations for the likes of Carl Lewis and Leroy Burrell … Mike Marsh and Joe DeLoach … Floyd Heard and Mark Witherspoon … the nation's pace-setting speed freaks, world record-beaters and global performers.  
Fast forward more than two decades later and Tellez is still splashed in the sinking twilight in the shadows of lanes and pits, a method remaining to his madness, only now his part-time headquarters is fixed inside Granger Stadium as a volunteer assistant for Labus who enters his 12th season heading the St. Thomas program.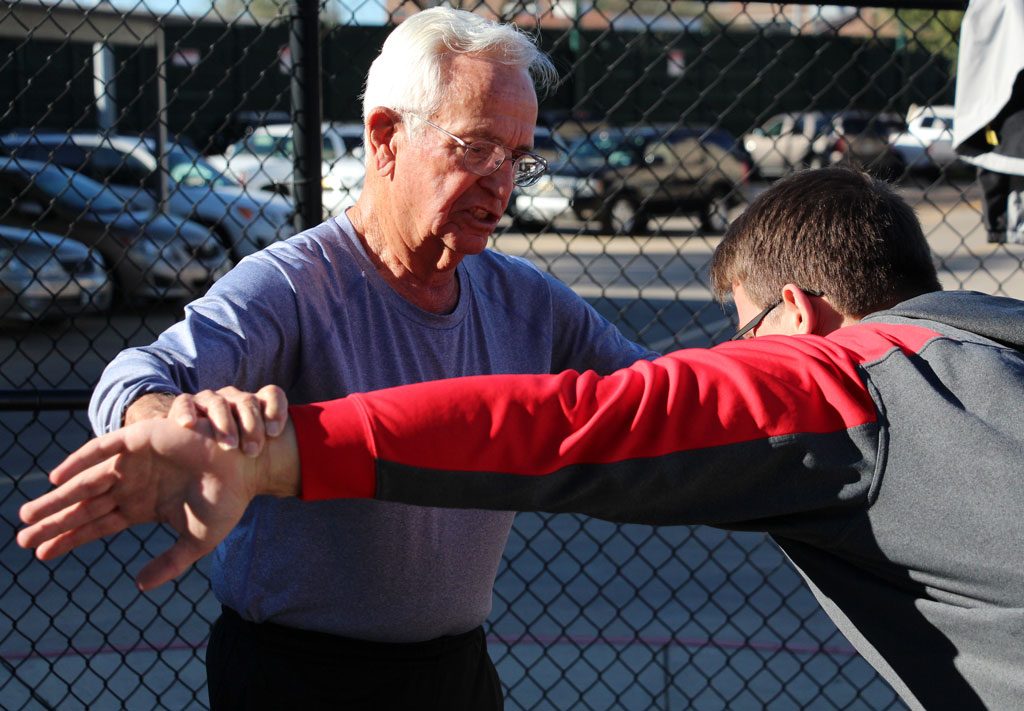 "At first none of our guys had any understanding of who Coach T is and what he represents," Labus said.  "The best comparison I came up with was the coach of Usain Bolt.  That's who Tom was back in my day, and so much more.  I had (sophomore) Michael Garza do some background.  He did a Google search and came back to me and said, 'Wow.  I can't believe he's out here working with us.'"
Labus has to occasionally perform a double-check himself.  
His relationship with Tellez dates to 1993-97 when Labus was a significant pole vaulting performer at UH, still holding the second-best indoor mark and third-best outdoor standard in program history.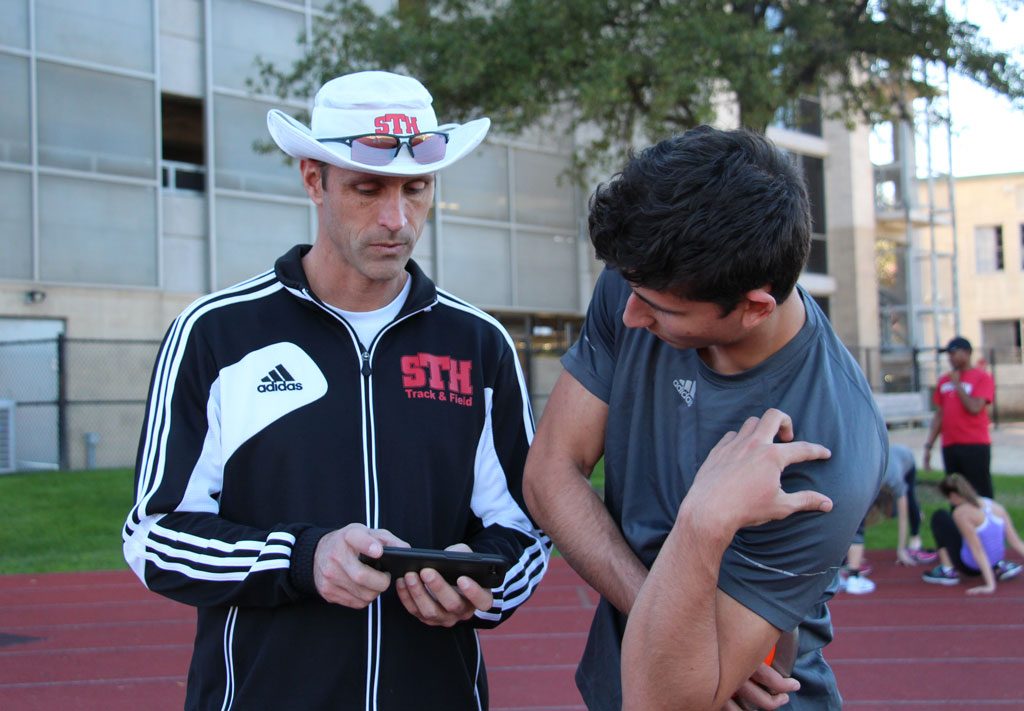 For months Labus had patiently prodded his former mentor now in retirement to share his vast reservoir of expertise with a program fresh off the 2016 TAPPS state championship, the 100th state title in the rich and storied history of Eagle Athletics.
Eventually Tellez warmed to the idea and welcomed the opportunity.
"It's all about teaching athletes and making the sport easier for them, partnering with them to reach their goals," Tellez said.  "We're going to work to be the best they can be.  That's my goal, that should be their goal, and we'll see how far we can take it.  The athletes with talent and that focus and determination, they can reach their top.  But it takes work."
Less than six months ago Tellez received the prestigious USA Track and Field Legend Coach Award, distinction emphatically deserved for a two-time U.S. National Team head coach, 22-year head coach at UH and confidant to Olympic gold medalists and countless NCAA champions.
At UH Tellez was the guru guiding uber Olympian Lewis, a nine-time gold medalist and the most decorated sprinter / jumper of all time who captured four NCAA titles under the direction of Tellez, and current Cougar head coach Burrell, the former 100 meter world record holder and Olympic champion with three NCAA titles.
Tellez also coached 200 meter Olympic gold medalist Joe DeLoach to an NCAA title in addition to leading Olympic silver medalist Kirk Baptiste to two NCAA Championships, and also guided bronze medalist Frank Rutherford to three.
From 1984-96, six of his seven U.S. sprinters won Olympic gold, and Tellez had turbocharged 13 total medalists.
To this day Tellez is steadfastly committed to his roots, a scientifically guided perfectionist, not only with sprinters, but also hurdlers, long jumpers, high jumpers, vaulters, javelin throwers and decathletes, all instructed to understand that performance is dependent in large measure on how well an athlete can take advantage of the laws of motion.
"I coach these St. Thomas athletes just as if I were coaching Olympians.  It's no different.  The techniques are the same," Tellez said.  "Often times it's not what you tell your athletes, it's what you don't tell them.  So much of track is natural movements.  It's all biomechanics, kinesiology.  Obviously strength, power, natural speed all vary among athletes but the teaching stays the same."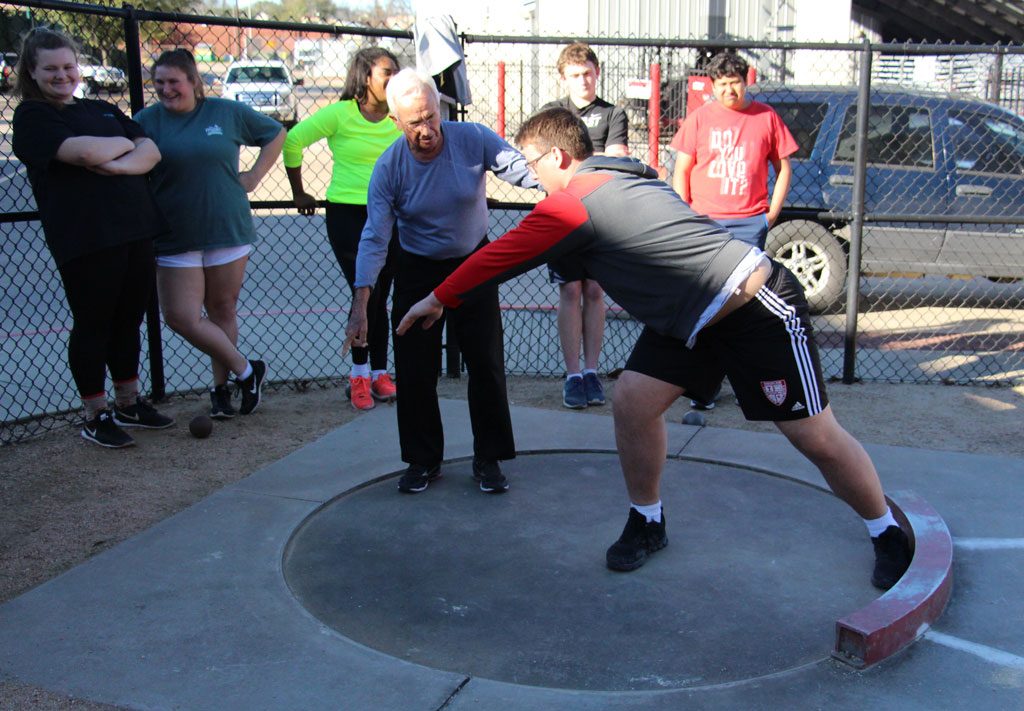 So whether world class-talents of generations past, or Max Banes '18 refining his art today in the shot put ring, "nothing changes" behind the Tellez message … exercise the mind, sharpen the focus, develop moxie, practice mental reflexes, rehearse and execute the plan.
"I've always placed a huge priority on the technical aspects of improvement," Labus said.  "I learned that from Coach T and (his son) Kyle (Tellez).  I really believe there is no one better in our sport today from that standpoint than Tom Tellez.  His critiques, his tweaks, will make a huge impact on our guys."
After a brief pause, Labus flashed a genuine smile and offered the obvious.
"It's priceless to have him out here with our team."
Eagle Fight Never Dies!