Kenny Martin '01 serves as the touchstone of Eagle Soccer for the new millennium.  
A former decorated performer in his sixth year as head coach and 16th with the program, Martin has helped pilot 15 playoff seasons that produced six district champions.
And when quizzed to size the quality of his current crew, Martin responds with the authority of a quick twitch-blast from the thunderfoot of Neymar rocketing past an overmatched goalkeeper seemingly cemented to the turf.
"It's my best team," Martin said without hesitation.  "The combination of talent, experience and chemistry, everyone buying in, united in the same mission."
The Eagles have lost only two of their first 15 games, winning 10 while outscoring the opposition nearly four to one and allowing less than a goal per game, thanks to a resilient core group who endured a series of frustrating hard knocks, and the unexpected addition of a dynamic box-to-box midfielder.
"We've  grown and developed not just as individual players but in understanding how each other plays," Matthew Leal '17 said.  "There's a comfort zone, a communication and anticipation that allows us to get the most out of what we have."
Leal, forward Jesus Toscano '17 and newcomer extraordinaire Rory Hogan '17 have emerged as the ferocious front three, all capable of a moment of brilliance.  The trio is responsible for 25 of the Eagles' 34 goals and 67 points, including Toscano's hat trick in the 3-0 blanking of Tomball Concordia Lutheran.
Before Hogan was new to Eagle Soccer, he was new to St. Thomas.  He enrolled as a sophomore before the 2014-15 academic year, transferring from co-ed Notre Dame Catholic in Lawrence Township, New Jersey, after a family relocation to Houston.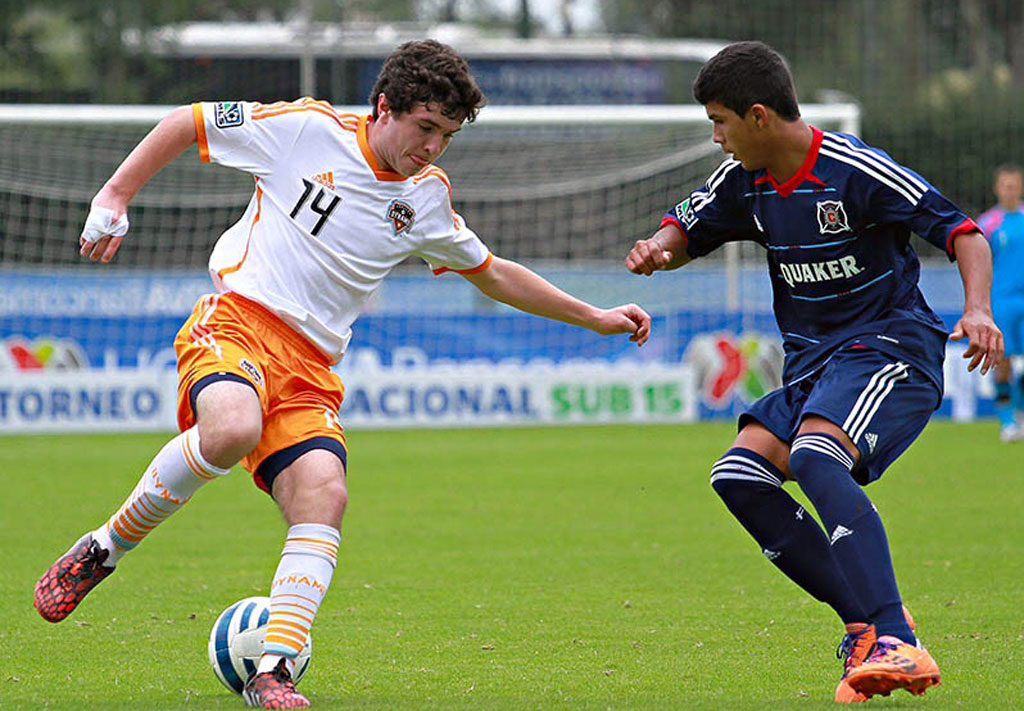 A soccer contact immediately connected Hogan with the Houston Dynamo Academy and arranged a tryout.  He impressed to secure a spot in one of the most successful MLS developmental soccer programs since beginning play in 2007.
For the last two years the relationship with the Dynamo Academy prevented Hogan from playing high school soccer.  But in the weeks leading into his senior year he decided to make an unconventional move.
"I was looking for a different experience and believed the best option right now would be to play for my school," Hogan said.  "Some of the decision was a change of scenery, but more than anything else, I saw a chance to give back to St. Thomas, try to win a state championship.  These are my best friends, my classmates, my teammates.  We're a tightknit group.  This is where I wanted to be."
Hogan has proved to be a clinical playmaker and finisher, explosive and technically advanced, leading Eagle Soccer in scoring with 11 goals and assisting on five others.  
"He's been in so many high-level matches and won," Martin said.  "He knows what it takes to adjust, keeping pushing when the game isn't going all his way.  And his teammates have fed off  that.  When he's double or tripled-teamed, that creates opportunities for his teammates, and he's taken advantage of opportunities created by others."
Hogan made the transition to Eagle Soccer minus the motivation of flashing his polished skills and signature instincts.
"Scoring goals is nice but I've always tried to help make my teammates better," Hogan said.  "The priority is what we're accomplishing together, winning games, playing as a unit."
Hogan is highly inventive with and without the ball but it's his infectious intensity and presence that has proven to be a measurable x-factor turbocharging the team personality.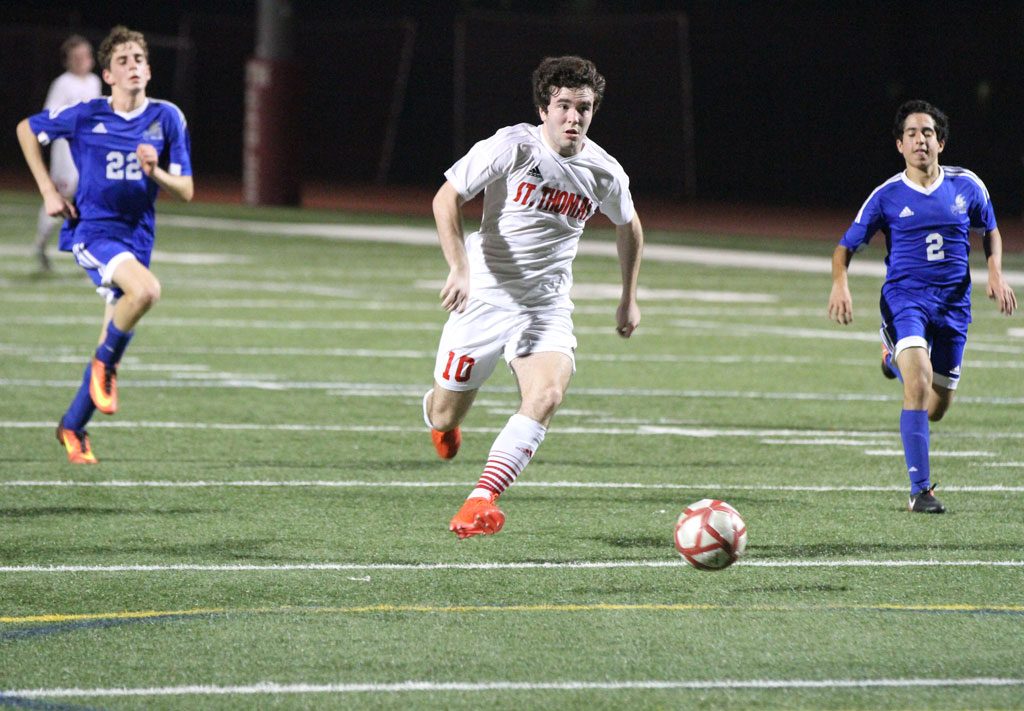 "Rory has an edge.  His aggression, his mentality is something we haven't had in previous years," Toscano said.  "That's an element we needed.  Look at the season we're having.  The results show what kind of impact he's had."
Toscano along with Leal, defenders Michael Jakab '17 and Daniel Guthrie '17, and keeper Jacob Manley '18, were among the principal members in a master plan plotted by Martin and assistant Cody Moles that called to force feed a raw group of not-yet-ready freshmen and sophomores into varsity competition knowing the investment would only accrue dividends in the far future.
The overnight 2017 success was actually three seasons in the making.
"We told our guys to stick with us, don't get discouraged, stay determined, your senior year will be worth the rough times," Martin said.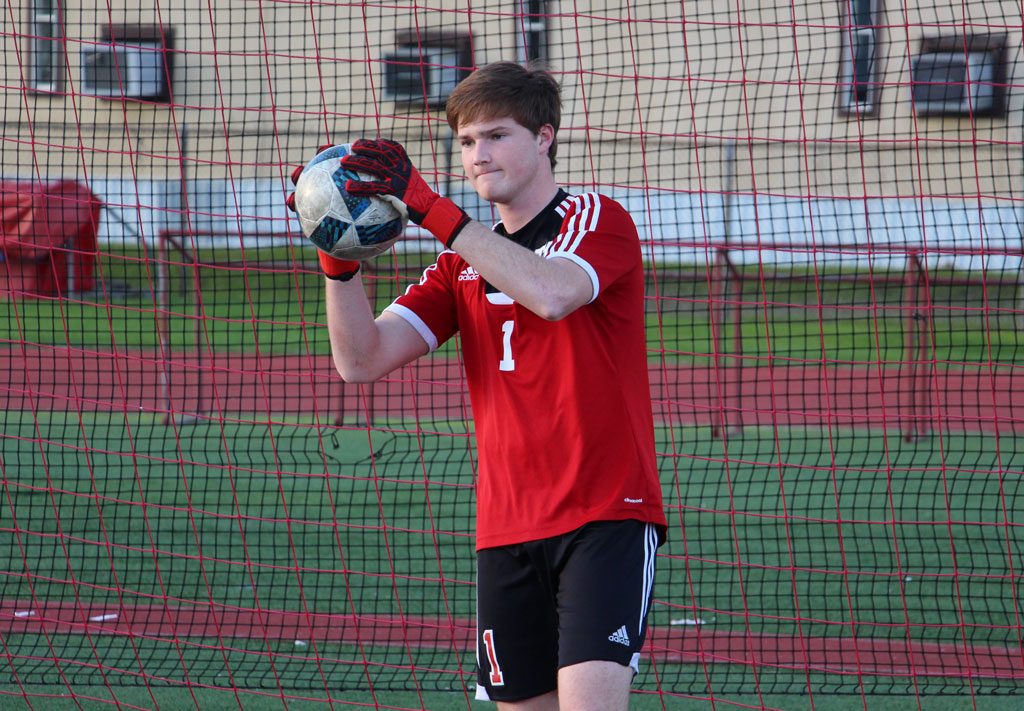 While the high-octane Eagles have routinely blitzed opponents, Manley has kept them on a deprivation diet, allowing only seven goals through the first 15 games.
"We understand we have talent and this is our time," Manley said.  "We're much more confident in all areas, defense, midfield and attacking, with our footwork and ball movement.  We're more trusting in our sets, working the ball wide and bringing it back in, that's when we're at our best."
Defender Zach Blice '19 saw "last season has a valuable learning experience, to see how the top teams were performing.  We now have a much better idea of what it takes to reach that level.  You play how you practice and then treat each game as it's the most important."
Even with the recent rush of results Martin knows the defining portion of the season remains.  The Eagles have a chance to avenge their lone district defeat, secure the best possible launch position for a deep playoff run, and take direct aim on matching the 1981 state championship campaign, the only title in program history.
"If we keep our focus, this is a state tournament team that can win it all," Martin said.  "This is the deepest roster we've enjoyed in years.  We have to keep striving for that consistent standard that championship caliber teams demand of themselves.  We won some games in January where we didn't play as well as we can.   I want to see the commitment every day.  If we play at our pace, very few teams can stay with us."
Eagle Fight Never Dies!