Fine Arts dean Mike Nebel is accustomed but never complacent to his students earning national distinction for artwork juried among the premier competitions in the United States.
Nebels owns deep respect for the due diligence and creative process, encouraging and empowering motivated artists to engage in visual storytelling as the primary inspiration, with opportunities for increased exposure through exhibitions and special events a bonus dividend.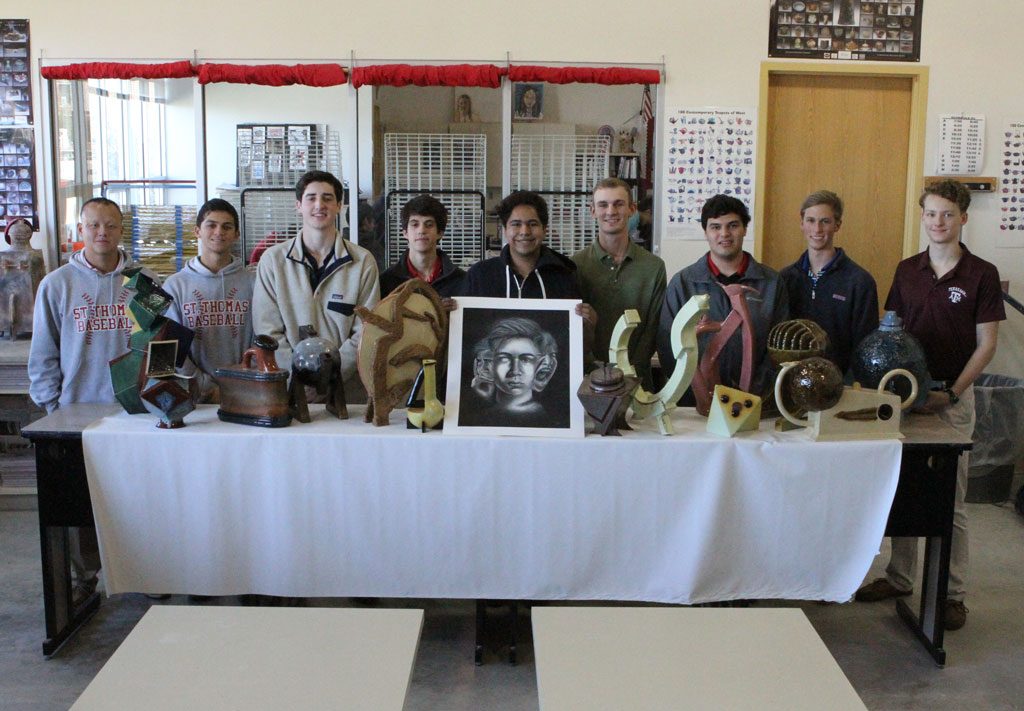 Early in the 2017 spring semester Nebel celebrated nine Eagles capturing acclaim at the National Scholastic Regional Art Competition sponsored by the Harris County Department of Education, his artists representing six of the 11 Gold Keys from the region advancing to the national level in New York, including William Castillo '19, the first-ever Eagle to be honored with Gold Key distinction in Drawing and Illustration, one of only 80 Gold Keys awarded in the category among more than 1,500 entries from private and public schools.
Days later Nebel learned that ceramic presentations created by Ryan Philipps '17 (Gold Key at Scholastic), Michael Sides '17 (Gold and Silver Key) and Baxter Jones '17 (Silver Key) were recognized for the 20th Annual National K-12 Ceramic Exhibition.
When Nebel scanned through that second list of national merit and also saw that Thomas Horan '17 and Miguel Cano '17 were included, "(Astros slugger) George Springer couldn't have wiped the smile off my face with a baseball bat.  It's so gratifying when students who entered Scholastic and didn't receive recognition get into a national show.  To see their response when I told them … that's what makes this rewarding.
"For Miguel and Thomas to get what I believe is well deserved affirmation tells them to not have their artwork defined by one single voice or opinion.  And that's a strategy that will serve them well throughout life."
The breakthrough distinction for Horan and Cano means their ceramic pieces will be showcased in conjunction with the 51st Annual National Council on Education for the Ceramic Arts (NCECA) Conference in Portland, Oregon from March 22-24.
Cano's El Diablo and Horan's Wind, along with selections from Philipps, Sides and Jones, were chosen from more than 1,200 submitted entries for this year's exhibition, and will be on display and seen by thousands of visitors from all over the world.  The exhibition will also be promoted through a catalog, poster and website, in which all the chosen work will be featured.
Horan, continuing his family's storied St. Thomas legacy which includes his grandfather Tom Jr. '62, father Tom III '85 and uncle Gregory '89, was initially "surprised" by the result and then "quickly felt proud of the accomplishment.  The original design was smaller but Mr. Nebel suggested a larger size and that was definitely the right choice.  I tried to let the final version just come together through the process."  
Cano honestly believed that Nebel was "messing with me (with the announcement).  I was shocked when the piece was selected for a national exhibition when hundreds and hundreds of pieces were under consideration.  I went with a traditional teapot shape, and think the glazing is what catches the eye, a two-tone background with light red and darker shades across the piece."
Cano was motivated to enter ceramics after his brother Narciso '12 enjoyed the exploratory expression without previous experience in the visual arts.
"It was his favorite course at St. Thomas," Cano said.  "I just wanted to be a part of all this.  I fell in love with artwork after Ceramics I and II … and just wanted to continue the experience."
Catholic.  Basilian.  Teaching Goodness, Discipline and Knowledge since 1900.