To the St. Thomas faculty and his tight Eagle inner circle, William Castillo '19 never revealed a hint that underneath his unassuming persona laid a percolating artistic talent as deep as it was anonymous.
Until a casual hallway encounter uncovered his volcanic gifts to the world.
A self-taught visual performer with only one fundamental course to his credit, Castillo thrived on that feeling of urgency and excitement when the creative juices flowed and the urge to draw took command, not for prestige or profile, but simply for the sheer enjoyment.
"Creativity was really stressed at home while I was growing up," Castillo remembers.  "My mother would always encourage me at young age to just pick up paper and pencil … and create."
From those humble beginnings, Castillo gradually yet dramatically stair-stepped his development through middle school.
Earlier in the current academic year, Castillo was charcoal sketching on the first floor near the school's rotunda when administrative assistant to the principal Lisa Mumbach (above, left) just happened to pass by when an innocent glance proved enough to take notice of the strength and detail of his work.
Following a brief conversation with Castillo, Ms. Mumbach passed along her observations to admissions coordinator Claudia Walker (above, right) who in turn brought Castillo's wunderkind abilities to the attention of fine arts dean Mike Nebel.
In short order Nebel sought out Castillo, and a quick study through his sketchbook revealed a series of striking impressionist profiles featuring striking detail and rich dark tones complimented by high contrasts, all making for an astounding impact.
That afternoon Nebel went to Texas Art Supply to purchase for Castillo a variety of art supplies and a large 18" x 24" drawing pad, and was immediately given an assignment to create an entry for the prestigious National Scholastic Regional Art Competition.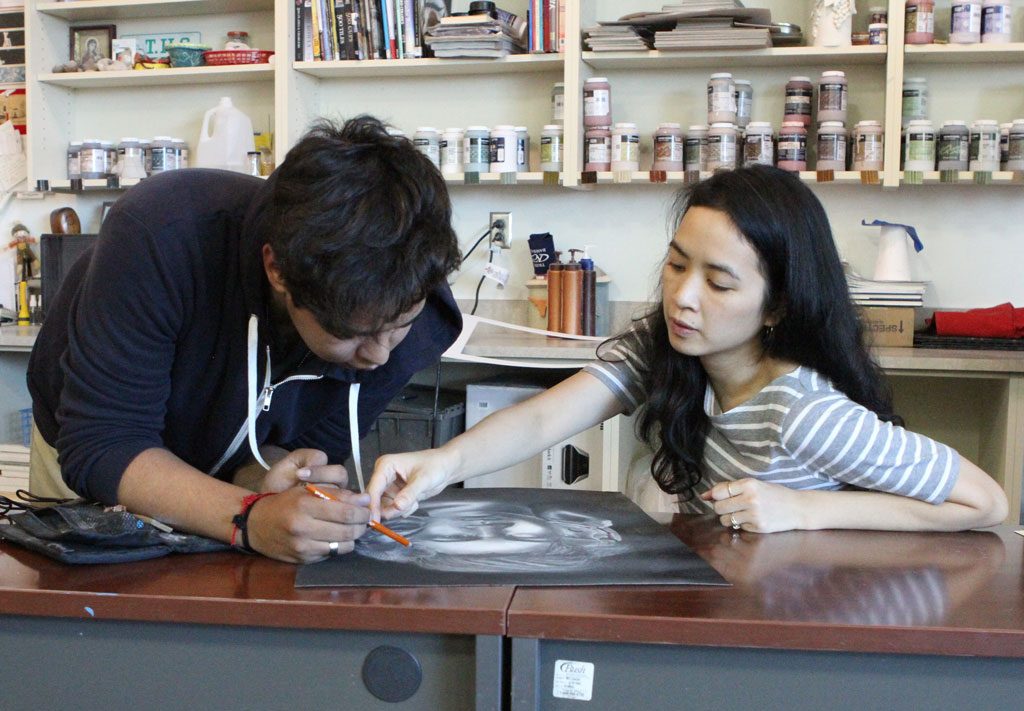 Under the steady and insightful tutelage of fine arts instructor Chau Nguyen, Castillo enhanced  the expressive, gestural and technical aspects of his drawing.   
The results were as jaw-dropping as they were daring.
Castillo became the first-ever Eagle to be honored with Gold Key distinction in Drawing and Illustration, receiving one of only 80 Gold Keys awarded among more than 1,500 entries from private and public schools.
"I was thrilled," Castillo said.  "I was actually scared when Ms. Mumbach saw some of my artwork.  I never felt that comfortable showing.  I guess I've always underestimated my abilities.  Now my confidence is soaring."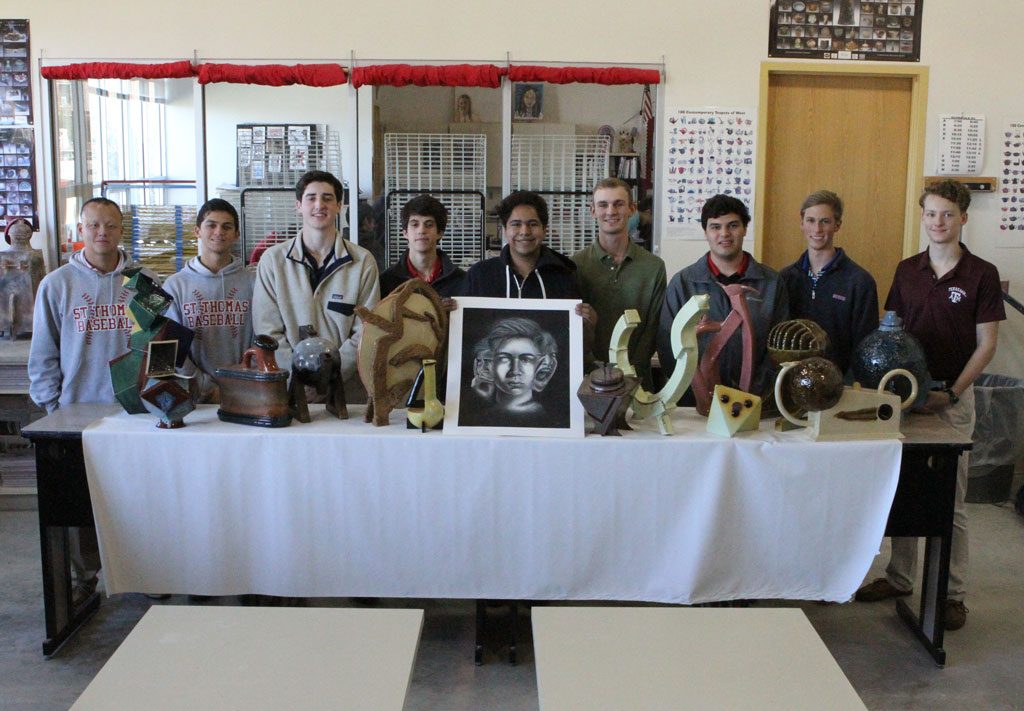 Castillo was among nine Eagles who captured acclaim in the contest sponsored by Harris County Department of Education, the latest in a long line of St. Thomas distinction led by Nebel.
"I couldn't be more proud of William," Nguyen said.  "For Scholastic I had him come up with some thumbnail sketches before he started.  We discussed his ideas and he eventually combined  sketches together for a really unique composition.  He has remarkable skill.  I'm excited to see what he does conceptually as he moves forward."
Castillo gravitated to charcoal because of the emphatic "contrast between light and dark."  While acknowledging the difficulty of the medium, and limit in scale, Castillo appreciates the versatility that charcoal drawing provides … the ability to alter or change as quickly as he could think. One wipe of the cloth and an image disappears or is smudged, and Castillo is allowed to rethink it.
"The flexibility of drawing is important. There's an immediacy, of thinking in drawing, which is vital for me," Castillo said.  "Whenever I pick out a subject, it's about how I'm feeling that day, that particular mood.  My first portrait was Demi Lovato for my sister.  I've drawn inspiration from Hamilton … (cast members) Renee Goldsberry, Lin-Manuel Miranda, Jasmine Jones … or my favorite television show Supernatural … Jared Padalecki, Jensen Ackles and Misha Collins."   
Castillo excels in a monochromatic medium where color is never an essential element.  He pairs an extreme dedication to his craft with an innate understanding of the essence that any one particular work demands.
He embraces the credo … The main thing is to keep the main thing the main thing.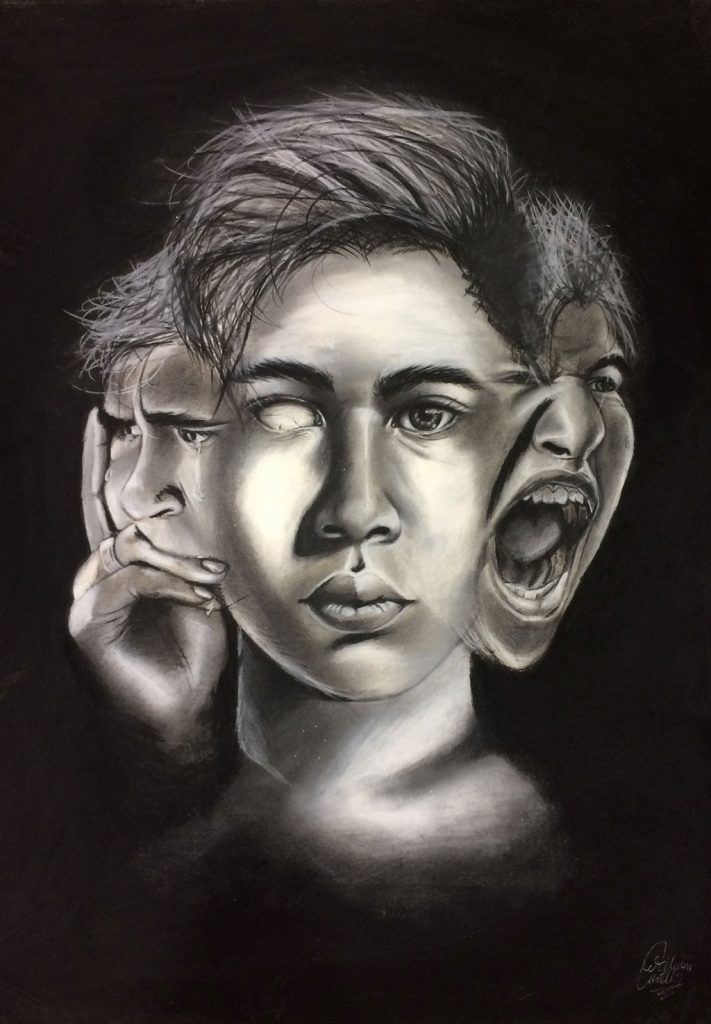 The range of contrast in charcoal is unrivaled with a strength and body that will never be present in pencil, a medium inherently more gray and weaker in tone.  The fast drawing material has encouraged Castillo to draw in a bolder, more aggressive manner.
"William applies highlights, shadows, angles and has a feel for all the dimensions," Nebel said.  "Over repetition he has built a library in his head of how the piece should look and can look differently, the effects of light.  Now I want to challenge him to not work strictly with stoic features.  Let's see some emotion.  Perhaps we'll push him to expand into other materials, maybe some pastels, and experiment with color. He's just tapping into his potential."
Castillo and his fellow Eagle Gold Key award winners will receive their recognition at the Regional Scholastic award ceremony held at the Alley Theater March 25 and later judged at the national level April in New York City.  Both the Gold and Silver Key regional winners will be exhibited at the Silver Street Gallery throughout March.
Catholic.  Basilian.  Teaching Goodness, Discipline and Knowledge since 1900.