The annual St. Thomas Academic Awards Assembly is a stirring tribute to not only strong intellect and scholarly achievement but also the capacity for community and compassion … an acknowledgement of wide ranging abilities and gifts … and how students apply those talents to their school … to each other … and ultimately for the world.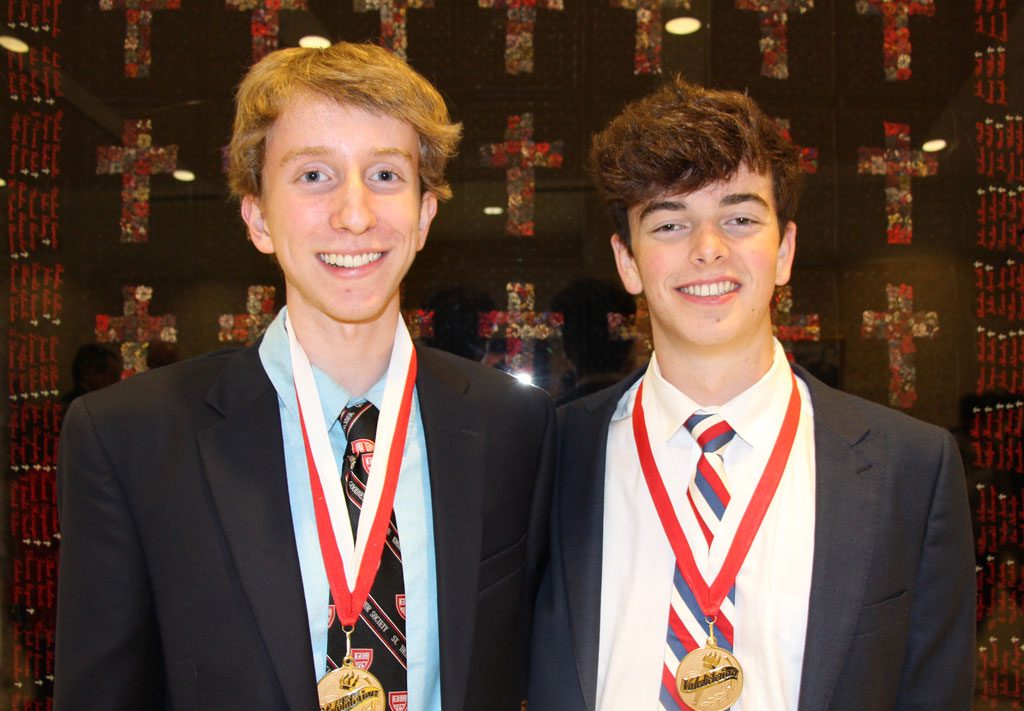 John Miggins '17 (right) and Michael Hill '17 were named valedictorian and salutatorian of their class, the highest ranking seniors based on the calculation of their four-year grade point averages.
Earlier in the academic year, Miggins, along with Scott Pickering '17 and Adam Lawrence '17, earned Finalist distinction in the National Merit Scholarship Program's 62nd competition, emerging from approximately 16,000 semifinalists representing less than one percent of high school seniors in the United States after taking the Preliminary SAT (PSAT) during the 2015-16 academic year.
The National Merit Program also awarded Letters of Commendation recognizing exceptional academic promise to Hill, student body president Ryan Chandler '17, Erich Hennings '17, Michael Jakab '17, Nathaniel Jolly '17, Lars Koehn '17, Jean Pierre Nguyen '17, William Price '17 and Winfield Sides '17.
Raul Huerta '17, Nicholas Lanza '17, Adam Lawrence '17, Nabor Mireles '17, Benjamin Muniz '17, Alejandro Solorzano '17 and Dominic Vela '17 were selected by The College Board as National Hispanic Scholars for their performance on the PSAT and invited to participate in the National Hispanic Recognition Program.
—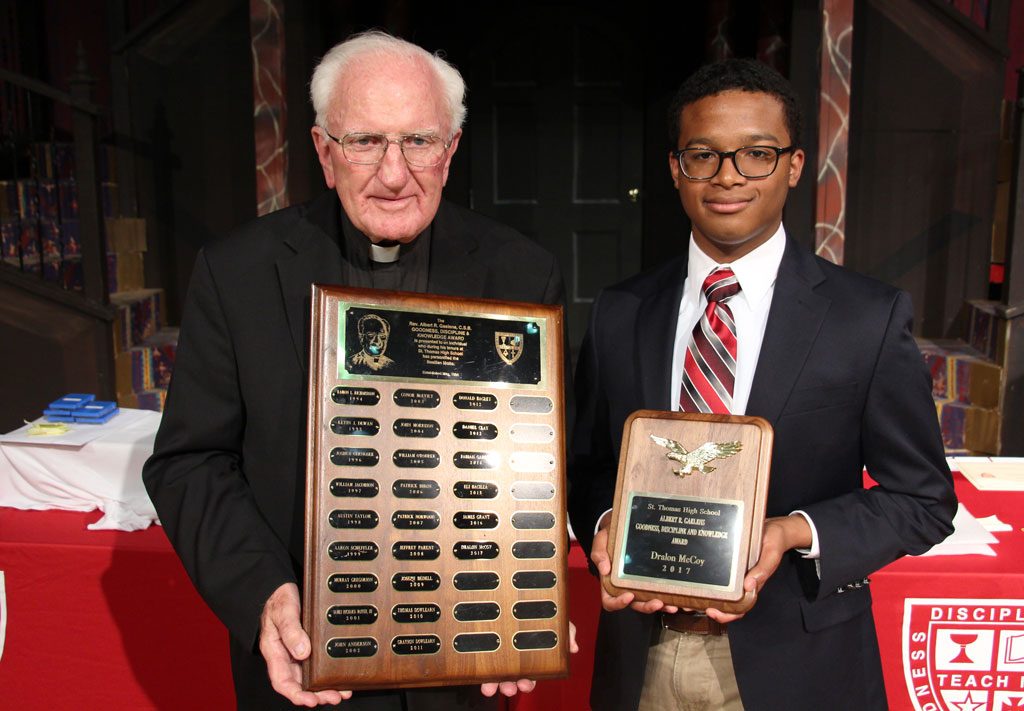 Dralon McCoy '17 was recognized with the Albert R. Gaelens Award, given to the senior student who best embodies the school motto of Teach Me Goodness, Discipline and Knowledge.
The Gaelens GD&K Award is named in honor of Fr. Gaelens, CSB (left), the 21st principal of St. Thomas who served the school for a quarter century before retiring in 2007.
Seniors are nominated by their peers and the faculty then votes on those receiving the most nominations.
McCoy is described as "virtuous, thoughtful and considerate … faithful to his friends, his studies, and his religion … always a volunteer who can be counted on should his fellow Eagles need him."
McCoy is a member of the National Honor Society, the Art Club, an Eagle Ambassador and AIM mentor while maintaining an A average throughout his St. Thomas career.
An active and dedicated participant in his St. Angelo Merici parish, McCoy worked at the middle school camp promoting deep allegiance to the Catholic faith. From that experience McCoy says he was "able to see the sense of wonderment and amazement that scripture brought to some of the students, a sensation I had not felt concerning my faith in some time."
—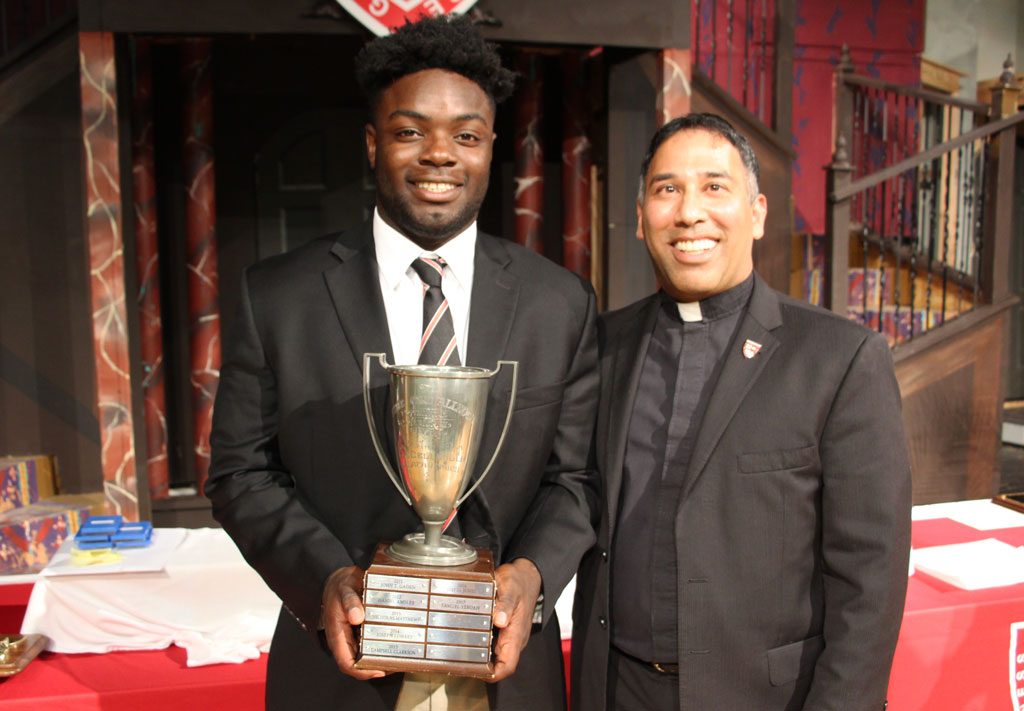 For four years Sam Yeboah '17 embraced a Renaissance man role that culminated with his receiving the Carl Mitchell Allnoch Athletic Memorial Trophy for Excellence in Academics, in honor of Fr. Allnoch, CSB, the 16th principal of St. Thomas.
Yeboah (left with president Fr. Kevin Storey, CSB) maintained an A average throughout his Eagle career while earning seven varsity letters, a driving force and inspirational senior captain in both Eagle Football and Eagle Rugby. He was named preseason All-Houston by the Touchdown Club of Houston and finished as an all-state performer and the team's defensive Most Valuable Player.
Yeboah's multi-faceted interests include serving as the sergeant in arms in student council … co-founder (with Ty Huggins '17) and vice president of the Business Club … and first chair flute in the St. Thomas Orchestra. He follows 2016 TAPPS Male Athlete of the Year David Jones '16, Campbell Clarkson '15 and Joseph Lowry '14 as the most recent Allnoch Trophy recipients.
—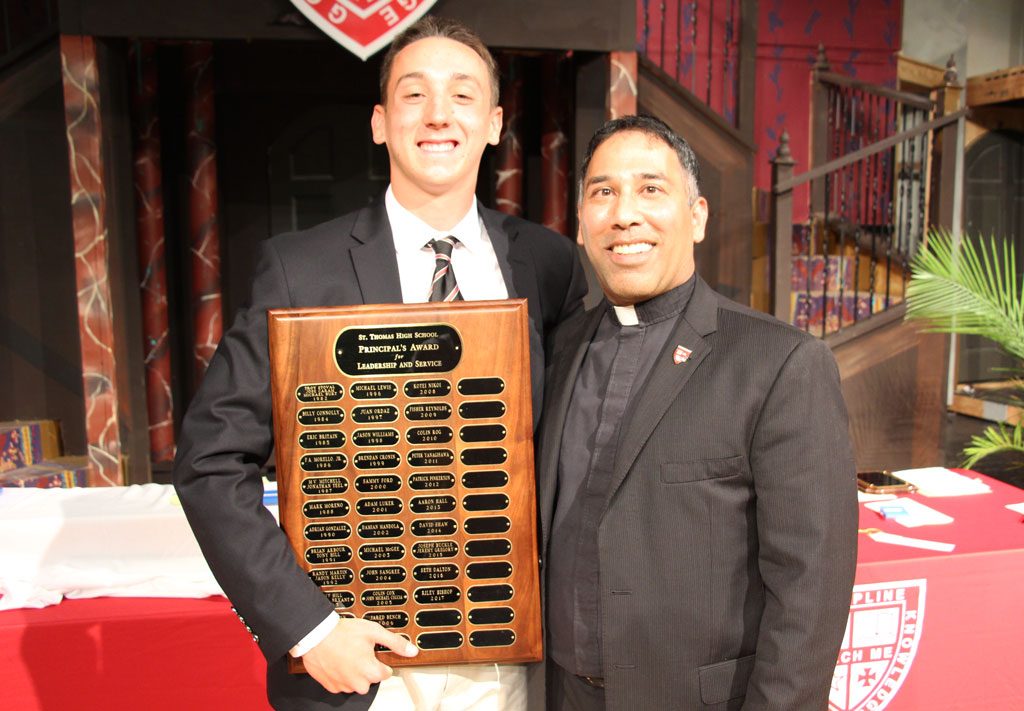 Riley Bishop '17 was presented with the Principal's Service and Leadership Award, valued as "an upstanding gentleman, scholar and athlete, described by his counselor "as the quintessential model among the St. Thomas community as a leader, team player and apostle of the St. Thomas motto Teach me Goodness, Discipline and Knowledge."
Bishop was an AP scholar, and member of both the Eagle Guard The Eagle publication while an influential presence in the latest record-smashing Round-Up effort that generated nearly $600,000 for St. Thomas tuition assistance.
—
Campus Ministry Director Marty Matulia admits to being "fortunate to have had many young men of St. Thomas assist our community every day to ensure we remain faithful to our primary mission."
But Matulia has been profoundly struck by the presence of John Falcon '17 who is the latest recipient of The Campus Ministry Award, "a witness of fervent faith during the past four years" who has "persevered personally in the face of physical adversity" and remained "steadfast in the charge of spiritual leadership … nobly serving others … most notably in the school sponsored spring break mission trip, student retreats, Columbian Squires service projects and our summer Camp GDK … and for two years with the Archdiocesan Youth Council."
Matulia says Falcon "gave witness on the junior and senior retreats (this year) that will never be forgotten … living witness of this courageous and remarkable young man."
—
Trevor Sides '18 was recognized by the Rensselaer Polytechnic Institute in Troy, New York with the Rensselaer Medal for Science and Math, awarded to the junior student who has displayed outstanding achievement. The merit scholarship holds a minimum value of $100,000 and was established to motivate students to pursue careers in science, engineering and technology.
—
The University of Rochester coordinates three different award programs, all for junior students, which carry with them merit scholarship opportunities of at least $10,000 per year.
Cooper Gottschalk '18 received the Bausch & Lomb Science Award for outstanding achievement in rigorous science courses for three years.
Parker Rzasnicki '18 was presented with the Frederick Douglass and Susan B Anthony Humanities and Social Sciences Award after excelling in social sciences and the humanities, demonstrating a commitment to leadership and to understanding social issues.
The University's Xerox Award for Information Technology was given to Kenneth Dang '18 after demonstrating strong interest and innovation, as well as earning outstanding achievement in the area of technology.
Catholic. Basilian. Teaching Goodness, Discipline and Knowledge since 1900.