John Falcon '17 carries great satisfaction for a St. Thomas diploma that represents far more than all that he had accomplished academically and his ability to learn.
Falcon marvels in the confidence and trust he gained in harnessing the necessary skills to continue combating the most threatening of challenges.
"There were some times when graduating from high school seemed like a tough task, for me and my family," Falcon says. "There was a real possibility I wouldn't make it to that point. But now this is a huge step in my life … with a lot more steps I'm still hoping to take."
Falcon encountered significant health issues as an infant. And while his formative years brought a reprieve, there were also persistent physical and emotional battles when the strength of his body was often sapped.
But never his enthusiasm for life.
In a tightly connected senior class Falcon was often the mortar binding the bricks, described within the Dean of Students office as "the most amazing and good spirited young men we have ever known."
"These years at St. Thomas have been the best of my life because of my classmates and the culture of the school itself," Falcon says. "I'll have some of these guys in my life for the rest of my life."
But midway into his senior year Falcon was dealt an unexpected relapse that placed his immediate future in jeopardy. He endured a long series of tests and treatments, entwined with fatigue and fear.
Yet Falcon's resolve never wavered, his faith never waned.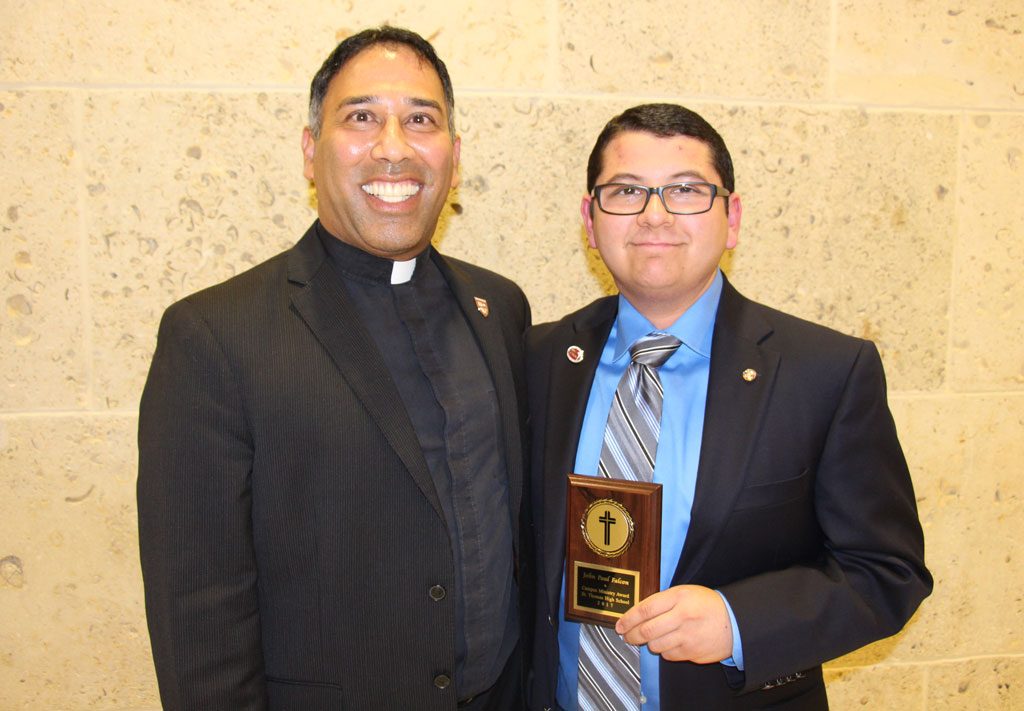 In the April weeks leading into the 2017 Commencement Falcon was able to put the threat behind him, and he was recognized at the annual St. Thomas Academic Awards Assembly as the latest recipient of the Campus Ministry Award.
Director Marty Matulia admitted to being "fortunate to have had many young men of St. Thomas assist our community every day to ensure we remain faithful to our primary mission" but was profoundly struck by the presence of Falcon, "a witness of fervent faith during the past four years" who has "persevered personally in the face of physical adversity" and remained "steadfast in the charge of spiritual leadership … nobly serving others … most notably in the school sponsored spring break mission trip, student retreats, Columbian Squires service projects and our summer Camp GDK … and for two years with the Archdiocesan Youth Council."

Matulia says he will be forever impacted by Falcon's testimony during the 2017 junior and senior retreats, "a living witness, and most courageous and remarkable young man who will never be forgotten."
Falcon's immediate academic path takes him to the University of Houston with the plan to then transfer after two years to Baylor University for a career in medicine.
Not for fame and fortune, but largely gratitude.
"One of the biggest motivators for me in overcoming these obstacles is to become a doctor," Falcon says. "I want to follow the men and women who helped me throughout my many trials. And perhaps eventually I'll provide that same kind of assistance and hope for someone going through what I did. I want to help others just as those have helped me."
Catholic. Basilian. Teaching Goodness, Discipline and Knowledge since 1900.