John Miggins '17 was very much aware while growing up of his family's deep interwoven connection with St. Thomas that dates nearly a half century.
And now the latest from the clan to claim the Eagle experience also emerged as one of the most acclaimed students in recent school history, and honored as the valedictorian for the Class of 2017.
But never was the assumption that Miggins would simply veer in the same academic direction as previous generations, nor did he feel the burden of extensive pressure to preserve the family tradition.
"My decision to attend St. Thomas was strictly independent," Miggins says. "The one thing that struck me when I shadowed and toured (while in middle school) was the comfort zone I immediately felt. I just sensed St. Thomas would offer the freedom for me to be myself, pursue my interests and develop on a path that played to my potential. It was a fit that applied directly to me."
Miggins was one of three Eagle scholars from 2017 to earn Finalist distinction in the National Merit Scholarship Program's 62nd competition. He was also a two-year member of the National Honor Society and was awarded a prestigious scholarship by the Greater Houston Chapter Alumni Association of Phi Beta Kappa.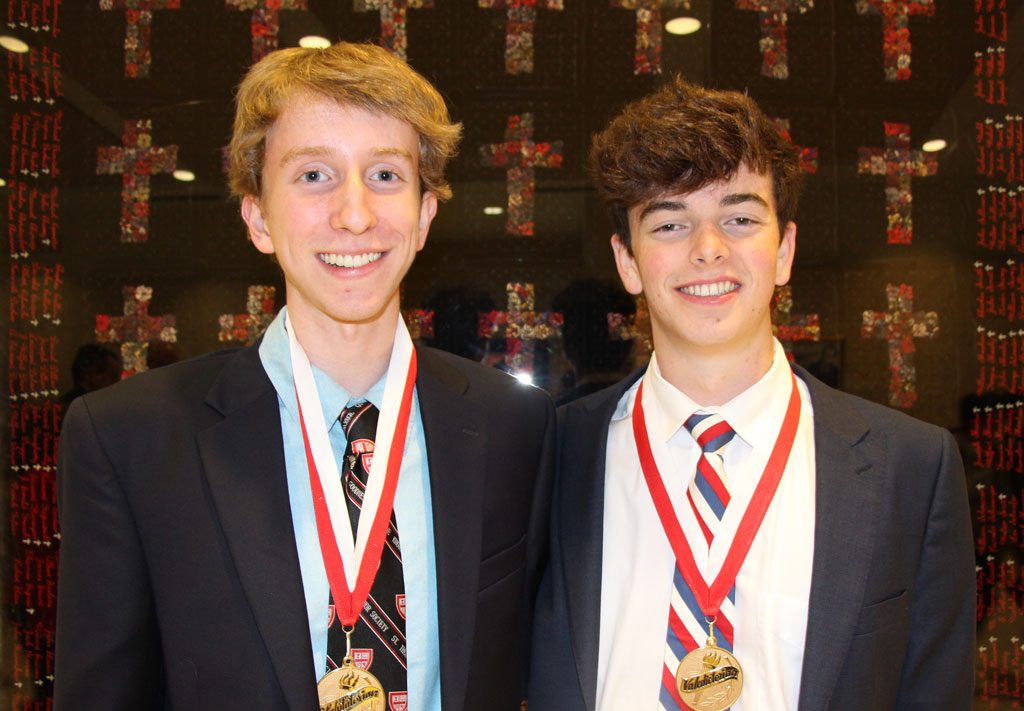 In firmly grasping the brass ring of college preparatory achievement, Miggins (above, right, with salutatorian Michael Hill '17) enriched the family's already proud St. Thomas legacy which extends well beyond his father Matthew '83 … to uncles Rory '74, John '77, Larry '78, Neil '88, Robert '90, Patrick '92, Michael '95 and cousin Thomas '03.
And in turn Miggins developed a second family of sorts … living, studying and competing alongside classmates for four years who became more than friends … many representing backgrounds and personalities very different from his own … yet united by the shared pursuit of realizing dreams and the transformation that happens when giving in service to others.
"I really believe St. Thomas taught us all (in the Class of 2017) how to be deliberate in our actions and become the best versions of ourselves," Miggins says. "The faculty … particularly in the AP disciplines … science and English … really pushed me to reach my potential. There was a focus on meeting the student needs through technology and teacher involvement."
Miggins will continue in the fall at the University of Southern California to study biochemistry and film … a hybrid in the best sense of the word … an elite scholar advancing to combine the technical skills of a scientist trained in the Keck School of Medicine while exploring the changing spectrum of media arts and technology.
"Medicine is what I believe I want for a career but I have a passion for filmmaking," Miggins says.
While developing his supreme academic profile Miggins was also a valuable four-year contributor to Eagle Swimming which placed fourth at the 2017 TAPPS Division I state championships. He fueled the most thrilling Eagle performance of the meet, breaking the STH mark to earn a second-place result in the 200 medley relay, then added two fifth-place individual finishes, in the 100 butterfly and 100 backstroke.
Miggins certainly arrived on campus sturdy in St. Thomas cloth, and leaves as the latest thread weaving a family and academic legacy that never seems to stop growing.
Catholic. Basilian. Teaching Goodness, Discipline and Knowledge since 1900.